11 November 2017 - Bromley Borough Primary Schools' Cross Country Competition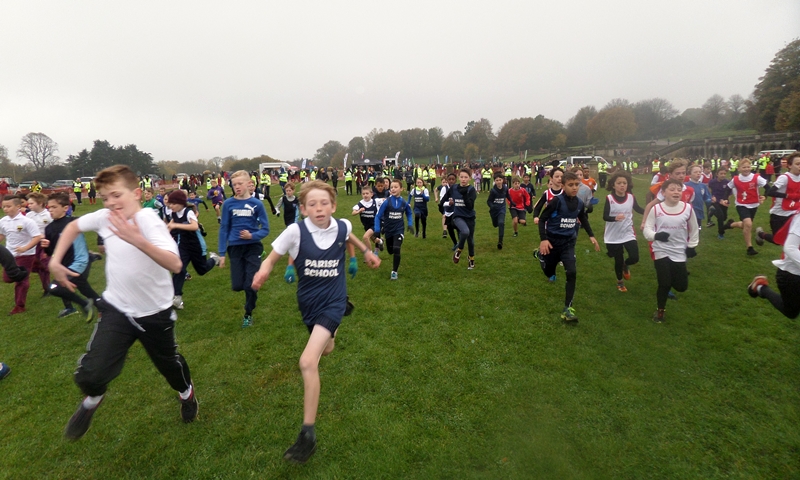 The start of the Yr 6 Boys Race.
The iconic surroundings of Crystal Palace Park played host once again to the Bromley Borough Primary Schools' Cross Country Competition that on this occasion fielded more than 50 schools. Due to the growing popularity of the event that had previously attracted a record-breaking attendance of 2200 competitors, organisers have this year decided to separate the biannual competition into race meetings for Year 5 & 6 (9-11 yrs old) pupils in November and Yrs 3 & 4 (7-9 years old) pupils in March.
The recent November race meeting drew a field of 995 pupils who were not disheartened by the challenging muddy terrain caused by the early morning's inclement conditions. Buoyed on by supportive teachers and parents, the children participating all attained successful finishes in the presence of VIP guest, Deputy Mayor of Bromley, Cllr Kevin Brooks who commendably started each of the four races.
On hand to assist with each of the races were 'hares' from The Bees Academy (junior wing of 'Blackheath and Bromley Harriers AC) who expertly led the runners around the 1800m course.
Parish CE Primary School scooped the honours in both Year 5 and 6 Girls Team Awards. Balgowan Primary School and Crofton Junior School ran out victorious with the Yr 5 and Yr 6 Boys Teams categories respectively.
Volunteer co-senior organiser, Richard Coe (PE subject leader from Parish CE Primary School, Bromley) commented, ' It is always heartening to see so many schools enter and so many children compete in this event that is reputedly the largest of its kind nationally'.
Regional Primary PE & PSHE advisor and fellow volunteer organiser, Giles Platt added, 'This event has always provided the WOW factor as anybody would gauge from attending. It is a wonderful advertisement for Crystal Palace Park in terms of its ability to host high quality borough-wide sporting initiatives.'
For further details of the event, members of the public are welcome to refer to: http://www.bpscca.co.uk/

---
4 November 2017 - National Cross Country Relays at Mansfield
The National cross country relays were once again held in Berry Hill Park, Mansfield, Nottinghamshire, on the superb course that offers everything needed for a great Championships - tough hills, woodlands, mud, grass, fast sections and all this easily accessed by the large numbers of spectators in attendance.
Dave Cordell temporarily came out of retirement to transport the tent up North before securing prime location just down the hill from the start. Fortunately a few of our keen members were also on site early and able to help put the tent up. Many thanks to Dave and all who helped with the tent.
At these Championships we are restricted to only three teams per age group. This probably affects our U15 girls most, due to the large number of U15 athletes we have but this makes competition for the team slots harder but ultimately increases standards as was proved by their unprecedented results. The A team were emphatic winners and the B team were equally impressive coming a very strong 2nd while the C team placed a very creditable 15th. Incredible results. The A team of Ava White, Morgan Squibb and Naomi Toft and the B team of Zakia Mossi, Annie Thomas and Ellie Dolby unsurprisingly all feature high up in the fastest times posted on the day.
The U20 women also enjoyed medal success winning a fine team silver with their B team finishing a good 14th. The A were led out by Birmingham University student Jess Keene (4th fastest leg), Katie Anne McDonald on leg 2 (fastest leg of the day) and Cambridge University student Niamh Bridson Hubbard (4th fastest leg).
The U13 girls teams placed 13th and 32nd.
Twenty one BBHAC boys descended on Mansfield from various locations across the country including Birmingham, Durham, West London, South London and Hayes!
The U20 men were the most successful male age group of the day combining well to recorded a fantastic 12th place finish. Joss Barber, running the 10th fastest leg of the day, got the team off to a great start. Lewis Mills continued the great work recording his fastest time at Mansfield, passing over to Charlie Davis, who despite being a fresher at Birmingham University ran a superb leg consolidating 12th. Great to have Marco Arcuri back in the fold as he made the long trip down from Durham University to lead off the incomplete B team posting a very quick time. It's impressive to see the uni boys all fit and well and putting in some terrific performances.
The U17 boys were best represented and the A team finished a high 16th. They were led out by Peter Guy running hard in his usual fashion, handing over to Callum Myatt who negotiated the tough 3k course well, before handing over to Matthew Francis who stormed around the course being rewarded with the 6th fastest time of the day. A great team effort. The B team saw Ben Gardiner continue his fine form on leg 1, finishing high up the field passing to Charlie Andrews who kept the pressure on leaving Cameron Swatton to bring the team home crossing the line in 41st.
Theo Wood and Carlos Ohler had strong runs for the C team but unfortunately we had no third leg runner to complete the team.
The U13 boys finished a creditable 30th with Ben Campbell running a great opening leg passing to Max Gregson who held his own on U13 2k lap, handing to Jamie Sears who ran a good leg for his first run in these championships. Oliver Robertson was our only B team runner but his performance puts him among the U13's best.
Tom Brash ran hard and fast on leg one in the U15 boys race passing to Will Andrews, who ran well posting a time 25 seconds quicker than last year. Will handed to Oliver Bright making his full club debut and Oliver made light work of the course powering around in the second fastest time of the day, with the team finishing 33rd. Bailey Marks and Harvey Blanden both ran well but without a third runner were unable to complete a team.
A great championship and great venue but still at least three hours away on a good journey. So many thanks must go to all the parents who made the huge effort to get our athletes to Berry Hill in plenty of time to prepare and warm up. Special thanks to Sarah Gardiner who had a people carrier full, coach Nigel Stickings, Paul Brash (who even managed a leg in the senior team) and Dan Marks (who also managed a leg in the senior team) who took over 6 hours negotiating Friday evening traffic!
It was also fabulous to have club President Nick Brooks there supporting all of our athletes and many thanks to Nick's mum for bringing him up (to Mansfield)! Great also to have immediate Past President Bill Foster at the club tent, in his capacity as a club ambassador and the endurance coach at Loughborough University.
Next fixture is the Kent League at Footscray on Saturday 11th November 2017
Paul
---
Another Weekend another cross country as they continue to come thick and fast through November.
The original aspiration of two complete teams took a bit of a hit during the week with a few injuries and unavailability.
None the less a number of Heathens took the trip north to participate in this great event.
Arriving to news that the U20 Girls had got silver medal, the U20 boys of Joss, Lewis an Charlie had run strongly for 11th and the U15 girls had won Gold and Silver there was plenty of positive vibes in the tent.
First off was the young pretender Will Fuller stepping up to his first go at two laps of this course as a full blown senior.
In some great company and this usual flying fast first leg Will rang strongly as has come to be expected holding the leaders in his sight and finishing in 15th in 15:57.
He then handed over to Ross Braden who is only recently returning from having incurred an injury sustained from going blow for blow with Will in training. He has also pleasing in that time gained some black shorts (Tom Desborough take note) Despite the unenviable task Ross put in his all and ran strongly coming back in 17:14 and placing the team in 27th.
Dan Kennedy was next up putting in a strong leg and managing to get in some good battles with those around him and pipping is former University of Nottingham team on the line for a 17:51 clocking and a 33rd overall team position.
Chris Tuck was then left with the last leg having stepped up from the B team in the week, when Pete Tucker discovered that Scotland and Mansfield are more than 5 minutes from each other. Chris managed to overtake as many as overtook him and in particular was able to pass fellow London club TVH for Southern League bragging rights. Bringing the overall finish position for the A team in 33rd. 11 places further a drift than last year.
Mentions also go to those who still turned up in the B team to represent the club. Dan Marks got stuck in to the first leg in 20:38 for 162nd and Nic 'Paul' Corry completed the team on the second leg in 23:32 for 168th when they had to drop out.
Well done to everybody that ran and great to have a team at another national event even with a lot of unavailability.
Also a mention to Phil Seseman for an awesome run today in the Leeds Abbey Dash 10k finishing 7th in 29:40 even beating last years winner Jonny Mellor.
Up The Heath
Ross, Chris and Dan