11/06/17 - Orpington High Elms 10k
| | | | | | | |
| --- | --- | --- | --- | --- | --- | --- |
| Place | Name | Team | Bib No | Chip Time | Gun Time | Age Group |
| 6 | Marco Arcuri | B&BHAC | 155 | 40:37 | 40:40 | M Senior |
| 7 | Luca Ercolani | B&BHAC | 425 | 40:46 | 40:49 | M 40 to 49 |
| 24 | Paul Kerekgyarto | B&BHAC | 319 | 46:23 | 46:27 | M 40 to 49 |
| 31 | Steve Evenden | B&BHAC | 53 | 47:33 | 47:39 | M 40 to 49 |
| 38 | Marc Knowles | B&BHAC | 324 | 48:18 | 48:29 | M 40 to 49 |
| 44 | Mike Simms | B&BHAC | 16 | 48:52 | 48:59 | M 40 to 49 |
| 63 | Iain Swatton | B&BHAC | 236 | 50:14 | 50:22 | M 50 to 59 |
| 82 | William Brindley | B&BHAC | 448 | 51:49 | 52:01 | M 40 to 49 |
| 97 | Luigi Arcuri | B&BHAC | 154 | 53:27 | 53:37 | M 50 to 59 |
| 114 | Austin Adams | B&BHAC | 73 | 55:14 | 55:35 | M 50 to 59 |
| 129 | Mick Keene | B&BHAC | 341 | 56:36 | 56:36 | M 50 to 59 |
| 160 | John Leeson | B&BHAC | 253 | 58:39 | 59:03 | M 50 to 59 |

---
28/01/17 - South of England Championships - Parliament Hill
Saturday saw the return of the South of England champs at our favourite turf, Hampstead Heath.
It has always been a gruelling 15k over the heath since 1883 (some say it is the longest cross country course in the world, or at least in Europe!) and this year was no exception.
Some decent weather persisted and allowed for ok conditions underfoot. We saw some gritty performances from everyone involved.
As a team we placed a respectful 20th out of 69 teams with 1068 finishers.
Individual Results:
40 - Andy Rayner
102 - Alex Gibbins
150 - Daniel Kennedy
172 - Danny Brewer
407 - Fintan Parkinson
484 - Chris Tuck
705 - Richard Byford
847 - Andrew Lawes
978 - Ian Taylor
Full results here:
http://www.seaa.org.uk/images/2017/Endurance/XC_Main_Results/Senior_Men.pdf
A big congratulations to everyone who ran and shouted us over 15k.
---
The weather was unusually mild for this years South of England cross country Championships and racing conditions at Parliament Hill were excellent with some of the ground underfoot, firm!
Fifty BBHAC young athletes took on the challenging Hampstead Heath course and all our junior teams finished in the top 10 with the U17 girls being highest placed in 4th.
Jess Keene continued her great winter season winning an impressive bronze in the U20 women's 6k race.
Lottie Weitzel and Genny Allan had a great run in at the end of the U17 girl's 5k race placing 35th and 36th respectively, just 1 second apart. Millie Smith was just behind in 43rd with Amy Leach in 50th and a great run from Jess Sellar finishing 54th. Graces Scopes in 87th and Charlotte Fairies in 138th completed the squad and secured a fine 4th in the team race.
The U15 boy's efforts contributed to a respectable 5th team place and Matthew Francis led the attack with a solid top 20 finish coming 19th. Peter Guy had another strong run placing 40th as did Joe Georgiadis finishing 54th and Oscar Heaney Brufal had a good run in 127th. Ben Gardiner lost one of his spikes but was lucky enough to find it, pick it up and carry on home but still finished well in 186th. Jake Leng was 214th and Seb Large 268th rounding off a great team result.
The U13 boy's had the biggest squad on the day and did well finishing 7th overall. Sam Reardon and Tom Brash continued their private battle and ran strongly finishing 34th and 35th but with exactly the same time. Luca Thurlow, in only his second BBHAC race must have seen Sam and Tom in front as he finished with pace just 2 seconds behind them in 37th. Max Gregson was a solid 134th, Oliver Robertson 157th and Jamie Sears 160th. Matt Smith crossed the line in 172nd, Oles Chaban was 206th, Adam Parkinson 257th and Nick Paddington completing the squad in 295th.
The large U13 girls team also placed 7th and saw great runs from Lily Meers in 30th, Heidi Forsyth in 49th and Amarisa Sibley in 61st. Ellie Dolby started the race positively and did well to continue, finishing 69th.Kelsey Pullin had a strong run crossing the line in 102nd, Olivia Berry was 121st, Hanna Clark 156th, Zara Aslam was 169th and Isabella Louth rounded off the team effort in 198th.
Morgan Squibb ran a solid race U15 girls race and rewarded with a 10th place finish, Zoe White had another great run in 47th as did Jess Neal in 57th. Good to see Rosie Allan running well and finishing 129th, follow by Niamh Milmo in 160th and Emily Davis in 220th. The team was 10th.
The U17 boy's squad was also 10th despite Lewis Mills having to pull out during the race with a sore knee. Hopefully no lasting damage done and he can rest up and still compete later this winter. Callum Myatt had a great run finishing 66th, with Oscar Hussey running well in 74th. Michael Eagling was 124th and Finlay Brannan, in only his third race for BBHAC was strong finishing 141st. Charlie Andrews has been running well all winter and was moving along nicely but fell heavily landing on his hip and struggled to complete the course but did so and shouldn't be too disappointed.
Winter team captain Marco Arcuri led the charge in the U20 men's 8k race coming 56th with Thomas Desborough 80th and James Crawley 81st unfortunately one athlete short of a complete scoring team.
Good luck to all competing in the London schools on Wednesday and the inter counties at Brands Hatch on Saturday, where our athletes will be hoping to secure places in the prestigious English Schools cross country Championship, held this year in Norwich.
Paul

---
7/01/17 - KCAA Cross-Country Championships - Brands Hatch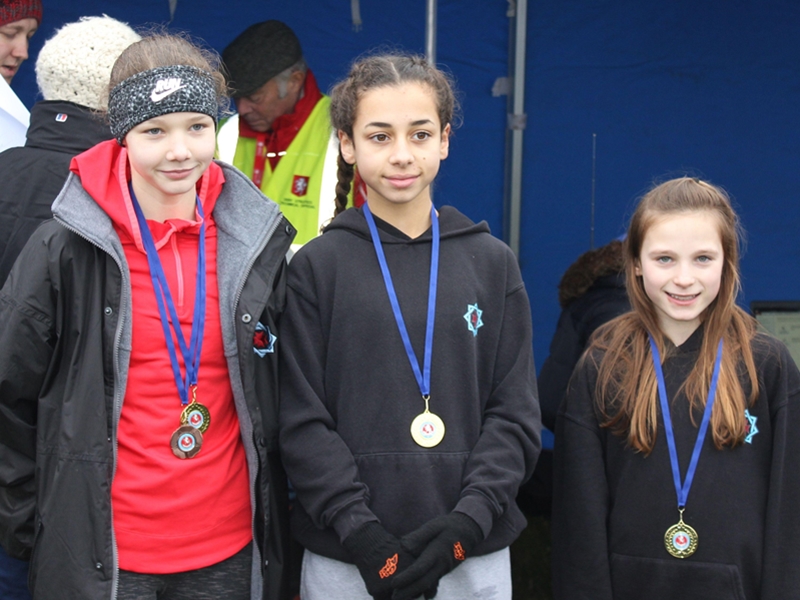 The winning Under 13 team at the Kent Championships at Brands Hatch
Ellie Dolby (3rd) Danielle Harper (4th) Lily Meers (7th) Photo from Jason Meers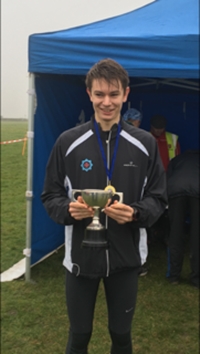 Thick fog and poor visibility welcomed the athletes to the 2017 Kent Cross Country Championship opener at Brands Hatch. Over 50 BBHAC young athletes kicked off the New Year in some style at the long, tough and hilly circuit winning two individual golds and one team gold. With many athletes affected by seasonal coughs and colds it was still great to see so many black vests high up in all the fields.
The U13 girls got proceedings off in winning ways by picking up team gold with determined runs from Ellie Dolby in a solid 3rd, a fine 4th from Daniella Harper and a great 7th from Lily Meers. Amerisa Sibley continued her fine form finishing 8th and Heidi Forsyth finished well in a high 10th. Amelia Middleton was a great 13th, Olivia Berry 17th and Kelsey Pullin 27th backed up by Amelie Willars in 50th and Sofia Elliot in 55th. A great team performance and worthy of gold.
The U13 boys had the biggest squad on the day and another great run from Tom Brash had him crossing the line in 5th place followed by Thomas Penlington in a strong 9th with Ben Campbell putting in another great performance finishing a fine 12th. Max Gregson had a solid run in 18th and Oliver Robertson and Matthew Smith had their own private battle finishing 24th and 25th. Will Andrews had a good run placing 29th and Jamie Sears did well finishing 30th despite a last minute footwear change on the start line! Callum Carlton was 44th and Josh Buddle Smith 49th with Oles Chaban in his first County Championships 65th. Sam Stuart started well but took a heavy fall and was unable to finish but will have many more opportunities to race over the country. These collective results were good enough for the U13 boys to win team silver.
The U15 girls were up next and Morgan Squibb showed real guts despite not being 100% well finishing a tough 4th backed up by a great 7th place for Zoe White and good to see Jess Neal back to her best in a pleasing 9th. Lily Tappenden looked strong crossing the line in 13th with Niamh Milmo in 19th and Rosie Allan 22nd. Emily Davis was 29th and completing the squad was Isabelle Bridge in 34th. The team was a worthy winner of the silver medals.
Peter Guy led the U15 boys out in typical determined fashion and was rewarded with a solid 10th place finish in a quality field. Matthew Francis, reigning Kent Champion and making his BBHAC debut did well holding on to 11th place having missed a few weeks training due to illness. However, still a fine debut. Joe Georgiadis had a good run placing 13th and a strong finish from Cameron Swatton had him 20th just ahead of Robert Suckling in 21st. Keir Lundy was a good 25th, Ben Gardiner 29th, Justin Strover 31st and Jake Leng 34th completed the U15 boys numbers. The team finished 4th but in very strong competition.
Amy Leach had a very strong run and was first BB U17 girl home in a impressive 6th place just ahead of Millie Smith finishing well in 7th. Yasmin Austridge crossed the line in 9th side by side with Lottie Weitzel in 10th. Jess Sellar had a good run finishing 12th. Charlotte Faries had a great run in her first County Championships and should be pleased with her placing of 22nd. The U17 girl's team picked up team silver for their efforts.
The U17 boy's race was dominated by Tonbridge AC with their athletes filling places 1- 4 but great to see Lewis Mills holding his own and finishing well in a strong 7th place with Oscar Hussey just behind in 10th. Callum Myatt had a strong run finishing 12th and Charlie Andrews 27th and Lewis Warren 36th completing the squad. Tonbridge took gold but BBHAC did well in the mix and their efforts were rewarded winning team silver medals.
We were not able to field enough athletes to complete scoring teams in the U20 races but what we lacked in numbers we more than made up with quality by winning both the U20 men and U20 women's race. GB International Will Fuller looked comfortable throughout his 6.5k circuit and pulled away mid race to record a superb victory. Marco Arcuri backed up well in 16th. In the U20 women's race England International Jess Keene ran positively from the gun and was a clear winner nearly a minute ahead of her next rival. Leah Everson also ran well finishing in 9th. Joanna Clowes started well in her race but unfortunately had to pull out mid race.
It's true what they say about distance runners enjoying the pain and to prove this point U20's Thomas Desborough and Scott Bulmer both decided to do double the distance and do the senior men's race, all 12k of it. Also great to see former young athlete Will Ruiz back competing for the club after an enforced absence due to injury.
In the Surrey Cross Country Championship held in Lloyd Park , Croydon, Blackheath and Bromley athletes put in some great performances. Sophie Hoare won the U15 girls title while Amy Miller ran well finishing 12th. In the U13 girls race Holly Sutton Trot was 18th making her BBHAC cross country debut
At the Middlesex equivalent in Hillingdon, the U13 girls excelled with Naomi Toft winning, Anwen Thomas placing 2nd and Maayan Radus 4th. Yasmin Marghini comfortable won the U15 girls race and on her BB debut, Lucrezia Polloni ran well finishing a great 4th.
Paul

---
11/12/16 - The European XC championships, Chia, Italy
Will Fuller has just returned from Sardinia and sent us these great photos of him with his GB team mates.
Will ran for Great Britain in the mens under 20 race in Chia in Italy in the European XC championships and finished a terrific 30th place and was 5th GB home in a tightly contested race. The GB team won a great bronze and may have done better had their leading athlete not taken a bad fall!
Well done Will, another GB vest and another top run.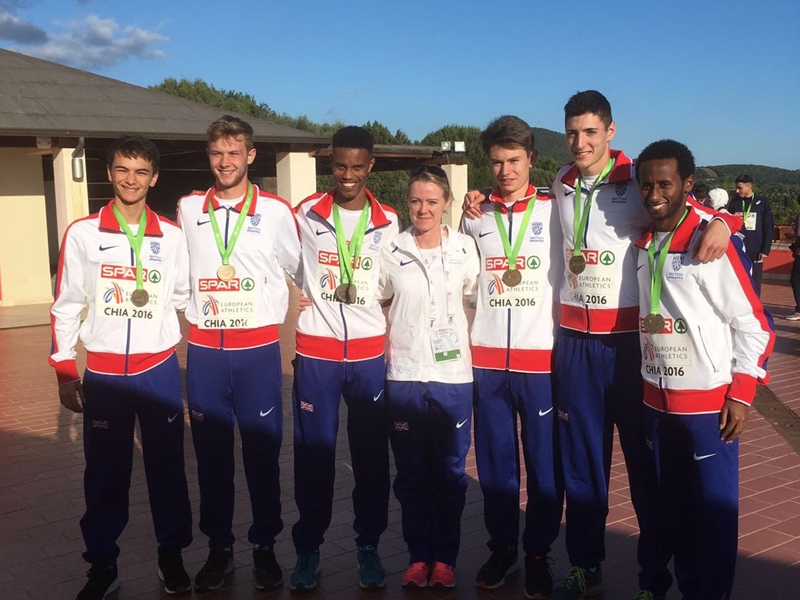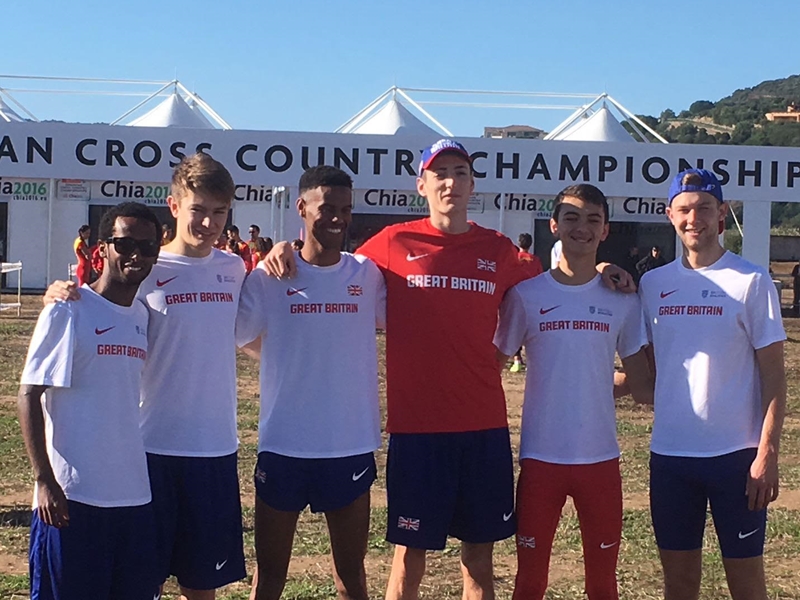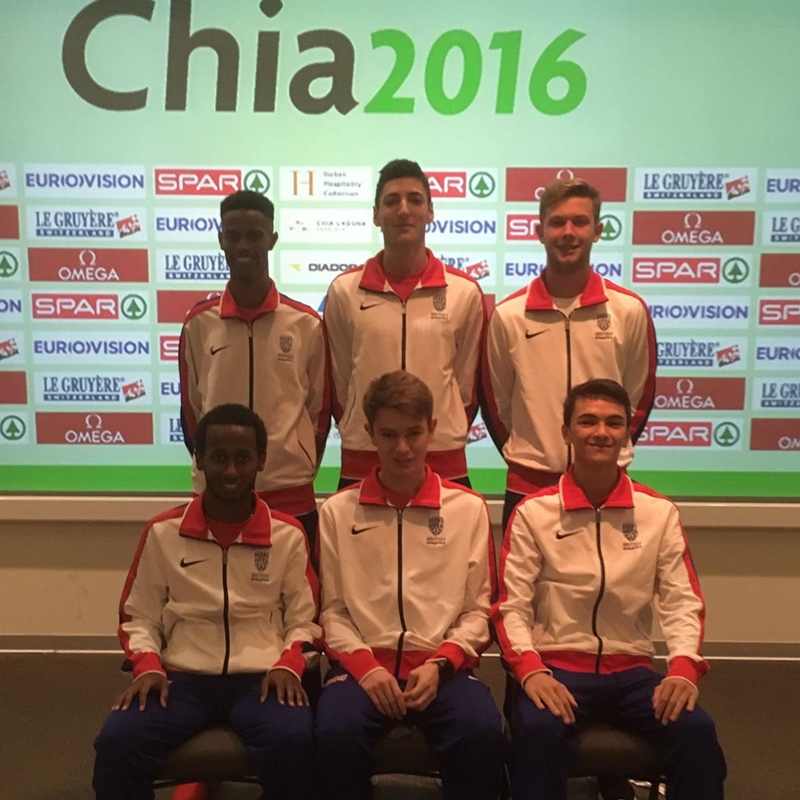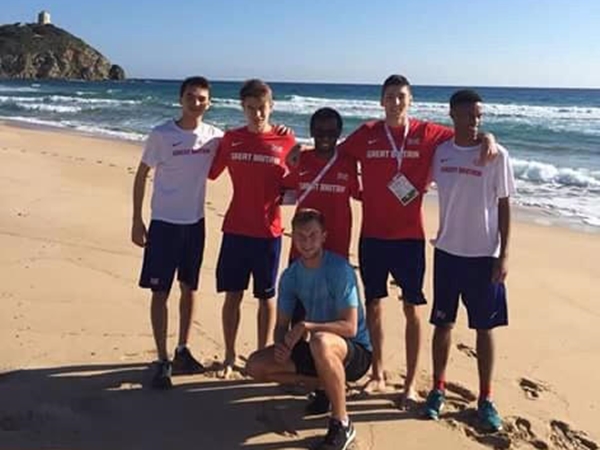 ---
3/12/16 - Kent Masters - Central Park Dartford
Both the men's and women's teams had a successful day at Dartford in the Kent Masters Cross Country today (Saturday 3 Dec). Thanks to all who took part to represent themselves and the club. Special mention to:
1. Alex Gibbins who won a very exciting race to become M40 Champion!
2. Alan Camp who cantered to a win in the M60 race
3. The M60 team who won the team prize: Alan Camp, Rob Brown and Andy Lawes
4. The W35 team who won the team prize : Carole Coulon Penlington, Sarah Belaon and Sara Elmqvist
5. Maz Turner who was 3rd in the W65 race
Photos from Steve Pairman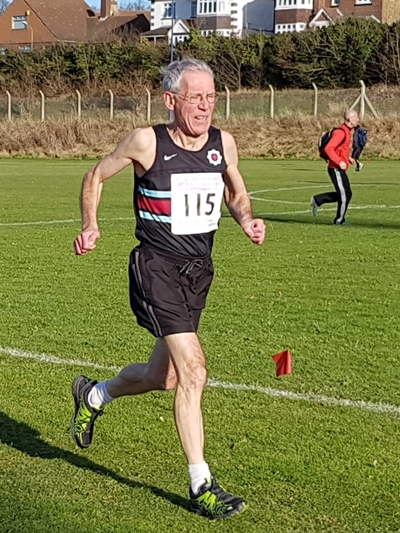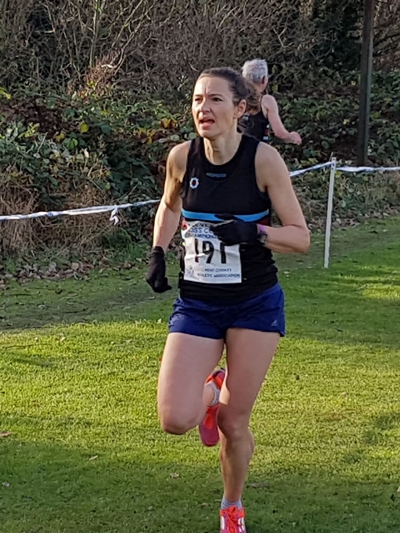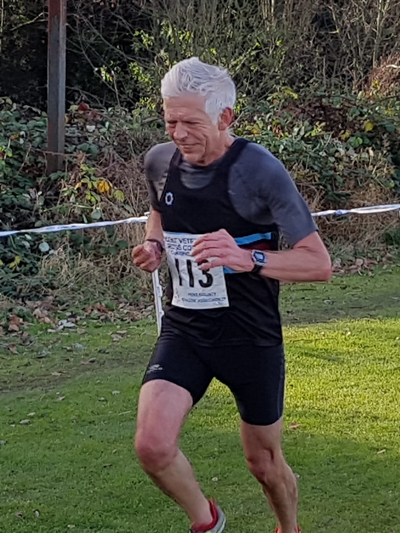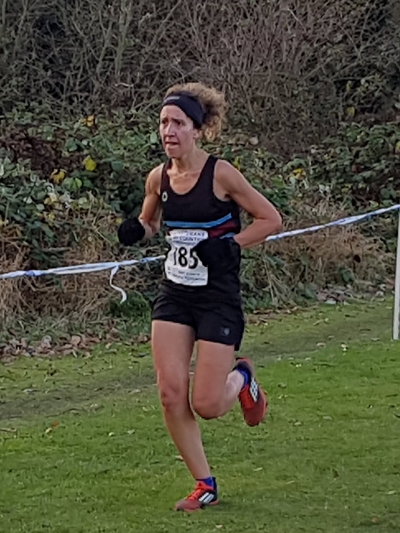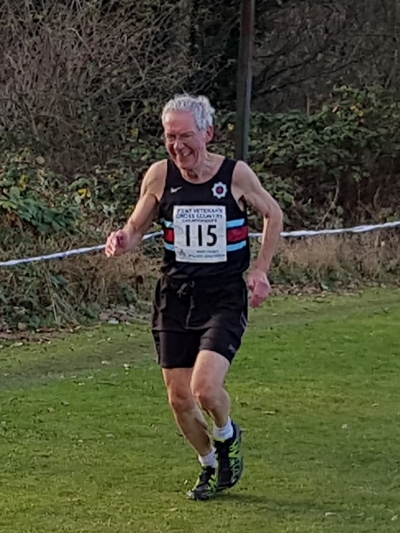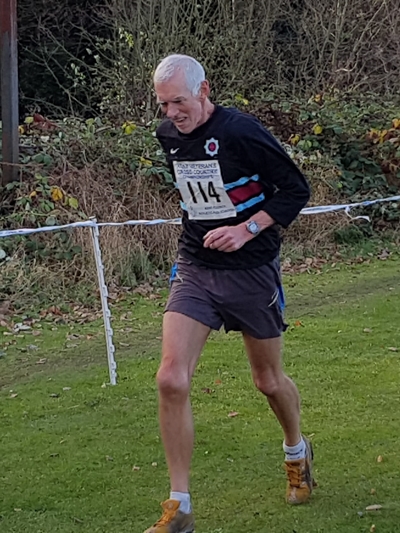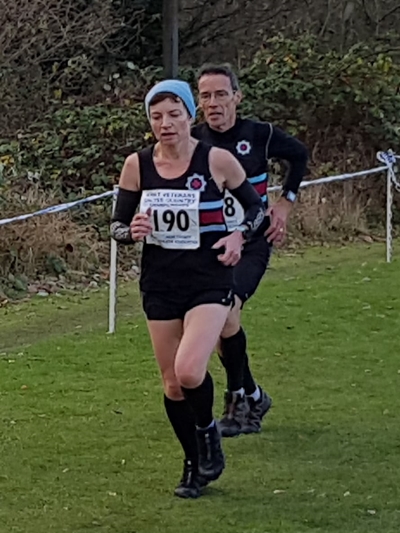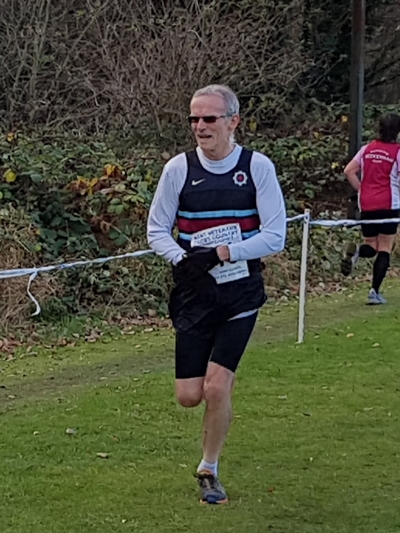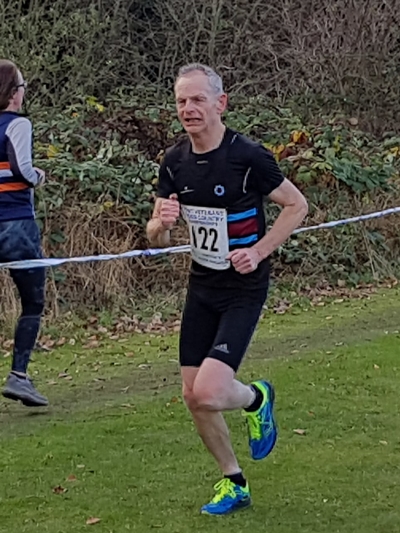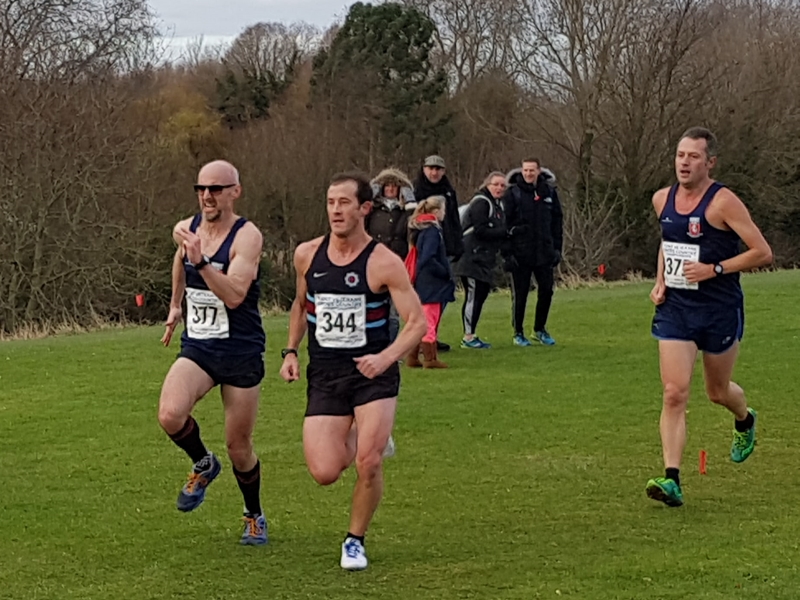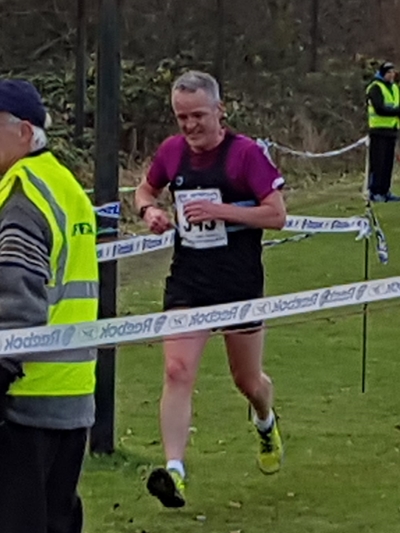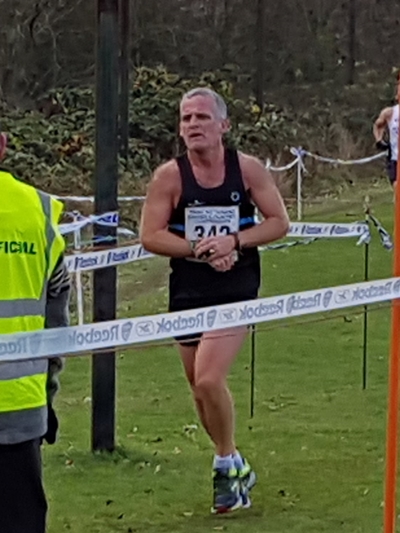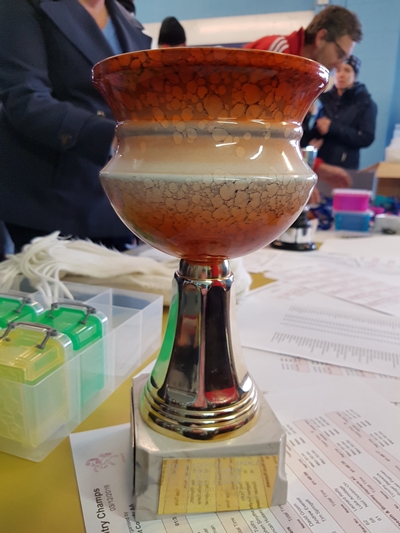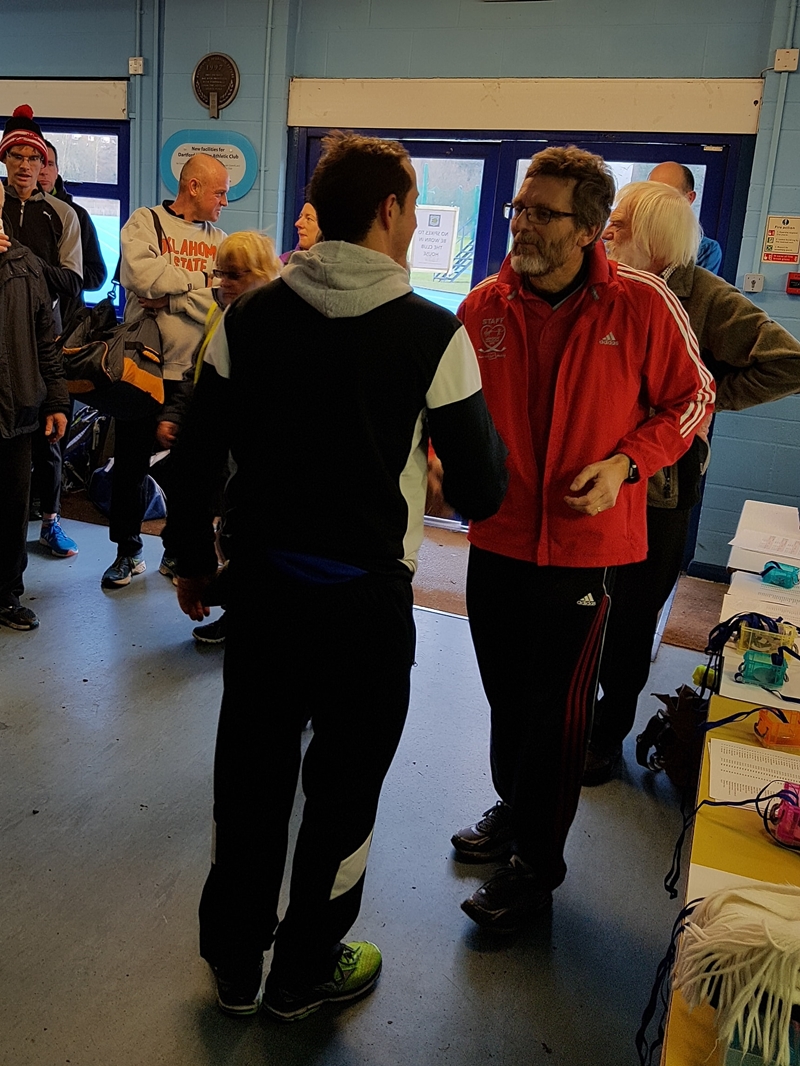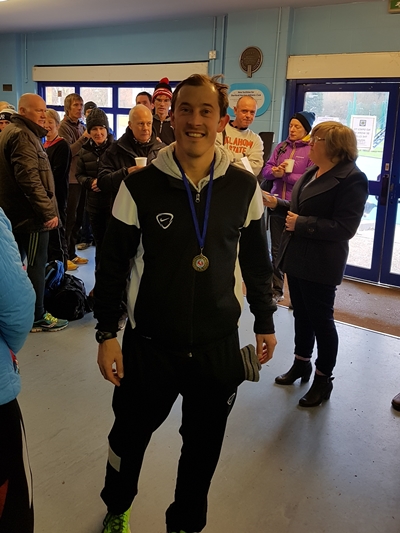 ---
13/11/16 - Beckenham 10k Trail Race - Beckenham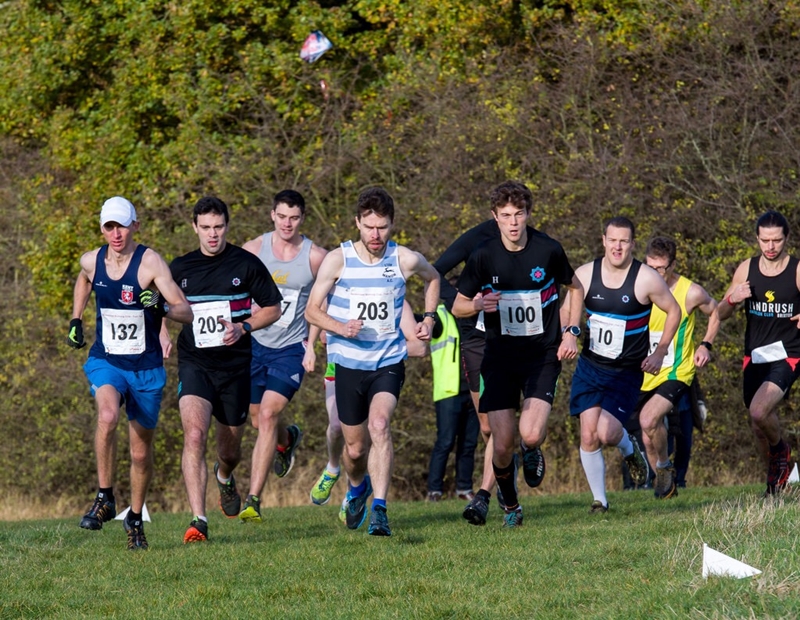 Photo & report from Rod Harrington
At the Beckenham trail race today, Carole Penlington was first lady and a team of Chris Tuck, Bertie Harrington an Tim Ayres won the men's team prize.

---
5/11/16 - National Cross Country Relays at Mansfield
Photos from Bill Foster

U13 National Champions!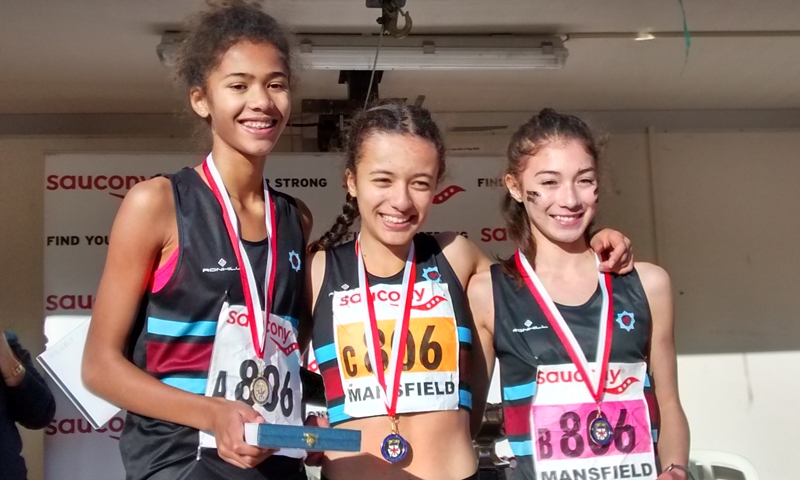 U15 National Champions!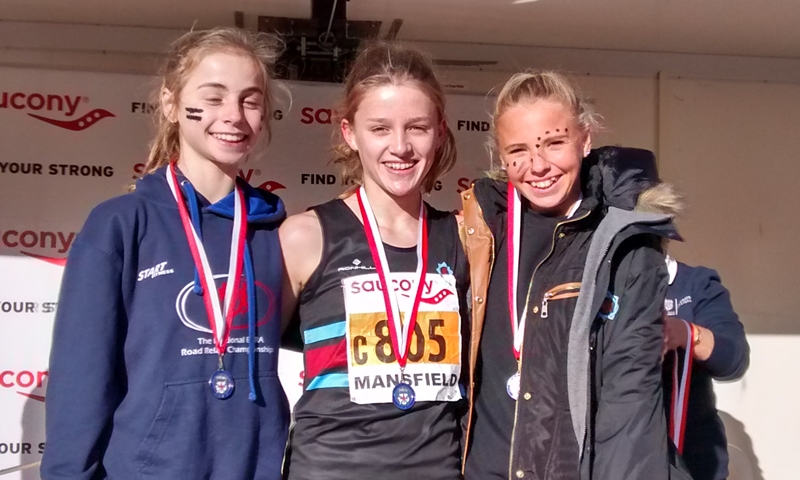 U15 and second team too!

First & second in the U15 National RelaysU13 Girls 1st & 21st
U13 Boys 10th & 24th
U15 Girls 1st & 2nd
U15 Boys 4th & 23rd
U17 Women 17th &33rd
U17 Men 31st
Junior Men 33rd
Junior Women 8th
Senior Women 45th
Senior Men 22nd
Fifty two of BBHAC young athletes competed in this year's National Cross Country Relay Championships, held for the 29th year in Berry Hill Park, Mansfield and these championships are a great opportunity for clubs to compete in a team format, in an otherwise individual sport. BBHAC's great team spirit and talent was fully on show and the club was rewarded with a fantastic set of results. Two team gold medals, one team silver and three teams in the top ten.
With the best clubs competing from throughout England, competition is always of the highest standard and so all results achieved are hard fought and well deserved. Our U15 girls were superb and dominated their race fielding three strong teams and winning gold and silver. One medal is special but to win two medals in one race is very impressive.
Tola Pearse, running the 5th fastest time of the day, Amy Miller and Yasmin Marghini, running the fastest leg of the day were worthy winners and the trio of Morgan Squibb, running the 7th fastest time, Lia Radus and Sophie Hoare were just behind in second winning a great team silver, a fantastic BBHAC sight. The C team of Lily Tappenden, Zoe White and Jess Neal were 57th in a field of over 90 teams and is also a great result.
The U13 girls were equally impressive fielding three teams with the A winning a brilliant gold. Annie Thomas lead off on leg 1 running the 4th fastest time, handing over to Ellie Dolby who brought the team home in 1st place handing to Naomi Toft who held 1st place all the way collecting a fine team gold. Daniella Harper had a strong first leg for the B team handing over to Amarisa Sibley and then Mayaan Radus securing a solid 21st place, but the 3rd B team home. The C team was lead out with a strong opening leg from Amelia Middleton handing to Olivia Berry and Lily Meers combing well finishing 71st.
The U20 girls finished a good 8th place with Jess Keene running the 6th fastest time of the day on leg one. Jo Clowes ran a solid leg two passing to Niamh Bridson Hubbard who brought the team home in a respectable 8th.
The U17 girls had two complete teams running and Yasmin Austridge, Madolina Samoila and Millie Smith combined well finishing 17th as did Lottie Weitzel, Grace Scopes and Stephanie Taylor finishing 33rd.
The U15 boys had two solid teams running and the A team were set off with a fast opening leg from Peter Guy, running one of the fastest legs of the day. Joe Georgiadis continued the good work handing over in 7th before Oscar Heaney Brufal, complete with a new pair of spikes stormed around the 2k course finishing a brilliant team 4th. The B team of Robert Suckling, Ben Gardiner and Cameron Swatton all had strong runs and were rewarded by being the 3rd B team home and were 23rd overall.
Nine U13 boys made up three strong teams and Sam Reardon, running one of the fastest legs of the day, handed over to Ben Campbell who ran a strong leg passing to Tom Brash who brought the team home in a very creditable 10th place. The B team of Thomas Penlington, Max Gregson and Matt Smith all ran great legs and were 2nd B team to finish crossing the line in 24th. Showing our strength and depth the C team of Oliver Robertson, Will Andrews and Barnaby Corry finished 3rd C team and 58th overall.
Callum Myatt led the U17 boys charge handing over to Oscar Hussey who had a great leg passing 21 teams and handing over to Lewis Mills who clawed back a further 12 teams to finish a good 31st.Charlie Andrews and Coleman Cory both had good runs but without a third runner were unable to finish as a complete team.
Richard Webb continued his fine running with a solid 1st leg for the U20 men's team handing over to Joss Barber, who went off hard on the 3k leg before passing to Marco Arcuri who brought the team home in 33rd.
Charlie Davis had a great opening leg and passed to James Crawley who powered around the course, but similar to the U17's they were unable to field a third runner and so could not complete the team race.
Good luck to U20's Niamh Bridson Hubbard and Will Fuller who have both been selected to run for England in Burgos, Northern Spain next week in an international cross country race.
The next fixture is our home match, the 3rd Kent league fixture at Sparrows Den on 12th November 2016 and this also doubles up as our winter cross country club championship, so we expect to see you all there.
Paul
The Senior men competed in the hotly contested National Cross Country relays this weekend and finished in a highly respectable 22nd position.
Phil Sesemann ran the 3rd quickest time of the day in bringing home the team in 2nd place on leg 1. This placed him ahead of some big domestic names including Andy Vernon who competed at this year's Olympics over 10km.
Andy Rayner then took over but dropped back to 21st position before handing over to London 2012 Olympian Scott Overall. After a busy period of racing including the Chicago Marathon, Scott showed no signs of heavy legs as he moved the team back up the field into 8th position. Dan Kennedy then took over and ran strongly after suffering from a niggle during the week to finish us in 22nd.
We unfortunately could not complete a B team but Chris Tuck, Nic Corry and Tim Ayres who admirably stepped in to run at the last minute all ran strongly and showed great team commitment.
Phil: 14:49
Andy: 16:42
Scott: 15:32
Dan: 17:53
Chris: 18:25
Nic: 23:05
Tim: 20:06
Special mention goes to Danny Brewer (Men's team manager) who ran 3:02 at New York Marathon this weekend on a tough course.
Up The 'heath
Andy, Danny & Jon.