---
14 March 2020 - English Schools CC Champs, Liverpool
With many sporting events being postponed because of the current Coronavirus situation, it was good to see the English Schools Cross Country Championships 2020 in Liverpool, go ahead, following the latest guidance from the NHS.
Blackheath and Bromley HAC had eighteen athletes selected by their school county to represent them at these prestigious XC Champs. With only eight selected from each county in each age group, getting selected is a great achievement.
Lara Mannes (London IG) finished her winter season with the highest BBHAC placing of the day finishing a great 24th, helping team London to win silver.
Ava White (London SG) was a strong 30th and part of the gold winning London team.
Oliver Bright (London SB) wrapped up the cross country season with a solid 32nd.
Zoe White (Kent SG) finished her best winter season with a very impressive 39th.
Tom Brash (Kent IB) had been selected for these Champs for the last two years but on both occasions was unable to compete, so it was good to see him finally put on the blue Kent schools vest and make a great debut placing a respectable 46th. Kent also won the IB team title.
In her first year in the age group Hannah Clark (Kent IG) had an impressive run, crossing the line in 51st.
Ailbhe Barnes (London IG) finished her great winter season in 61st place and helped London win team silver.
Arthur Starvis (Kent JB) making his ESAA debut ran well in 89th completing a great winter.
Triathlete Isabelle Stoneham (Kent IG) made her ESAA debut placing 114th.
Amy Miller (London SG) placed a good 131st helping London to win team gold.
Carys Firth (Kent JG) at her second ESAA XC placed a good 139th, 80 places higher than 2019.
800m specialist Zakia Mossi (Middlesex IG) finished her winter with a good 139th.
Megan Slattery (London JG) in her debut ESAA was a good 143rd.
Good to see Jess Neal (Kent SG) competing in her 5th consecutive ESAA XC and finishing in 161st.
Joel Rooney (London SB) finished 170th in his second ESAA champs.
Ellie Osmond (Surrey SG) hard training ethics were rewarded with selection to the Surrey team, who won team silver, and Ellie finished a good 171st.
Another athlete making her ESAA debut was Livvy Berry (Kent IG) and she crossed the line in 208th.
Molly-May Mooney-Clarke (Kent JG) completed her very successful first season of athletics with selection to the ESSA XC and despite ankle problem during the race, finished 325th.
JG Junior girl
IG Intermediate girl
SG Senior girl
JB Junior boy
IB Intermediate boy
SB Senior boy
Paul Austridge

---
7 March 2020 - National Inter Counties XC Champs
This year's National Inter Counties XC were back in the Grounds of Prestwold Hall, Loughborough and with the deluge we have had over the last few weeks, it was no surprise that the course was muddy and challenging.
Blackheath and Bromley HAC had twelve athletes selected to represent Kent in one of the final XC races of the season.

Senior men
Charlie Davis continued his great season with a brilliant 11th place finish.

U13 boys
Josh Healy had by far his best race of the season placing a phenomenal 13th with Alex Middleton an impressive 24th.
The Kent team were 4th missing the bronze medal by only 1 point.
U17 boys
Oliver Bright had another solid run finishing a high 22nd and the Kent team winning gold.

U17girls
Well represented with Ailbhe Barnes a high 22nd, Zoe White 55th and Isabelle Stoneham 88th

U13girls
Megan Slattery was good 47th and Francesca Middleton 69th. The Kent were 3rd winning team bronze.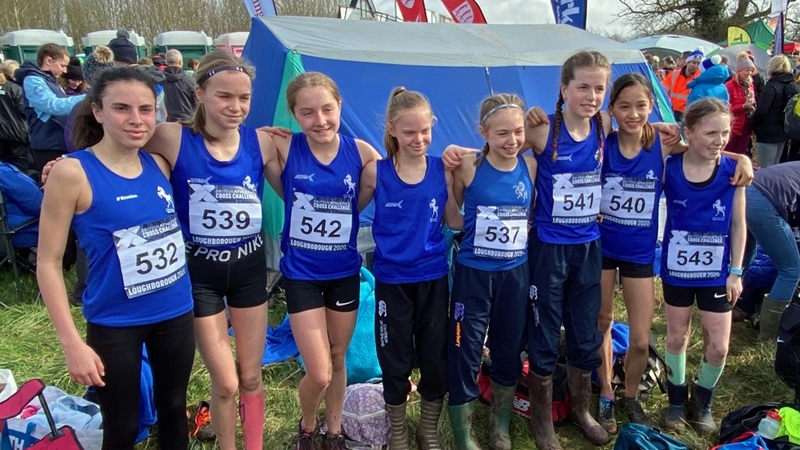 U15girls
Three BBHAC athletes running with Hannah Clark 74th, Carys Firth 123rd and Lily Meers 137th
Paul Austridge

---
1 February 2020 - BUCS Cross Country Championships - Holyrood Park
BUCS XC 2020

British Universities and Colleges Sports (BUCS) Cross Country Championships 2020 travelled to Scotland, to the famous Holyrood Park and once again BBHAC students were out in good numbers representing their respective universities.

Over 1600 motivated athletes, each sporting their University colours with face paint, ribbons and various other colourful forms make up what is arguable the best supported cross country races of the season, collegiate almost tribal!

In the women's long race Niamh Bridson Hubbard (Cambridge) ran superbly in a class filled field placing a very high 10th.

In the men's equivalent long race, Charlie Davis (Birmingham) was highest placed BBHAC athlete crossing the line in a quality 19th position. James Habergham (Leeds Beckett) was 104th and Prince Reid (East Anglia) 275th.

In the woman's short race Yasmin Austridge (Birmingham) had her best run of the season placing an impressive 10th, with Jess Keene (Birmingham) and Maddie Mastrolonardo (Birmingham) 34th and 44th respectively. Amy Leach (St Mary's) was 79th and Jess Sellar (Oxford) 116th.

In the men's short race Josh Schofield (Loughborough) was a great 24th, Oscar Hussey (Warwick), Angus Harrington (Cambridge) 274th, Alex Leggatt (Durham) 300th and Marco Arcuri (Durham) 356th.
Paul Austridge

---
25 January 2020 - South of England Championships - Parliament Hills
The 2020 South of England Cross Country Championship at Parliament Hill, Hampstead Heath were once again run in challenging conditions underfoot with plenty of wet mud!
Similar to last year, Blackheath and Bromley HAC numbers were down for various reasons: injury / illness, indoor champs or clash of sports and this reflected in the results with the U17 and U20 age groups unable to field enough athletes to score in the team competition. However, we did have many fine performance throughout the age groups.
The biggest squad of the day was the U13 girls and strong runs from Megan Slattery 17th, Francesca Middleton 20th, Megan Barlow 58th and Luciana Smith 61st combined well to secure a solid 5th team place finish. Amie Gould ran well to finish 64th, as did Maria Salamanca in 90th just in front of Tallulah Ndikanwu in 92nd. Lydia Witcombe crossed the line in 184th followed by sisters Maddie and Lydia Marston in 252 and 267 respectively. Lola Bischoff completed the big squad finishing 282nd in her first Southern XC championship race. Alyssa Firla warmed up and was raring to go but was hindered by a recent injury meaning a reluctant withdrawal.
The U15 girls went two better than last year also placing 5th team on the day. Lily Meers led the girls home a great 22nd, with fast finishing Carys Firth 27th just in front of Hannah Clark in 28th. Cara Gould completed the scoring four, placing 84th. Olivia Magee Brown was 147th, Olivia Wauters 158th, Amelia Middleton 168th, SP Maher 195th and rounding the squad off was Amelie Willars crossing the line in 238th. Libby Whyte, sporting a damaged wrist, was disappointed to miss the race but still managed to get around part of the course giving the girls support.
Ailbhe Barnes and Zoe White made up the U17 girl contingent and both had great runs with Ailbhe placing a fine 15th and Zoe 30th, 26 places higher than last year. Unfortunately no team result.
Amy Leach was our sole representative in the women U20 race but her strong performance was missed off the results due to a missing timing chip!
The U13 boys had six BB athletes making up their squad and a fabulous run from Alex Middleton saw him coming home in an impressive 12th place. Only eight seconds behind, Josh Healy had probably his best run of the season placing a very good 20th. Jed Starvis continued his great winter finishing 103rd with Harry Fage running well in 143rd. Hendri Verster looked strong in the run in and placed 157th and Mark Constable, on his BBHAC and XC Championship race debut , gained many places in the final half kilometre and crossed the line in 181st. The team were 10th overall.
The U15 boys had a great turnout and were led home by a strong running Matt Smith placing in the mid twenties. Unfortunately Matt's chip wasn't automatically recorded at the finish and so Matt's performance was missing from the official results. This is currently being investigated! Arthur Starvis backed up his strong Kent schools XC run with a top 100 finish, placing 96th. Alessio Tutt went off hard and finished 106th before dashing off to swimming in the afternoon. Miles Brown, making his full BBHAC debut ran well placing 126th and Thomas Sugden bettered lasts years position by 58 places placing 137th. Ted Marston also made a great improvement on last year, finishing 140th, 69 places higher than in 2019. Consistent Nathaniel Brunner completed the squad in 305th. The team were 14th without Matt's results but this will probably be bettered when Matt's result is added.
Oliver Bright raced hard at this event in 2019 to secured a fine 7th place, and this year again went off with the leading pack, in the U17 boys 6k race but unfortunalty had to pull out at the start of the second lap. Hopefully no lasting damaged was done and we will see Oliver flying again very soon. Joel Rooney looked good all the way around securing 65th place and Freddy Georgiou completed the tough two lap course but fell foul of the automatic timing system and so at present is not showing on the official results. More investigation!
In the U20 mes race Matthew Francis had a solid run placing 64th and Ifetobi Salako, despite missing the start secured a 114th place finish.
Great to have loads of parents there supporting our athletes along with PP's Ken Daniel, Tim Soutar, Dave Cordell and Bill Foster and VP Karen Desborough and her family.
Paul Austridge
---
Nine Men braved the toughest cross country the UK has to offer. 15k round the notoriously difficult Parliament Hill. This year the conditions were particularly brutal with ankle deep boggy mud covering almost the whole course.
First home, in his best Southerns finish was Ross Braden in 22nd, next man home just inside the top 100, in what was another fantastic run was Tom Desborough. Desborough has continued to go from strength to strength and has improved by over 100 places compared with last year!
Following Tom we had some close packing from Alex Gibbins, Dan Kennedy and Danny Brewer. Gibbins managed to hold off Kennedy by just 5 seconds to finish in 142nd, with Kennedy in 148th and Danny Brewer making use of running on home turf to finish in 171st.
Closing the 6 to score team was Gareth Evans, who battled hard to finish in 1.03.25 which secured 522nd, this put the team in a very respectable 15th overall out of the 80 teams that managed to put out a full team.
Next home was Greg Firth, who made the extremely brave decision to run in trail shoes, finished 744th, an incredible effort in what must have been a real slog without spikes! 8th man home making a welcome return was Richard Daniels, finishing in 923rd. Richard Byford was our final man to finish, completing the team finishing 1105.
Up the Heath
Ross, Chris and Dan

---
7 December 2019 - Oxford v Cambridge Varsity - Wimbledon Common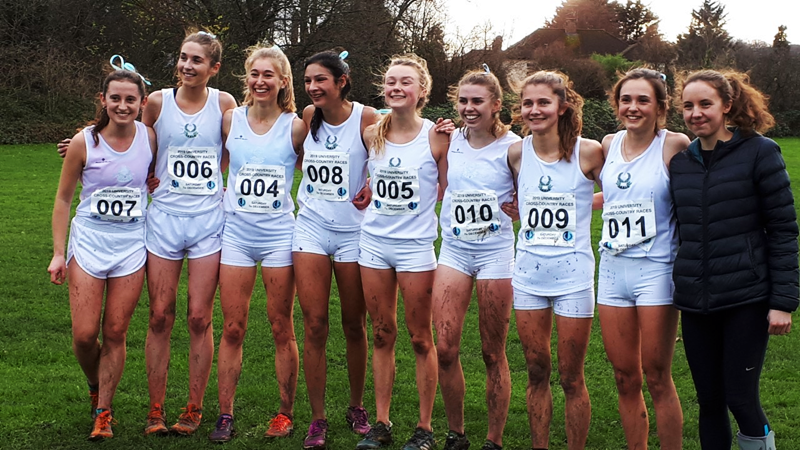 Niamh Bridson Hubbard (005) with the Cambridge Women's winning team.
Thames Hare and Hounds hosted the annual Oxford v Cambridge Varsity Cross country races at Wimbledon Common. Running for the Light Blues for the third time in this event, Niamh Bridson Hubbard stormed round the 4-mile (6.4K) course to take the win in a new course record of 22:49 and lead Cambridge to a narrow 39-41 point win over Oxford.
John Hubbard

---
30 November 2019 - Kent Masters - Central Park Dartford
There was a good turn out of Heathens for the Kent Vets at Dartford on 30 November. We had competitors in all age groups in the Mens races and in 2 age groups for the womens.

Star mention must go to our 2 medallist's: Maz Turner took bronze in the VW65s and Peter Hamilton also took bronze in the VM70s.

Team wise, there was solid 5th places for the M40s (Luca, Tony, Gareth and Steve E) and for the M50s (Heath, Roger, and Clayton) where Heath Anthony was well placed in 9th and the team were just 4 points away from 3rd. It was good to see that our second group of M50s would have finished in 8th place. The M60s fielded a full team, with Luigi leading them home in 26th place.
Report & photos from Steve Pairman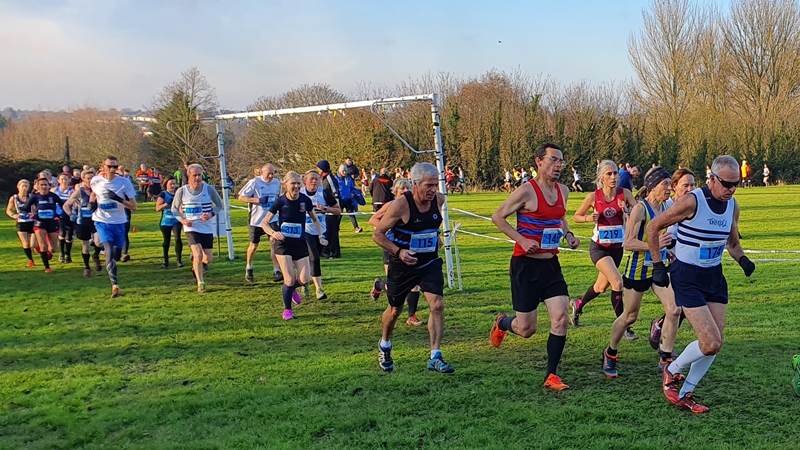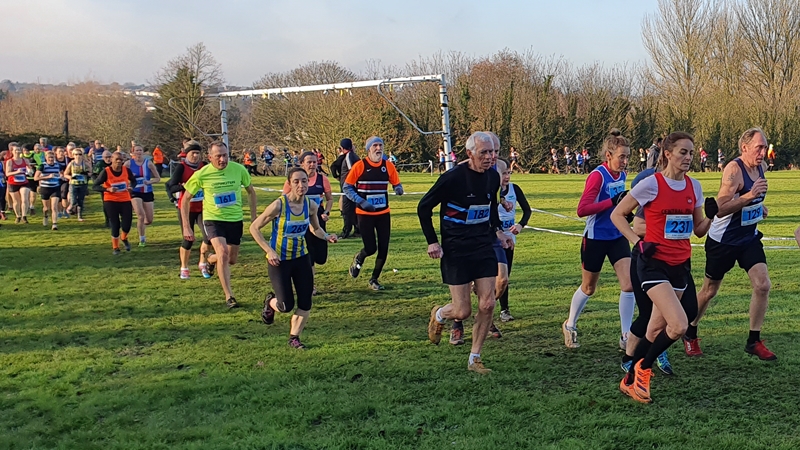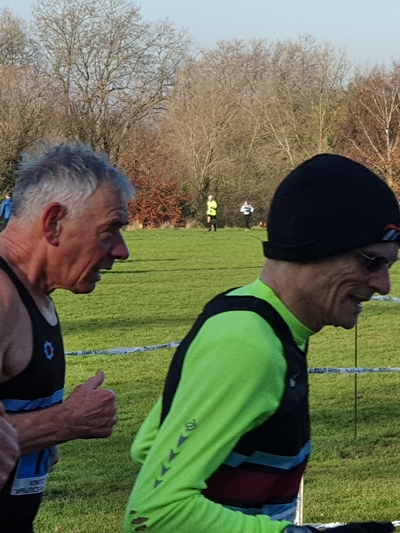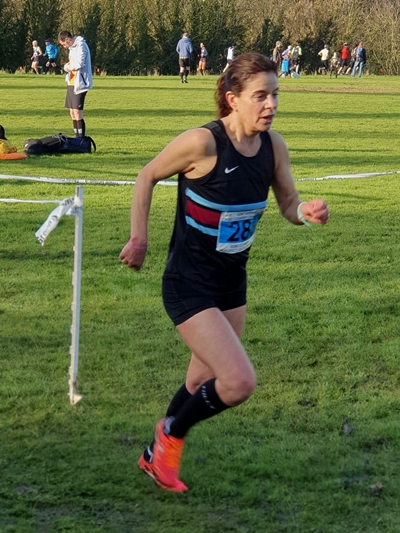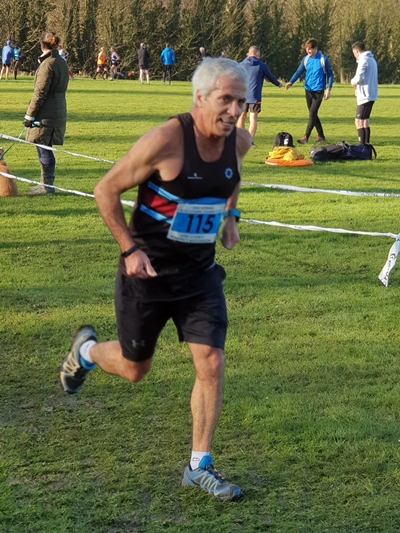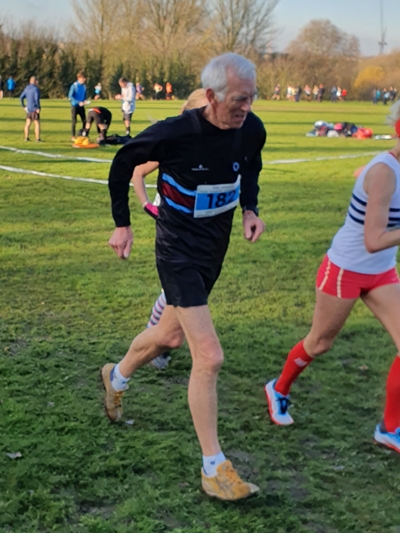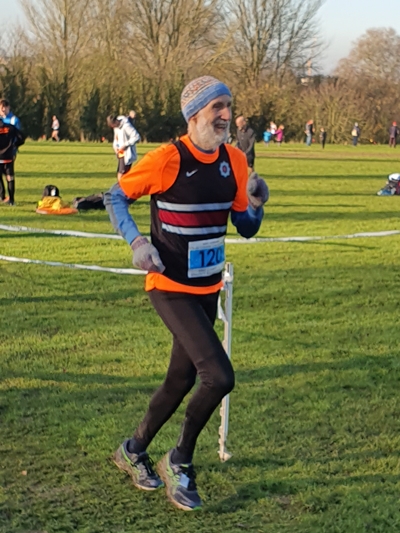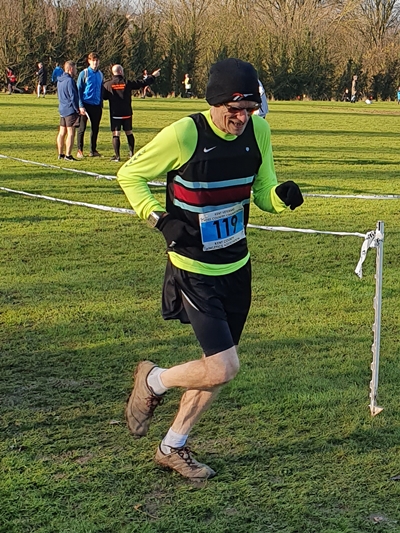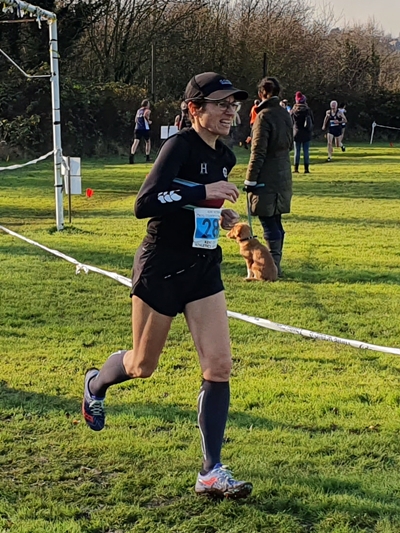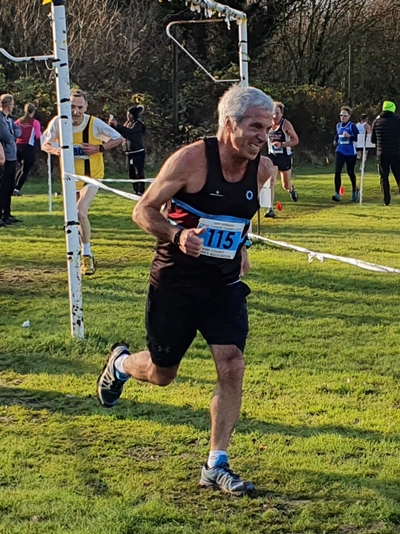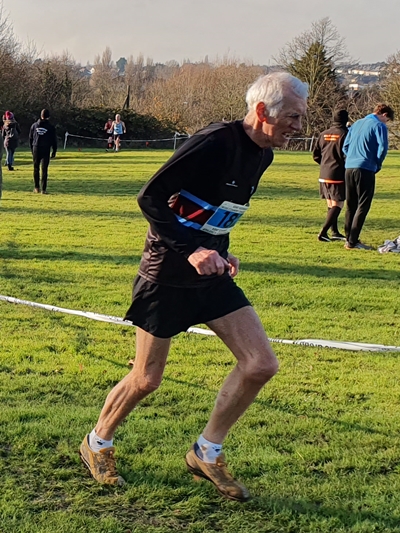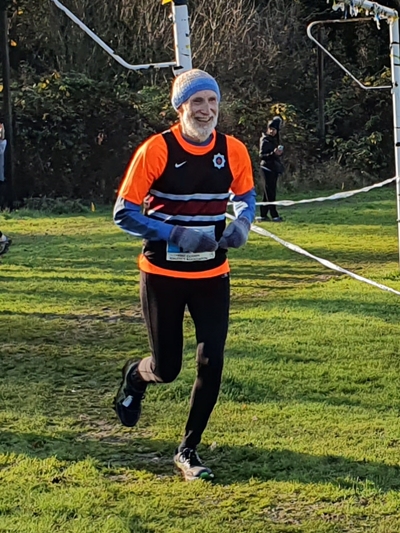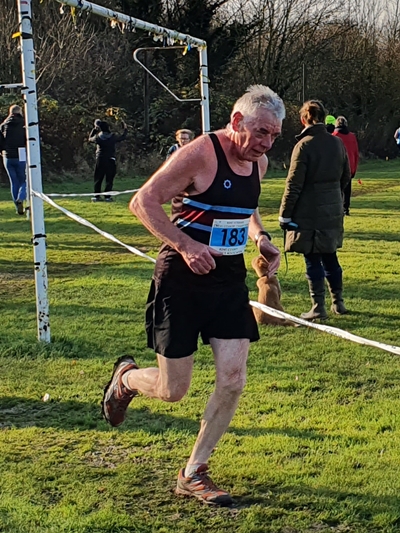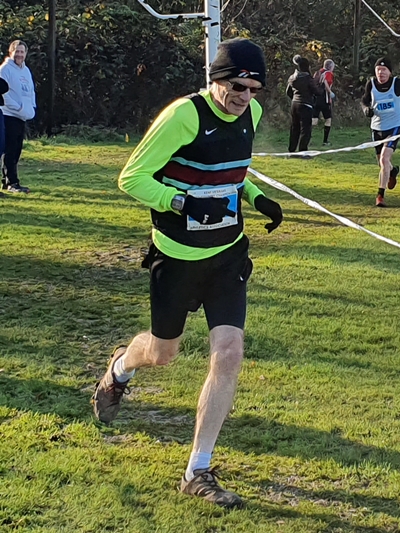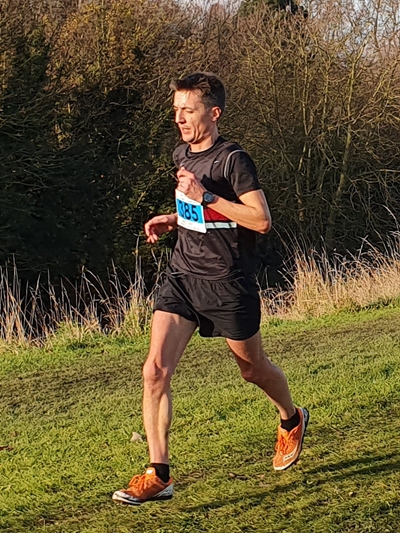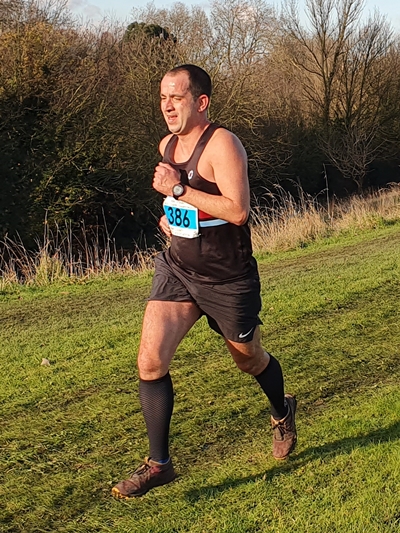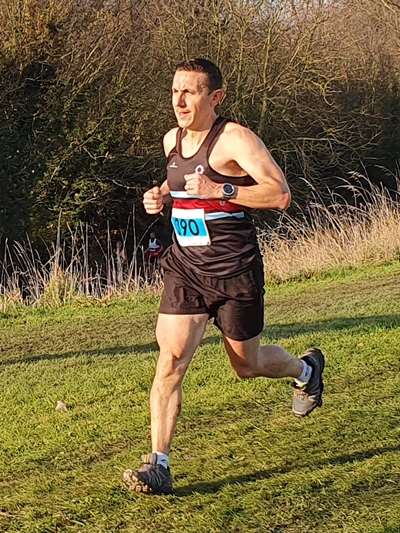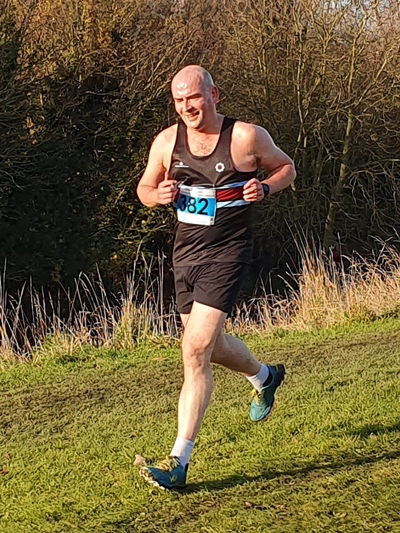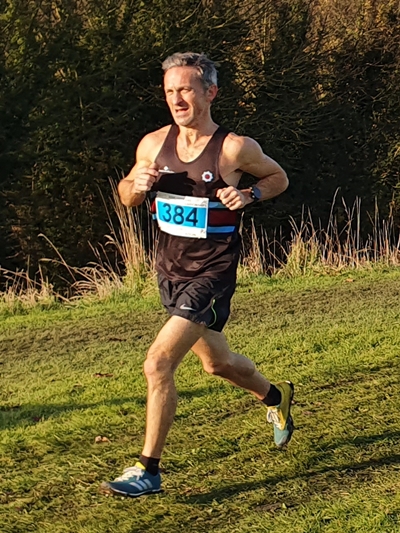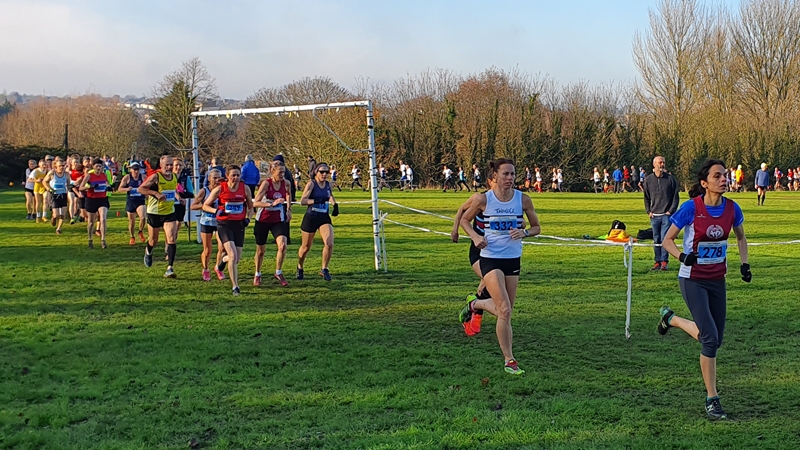 ---
23 November 2019 - Liverpool Cross Challenge (Euro Trials)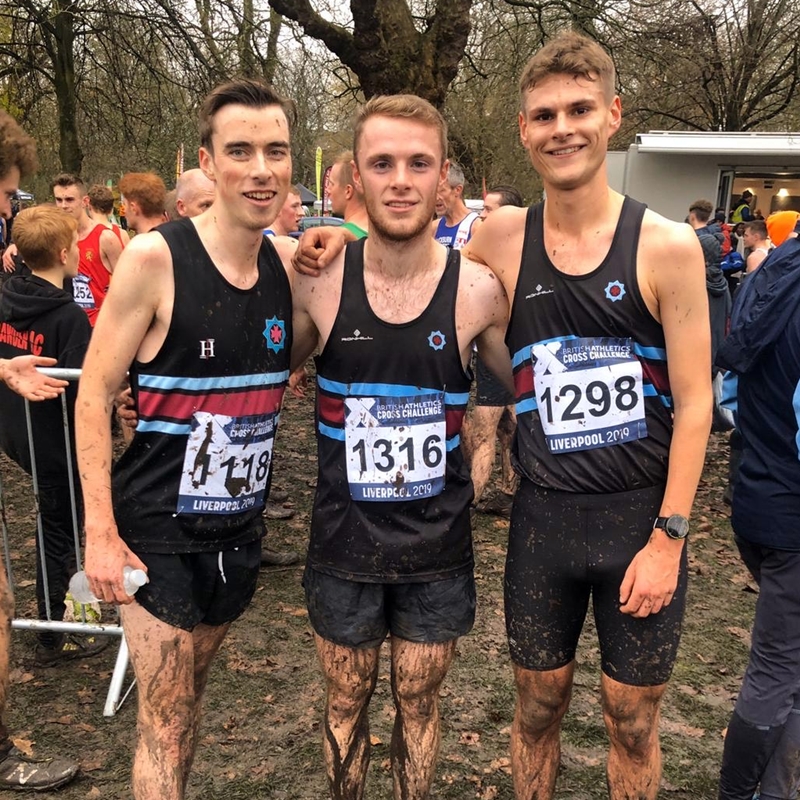 Liverpool Cross Challenge (incorporating the European Cross Country Championships Trials)
Saturday saw the European XC champs trials held in Liverpool, 4 men took the long travel up north plus one supporter (shoutout to Will Ruiz)
First home was Team Manager Ross Braden, who finally managed to put in a worthy performance in Blackheath colours, finishing in 42nd. He was closely tracked by Northerner Josh Schofield, who after a blistering start (briefly taking the lead) settled down and put in a fine performance finishing a very solid 53rd.
The next Blackheath vest to finish was '800m turned cross country specialist' James Habergram. Despite being far from thrilled with the conditions, Habergham put in another superb performance over the cross for Blackheath, putting an end to any rumours that he would prefer to run indoors than at nationals.
Charlie Davis was also running however he seemed to have forgotten his B&B HAC vest, which meant he was forced to run in the colours of Birmingham Uni instead. This misstep can be forgiven as Charlie improved on already very good performances this winter to finish in 64th.
---
Blackheath and Bromley women were represented by Niamh Bridson Hubbard and Jess Keene in the combined Under 23 and Senior Women's race run over 8.1K. Niamh finished 5th in the Under 23s (19th overall), narrowly missing out on selection for the GB&NI team to run in the European Championships in Lisbon on 8 December, but was chosen as first reserve. Jess, in her Birmingham University vest, also had a solid run, coming in 20th in the U23s (64th overall). John Hubbard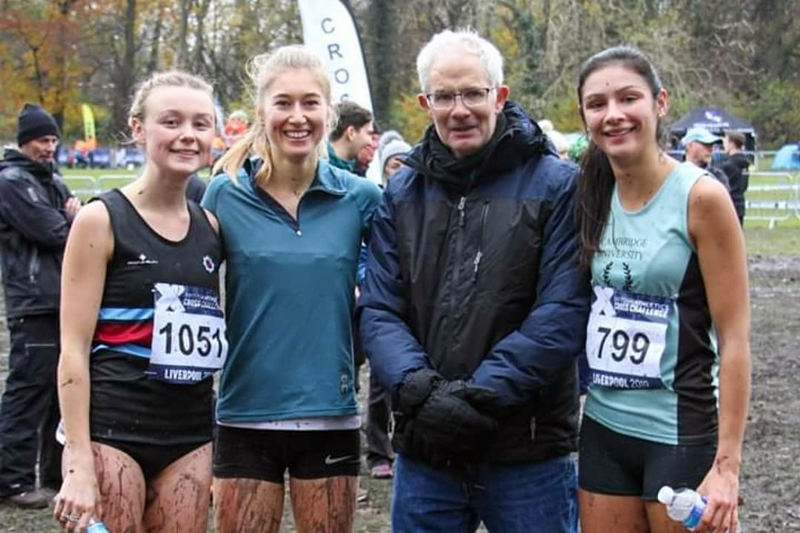 Niamh Bridson Hubbard with Cambridge Hare and Hounds friends Phoebe Barker and Emily Ruane and their coach, Phil O'Dell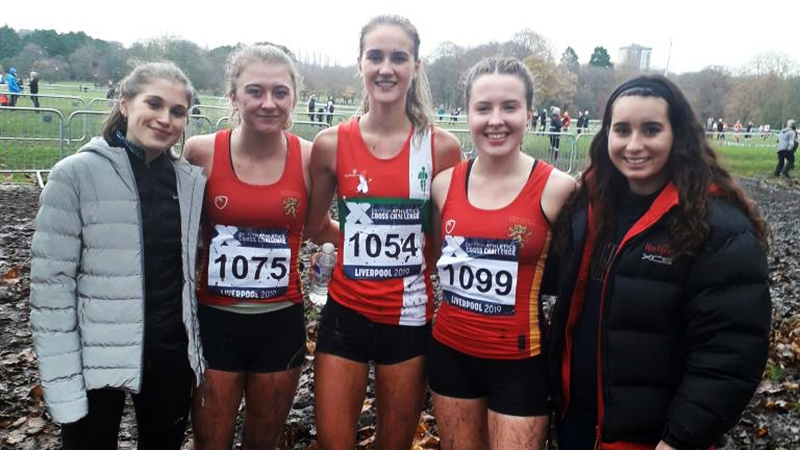 Jess Keene (1075) with friends from Birmingham University

---
16 November 2019 - London C-C Championships
Several Blackheath athletes were again on the charge at the weekend over Parliament's Hills in a boggy, undulating affair that served as a reminder that winter has well and truly arrived; and that even the comparatively short 10km on Hampstead Heath is no mean feat.
Local resident Danny Brewer led the charge after his stint altitude training in Bolivia in an impressive 41st place despite a stitch on the last lap. Dan Kennedy followed him home in 59th after a well judged effort, Luca Ercolani snuck into the top 100 in 98th with a determined sprint to the line, and Fintan Parkinson completed the scoring quartet 158th after taking the brave decision to wear trail shoes in the ankle deep mud.
Josh Dowling made a welcome return to racing in 172nd after some achilles trouble, Jon Vintner ensured it was a worthwhile trip up from Winchester in 218th, while Heath also made a return to racing in 238th. Chris Tuck continued his march back to full fitness in 263rd to just miss out on the top half, Darren Corneille built on an impressive few months worth of training to come 295th, and Rich Byford completed the Blackheath contingent in 406th to give us 10 finishers: our best total in years.
All of this translated into 13th place out of 38 complete 4 to score teams. Naturally this was rewarded with a few well earned refreshments at some of Highgate's finest drinking establishments.
Full results can be found here: http://seaa.org.uk/images/2019/ENDURANCE/XCLDN19/Senior_Men_1.pdf
Up the Heath!
Chris, Dan & Ross

---
2 November 2019 - National Cross Country Relays at Mansfield
A strong team effort was on display again on Saturday as 1 complete and 1 incomplete Blackheath and Bromley side descended on a wet and muddy Berry Hill Park in Mansfield for the National Cross Country Relays.
Charlie Davis made his seasonal debut for Blackheath with a strong performance on the ultra competitive first leg to come home in 38th in 17:17, a time that would have been close to the top 10 on any other leg. Josh Schofield continued his impressive form from Tonbridge last weekend to charge through the field in the 8th fastest time of the 2nd leg, 16:53, to make up 20 places and take some impressive scalps in the process. James Habergham, rapidly making himself indispensable to all our relay teams, continued the good work to snatch an extra place in 17:23 in a battling performance. Sadly, this momentum couldn't be maintained on the last leg as Dan Kennedy, a late change due to injury and illness, could only manage 19:42 and lost 10 places to lead the team home in 27th. Far from a disaster, but below expectations.
Simultaneously a the incomplete B team made the most of the opportunity to compete on the national stage by all bringing their A games to the competition. Tom Desborough came home in 69th on the 1st leg in 18:38, suggesting he might have been better off in the A Team. Mark Cage made his long awaited debut for the club by holding his own in a solid 19:37 and Ian Firla got in a relatively speedy work out in his preparation for the Valencia Marathon by completing the team in 20:07 to leave them back in 69th but sadly without anyone to pass on to it.
A big shout out to former Heathen Phil Sesemann for defending the Cross Country Relay title with Leeds City despite taking a heavy fall down hill on the first leg.
Full results can be found here: http://www.englishcrosscountry.co.uk/nationals/2019-xc-relays-results-all-age-groups/
Up the Heath!
Chris, Dan & Ross
---
We were all very fortunate that the National Cross Country relays in Mansfield, Nottinghamshire, went ahead as planned, despite fears that this great venue may not have been available, due to bureaucracy!
The superb course at Berry Hill Park offers everything needed for a great Championships - tough hills, woodlands, mud, grass, bucket loads of rain and wind and all this easily accessed by the large numbers of spectators in attendance.
Forty three young BBHAC athletes made the three to five hour journey (depending on when they travelled) to Mansfield and were met by the "worst conditions for 30 years" as announced by the PA system! This meant that times were slightly down on last year but the effort and commitment was exactly the same as always.
The U13 boys trio were led out by Alex Middleton, who had his spike ripped from his foot after about 400m, but carried on regardless before passing to Hendri Verster and then Harry Fage, both in their first National XC relay, bringing the team home in 43rd in a field of 79 complete teams.
The U13 girls had three strong teams racing and the trio of Megan Barlow, Amie Gould and Fran Middleton combined well to finish a high 17th. India Blakey, Lara Tunali Flynn and Megan Slattery were just behind in 21st and only two places behind them in 23rd were Maria Salamanca, Alyessa Firla and Luciana Smith.
Matt Smith had a superb race coming home a solid 8th in the U15 boys handing to Ted Marston and Thomas Sugden who both ran well coming home 30th. Nathan Firla made his National debut running the first leg of an incomplete team but held his own well in tough conditions.
The U15 girls had three complete teams and the A team of Hannah Clark, Lara Mannes and Lily Meers all had strong runs, collectively finishing a fine 8th place with 98 teams racing. Imogen Hadley, Amelia Middleton and Carys Firth finished well in 43rd spot just in front of trio Isabella Louth, Olivia Wauters and Cara Gould in 47th.
The U17 boys also finished an impressive 8th with Oliver Bright running the sixth fastest leg of the day (270 racing) passing to Tom Brash and then Sam Reardon who both had typically committed runs. The incomplete B team was made up of Will Andrews and Freddy Georgiou and they both handled the conditions well, just a shame there was no third leg runner to complete a team result.
The U17 girls had two great team running and the A team finished a high 10th with Tola Pearse running well on leg 1 passing to Ailbhe Barnes on two, producing the fastest leg 2 of the day, handing over to Zakia Mossi bringing the team home in 10th. The B team of Ava White, Zoe White and Jess Neal pushed hard and finished a fine13th. In the incomplete C team Lucrezia Polloni showed she is in great form running a solid opening leg.
The U20 boys finished in 41st with Callum Myatt leading them out, handing to Ben Gardiner on two and Henry Fisher on three.
The U20 girls were led out by Yasmin Austridge, passing to Mille Smith and then to Amy Leach who crossed the line in a good 16th place.
Challenging conditions all round but I'm sure everyone enjoyed getting warm and refuelling before the long journey home. A big thank you to PP Dave Cordell and VP Claire Austridge for taking the much needed tent to Mansfield and back to the club house afterwards, to hang up to dry! Many thanks again, go to all the parents, team mangers and coaches who continue to support our young athletes enabling them to compete at this high level. Special thanks to Paul Brash who drove the testosterone filled minibus to Mansfield and back, not an easy undertaking.
Paul Austridge

---
19 October 2019 - SEAA XC Relays - Wormwood Scrubs
Blackheath fielded a single team at Wormwood Scrubs on Saturday to run in the Southern XC Relay Championships, with everyone performing brilliantly apart from the loan team manager. James Habergham ensured the trip down south was a productive one with 2nd place after the 1st leg and the 4th fastest time of the day. Alex Gibbins continued the good work with the 30th best time of the day to bring the team back in a very respectable 6th, before handing over to Dan Kennedy, who promptly took the team back 8 places to 14th with an awful run. Ian Firla was on hand to steady the ship, however, with a strong run to lead the team home in 15th in only his 2nd XC race for the club.