---
9 June 2019 - Orpington High Elms 10k off road
Full results here...
| | | | | | | | | | |
| --- | --- | --- | --- | --- | --- | --- | --- | --- | --- |
| Pos | | | | Age | Chip | Gun | | | |
| 7 | Luca | Ercolani | 134 | 47 | 40:35:00 | 40:36:00 | M | M 40 to 49 | Blackheath & Bromley Harriers AC |
| 29 | Paul | Kerekgyarto | 221 | 42 | 45:20:00 | 45:24:00 | M | M 40 to 49 | Blackheath & Bromley Harriers AC |
| 30 | Steve | Pairman | 304 | 57 | 45:27:00 | 45:32:00 | M | M 50 to 59 | Blackheath & Bromley Harriers AC |
| 40 | David | Beadle | 37 | 52 | 47:21:00 | 47:26:00 | M | M 50 to 59 | Blackheath & Bromley Harriers AC |
| 63 | Mike | Simms | 357 | 51 | 50:17:00 | 50:27:00 | M | M 50 to 59 | Blackheath & Bromley Harriers AC |
| 76 | Stuart | Cullum | 112 | 49 | 51:51:00 | 51:56:00 | M | M 40 to 49 | Blackheath & Bromley Harriers AC |
| 79 | Luigi | Arcuri | 21 | 61 | 52:02:00 | 52:07:00 | M | M 60+ | Blackheath & Bromley Harriers AC |
| 98 | Isabelle | Bridge | 60 | 17 | 53:43:00 | 53:53:00 | F | F Senior | Blackheath & Bromley Harriers AC |
| 233 | isobel | harrington | 438 | 55 | 01:04:34 | 01:05:14 | F | F 55+ | Blackheath & Bromley Harriers AC |

---
16 March 2019 - English Schools CC Champs, Leeds
The 2019 English Schools' Cross Country Championships returned to the historic estate of Temple Newsam, Leeds, West Yorkshire one year on from the successful 2018 championships.
Last year's bitterly cold wind and snow showers were replaced by constant rain but once again the course was interesting and well marked out. The tough hilly course wound around the "Capability Brown" landscaped grounds taking in sections that were wet and muddy under foot and finished in the shadow of the imposing Temple Newsam mansion. The course was perfect for spectators who could watch all of the races unfold from the high ground.
All forty-six English Counties select their best eight athletes (junior, inter, senior boys and girls) for the honour of being the best in the country, so the competition is always fierce and the fields large. Blackheath and Bromley Harriers had nineteen athletes selected for their counties.
First race of the day was the inter girls running 3.7k. Naomi Toft (coach Phil Kissi) led the BB athletes in with a fantastic run, placing 15th in her first year in the age group. Annie Thomas (Phil Kissi), also in her first year and fresh for winning team gold at the National XC ran really well finishing 37th. National indoor 800m champion Zakia Mossi (Phil Kissi) and also a year young placed a fine 56th running for Middlesex. Morgan Squibb (Andy Frankish) put recent injury troubles behind her as she placed a solid 75th. Ellie Dolby (Andy Frankish) another National XC team gold medallist and first year, placed 172nd. Daniella Harper (Jay Galley) making her English schools debut finished just inside the top 200 in 197th and Jess Neal (Andy Frankish) running for Kent placed 235th.
The junior boys running over a 4.1k course were next up and BBHAC had two athletes making their English Schools debuts representing Kent. Matthew Smith (Jay Galley) had a strong run placing 97th and George Shaw (Mick Jones) ran a solid race placing 123rd.
The junior girls had to tackle a 3.7k circuit and with England vests up for grabs, competition was fierce. This year all top ten athletes (in juniors and inters races) were rewarded with an England call up and Lara Mannes (Phil Kissi) already a National team winner, ran superbly from gun to finish, crossing the line in 9th, securing her international call up. Then followed a visit to the international tent to collect the England running kit to wear next weekend in the Home International against Wales, Scotland and Ireland schools in Dublin. Well done Lara. Hannah Clark (Andy Frankish) continued her great winter season, including National XC team gold, posted her highest English schools placing, in a great 52nd. Carys Firth (Andy Frankish) ran well at the Kent schools to get selected for the Kent team despite being a first year and she would have enjoyed her first experience of a English schools champs and did well finishing 225th.
The inter boys had a 5.2 K circuit to negotiate and London's Joel Rooney (Phil Kissi) ran well placing 145th. Oliver Bright (Nigel Stickings) placed 7th two years ago earning himself an England vest and would have been looking to be in the mix again this year but didn't seem to run with his normal freedom and his 169th suggested he wasn't able to run on full throttle.
The senior girls ran over a challenging 4.1k course and two of the London schools team were BBHAC girls. Sophie Hoare (Phil Kissi), in her first year in the senior age group went off in normal determined fashion and held on well to secure a brilliant top ten finish placing an impressive 9th. Millie Smith (Andy Frankish) in her fifth and final English schools cross country champs ran well placing a fine 56th.
Last race of the day was the senior boys running a 6.7k circuit on a muddy, well trodden course. First BB home was Theo Wood (Dave Liston) placing over twenty higher than last year crossing the line in 117th. Matthew Francis (Nigel Stickings) back running after a short injury enforced break ran solidly finishing 153rd and Harry Fisher (Dave Liston) running in the gold colours of Surrey placed a good 178th in his first English schools and running a year young.
Full results
http://www.esaa.net/v2/2019/xc/national/results/xc19jbres.php
Videos of all races
www.runjumpthrow.com/event/new-balance-english-schools-cross-country-championships-2019/
Paul Austridge

---
BUCS Cross Country Championships at Bicton College on Saturday 2 February 2019

The South West of England was hard hit this week with a good dumping of snow and temperatures well below freezing, resulting in the cancellation of a couple of schools inter counties cross country races, some Park runs and many other sporting fixtures. So it was particularly pleasing to see the eagerly awaited BUCS cross country Championships given the go ahead, down on the South coast of Devon at Exeter.

British Universities and Colleges Sports (BUCS) Cross Country Championships is the highlight of the of the winter fixtures and BBHAC 'learned lot' were out in good numbers representing their respective universities.

Bicton College, Devon, was a fantastic venue for the three race program and welcomed approx.1500 motivated athletes, each seemingly sporting their university colours with face paint, ribbons and various other colourful forms.
Attention first to the tough task of racing over a challenging course but with the prospect of a big night out afterwards to look forward to.

First up was the women's race over 6.2k and with over 600 finishers the atmosphere on and around the course was superb. The race was won by European U23 3000m steeplechase Champion, Anna Moller, who competed for her native Denmark in the 2016 summer Olympics and was running for the West London, St Mary's Uni. The field behind was made up of countless GB and England internationals and it was fantastic to see our own Niamh Bridson Hubbard (Cambridge) in the thick of it finishing in a very high 13th. Yasmin Austridge (Birmingham) in her first BUCS experience was a solid 56th with Jess Keene (Birmingham) looking strong in 65th. Lucy Elms (Birmingham) in her maiden BUCS event was a great 117th, possibly inspired by her mum Clare's recent World indoor mile record. It was also great to see Leah Everson (Bristol) running and finishing in 294th. PP Bill Foster was seen dashing around the course all day and being the Loughborough ladies coach would have been delighted with the team result that read as 1st Loughborough, 2nd Birmingham and 3rd St Mary's.

Attention then turned to the Men's A race which is made up of six runners from each university with the first four home contributing to the team score. The 10.3k three lap course couldn't separate St Mary's Emile Cairess and Loughborough's Patrick Dever as they sprinted towards the uphill finish in an unprecedented cross country finish. The announcer tried to call it and may have leaned toward the Loughborough athlete, before the official electronic result appeared, showing St Mary's Cairess crossing the line first, just 0.1 sec in front! A very exciting finish to a top class race. Jacob Brown (Loughborough) was BBHAC highest finisher placing 25th. Charlie Davis (Birmingham) put in a solid performance finishing well in a high 41st with Josh Schofield (Leeds Beckett, team captain) placing a great 54th and team mate James Habergham (Leeds Beckett) in 71st and great to see Richard Webb (Cardiff) back running regularly again in 84th. Team result read as St Mary's in 1, Cambridge 2 and Oxford 3.

The men's B race run over 8.2k is equally competitive as the A race with the same scoring criteria but allows for more than one scoring team per Uni. Marco Arcuri running for his Durham Uni had a strong run placing 120th and was supported by club member Alex Leggatt would took on the challenging role of University Team Captain, a job requiring many skills from team selection, hotel booking, team registration and declaration, through to the all important booking of the social tickets for the entire uni team. Not a job to be taken on lightly! Oscar Hussey (Warwick) proved it's hard to keep a good man down as he was present supporting, whilst still on the road to recovery after suffering a nasty hockey injury.

A great British (and International) sporting day with a tremendous supportive atmosphere followed by a 'busy' social night out for anyone currently studying!
Paul Austridge

---
26 January 2019 - South of England Championships - Parliament Hills
The South of England Cross Country Championships were back at Parliament Hill, Hampstead Heath for 2019, after last seasons difficult fixture at Stanmer Park, Brighton, where a few clubs boycotted the event for various reasons.

This once highly regarded meeting is slowly finding its feet again with a now first class results service and having the benefit of one of the finest cross country courses available. Unfortunately there was still a marshalling error, resulting in the U17 boys going completely off course, seeing the fast finishing pack lapping the back markers on the fast run in to the tape!

Blackheath and Bromley HAC numbers were down and this reflected in the results with five age groups unable to field enough athletes to score in the team competition. However, we did have three boys and three girls make the top 20 with Oliver Bright and Tom Brash posting fine top 10 performances.

The U13 girls had good numbers running and a great run from Megan Slattery saw her cross the line in 59th with Carys Firth in 65th and Gabby Martin just behind in 69th. Emily Deveney was 149th, Amber Cockburn 173rd and SP Maher 187th. Libby Whyte finished in 246th, with Katie Brash 256th and Madeleine Marston rounding off in 300th. The girl's team was 12th out of 39 complete teams.

Disappointingly the U13 boys only had two brave souls racing but the tough two of Nathaniel Brunner and Oles Chaban coped well over the tough course finishing 227th and 269th in a field of 330 young athletes.

The U15 girls finished the day with the highest team placing, securing 7th from the 34 complete club teams. Annie Thomas had a great run and looked strong in the run in, crossing the line in 17th with Naomi Toft just a few seconds behind and a great 20th place. Lily Meers ran well finishing in 70th with Hannah Clark in 87th, Cameron Kelly Gordon was 123rd, Olivia Wauters 159th and Isabella Louth in 167th. Abigail Smith was 229th and completing the squad was Amelie Willars in 250th.

The U15 boys had the biggest turn out on the day with 10 athletes on the starting line and were led home by Tom Brash having another great race finishing in 10th. Freddy Georgiou was second BBHAC home in 89th with Matt Smith 97th, George Shaw 121st and Will Andrews 142nd. Jake Anthony was 185th, Thomas Sugden 195th and Ted Marston 209th. Sam Reardon was going well but had to pull out with a recurring leg problem, as did Sam Stuart, unfortunately for both the problem occurred at the furthest point of the course and so meant a slow, cold walk back to the BB tent.

The team's effort were worthy of an 11th place team finish with 33 teams fielding complete squad.

The U17 women had a team of four start the race with Sophie Hoare having a great run placing 11th. Zoe White paced 56th and Ellie Osmond, despite falling three times in the difficult ground conditions, did well placing 67th. Jess Neal is having a great season but will disappointed to have had to pull out with a tight hamstring mid race, but this was a wise decision as continuing would surely have caused more damage.

The U17 boys 6K race was meant to be made up of a small lap and a large lap but unfortunately the first small lap was bypassed and somehow the field meandered their way around a long loop, bringing themselves back on track to complete the small loop at the end of the race! Not ideal, but as all were running the same course the result stood. This must have been unsettling for the leading group but they did well to continue racing and we saw an exciting finish with just seconds separating the top 7 athletes. Great to see our own Ollie Bright up with the pack battling it out securing a fine 7th place finish. Next up for BBHAC were Joel Rooney placing 64th and Alex Davis 138th. Only three runners meant no team result.

Jess Keene was our only U20 lady running and did well finishing 22nd in a strong field.

Lewis Mills signed off his winter season with a solid 16th place finish, moving through the field well. Theo Wood placed 81st and Ifetobi Salako in only his second cross country race for the club finished 112th. Carlos Ohler unfortunately missed the start of the U17 race but didn't waste the opportunity to run by joining in with the U20 race, but inevitable his results didn't show up.

Many thanks go to Club President Paul Byfield, Past president Dave Cordell and Vice President Claire Austridge for getting to the course before 8am, securing a perfect spot for the team tent, for all to benefit, and many thanks to all who helped to take it down again after the senior men had completed their 3 lap 15K race.
Paul Austridge
---
The return of the Southern XC Championships to Parliament Hill proved to be handy for the squad as 13 hardened competitors toed the line for the country's longest XC course (even though it proved to be a km short).
Patience is key on Parliament Hill, and this was evidenced by all of the leading 6 scorers as they each scythed their way through the fields as more cavalier approaches saw others drop off. Will Ruiz resumed his position at the front of the Blackheath pack with a finish of 67th in his first senior Southern Champs. Keen to not be outdone, Alex Gibbins put in a typically battling performance to place 118th, closely followed by Rob Donohue in 126th as he backed up his effort in the Kent XC Champs. Another debutante, Tom Desborough, continued his impressive season by coming 225th, while the mysterious Danny Brewerá (according to SEAA) bucked the trend of the other top 6 with a more aggressive first half than second. In completing the sextet, Luca Ercolani invoked memories of his run at the National last year by outlasting large swathes of the field to come 280th.
Gareth Evans executed his typically controlled strategy to finish 417th in a late charge that overtook Ben Cockburn in 427th after the latter's valiant effort and recent illness saw him struggle in the 2nd half. Jon Vintner followed on as part of his latest marathon build up in 466th. Chris Tuck made a welcome return to racing after a recent injury layoff to come 638th and kick start his own campaign for marathon glory. Steve Hough celebrated his first run at the Southern Champs for years by coming 800th exactly, an achievement that just alluded Rich Byford in 1001st, in a reminder to us all that you should always dip at the line. And last but not least, Ian Taylor completed his return to racing in a sterling 1067th.
A huge turnout of 1154 people ran and Blackheath came an impressive 15th out of 77 teams of 6. Well done to everyone!
http://www.seaa.org.uk/index.php/results/cross-country
Up the Heath!
Ross, Dan & Chris
Photos from Paul Byfield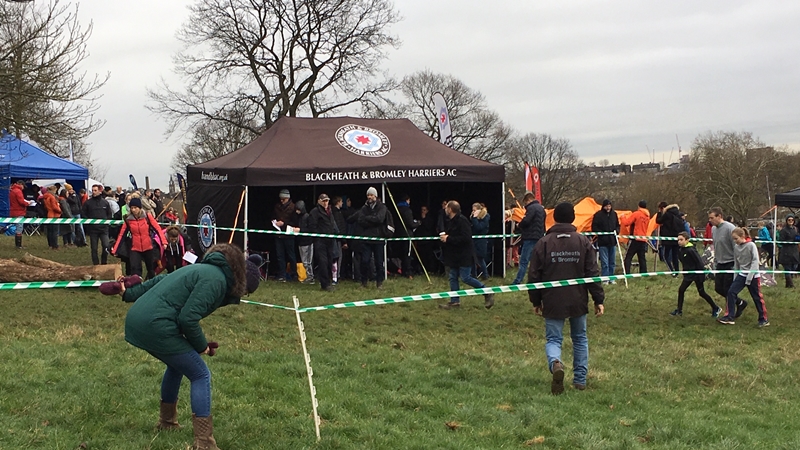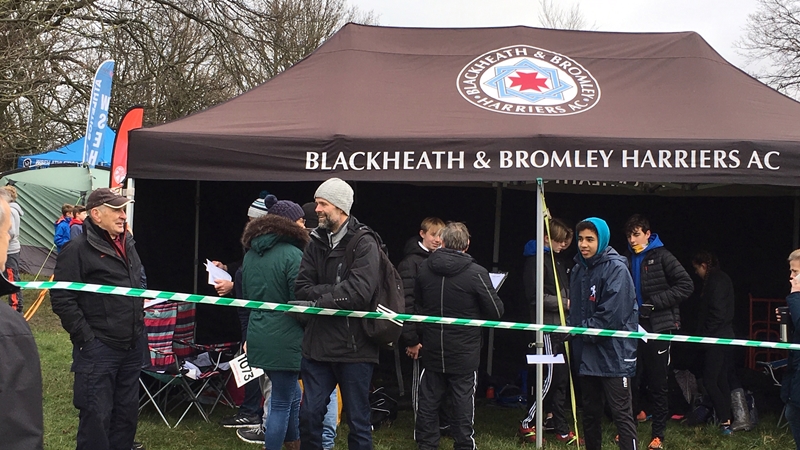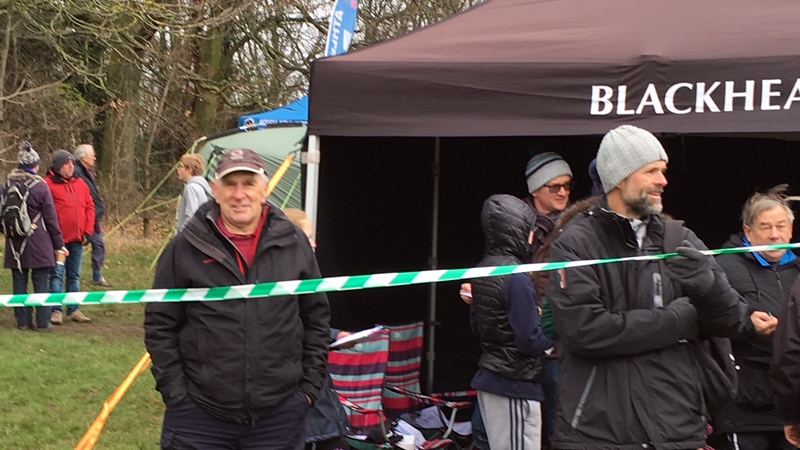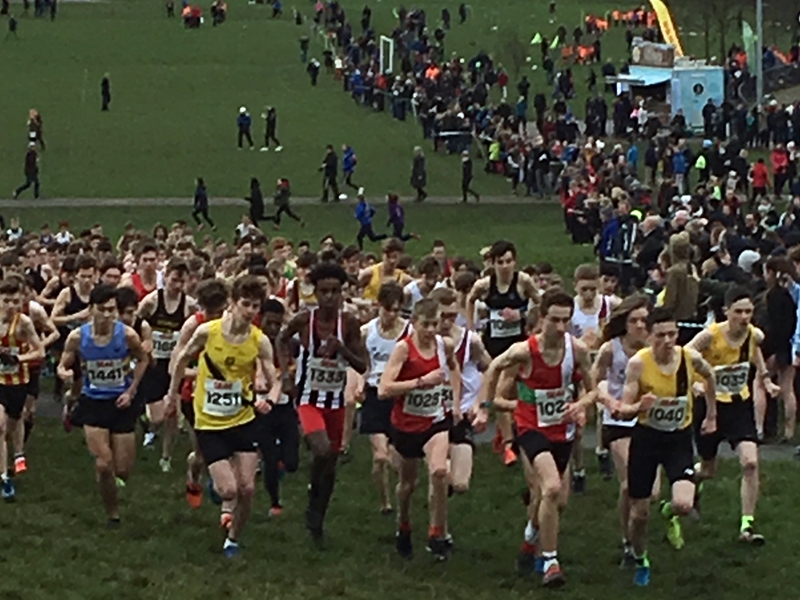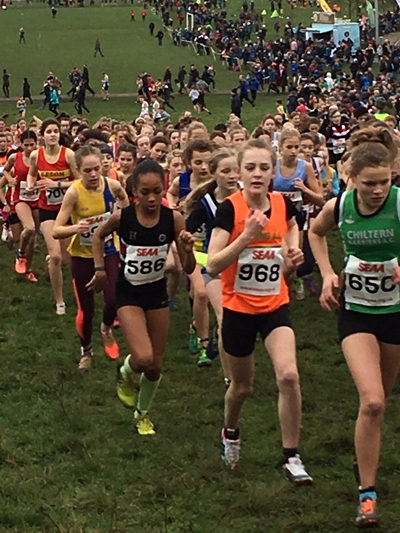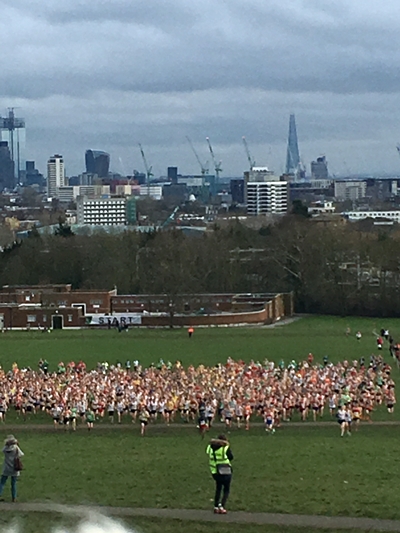 ---
19 January 2019 - Kent Schools Cross Country Championship, Dover
The keenly awaited Kent schools XC Championship was once again held at the Duke of York's Royal Military School, Dover but this year the weather was sunny and very cold replacing last year's constant rain and cold!
The reward for running well at the "schools" is a county vest and possible selection for the prestigious English School XC Champs.

The top 4 finishers at Dover would automatically guarantee their ESAA team spot, so competition was always going to be fierce.

Teams of eight will ultimately be selected to represent Kent in the English Schools XC Champs (ESAA) but in the mean time many of the top finishers will be invited to race in the up coming schools inter counties match, where the top two Kent finishers (not already qualified) will guarantee their ESAA team place.

The course was a well marked out grass circuit with a challenging up hill drag and a few undulations, excellent for spectators!

Over 100 athletes toed the line in the junior girls (school years 8-9) 3.1k race with eleven being Blackheath and Bromley HAC athletes. Hanna Clark had a great run finishing 7th as did year 8 Carys Firth closing in a great 10th. Cameron Kelly Gordon was 18th, Isabella Louth a solid 20th and Olivia Wauters 25th. International race Walker Abigail Smith was 31st, Olivia Magee Brown 37th and SP Maher 41st. Next home for the Bromley team was Amelie Willars in 48th followed by Libby Whyte in 61st and Sian Smith in 67th.

Nine BBHAC boys lined up for the junior boys 4k race. Matt Smith showed early form as a talented U13 before suffering a nasty ankle injury, but has persevered with his rehab and was rewarded for his efforts with a stunning run placing 3rd in a talented field, securing automatic selection for the ESAA. George Shaw was equally impressive working hard right through the finish line placing a pleasing 6th and must be in with a great chance of selection. Arthur Starvis continues to perform well and finished 35th, with Ted Marston in 54th just in front of Thomas Sugden in 55th. Harry Burgess crossed the line in 69th, Nathaniel Brunner was 73rd whilst club sprinter Adam Islam Medeaux, not quite used to the distance looked comfortable in 100th. Race walker and club hurdler Jonny Ellerton finished in 107th completing the Bromley schools squad.

BBHAC Inter girls (yrs 10-11) are a very strong age group so no surprise to see 6 in the top 14. Morgan Squibb in 3rd and Jess Neal in 4th both ran well enough to secure automatic selection and Ellie Dolby in 6th and Daniella Harper in 8th must be in with a great chance having both performed well. Zoe White was a strong 13th with Olivia Berry just behind in 14th. Ella Deighton finished in 21st, Emily Davis 29th and Kelsey Pullin 31st completing the strong squad.

Next up were the Inter boys and Tom Brash ran sensibly over the 6k course timing his efforts well, finishing strong in 5th, knocking on the Kent team's door. Jake Leng ran well crossing the line in 27th and good to see Will Andrews running well again finishing with pace in 34th.

We had no senior girls racing and only two senior boys venturing out over the 7k course with Joe Georgiadis placing 23rd and Cameron Swatton 28th.

The KSAA gives an opportunity for year 7 athletes to race but although they are too young to compete at the ESAA they do get an early opportunity of representing Kent. The top 15 or so being rewarded with a Kent call up, competition was going to be tough, in fields of well over 100 athletes. In the girls 2.5k race Tallulah Ndikanwu ran really well pacing 6th as did Amber Cockburn finishing high up in10th and Islay Pearson was 51st. In the boys 3k race Josh Healy led the boys home with a great run in 18th, Jasper Brooks was 20th, Harry Fage had a determined run and finished 38th and club pole vault record holder Finn Kitteridge used the opportunity to put in a hard training run, placed 112th.

Some of our athletes go to school in neighbouring counties and so contest their respective titles.

Next up is the Schools Inter Counties match where many of our youngster will get to wear the Kent, (Surrey, Middlesex and others) vest with pride. Competing at county level in any sport is impressive, more so in the highly competitive world of athletics.

---
15 December 2018 - South of Thames Champs - Beckenham Place Park

Results from Saturday's South of Thames 7.5 miles(ish) @ Beckenham:

Team was 11th - of those clubs with 6 runners or more

Full BBHAC competitors: 366 finishers

| | | | | |
| --- | --- | --- | --- | --- |
| Overall | M/W race | Name | Club | Time |
| 49 | M47 | Tony Desborough | B&B | 42:44 |
| 57 | M54 | Gareth Evans M40 | B&B | 43:27 |
| 65 | M61 | Dan Kennedy | B&B | 44:06 |
| 77 | M72 | Luca Ercolani M45 | B&B | 44:44 |
| 120 | M104 | Len Crowder M50 | B&B | 47:49 |
| 138 | M120 | Nigel Haffenden M50 | B&B | 48:53 |
| 145 | M126 | Steve Hough M45 | B&B | 49:22 |
| 173 | M149 | Steve Pairman M55 | B&B | 50:54 |
| 222 | W42 | Sally Haffenden W45 | B&B | 54:37 |
| 244 | M182 | Rod Harrington M50 | B&B | 56:10 |
Steve Pairman
So on Saturday a hardcore group of Heathens made the short trip to Beckenham Place Park for the South of the Thames 7.5 miles race.
In what was a bitterly wet and cold afternoon and with the first lap being a chaotic affair due to marshalling errors. Well done to everyone that toughed it out and turned out a Blackheath team of 10 senior men and 1 lady.
Leading the team home was the ever improving Tom Desborough who seems to be showing that stopping the university party lifestyle is beneficial to your running.
Next home making his way through the pack as the race went on was Gareth Evans. If he had known where the finish was might have finished further forward. Next came Luca Ercolani and team Manager Dan Kennedy.
The packing continued as Len Crowder, Nigel Haffenden, Steve Hough and Steve Pairman all came home in what for the manager trying to write the results down with freezing hands felt like a mad rush.
Rod Harrington was next in and due to the conditions would have been wise to not stop at the finish line and just keep running back to his front door.
Leading the charge for the V45s was Luigi Arcuri being watched on by Marco in a reversal of their more usual dynamic.
A shout out also to Sally Haffenden for being the sole reprsentitive for the senior lady team.
Well done everyone. Sorry I can't confirm results yet but will do my best to get them out as soon as possible.
Well done everyone and Happy Christmas. See you at the Kent Champs.
Ross, Dan and Chris.

---
1 December 2018 - Kent Masters - Central Park Dartford
Alex Gibbins was the winner.
Another great set of results at the Kent Vets.
Alex Gibbins won the M40 in impressive style, Jennie Butler won silver in W45, Carole won bronze in W35, Maz won bronze in W65 and M60s (Con, Luigi and Rob) won bronze in M60!
Well done all!!
Photos from Steve Pairman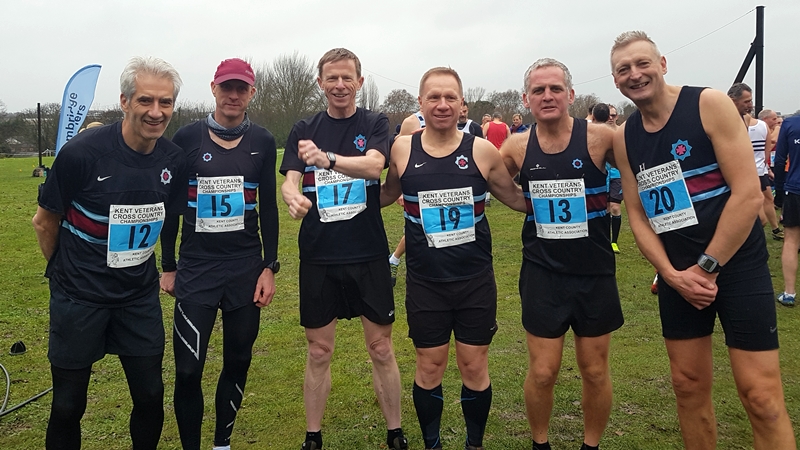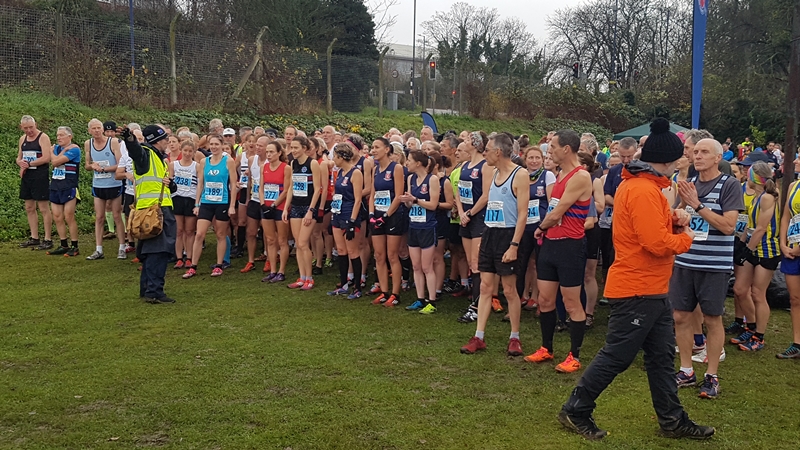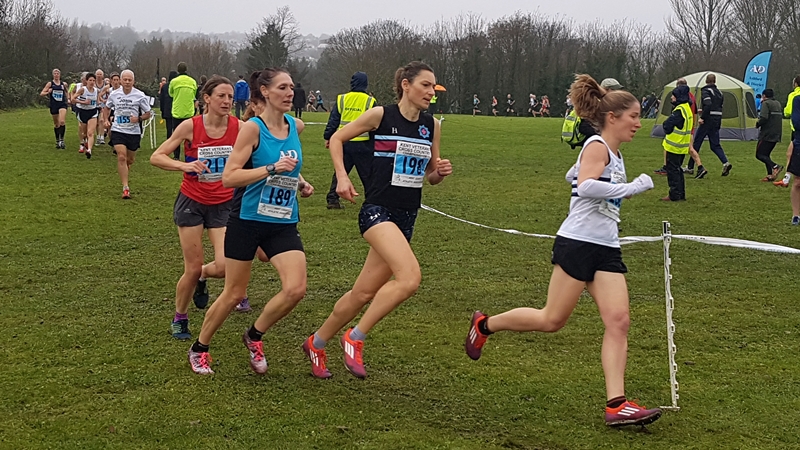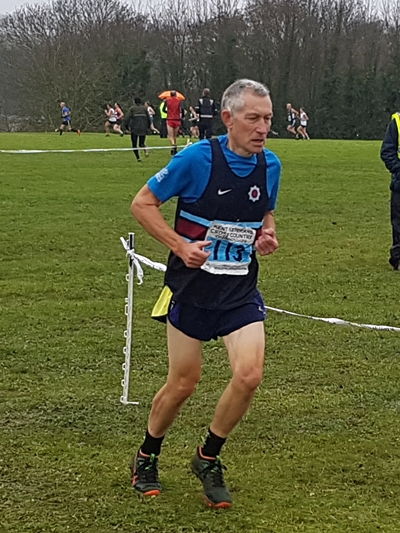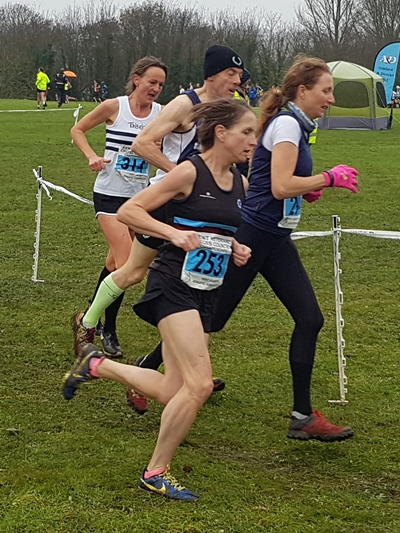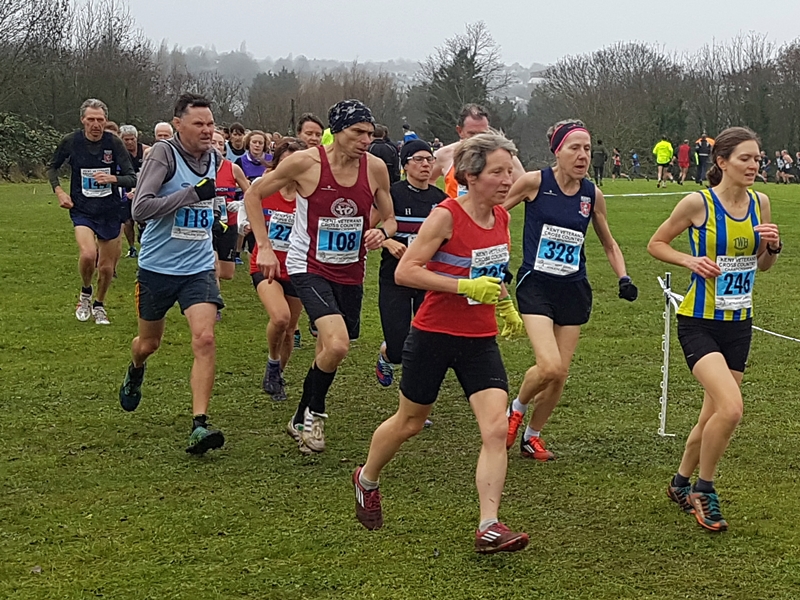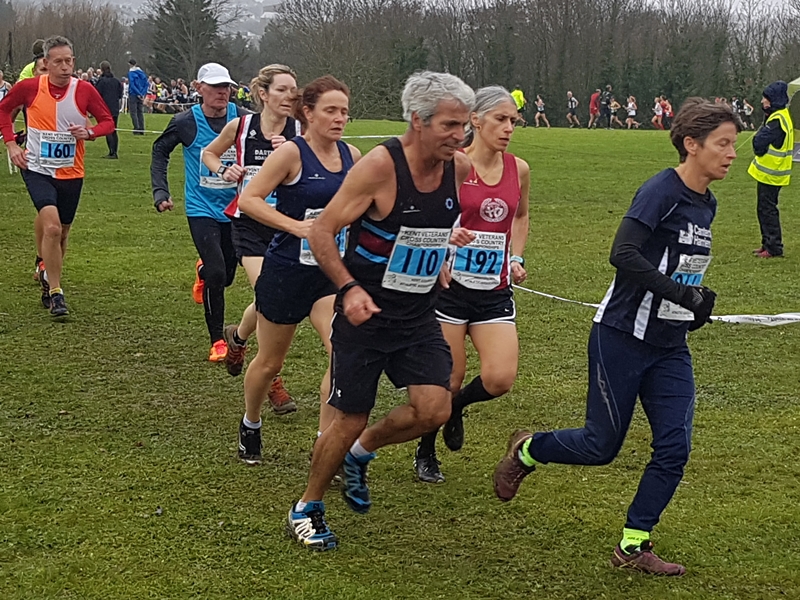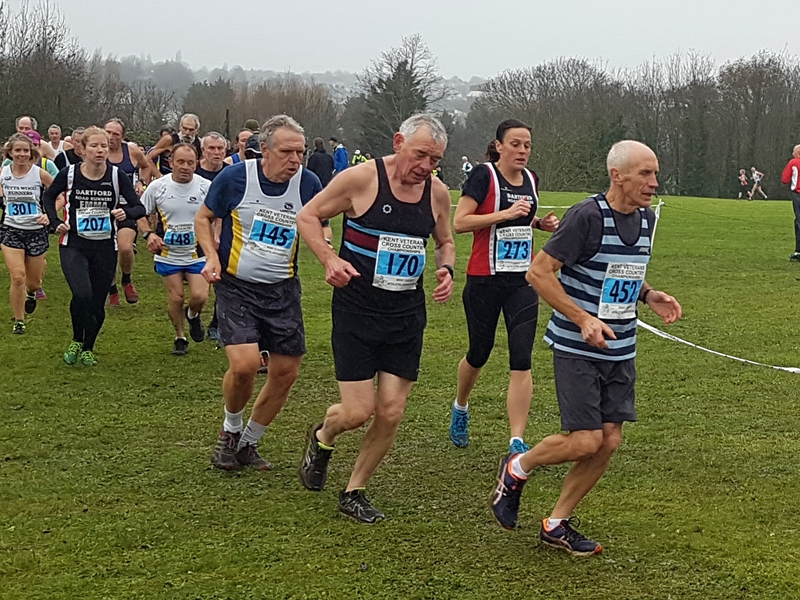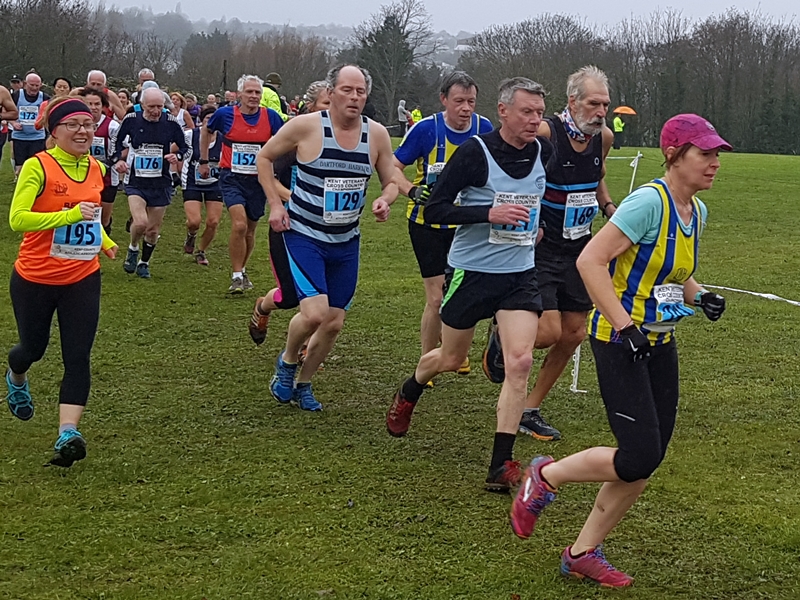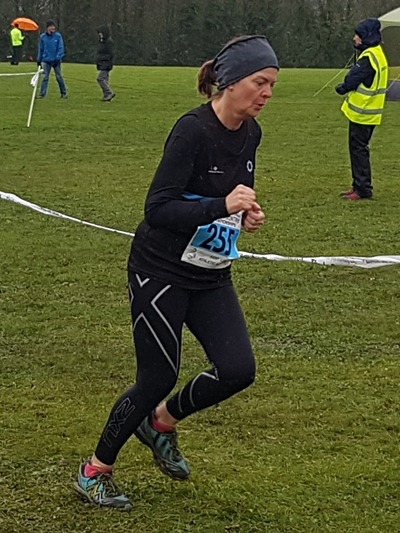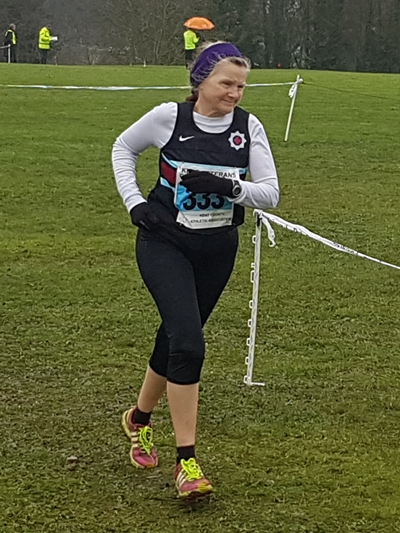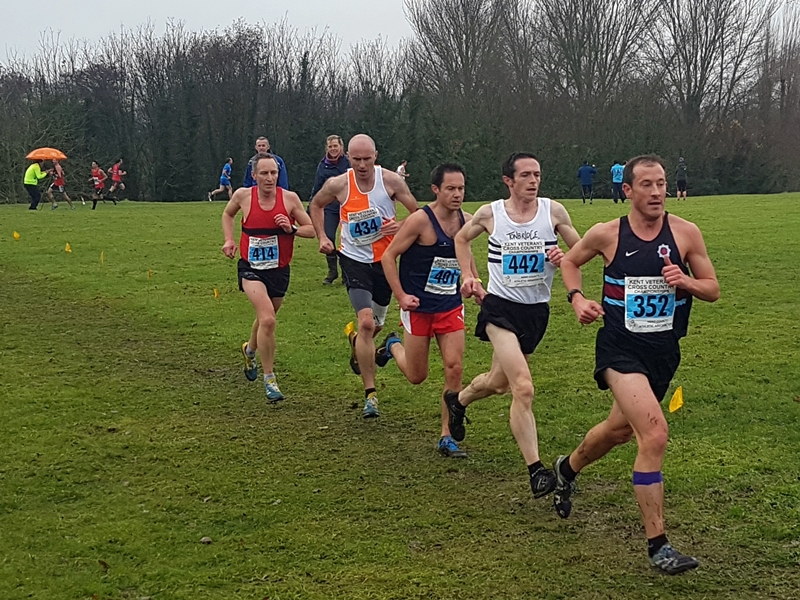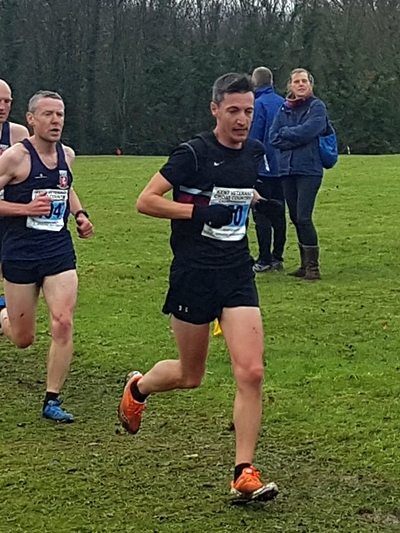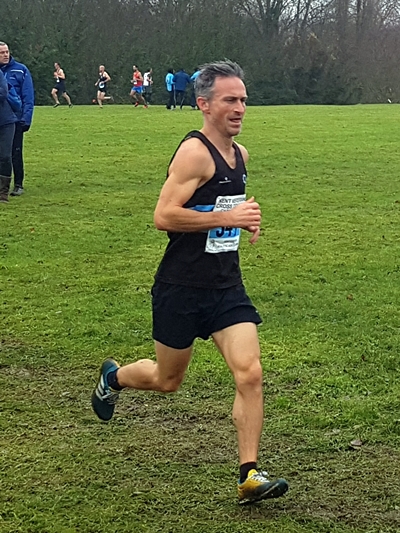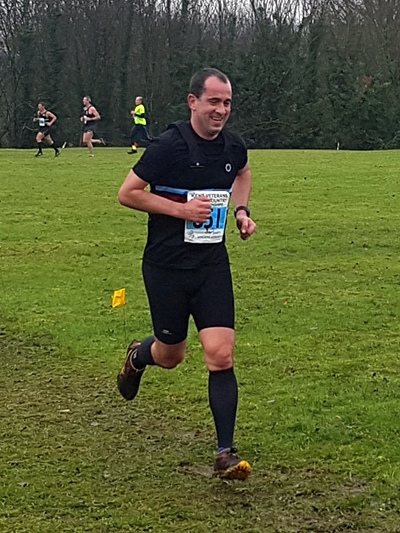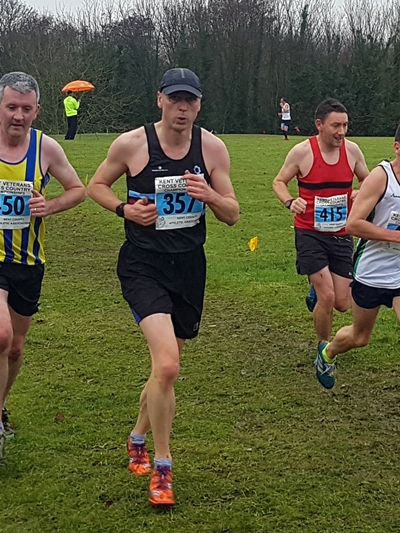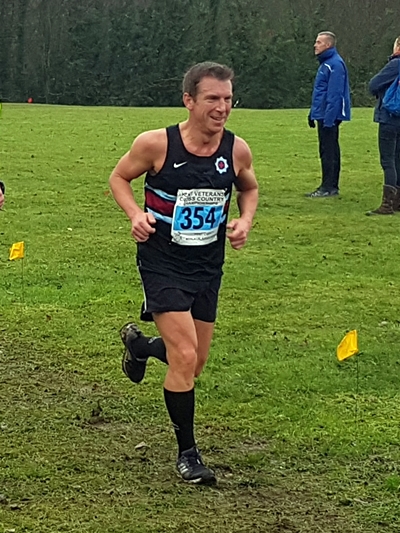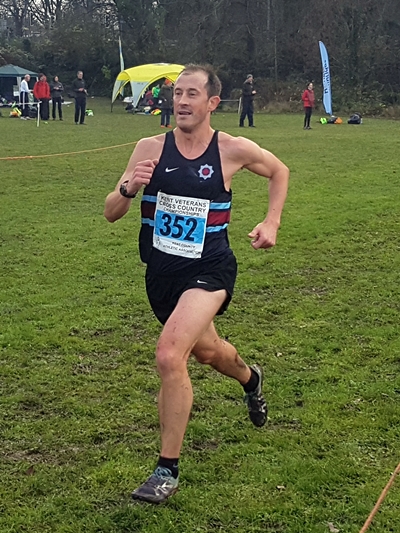 ---
11 November 2018 - Beckenham Charity 10k Trail event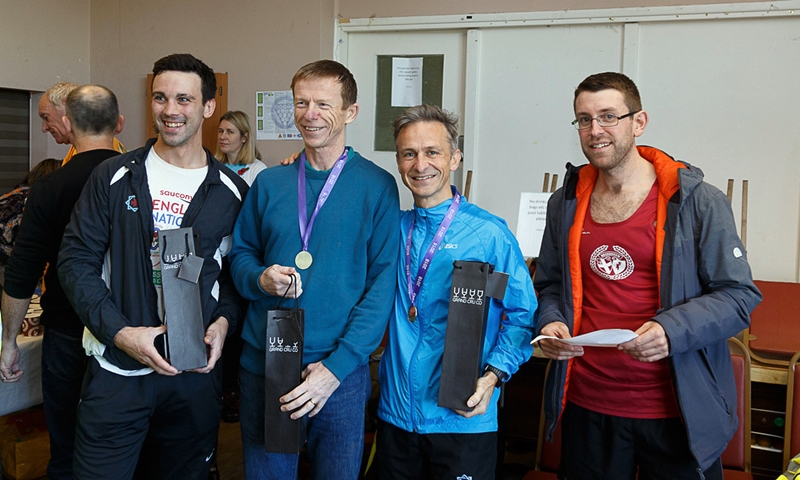 Somewhat lower standard than Dina...…….but BBHAC retained the team prize on Sundays Charity 10k in Beckenham.
Team
3rd place Luca Ercolani Blackheath & Bromley Harriers AC 59 MV40 00:39:14
4th place Chris Tuck Blackheath & Bromley Harriers AC 192 MS 00:40:17
18th place Steve Pairman Blackheath & Bromley Harriers AC 144 MV50 00:45:25
Luca was 3rd and Luigi won the M60! More info here...

---
3 November 2018 - National Cross Country Relays at Mansfield
Berry Hill Park, Mansfield was once again the perfect setting for 2018 National Cross Country Relays and having won many age group titles over the last few years year, BB's hopes were high. These relays offer a great opportunity for clubs to compete in a team format, in an otherwise individual sport. Clubs are restricted to a maximum of three teams per age group and in some age groups we could easily field up to five teams if allowed, so competition is fierce, however in others age groups we fail to have one team on the starting line!
Our U15 girls is the largest and most competitive squad and have dominated the age group winning gold and silver in 2016 and 2017 and so it was no surprise to see all three of our teams feature high up the field. Unfortunately no medals this year but the A team of Annie Thomas, Naomi Toft and Zakia Mossi were a high 5, the B team of Lara Mannes, Hannah Clark and Kate Price 10th and impressively the C team of Ellie Dolby, Daniella Harper and Olivia Berry were 19th in front of all the other B teams. To put that into perspective 96 teams were competing. A very large and talented age group indeed.
The U15 boys made a great team effort with Sam Reardon powering off on leg 1, passing to the in-form Tom Brash knocking 30 seconds off last years time, giving Freddy Georgiou the job of bringing the team home in a very solid 7th place. The B team of Will Andrews running 50 seconds quicker than 2017, George Shaw and Matt Smith placed 47th and Jake Anthony had a great leg in the incomplete C team. 93 teams finished.
The U13 girls trio of India Blakey, Biancamaria Polloni and Gabby Martin were a good 14th. The B team three of Carys Firth and sisters Cara and Amie Gould were 40th and making up an incomplete C team were Alexia Araujo and Olivia Magee-Brown.
The U13 boys have been unlucky with a few injury problems lately and were unable to field a team.
The U17 girls made up for last year's disappointment of not recording a time, by storming around the 2.5K route and crossing the line in second place winning a fabulous silver medal. Newly crowned World Biathle relay champion Morgan Squibb on 1, Sophie Hoare on 2 and Ava White on 3 made up the A team while the B team featured Jess Neal on 1, Amy Miller on 2 and Lucrezia Polloni on 3 combined fantastically finishing an impressive 8th The C team of Ellie Osmond, Emily Davis and Zoe White were 35th.
The U17 boys had three great teams and the A team of former National XC relay champion Peter Guy on the first leg, Matthew Francis on two and Oliver Bright on three combining well to finish 11th. The B team of Ben Gardiner on 1, Cameron Swatton running 25 seconds quicker than last year on 2 and another former Nation XC relay champion Joe Georgiadis on 3 ran well finishing 32nd. The C team were 54th and saw Harry Fisher lead them off with Robert Suckling taking leg 2 and Bailey Marks bringing the team home on the glory leg. Harvey Blanden made up an incomplete team but ran hard at his second Nation XC champs.
The U20 women won silver at last year's champs and this year's team kept up the high standard finishing a very strong 6th. Yasmin Austridge led off on 1, passing to Millie Smith on 2 handing to Lucy Elms on 3 finishing well in a field full of strong clubs.
The U20 men were one short of the three to make up a complete team but that didn't stop Callum Myatt flying around the undulating, well marked out course handing to the well travelled Marco Arcuri, who had automatically stepped in to team manage some of the younger age groups before his race.
The senior men were impressive fielding two teams and placing high up in 13th and great to see our very own Dr Phil Sesemann crossing the line in first place in the senior mens race, running for his new but now local club Leeds AC, as he is working and living in Leeds.
Also good to see our local rivals Tonbridge not only win their first National medal but a gold one at that as they comfortably won the senior woman's race.
Many thanks must go to all the parents who travelled many miles to get to Mansfield and especially to Paul Brash who drove a minibus full of teenage boys listening to teenage music, a real joy! Great efforts from Marco, Yasmin and Lucy who all travelled from their University by train, in fact many trains, as the journey from Durham and Birmingham to Mansfield is not direct. Thanks also go to Nick Swatton, Nigel Stickings, Paul Brash, Andy Frankish, Richard White, Tony Dolby and Marco for team managing on the day, ensuring correct numbers and timing chips were issued and that athletes arrived at the start on time.
Our president, Paul Byfield is having a great presidential year and spent another long day on club duty arriving on site before 9am putting up the tent along with ever present Dave Cordell and Ken Daniel. All three were then last to leave at the end of the day once both club tents were dismantled and packed away. Dave and Ken are used the cold and mud coming from an endurance background but track and field based President Paul must be having a culture shock but has thrown himself into the deep end, getting full stuck in. Well done Mr President.
Paul Austridge
---
Two strong Blackheath teams made their way into the mysterious territory north of the river and carried on going to the northern heartland of Mansfield for the final national competition of the calendar year in the form of yet another relay.
After a smooth drive up and the reassurance that everyone who needed to be there was available, it was straight down to business. Will Ruiz got the A team off to a flying start with an assured run on his debut for the seniors at this fixture to place 54th, underlying his return to form after a delayed start to the season. This set up his namesake Will Fuller to deliver one of the runs of the day to make up an astonishing 35 places to bring the team up to 19th in scorching 15:15.30. In previous years that might have been the high point for the team because no one would have been able to build on the work of the team's best runner, but this time it was different as team manager Ross Braden promptly gained 6 places in a big performance to clock just under 16 minutes. This was then solidified by an even quicker leg from Josh Schofield, in only his second run as a first claim Heathen, to keep the team in 13th despite the attentions of a fast finishing Mo Aadan.
Meanwhile, running parallel with the A Team (at least to start with) Tom Desborough, having heroically made his way to Norman Park for the drive up at the ungodly hour of 9 am, took advantage of the company on the first leg to run the B Team's fastest time of 17:47 to leave them in 85th. Heath Anthony strode on from there in a measured and assured performance to keep the team in a useful 90th at halfway. Chris Tuck then put recent injury troubles behind him to make up an impressive 14 places to drag the team into the top half in 76th. Finally, Dan Kennedy closed things out in his first race for over a month to make up 4 more places to leave the team 72nd out of the 153 complete teams.
The final positions and times were as follows:
13th Blackheath & Bromley Harriers A
54th W. Ruiz 16:34.30
19th W. Fuller 15:15.30
13th R. Braden 15:59.70
13th J. Schofield 15:50.65
72nd Blackheath & Bromley Harriers B
85th T. Desborough 17:46.75
90th H. Anthony 19:07.70
76th C. Tuck 18:09.90
72nd D. Kennedy 18:20.60
Full results can be found here: http://www.englishcrosscountry.co.uk/wp-content/uploads/2018/11/Senior-Men.pdf
Up the Heath!
Ross, Dan & Chris