Ironman 70.3 - Antwerp, 3 August 2008

Swim 1.9k, bike 90k, Run 21k.

On Sunday 3rd of August, 6 intrepid athletes from Blackheath & Bromley Harriers competed in the Antwerp Ironman 70.3 Triathlon. They were, Pete Burford, Richard Hall, Kev May, Deniz Mehmed, Jim Phelan and Kate Pratten.

Conditions on the day were not ideal, intermittent heavy rain accompanied by strong winds combined with wet cobbles and tram tracks, on the bike course, severely tested the competitors. The 1.2 mile swim course was arranged in a triangle and was a mass start and with just over 1000 competitors all wanting the best line, a lively swim was guaranteed.

Kev was the 1st, of the 6, out of the water followed by Deniz, Jim, Richard, Kate then Pete. The 56 mile bike leg then followed going through a tunnel under the river within the first couple of miles with much whooping from the competitors as they went through. The journey out of Antwerp took the competitors through the industrial dock area which had many tram tracks crossing the bike course. Although most of the tracks were covered with mats quite a large number of competitors came to grief on the slippery surface. On returning back into the city the competitors were directed for a short distance off of the main road onto a cobbled parallel road which was reminiscent of a section of the Paris-Roubaix bike race course!

Kev was, again, the 1st, of the 6, into transition followed by Deniz, Jim, Richard, Pete then Kate. The 13.1 mile run leg then followed taking the competitors on a 3 lap course along the river and around the old centre of the city - more cobbles!. Kev was still leading the way, finishing in a very impressive 4:32:22 total time, followed by Deniz in 4:49:03, Richard in 5:18:36, Jim in 5:25:53, Kate, just 23 seconds in front of Pete and setting the second fastest run split in her age category, in 5:28:43 and Pete in 5:29:06.

NAME POSITION SWIM T1 BIKE T2 RUN
OVERALL TIME

KEV MAY 118TH 29:51 2:49 2:24:09 1:40 1:33:51
4:32:22

DENIZ MEHMED 280TH 33:41 3:23 2:31:52 3:23 1:36:42
4:49:03

RICHARD HALL 569TH 36:30 3:31 2:52:13 3:49 1:42:31
5:18:36

JIM PHELAN 627TH 34:09 4:21 2:53:30 2:57 1:50:55
5:25:53

KATE PRATTEN 651ST 36:50 3:18 3:03:30 3:54 1:41:10
5:28:43

PETE BURFORD 652ND 43:24 4:39 2:49:55 2:23 1:49:43
5:29:06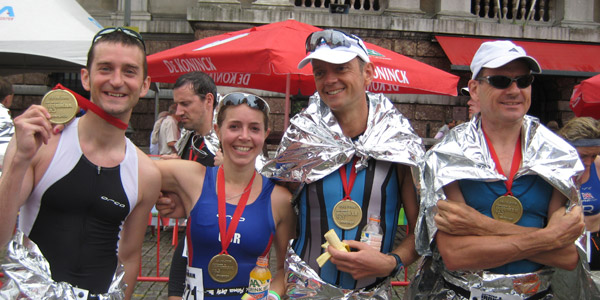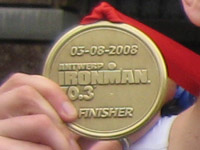 Our six competitors, Richard, Kate, Deniz, Kevin, Jim (behind camera) & Pete (gone walkabouts), did well...