15 May 2022 - Chislehurst Half-Marathon - Chislehurst


---
23 April 2022 - British Masters M35 6 stage Road Relay, Sutton Coldfield Park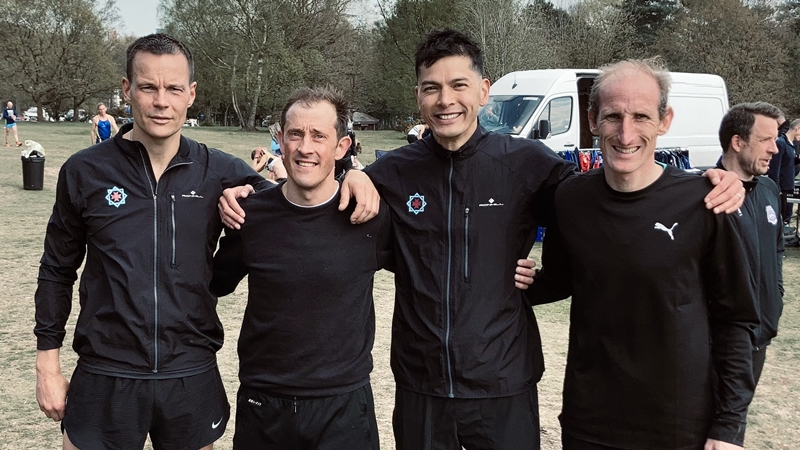 Team 5th and individual gold

A great outing for Blackheath and Bromley at the Men's M35 British 6 stage road relay championships on Saturday 23rd April with a welcome return to club duties for Scott Overall saw a high place finish and an individual medal for the club.
On a scenic but hilly 5.1k circuit around Sutton Coldfield Park and nature reserve, with over 200 feet of elevation nearly all in the first 2 kilometres, and a strong headwind on the back straight, the ever dependable Fintan Parkinson was off first, producing a very strong leg of 17:26 putting us in a good position and setting a benchmark for the rest of the race with some teams we had eyed as close rivals heavily front loading their batting order.
On a course that was unanimously agreed to be 50 seconds slower than a Bromley parkrun, two of Blackheath's fastest were off next with Roger Vilardell coming back from an injury to run 17:18 and Micah Evans capping off a fantastic long-distance season in 17:08, both overtaking several runners moving up now into 11th place, closing the gap and starting to real in our southern rivals also.
Next up was the day's team captain and organiser Alex Gibbons coming home after a strong shift following two weeks rest in 17:52. Although not what he wanted, this would have still equated to around 16:46 for a Norman Park 5k. He dug deep holding off strong competition from some of the northern teams, crossing the line still in 11th place handing the proverbial baton for the penultimate leg to Blair Wilson who although not essentially one of Blackheath's top choices for this distance looked handsome nevertheless taking another place and eating into Tonbridge's lead over us by another 20 seconds for the un-official Southern Crown. Crossing the line in 18:04 he handed off to former Olympian Scott Overall, the team now in 10th position.
What happened next was great to watch as Scott put in a lighting shift of 15:29, moving up the field to finish in a very respectable team 5th with the last scalp being Tonbridge who ended up 6th in a very tough field 3 hours from home.
We hung around for the medal ceremony hoping to spot one of the top 4 teams wearing illegal trainers all to no avail consoling ourselves with a Gold medal for the club after Scott was awarded the fastest individual time of the day, closely contested over long time rival John Beattie, from Leeds Athletic club.
Up the Heath!
Blair Wilson