7 October 2018 - Chester Marathon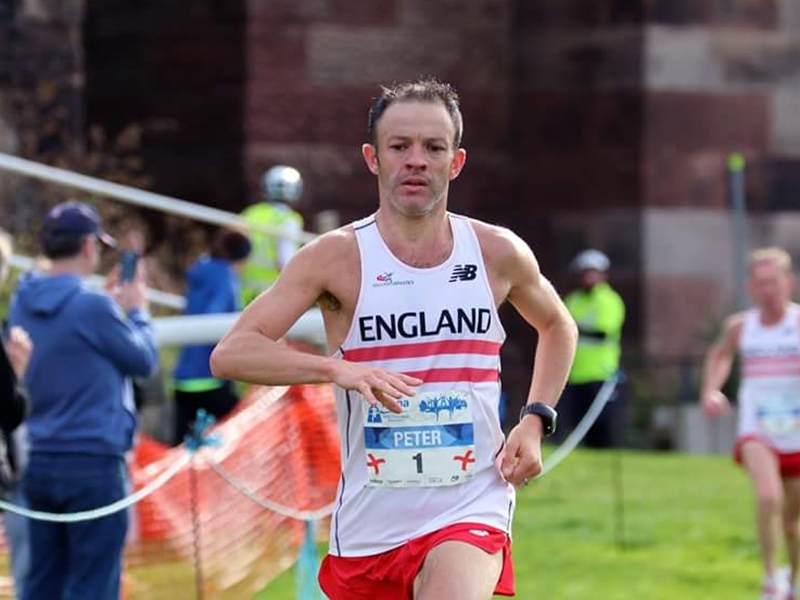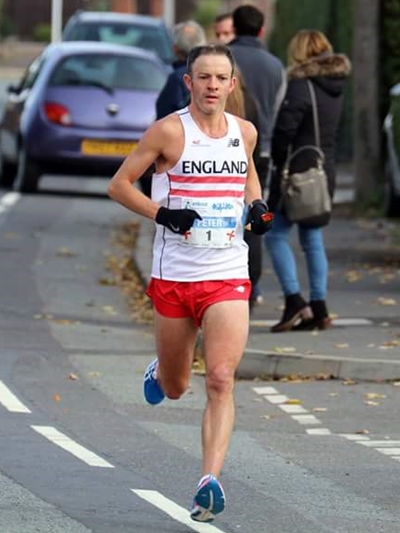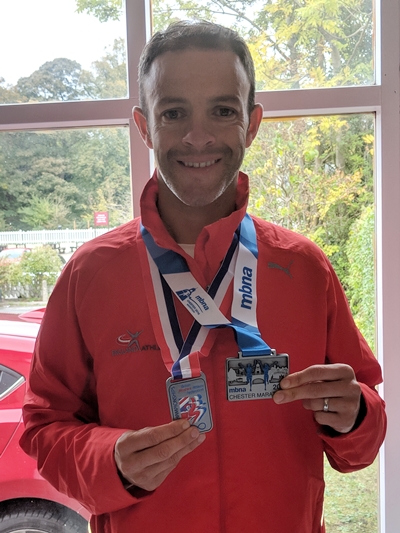 Peter Tucker was running for England Masters and was 4th overall & 2nd in the BMAF v35 category.
4th Peter Tucker 2:28:56
1167th Ian Montgomery 3:49:03

---
7 October 2018 - Petts Wood 10k
Carole Penlingington was First Lady in a time of 40.55 17th overall
Rob Donohue was third in a time of 35.35.

Photos from Karen Desborough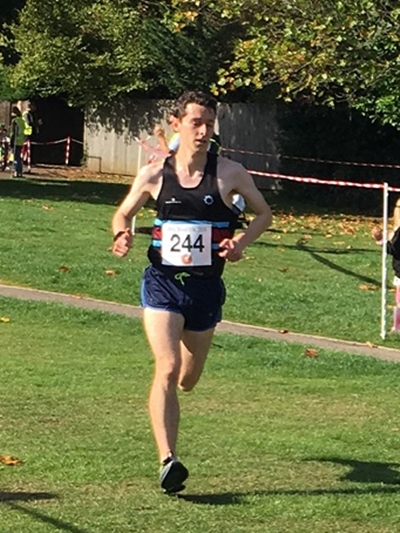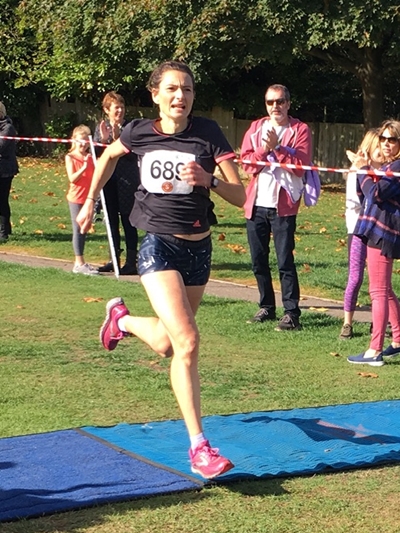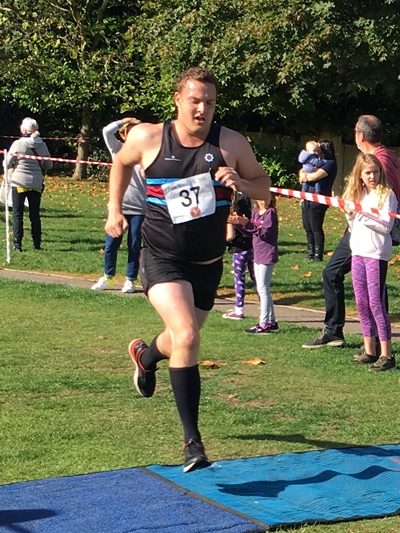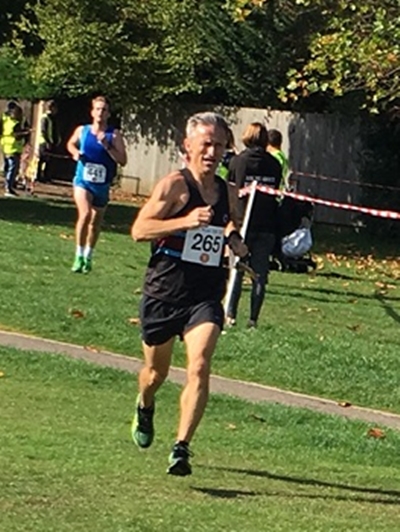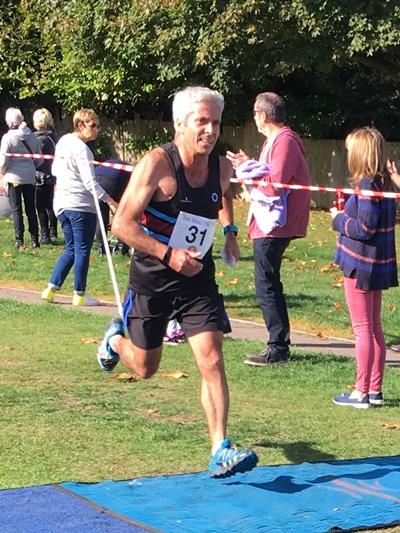 Petts Wood 10k 2018 Results 07/10/2018
Place
Bib No
Time
Gender
Age Group
3
Robert Donohue
244
35:35:00
M
M 21 to 39
9
Luca Ercolani
265
38:21:00
M
M 40 to 49
17
Carole Penlington
689
40:55:00
F
F 35 to 44
36
Steve Evenden
274
42:39:00
M
M 40 to 49
83
Timothy Ayres
37
46:09:00
M
M 21 to 39
85
Adrian Stocks
851
46:13:00
M
M 40 to 49
88
Robert Brown
106
46:17:00
M
M 60 to 69
102
Luigi Arcuri
31
47:08:00
M
M 60 to 69
133
James Unwin
904
48:41:00
M
M 50 to 59
152
Austin Adams
19
49:20:00
M
M 50 to 59
158
Chris Pike
700
49:32:00
M
M 60 to 69
326
Zoe Kingsmell
488
55:00:00
F
F 55 to 64
355
Neil Roberts
750
55:49:00
M
M 40 to 49
368
Andrew Kingsmell
487
56:10:00
M
M 40 to 49
468
Anne Cilia
160
59:08:00
F
F 55 to 64
775
Wendy Leach
513
1:25:20
F
F 45 to 54

---
6 October 2018 - National Road Relays - Sutton Coldfield
We came 24th! A big thanks to all the guys that ran and those that made the trip to support. This is our highest finish since 2010 (we came 23rd then) and 13 places higher than we managed last year.
First up was Charlie Davis, who despite living the closest to the course was one of the last of the team to arrive. However, he more than made up for making the team managers worry by running a storming first leg. He once again showed his strength by putting the team in 36th in a stacked first leg. He also missed his uni's weekend away trip to run so we are all very grateful for the efforts shown. On 2nd leg was Ross Braden, who had been struck down by illness in the days before but managed to struggle round keeping the team in 36th place.
Next up was Will Fuller with the quickest Blackheath leg of the day, and 2nd fastest of his leg. Fuller stormed through the field gaining 16 places in the process in a blistering time of 17.42, which put the team in 20th place at the half way mark. Taking over from Fuller was Rich Webb who gets the performance of the day award. Due to illness hitting the team Rich was called up just the day before, having been suffering himself. Regardless he stepped up for the team, taking on the unenviable task of following on from Fuller. A time of 19.19 was his reward and he kept the team securely in the top 25 handing over in 23rd.
Next up was Alex Bruce-Littlewood, who has looked stronger in every race he has down since his comeback this year, Alex ran strongly to finish in a time of 18.46 and drop just one place to put the team in 24th with one leg to go. Our final leg runner was Ben Cockburn, who once again showed his strength gaining as many places as he lost to put the team in 24th with a great run of 19.36.
Also special mention to Phil Sesemann for his silver medal and 3rd quickest leg of the day… Even if he was wearing the wrong colours!
24 Blackheath & Bromley Harriers 1:52:20
1 CharlieDavis (36) 18:19
2 Ross Braden (36) 18:38
3 WilliamFuller (20) 17:42
4 Richard Webb (23) 19:19
5 A Brucelittlewood (24) 18:46
6 Ben Cockburn (24) 19:36
---
Over 30 Blackheath and Bromley HAC young athletes braved the weather and long journey time to take part in the 2018 version of the National Road Relay Championship. Sutton Park, Birmingham is a fantastic setting for this annual event but the rain and mist took the edge of this lovely part of Britain. Over the years the English Road Running Association has tinkered with this event for various reasons with some good result and others not so popular, such as both boys and girls racing simultaneously. This can often be difficult to follow but this year's initiative was to stream live footage of the races including a big screen near the finish and four cameras at various points throughout the course. Unfortunately only two cameras were working, possibly due to the poor weather conditions but it is a great addition to these National champs. Video available to view at http://www.vinco.elasticbeanstalk.com/fixtures/12956-erra-national-autumn-road-relays .
First up were the U13 boys and the team battled well to finish a respectable 22nd in a field of 66 teams. Arthur Starvis brought the team home in 29th on the first leg handing over to Josh Healey, making his National Championship, who managed to claw back 6 places passing to Jamie Sears running well, taking a further place. Archie Whitehead ran a strong leg in the B team despite pulling his calf slightly.
The U13 girls team were 24th in a field of 47.
The U15 boys trio running the three 3.8k legs were exactly the same three from the 2017 team and they made a massive improvement on last year's performace placing a fantastic 6th in a very strong age group. Sam Reardon on leg 1 ran a 30 second personal best in finishing 12th, handing to Tom Brash, who improved his best by 45 seconds racing the team into a superb 4th. Freddy Georgiou then had the tough last leg to take on and smashed his best time, slicing nearly 1minute 30 seconds off and crossing the line in a very impressive 6th place. The B team also enjoyed success and big PBs from George Shaw on leg one, Matthew Smith on two and Alessio Tutt on three combining well to finish a creditable 30th place, higher than the A team finished the previous year. Will Andrew set off on leg 1 for the C team and ran a fast time on the most competitive leg.
The U15 girls had two full teams racing and did well crossing the line in 14th and 59th.
Four U17 boys ran making up one full team that finished 35th and were led out by Joe Georgiadis on 1 running a big PB, Cameron Swatton on 2 also posting a great new PB and brought home by National debutant Harry Fisher. Bailey Marks improved his best by exactly a minute running a fast leg in the incomplete B team.
The U17 girls have a strong squad this year and had two team finish in the top twenty, with the A team a brilliant 5th place and the B team an impressive 17th.
Birmingham is a good 21/2 to 3hour drive (traffic permitting) so to have so many young athletes and parents there is fantastic and many thanks go to Paul and Laura Shaw who once again borrowed and drove the minibus up, taking most of the boys squad with them. The day was made a lot more comfortable having the large BBHAC tent on site and this is due to huge efforts from PP Cordell and coach and VP Andy Frankish. Also good to see past presidents Bill Foster and Ian Wilson there supporting the event. Thanks also to Paul Brash for his help in team managing all the boys.
Full results here www.race-results.co.uk/results/2018/natyarel18.htm
Paul A

---
1 October 2018 - Cheltenham Half Marathon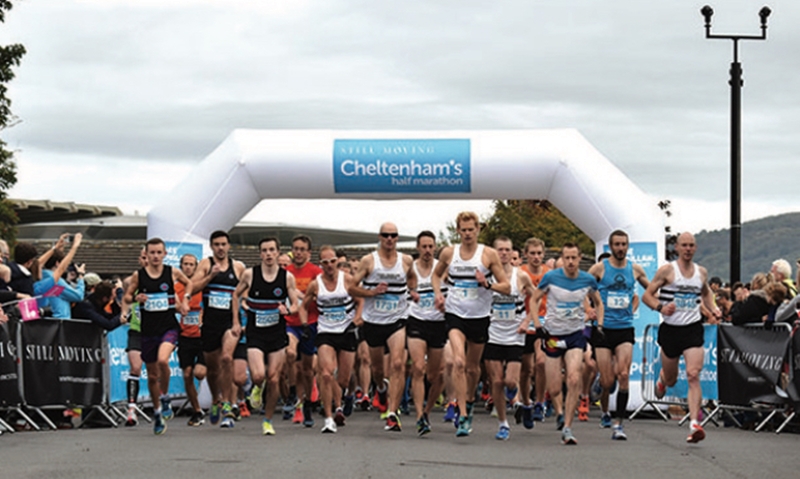 7th Ross Braden: 1:12:50
15th Chris Tuck: 1:16:31
36th Tom Desborough: 1:21:45
136th Richard Byford: 1:30:19

---
23 September 2018 - SEAA Road Relays,- Crystal Palace
Firstly a massively congratulations to everyone that turned out. We had our joint highest finish since 2010, our highest 'B' team finish for over 20 years (online results aren't available past then) and were one of only 3 teams that managed to put out 4 full teams.
Going team by team - On his Blackheath Winter debut after recently signing for us was Josh Schofield who had made the long trip down from Leeds. He went out very hard in a stacked first leg, running extremely well to put us in a strong position (19th) in 18.18. Up next was Ross Braden who put in a solid leg to push us through the field handing over to Will Fuller in 11th. Fuller then put in the quickest Blackheath Leg of the day, running sub 18 for the 6k leg and handing over to Charlie in 10th. Charlie gets the man of the match award for the 'A' team for putting in a huge leg just a week after finishing his track season to take another place and put us in 9th after 4 legs. On 5th leg was Alex Bruce-Littlewood who continued his great comeback battling well to put us 10th with a leg to go. Final leg runner Ben Cockburn proved the team managers were right to put him in the 'A' team with a really strong leg including a huge finish to hold off the Aldershot 'B' team and put us in 11th.
11th 01:50:59.850 457 Blackheath & Bromley Harriers 'A'
00:18:18.60 (19) Josh Schofield
00:18:23.40 (11) Ross Braden
00:17:57.45 (10) William Fuller
00:18:17.50 (9) Charlie Davis
00:18:46.65 (10) Alex Bruce-Littlewood
00:19:16.25 (11) Ben Cockburn
Dan Kennedy put in a strong performance leading the 'B' team out, showing good early season form before handing over to fellow team manager Chris Tuck who ran strongly to go under 20 minutes and gain 6 places in the process. 3rd leg runner Brewer ran well in 20.34 to only drop one place before handing to the ever reliable Alex Gibbins who ran the second quickest 'B' team time and gained another 6 places for the team. Rob Donohue then took over and showed the great shape he is in by gaining 9 places and was a strong contender for man of the match for the 'B' team but that award has to go to the huge effort by Jon Vintner, who despite having injury problems and being dragged on a big night out the night before, managed a big effort to put the team 40th overall (9th 'B' team)
40th 01:59:22.050 458 Blackheath & Bromley Harriers 'B'
00:19:11.20 (59) D Kennedy
00:19:54.10 (53) C Tuck
00:20:34.05 (54) D Brewer
00:19:21.10 (48) A Gibbins
00:19:45.60 (39) R Donohue
00:20:36.00 (40) J Vintner
There was some storming runs in the 'C' team making it very hard to choose a man of the match. Angus Harrington made a big senior debut running 20.18 for the first leg, handing over to Fintan Parkinson who consolidated their position well in 20.55. Tom Desborough then continued his rich vein of form in one of his best races running a strong 20.44 and gaining 4 places, and so he gets the man of the match award for 'C' team. Marco then took over running well in 21.29 and keeping the team in 70th before handing over to two runners who stepped up to the C team in the last days leading up to the race. Dan Marks put in a big effort to gain another place and put the team in 69th, before Heath Anthony on his second Blackheath race after a good performance in the Will Boltons gained another place to put the team in 68th. (8th 'C' team)
68th 02:09:24.850 459 Blackheath & Bromley Harriers 'C'
00:20:18.60 (74) A Harrington
00:20:55.80 (74) F Parkinson
00:20:44.85 (70) T Desborough
00:21:29.70 (70) M Arcuri
00:24:00.75 (69) D Marks
00:21:55.15 (68) H Anthony
Despite a couple of unfortunate drop outs in the last week we were able to complete a full 'D' team. First off was Richard Byford, who nipped round despite being on call at work to put us in 95th after the first leg. He handed over to Ifetobi Salako on his senior debut, who put in a strong performance to gain 3 places. Dave Beadle then took over, having only been called up the day before ran well to gain another two places, so we were all very grateful that he turned out at short notice. Another new member was up next as Jason Meers gained another place to put us in 89th in 24.28. Paul Brash was on 5th leg and continued to work through the field to put us in 84th with a leg to go. There was a lot of strong legs but the man of the match has got to go to Tim Ayres, who fresh from running a 1.35 half marathon in the morning once again stepped up to make sure we had a complete team to put us in 77th overall. (3rd 'D' team)
77th 02:25:27.150 460 Blackheath & Bromley Harriers 'D'
00:23:46.70 (95) R Byford
00:23:29.05 (92) I Salako
00:23:16.70 (90) D Beadle
00:24:28.60 (89) J Meers
00:26:15.65 (84) P Brash
00:24:10.45 (77) T Ayres
Up the 'heath
Ross, Chris and Dan

---
9 September 2018 - Kilmacolm 1/2 Marathon, Inverclyde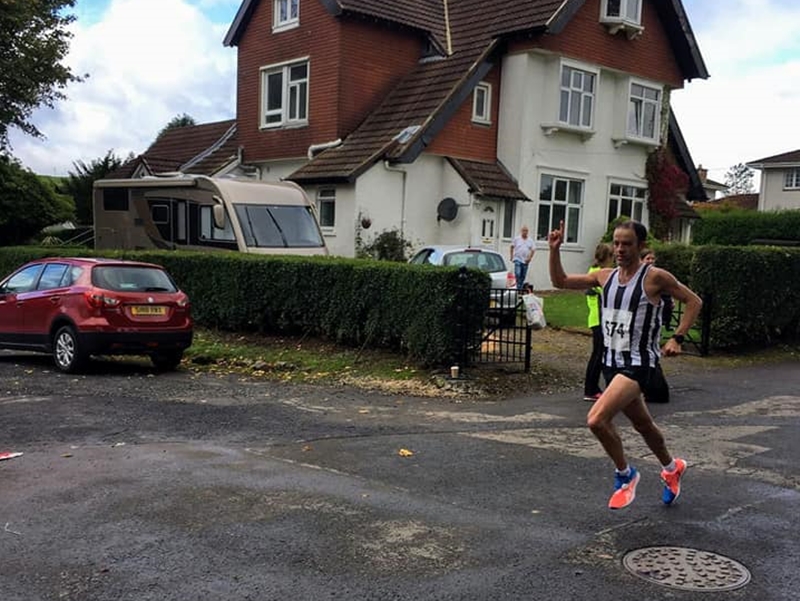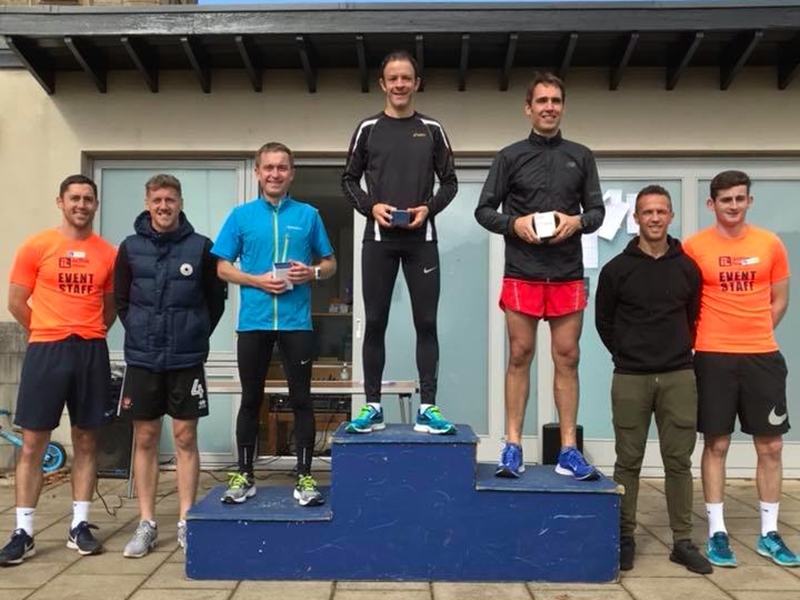 Peter Tucker (running for his 2nd claim club) 73:16 – 1st, he won by over 2 mins

---
9 September 2018 - Great North Run 1/2 Marathon
Pos
Name
BIB
Club
Finish Time
189
Marco Arcuri
602
Blackheath & Bromley Harriers
01:24:30
8550
Zoe Kingsmell
22695
Blackheath & Bromley Harriers
02:00:30
20648
Andrew Kingsmell
19064
Blackheath & Bromley Harriers
02:22:23

---
9 September 2018 - New Forest full & 1/2 Marathon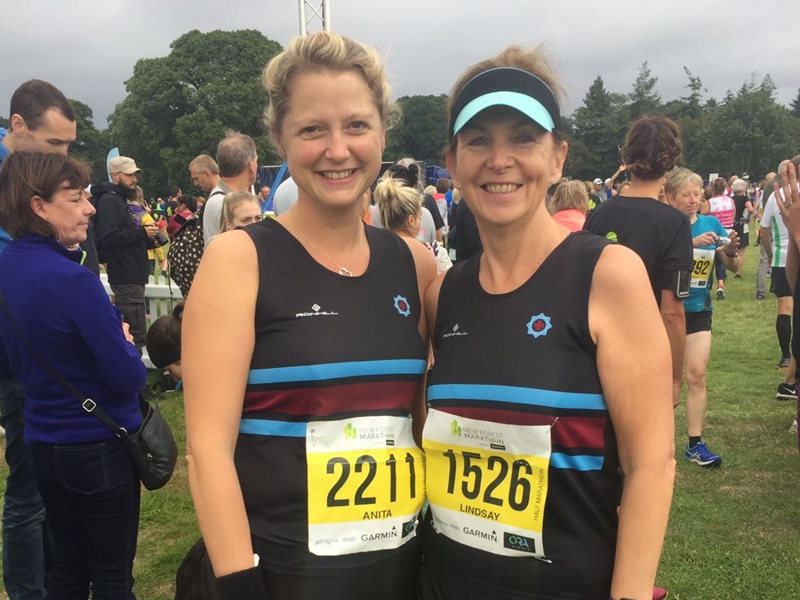 Running @ New Forest, 9/9/2018
Pos
Name
Bib
Category
Gun time
Chip time
53
Steve Evenden
293
MSEN
03:26:33
03:26:29
458
Gerry Alger
7
MSEN
04:44:04
04:43:26
Running @ New Forest, 9/9/2018
Pos
Name
Bib
M/F
Gun time
Chip time
462
Lindsay Alger
1526
FSEN
02:17:36
02:15:04
502
Anita Evenden
2211
FSEN
02:20:24
02:17:52

---
28 May 2018 - Vitality 10k London
| | | | | | | | | |
| --- | --- | --- | --- | --- | --- | --- | --- | --- |
| Place | Name | Runner Number | Place in Gender | Age Group | Place in Age Group | 5k Split | Finish | Running Club |
| 198 | Danny Brewer | 3313 | 189 | 18-39 | 171 | 00:17:11 | 00:34:17 | B&BHAC |
| 239 | Christopher Tuck | 3325 | 227 | 18-39 | 202 | 00:17:35 | 00:34:46 | B&BHAC |
| 248 | Callum Myatt | 3321 | 235 | 18-39 | 208 | 00:16:57 | 00:34:51 | B&BHAC |
| 485 | Robert Perry | 4289 | 434 | 18-39 | 356 | 00:18:48 | 00:37:37 | B&BHAC |
| 572 | Thomas Desborough | 3417 | 506 | 18-39 | 401 | 00:19:30 | 00:38:19 | B&BHAC |
| 658 | Graham Hollingdale | 3405 | 574 | 18-39 | 444 | 00:19:17 | 00:38:59 | B&BHAC |
| 675 | Carole Penlington | 4111 | 90 | 40-44 | 6 | 00:19:26 | 00:39:09 | B&BHAC |
| 682 | Born Barikor | 3385 | 591 | 18-39 | 457 | 00:20:09 | 00:39:11 | B&BHAC |
| 1783 | Tim Ayres | 3560 | 1506 | 18-39 | 1033 | 00:22:35 | 00:44:49 | B&BHAC |
| 2066 | Jennifer Neal | 2281 | 331 | 45-49 | 26 | 00:23:03 | 00:45:49 | B&BHAC |
| 2096 | Chris Swinfen | 3780 | 1759 | 18-39 | 1190 | 00:22:26 | 00:45:57 | B&BHAC |
| 2367 | Barry Wetherilt | 2569 | 1977 | 60-64 | 19 | 00:22:52 | 00:46:50 | B&BHAC |
| 2746 | Adrian Perry | 4336 | 2291 | 55-59 | 82 | 00:23:02 | 00:48:04 | B&BHAC |
| 2886 | Jenny Tomei | 5302 | 490 | 18-39 | 340 | 00:24:10 | 00:48:30 | B&BHAC |
| 3035 | Kieth Duffy-Penny | 2155 | 2509 | 50-54 | 207 | 00:24:54 | 00:48:53 | B&BHAC |
| 3347 | Zoe Kingsmell | 5673 | 593 | 55-59 | 16 | 00:25:03 | 00:49:38 | B&BHAC |
| 3403 | Donelle Yapp | 5412 | 611 | 18-39 | 416 | 00:25:40 | 00:49:46 | B&BHAC |
| 4287 | Andrew Kingsmell | 7321 | 3398 | 45-49 | 377 | 00:25:51 | 00:51:54 | B&BHAC |
| 4505 | Edwina Cheng | 6140 | 972 | 45-49 | 76 | 00:26:22 | 00:52:23 | B&BHAC |
| 5589 | Sally Smith | 14722 | 1383 | 50-54 | 97 | 00:28:21 | 00:54:50 | B&BHAC |
| 12091 | Graham Smith | 21284 | 6943 | 50-54 | 738 | 00:35:42 | 01:11:40 | B&BHAC |

---
12 May 2018 - Penicuik 10k Road Race, Midlothian, Scotland

Above is Paul Ross-Davies and young Sam Wood after he finished 3rd in Penicuik 10km
Paul was 1st M65, 2nd M60.
This has to be the toughest 10km in UK with 3km long steep hill, in the higher Scottish borders! Both agreed it was toughest road 10km they had raced. Sam reached 5km in just 19min but rallied to 34-17! Paul reached 5km in 24-15 but like Sam did negative split of 20-58. Young Sam is at University of Edinburgh - should be really proud of this excellent run!

---
3 to 9 May 2018 - 2018 EMU 6 day World Trophy- Balatonfüred, Hungary
Final result:
John Turner 532.207km (332.5 miles)
1st Brit
2nd in age category 65-69
38th overall

David Hoben 337.502km (209.7 miles)
5th Brit
4th in age category 65-69
78th overall
Yes, mad John E Turner is at it again... last year he managed 325km - he is already up on that and there are still over two days to go! So far he has done 370 laps of the 926.82metre circuit.
Watch live here...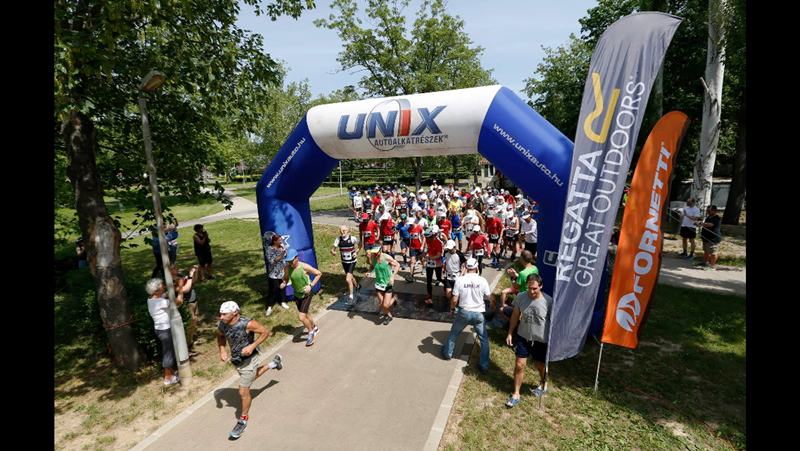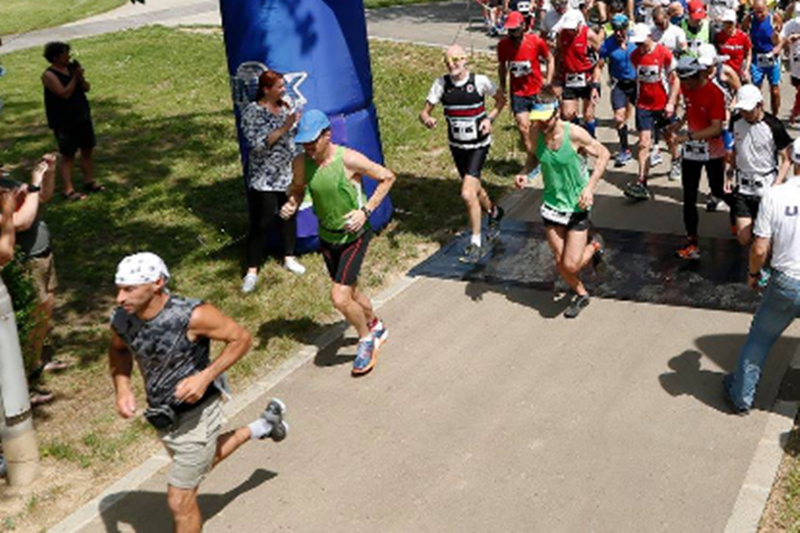 John laying 4th after 2 seconds!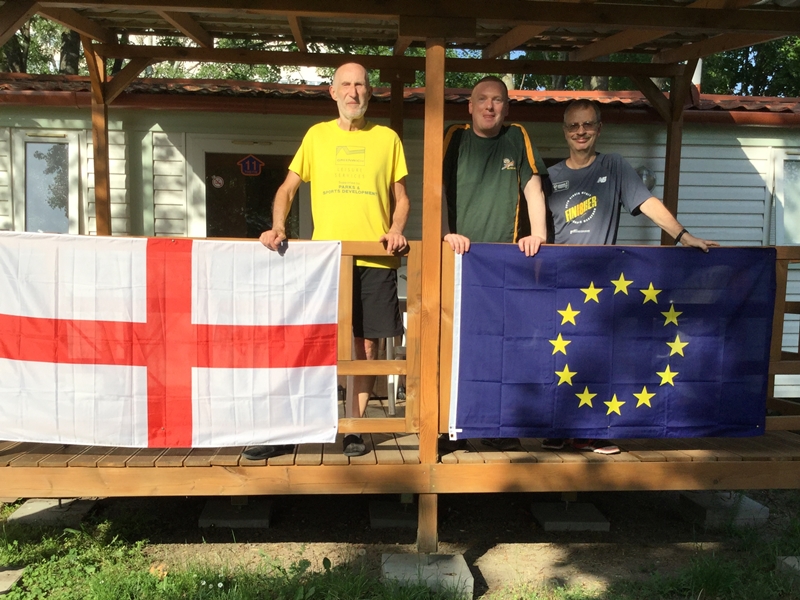 Our chalet with John, Dave Hoben and a fellow Englishman, Adrian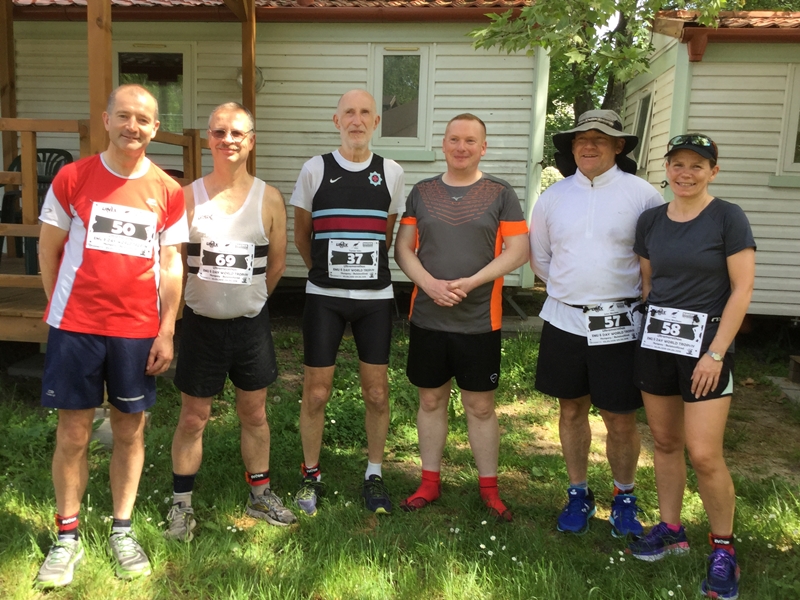 The UK crew - Steve Battle from Yorkshire, Dave Hoben, John, Adrian, John and Lorna from Scotland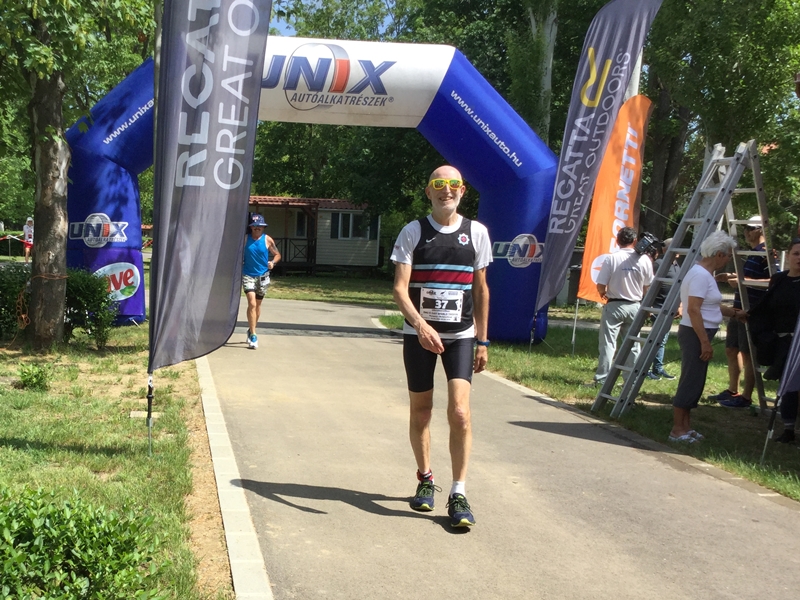 John completing his 2nd lap.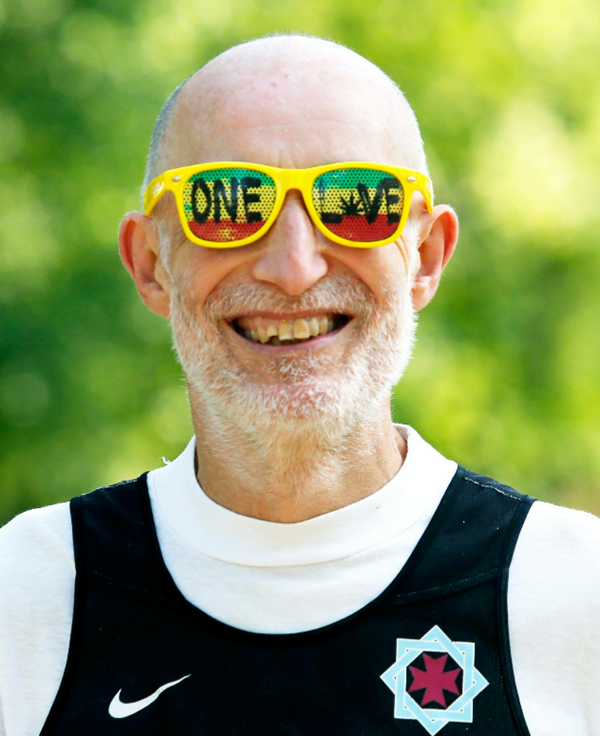 ---
28 April 2018 - BMAF Road Relays Sutton Park
Full results here...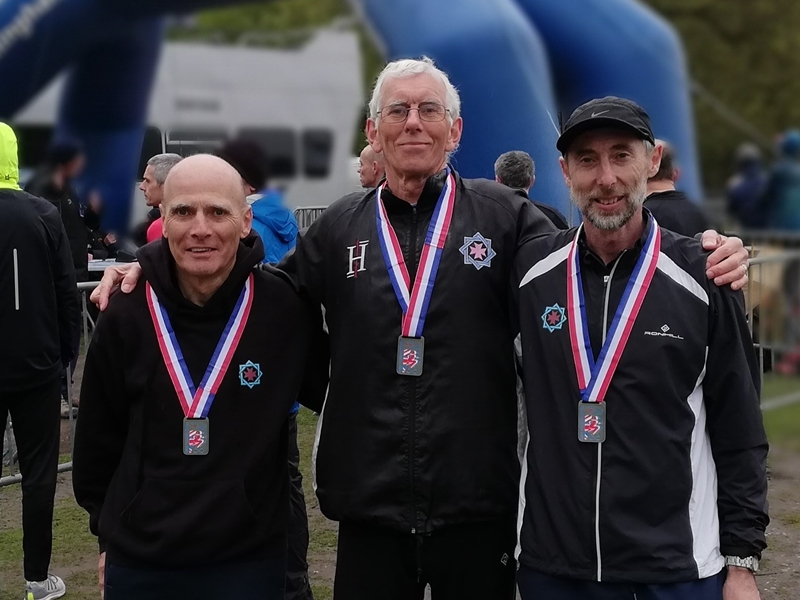 British Masters Athletics Federation Road Relays 28/04/2018 at Sutton Park. M65 silver medallists. Running order Peter Hamilton, Rob Brown and Bob Minting.

---
14 April 2018 - National 12 stage Road Relays Birmingham
Full results here...
The sunshine capital of the UK (according to Will Ruiz) greeted the 12 runners that made the journey up to Birmingham yesterday to finally close out the winter season.
A relatively young team with an average age of about 24 (dragged up a bit by a certain evergreen individual) acquitted themselves very well among strong company and there was a great team atmosphere with everyone staying around to cheer on the team.
The first leg was taken by Will Fuller who had flown in from the US the day before and shown great commitment to make himself available. He ran a strong first leg climbing up to 3rd by the turn on the long leg only for his body to remind him that it was about 5 in the morning for him, none the less he stuck to the task very well in what is always a staked leg and brought the team home well in the fight in 20th.
A casual Georges Vacharopoulos sped across the park at threat of being moved to a long leg and duly took over from Will. With recent injuries not getting the better of him he put in a good leg even bringing out his inner 400m runner to take a sprint finish up the final hill for 29th.
Next off was team manager Ross Braden grinding out a gutsy performance to bring us back in 31st.
The next short leg was taken by Joss Barber making his senior debut at the national 12 stage and he put in our fastest short leg of the day holding us in 31st.
Will Ruiz no longer the young pretender but an established member of the relay squad now ran a strong leg pulling the team back up to 29th.
Tom Desborough then ran a strong leg despite having been struggling with a calf injury showing great commitment to make sure we still had a team and keep us fighting the teams around us in 32nd.
Team manager number 2 Chris Tuck took the next long leg fresh from Paddock Wood half marathon last week running a lonely long leg to hold 32nd.
Marco Arcuri another youngster stepping up to a national relay stage continued the trend coming back in 32nd.
Final team manager representation was taken by Dan Kennedy who gained one place up to 31st but couldn't quite run fast enough to win the battle of the team managers 7 seconds slower than Ross.
Another injury scare late on but still turning up to put in the sort of strong consistent leg we have come to expect from him was Alex Gibbins by this point the gaps were getting large so a lot of lonely running for those on the course but Alex held us in 31st.
The last leg was taken by Danny Brewer who had only 6 days earlier completed Paris marathon and even with what cant be anywhere near recovered legs was able to hold 31st.
The last leg was a complete fiasco with the race organisers declaring a mass start after only the first 3 teams had completed 11 legs. This pretty much negated the final leg as a spectacle and due to the early nature of this and lack of communication meant that final leg runner Richard Byford was not aware and had to run the last leg from the back of the field with the marshals already starting to try and pack away. With all this confusion it cant have been an easy leg to run but he did a strong turn to bring us home for our final position of 32nd out of the 63 completed teams.
A huge thank you from the team managers to all those that committed to running and made themselves available it was a real shame last year that we did not attend this event and was great to be back on this stage with a team that shows real promise for the future and hopefully something we can build on going forward.
That is it for the winter season now and the team managers are really grateful for everyone that has turned out for the team this year in all the events as well as to those who have cheered, put the tent up or down, driven us around and everything else that goes with helping us to continue to compete successfully across so many races.
Good luck to everyone with summer training and racing and we will be in touch again ahead of the southern 6 stage relay on the 23rd OF SEPTEMBER.
Also watch this space for next seasons details of our team targeted BEACON RACES and accompanying socials.
Up the Heath.
Dan, Ross and Chris

---
8 April 2018 - Paddock Wood Half-Marathon
| | | | | | | |
| --- | --- | --- | --- | --- | --- | --- |
| Place | Time | Name | Category | Number | Chip | Grading |
| 33 | 01:14:12 | Christopher Tuck | Senior Men | 1862 | 01:14:10 | 80.39 |
| 48 | 01:16:48 | Gareth Evans | Vet Men 40-49 | 580 | 01:16:46 | 79.64 |
| 62 | 01:18:38 | Luca Ercolani | Vet Men 40-49 | 2290 | 01:18:36 | 81.28 |
| 180 | 01:28:17 | Nigel Haffenden | Vet Men 50-59 | 2308 | 01:28:03 | 75.27 |
| 227 | 01:30:11 | Steven Pairman | Vet Men 50-59 | 2159 | 01:30:01 | 76.82 |
| 386 | 01:38:02 | Kate Curran | Senior Ladies | 5015 | 01:37:50 | 67.11 |
| 415 | 01:39:12 | William Brindley | Vet Men 40-49 | 227 | 01:38:49 | 63.94 |
| 425 | 01:39:28 | Sally Haffenden | Vet Ladies 45-54 | 2309 | 01:39:09 | 72.67 |
| 514 | 01:41:55 | Barry Wetherilt | Vet Men 60-69 | 1977 | 01:41:13 | 71.17 |
| 554 | 01:42:56 | Dave Leal | Vet Men 60-69 | 1108 | 01:42:32 | 70.47 |
| 740 | 01:48:30 | Zoe Kingsmell | Vet Ladies 55-64 | 1055 | 01:47:42 | 71.76 |
| 752 | 01:48:54 | Tracey Ashenden | Vet Ladies 45-54 | 63 | 01:47:57 | 66.38 |
| 762 | 01:49:17 | Angela Powell | Vet Ladies 45-54 | 1466 | 01:48:20 | 67.94 |
| 953 | 01:55:55 | Austin Adams | Vet Men 50-59 | 12 | 01:54:45 | 58.76 |
| 1087 | 01:58:31 | John Butler | Vet Men 60-69 | 279 | 01:57:06 | 63.7 |
| 1235 | 02:01:36 | Sally Smith | Vet Ladies 45-54 | 1702 | 02:00:23 | 60.51 |
| 1284 | 02:03:48 | Richard Griffin | Vet Men 60-69 | 763 | 02:02:59 | 61.66 |