9 September 2018 - Kilmacolm 1/2 Marathon, Inverclyde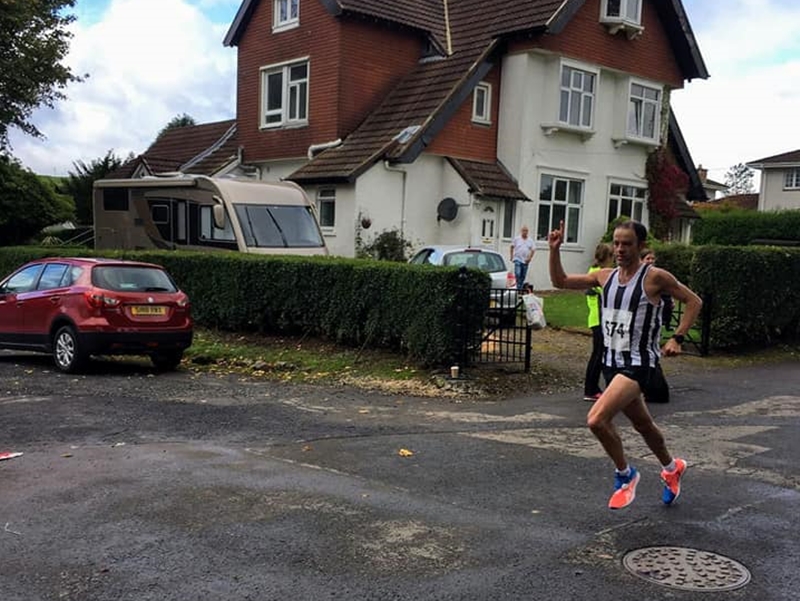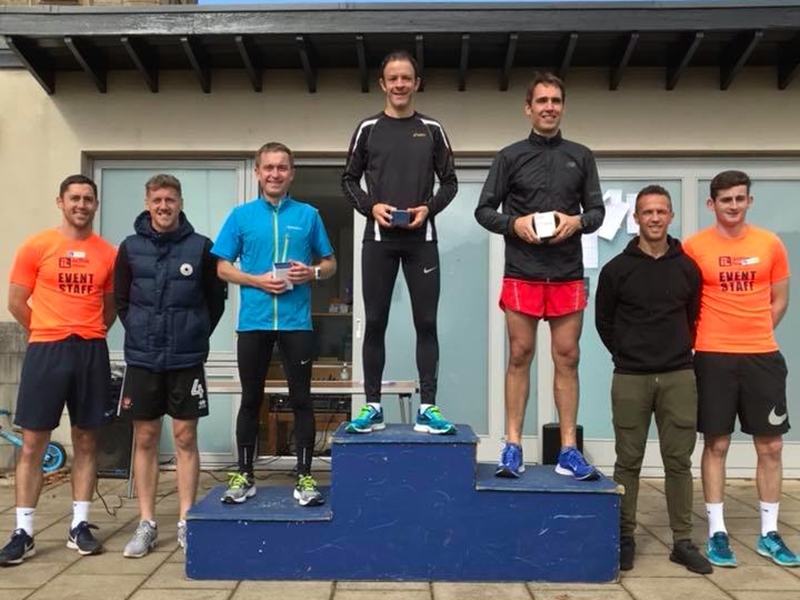 Peter Tucker (running for his 2nd claim club) 73:16 – 1st, he won by over 2 mins

---
9 September 2018 - Great North Run 1/2 Marathon
Pos
Name
BIB
Club
Finish Time
189
Marco Arcuri
602
Blackheath & Bromley Harriers
01:24:30
8550
Zoe Kingsmell
22695
Blackheath & Bromley Harriers
02:00:30
20648
Andrew Kingsmell
19064
Blackheath & Bromley Harriers
02:22:23

---
9 September 2018 - New Forest full & 1/2 Marathon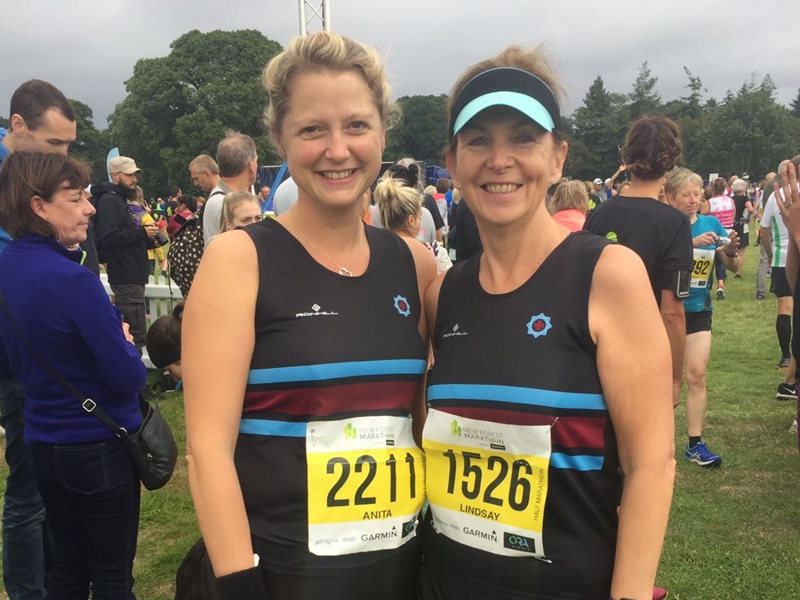 Running @ New Forest, 9/9/2018
Pos
Name
Bib
Category
Gun time
Chip time
53
Steve Evenden
293
MSEN
03:26:33
03:26:29
458
Gerry Alger
7
MSEN
04:44:04
04:43:26
Running @ New Forest, 9/9/2018
Pos
Name
Bib
M/F
Gun time
Chip time
462
Lindsay Alger
1526
FSEN
02:17:36
02:15:04
502
Anita Evenden
2211
FSEN
02:20:24
02:17:52

---
28 May 2018 - Vitality 10k London
| | | | | | | | | |
| --- | --- | --- | --- | --- | --- | --- | --- | --- |
| Place | Name | Runner Number | Place in Gender | Age Group | Place in Age Group | 5k Split | Finish | Running Club |
| 198 | Danny Brewer | 3313 | 189 | 18-39 | 171 | 00:17:11 | 00:34:17 | B&BHAC |
| 239 | Christopher Tuck | 3325 | 227 | 18-39 | 202 | 00:17:35 | 00:34:46 | B&BHAC |
| 248 | Callum Myatt | 3321 | 235 | 18-39 | 208 | 00:16:57 | 00:34:51 | B&BHAC |
| 485 | Robert Perry | 4289 | 434 | 18-39 | 356 | 00:18:48 | 00:37:37 | B&BHAC |
| 572 | Thomas Desborough | 3417 | 506 | 18-39 | 401 | 00:19:30 | 00:38:19 | B&BHAC |
| 658 | Graham Hollingdale | 3405 | 574 | 18-39 | 444 | 00:19:17 | 00:38:59 | B&BHAC |
| 675 | Carole Penlington | 4111 | 90 | 40-44 | 6 | 00:19:26 | 00:39:09 | B&BHAC |
| 682 | Born Barikor | 3385 | 591 | 18-39 | 457 | 00:20:09 | 00:39:11 | B&BHAC |
| 1783 | Tim Ayres | 3560 | 1506 | 18-39 | 1033 | 00:22:35 | 00:44:49 | B&BHAC |
| 2066 | Jennifer Neal | 2281 | 331 | 45-49 | 26 | 00:23:03 | 00:45:49 | B&BHAC |
| 2096 | Chris Swinfen | 3780 | 1759 | 18-39 | 1190 | 00:22:26 | 00:45:57 | B&BHAC |
| 2367 | Barry Wetherilt | 2569 | 1977 | 60-64 | 19 | 00:22:52 | 00:46:50 | B&BHAC |
| 2746 | Adrian Perry | 4336 | 2291 | 55-59 | 82 | 00:23:02 | 00:48:04 | B&BHAC |
| 2886 | Jenny Tomei | 5302 | 490 | 18-39 | 340 | 00:24:10 | 00:48:30 | B&BHAC |
| 3035 | Kieth Duffy-Penny | 2155 | 2509 | 50-54 | 207 | 00:24:54 | 00:48:53 | B&BHAC |
| 3347 | Zoe Kingsmell | 5673 | 593 | 55-59 | 16 | 00:25:03 | 00:49:38 | B&BHAC |
| 3403 | Donelle Yapp | 5412 | 611 | 18-39 | 416 | 00:25:40 | 00:49:46 | B&BHAC |
| 4287 | Andrew Kingsmell | 7321 | 3398 | 45-49 | 377 | 00:25:51 | 00:51:54 | B&BHAC |
| 4505 | Edwina Cheng | 6140 | 972 | 45-49 | 76 | 00:26:22 | 00:52:23 | B&BHAC |
| 5589 | Sally Smith | 14722 | 1383 | 50-54 | 97 | 00:28:21 | 00:54:50 | B&BHAC |
| 12091 | Graham Smith | 21284 | 6943 | 50-54 | 738 | 00:35:42 | 01:11:40 | B&BHAC |

---
12 May 2018 - Penicuik 10k Road Race, Midlothian, Scotland

Above is Paul Ross-Davies and young Sam Wood after he finished 3rd in Penicuik 10km
Paul was 1st M65, 2nd M60.
This has to be the toughest 10km in UK with 3km long steep hill, in the higher Scottish borders! Both agreed it was toughest road 10km they had raced. Sam reached 5km in just 19min but rallied to 34-17! Paul reached 5km in 24-15 but like Sam did negative split of 20-58. Young Sam is at University of Edinburgh - should be really proud of this excellent run!

---
3 to 9 May 2018 - 2018 EMU 6 day World Trophy- Balatonfüred, Hungary
Final result:
John Turner 532.207km (332.5 miles)
1st Brit
2nd in age category 65-69
38th overall

David Hoben 337.502km (209.7 miles)
5th Brit
4th in age category 65-69
78th overall
Yes, mad John E Turner is at it again... last year he managed 325km - he is already up on that and there are still over two days to go! So far he has done 370 laps of the 926.82metre circuit.
Watch live here...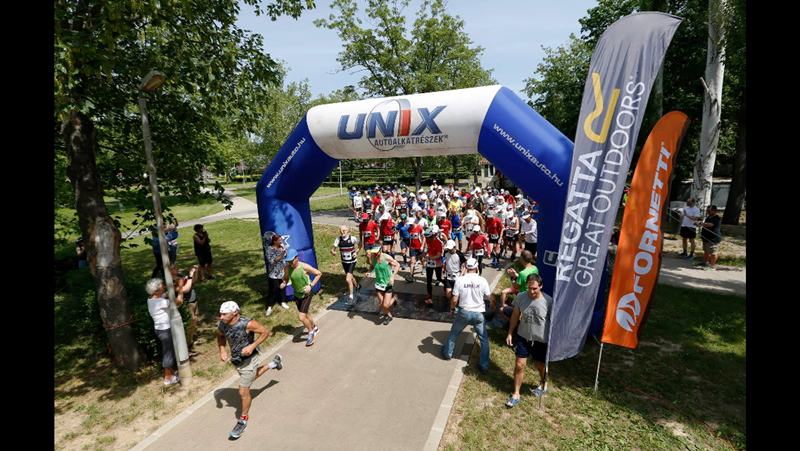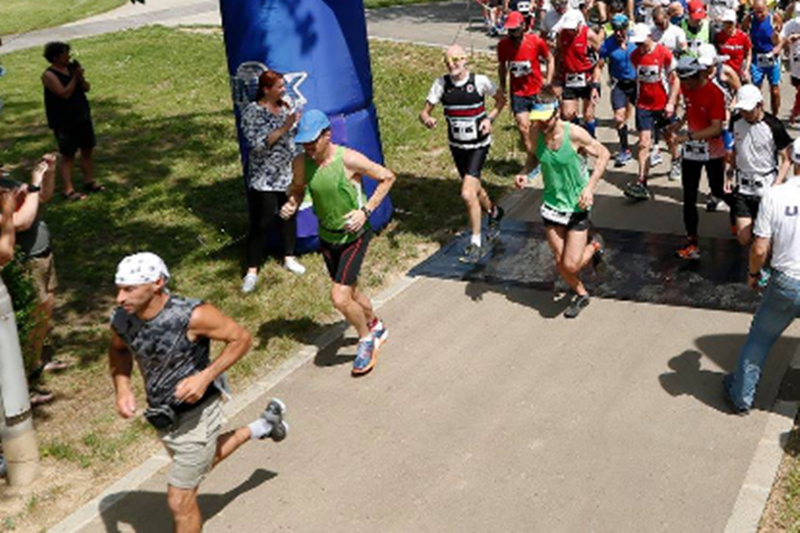 John laying 4th after 2 seconds!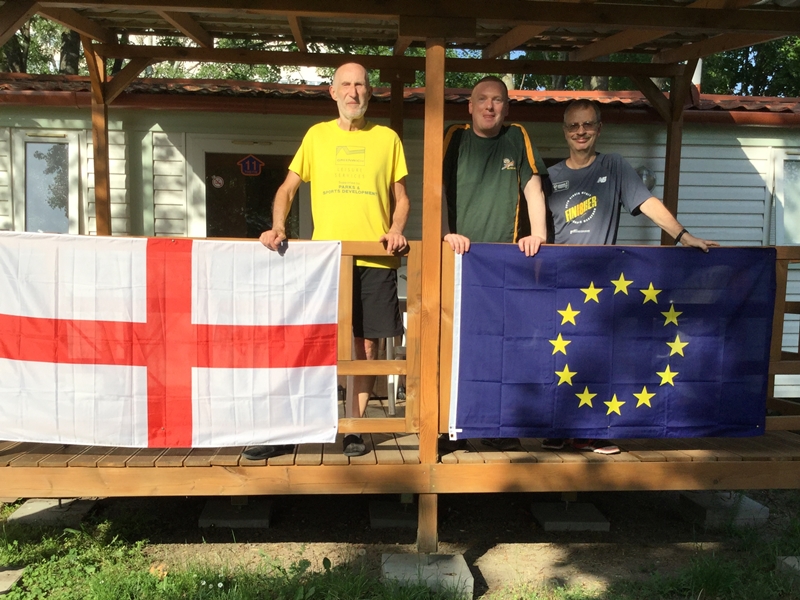 Our chalet with John, Dave Hoben and a fellow Englishman, Adrian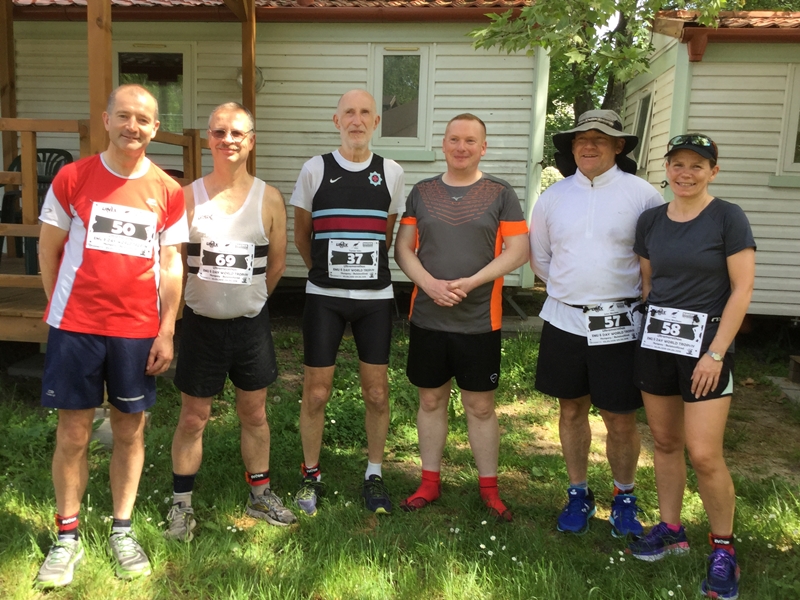 The UK crew - Steve Battle from Yorkshire, Dave Hoben, John, Adrian, John and Lorna from Scotland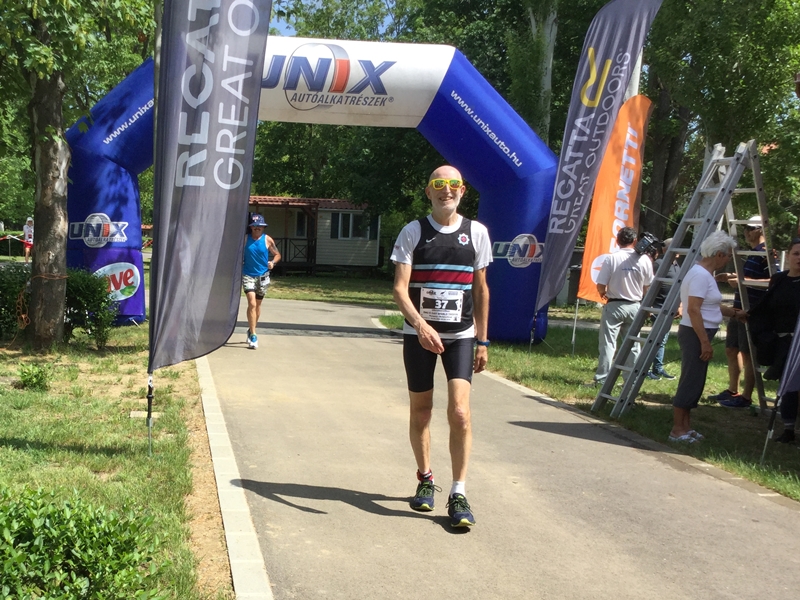 John completing his 2nd lap.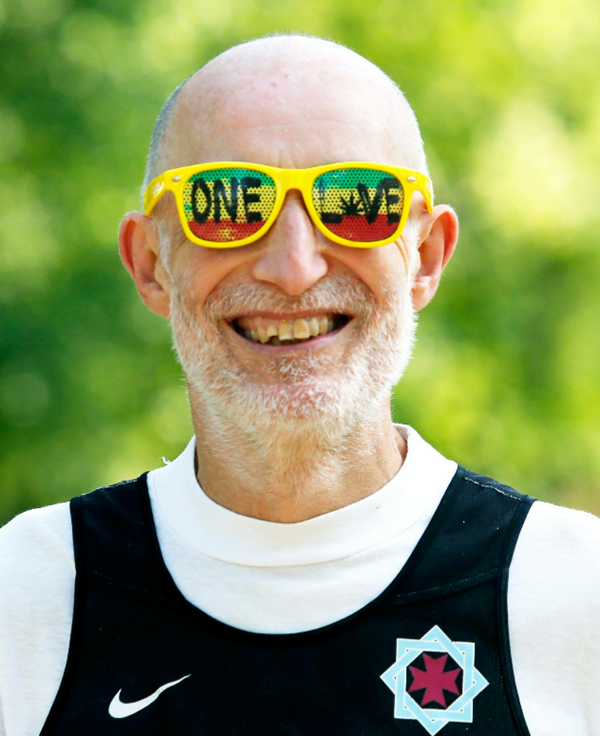 ---
28 April 2018 - BMAF Road Relays Sutton Park
Full results here...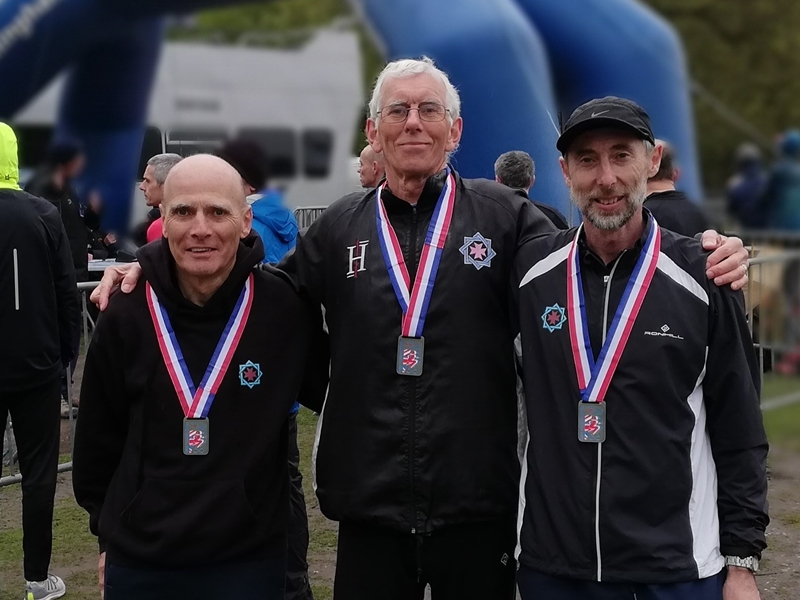 British Masters Athletics Federation Road Relays 28/04/2018 at Sutton Park. M65 silver medallists. Running order Peter Hamilton, Rob Brown and Bob Minting.

---
14 April 2018 - National 12 stage Road Relays Birmingham
Full results here...
The sunshine capital of the UK (according to Will Ruiz) greeted the 12 runners that made the journey up to Birmingham yesterday to finally close out the winter season.
A relatively young team with an average age of about 24 (dragged up a bit by a certain evergreen individual) acquitted themselves very well among strong company and there was a great team atmosphere with everyone staying around to cheer on the team.
The first leg was taken by Will Fuller who had flown in from the US the day before and shown great commitment to make himself available. He ran a strong first leg climbing up to 3rd by the turn on the long leg only for his body to remind him that it was about 5 in the morning for him, none the less he stuck to the task very well in what is always a staked leg and brought the team home well in the fight in 20th.
A casual Georges Vacharopoulos sped across the park at threat of being moved to a long leg and duly took over from Will. With recent injuries not getting the better of him he put in a good leg even bringing out his inner 400m runner to take a sprint finish up the final hill for 29th.
Next off was team manager Ross Braden grinding out a gutsy performance to bring us back in 31st.
The next short leg was taken by Joss Barber making his senior debut at the national 12 stage and he put in our fastest short leg of the day holding us in 31st.
Will Ruiz no longer the young pretender but an established member of the relay squad now ran a strong leg pulling the team back up to 29th.
Tom Desborough then ran a strong leg despite having been struggling with a calf injury showing great commitment to make sure we still had a team and keep us fighting the teams around us in 32nd.
Team manager number 2 Chris Tuck took the next long leg fresh from Paddock Wood half marathon last week running a lonely long leg to hold 32nd.
Marco Arcuri another youngster stepping up to a national relay stage continued the trend coming back in 32nd.
Final team manager representation was taken by Dan Kennedy who gained one place up to 31st but couldn't quite run fast enough to win the battle of the team managers 7 seconds slower than Ross.
Another injury scare late on but still turning up to put in the sort of strong consistent leg we have come to expect from him was Alex Gibbins by this point the gaps were getting large so a lot of lonely running for those on the course but Alex held us in 31st.
The last leg was taken by Danny Brewer who had only 6 days earlier completed Paris marathon and even with what cant be anywhere near recovered legs was able to hold 31st.
The last leg was a complete fiasco with the race organisers declaring a mass start after only the first 3 teams had completed 11 legs. This pretty much negated the final leg as a spectacle and due to the early nature of this and lack of communication meant that final leg runner Richard Byford was not aware and had to run the last leg from the back of the field with the marshals already starting to try and pack away. With all this confusion it cant have been an easy leg to run but he did a strong turn to bring us home for our final position of 32nd out of the 63 completed teams.
A huge thank you from the team managers to all those that committed to running and made themselves available it was a real shame last year that we did not attend this event and was great to be back on this stage with a team that shows real promise for the future and hopefully something we can build on going forward.
That is it for the winter season now and the team managers are really grateful for everyone that has turned out for the team this year in all the events as well as to those who have cheered, put the tent up or down, driven us around and everything else that goes with helping us to continue to compete successfully across so many races.
Good luck to everyone with summer training and racing and we will be in touch again ahead of the southern 6 stage relay on the 23rd OF SEPTEMBER.
Also watch this space for next seasons details of our team targeted BEACON RACES and accompanying socials.
Up the Heath.
Dan, Ross and Chris

---
8 April 2018 - Paddock Wood Half-Marathon
| | | | | | | |
| --- | --- | --- | --- | --- | --- | --- |
| Place | Time | Name | Category | Number | Chip | Grading |
| 33 | 01:14:12 | Christopher Tuck | Senior Men | 1862 | 01:14:10 | 80.39 |
| 48 | 01:16:48 | Gareth Evans | Vet Men 40-49 | 580 | 01:16:46 | 79.64 |
| 62 | 01:18:38 | Luca Ercolani | Vet Men 40-49 | 2290 | 01:18:36 | 81.28 |
| 180 | 01:28:17 | Nigel Haffenden | Vet Men 50-59 | 2308 | 01:28:03 | 75.27 |
| 227 | 01:30:11 | Steven Pairman | Vet Men 50-59 | 2159 | 01:30:01 | 76.82 |
| 386 | 01:38:02 | Kate Curran | Senior Ladies | 5015 | 01:37:50 | 67.11 |
| 415 | 01:39:12 | William Brindley | Vet Men 40-49 | 227 | 01:38:49 | 63.94 |
| 425 | 01:39:28 | Sally Haffenden | Vet Ladies 45-54 | 2309 | 01:39:09 | 72.67 |
| 514 | 01:41:55 | Barry Wetherilt | Vet Men 60-69 | 1977 | 01:41:13 | 71.17 |
| 554 | 01:42:56 | Dave Leal | Vet Men 60-69 | 1108 | 01:42:32 | 70.47 |
| 740 | 01:48:30 | Zoe Kingsmell | Vet Ladies 55-64 | 1055 | 01:47:42 | 71.76 |
| 752 | 01:48:54 | Tracey Ashenden | Vet Ladies 45-54 | 63 | 01:47:57 | 66.38 |
| 762 | 01:49:17 | Angela Powell | Vet Ladies 45-54 | 1466 | 01:48:20 | 67.94 |
| 953 | 01:55:55 | Austin Adams | Vet Men 50-59 | 12 | 01:54:45 | 58.76 |
| 1087 | 01:58:31 | John Butler | Vet Men 60-69 | 279 | 01:57:06 | 63.7 |
| 1235 | 02:01:36 | Sally Smith | Vet Ladies 45-54 | 1702 | 02:00:23 | 60.51 |
| 1284 | 02:03:48 | Richard Griffin | Vet Men 60-69 | 763 | 02:02:59 | 61.66 |