The Young Athlete's Awards took place on Sunday 20th November at The Great Hall, Bromley Civic Centre. Over 240 athletes, parents, club officials, coaches and other guests, including special guest Julian Golding, one of the clubs most successful ever athletes gathered together to celebrate another hugely successful season. The U13/U15 teams Kent Young Athlete Champions, finish 2nd in the Southern Premier Division of the YDL and 3rd in the National Final. Our U17/U20 Teams won their League and the YDL Final with the Junior Women's Team going on to claim 2nd place in the European Junior Clubs Final in Spain.
Our individual athletes also achieved fantastic performances with 23 club records being broken in the 2016 season, our athletes also achieved numerous Excellence, Colours and Merit awards as a result of winning national, area and county champs, some breaking league records and winning medals in multiple events in the same championships. Large numbers of our athletes were picked to represent Kent and other counties during the season, a sign of the strength in depth that we have in some events.
The event itself was a big success, Master of Ceremonies Dick Griffin kicked off proceedings followed by the President Bill Foster who introduced Julian, he gave an inspiring talk that was enjoyed by the audience. After the awards everyone enjoyed the party afterwards, the disco and photo booth proved to be popular and is a format we might follow in the future. Special thanks to everyone who contributed to a successful evening, especially to the Parents Council and other parents who assisted with the serving of food and drinks during the evening.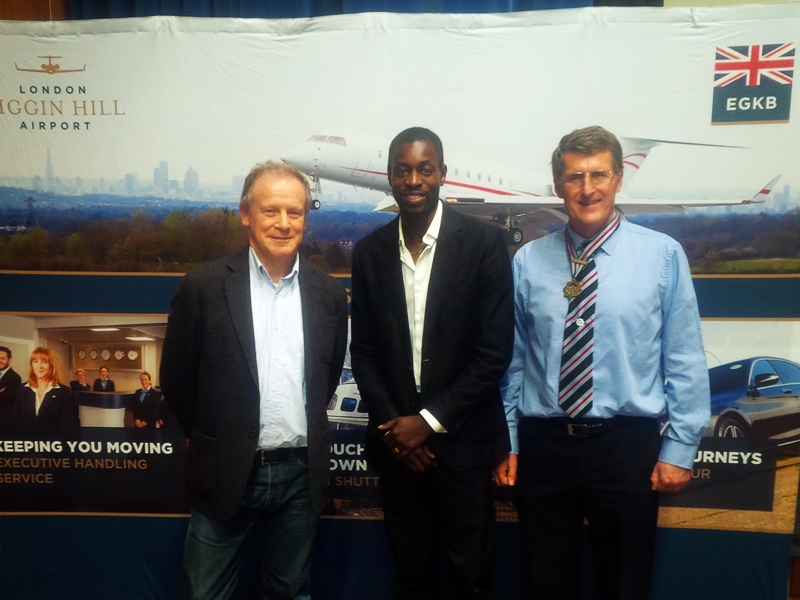 Alan Finn, Julian Golding and Bill Foster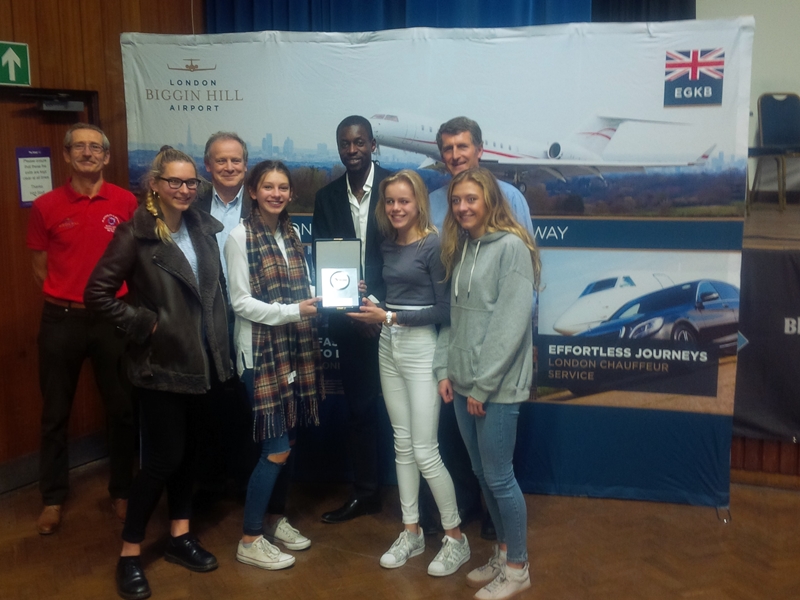 Members of the Junior Women's Team (2nd Place Euro Junior Clubs Cup) with Tim Soutar, team manager, Alan Finn from sponsors Biggin Hill Airport, special guest Julian Golding and Club President Bill Foster.
UNDER 13 GIRLS:
Ellie Dolby
Akeiyla Robinson-Pascal
UNDER 15 GIRLS:
Isabelle Bridge
Hannah MacCaulay
Lia Radus
Morgan Squibb
UNDER 13 BOYS:
Jacob Byfield
Robert Murray
Sam Reardon
UNDER 15 BOYS:
Pedro Gleadall
Rowan Fuss
Joshua Gbagbo
Peter Guy
Thomas Mills
Robert Suckling
UNDER 17 WOMEN:
Eloise Locke
Katy Ann McDonald
Charmont Webster Tape
UNDER 20 WOMEN:
Niamh Bridson Hubbard
Divine Oladipo
UNDER 17 MEN:
Matthew Knight
James Lancaster
Ben Sutton
UNDER 20 MEN HONOURS:
William Fuller
Bailey Stickings
Shamar Thomas-Campbell
Jacob Veerapen
James Whiteaker
UNDER 13 GIRLS:
Renee Bel-Momodu
Olivia English
Olivia Howlett
Shakanya Osahon
Eve Ward
UNDER 15 GIRLS:
Eleanor Barrett
Daisy Dowling
Kareena Galley
Yasmin Marghini
Amy Miller
Holly Mpassy
Alice Prentice
UNDER 15 BOYS:
Michael Burfoot
Rico Cottell
Nana Okwesa
Caelan Raju
Myles Xavier
Joe Georgiadis
UNDER 2O WOMEN:
Mary Adenji
Anna Barnett
Maya Bruney
Annie Davies
Sophie Dowson
Leah Everson
Nicole Farmer
Isabella Hilditch
Parris Johnson
Jess Keane
Elois Locke
Carys Marsden
Holly Mills
Viv Olatunji
Isio Orogun
Toyin Orelaja
Modupe Shokunbi
Georgina Taylor
UNDER 17 MEN:
Edward Adams
Adeyinka Adeniran
Coleman Corry
Henry-James Cowie
Lewis Mills
George Pope
Femi Sofolarin
Charlie Short
Nathan Sureshkumar
Under 20 MEN:
Marco Acuri
Under 13 Girls:
Ruth Chappell
Sofia Elliott
Olivia Howlett
Freya Marsden
Rianna Rennie
Amarisa Sibley
Under 15 Girls:
Zoe Austridge
Ella Brown
Katia Cienciala
Greta Elliott
Grace Fullerton
Lauren Goddard
Jessica Neal
Kamiyla Robinson-Pascal
Eva Stephanou
Elise Swatton
Lily Tappenden

Under 13 Boys:
Brandon Back
Barnaby Corry
Max Gregson
Thomas Penlington
Alex Sibley
Matt Smith
Connor Sutton
Under 15 Boys:
Ollie Briars
Benjamin Gardiner
Oscar Heaney-Brufal
Ethan Kitteridge
Seb Large
Jake Leng
Kyron Morgan
Cameron Swatton
Charles Winton
Under 17 Boys:
Kelechi Aguocha
Charles Andrews
Max Dowling Rowlinson
Michael Eagling
Benjamin Edozie
Jed Hamilton
Angus Harrington
Callum Myatt
Chizute Ogbedeh
Frankie Scrivener
Lewis Stickings
Josh Watson