Men this year will be from age 35, thus 35 to 49, 50 to 59 and over 60 will be the 3 age groups, the same as for the ladies
Blackheath & Bromley have applied to have a 2nd ladies team in Division 2
No 5000m this year, maximum distance will be 3000m
---
Portland Bill - beautiful sunny autumn day - light breeze officially undulating = climb 250ft between 5k and 9k! steady HARD work
1 Mark Pittaway M45 Royal Manor of Portland 35m 20s
8 Chris Woodcock 3rd M60 45m 02s
Slowly getting back.

image by Trin Woodcock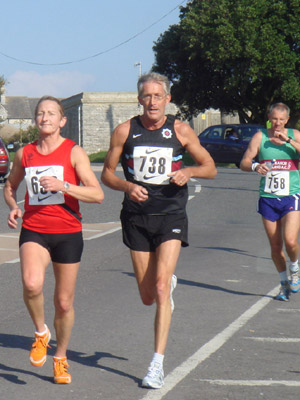 ---
4-15 September 2007 - World Championships - Riccione Italy
Top of the Worlds
Coming almost immediately after the IAAF World Championships in Osaka, the World Masters in Riccione, on the Italian Adriatic coast was perhaps a little eclipsed. Much will also eventually be written elsewhere, about the organisational and facility inadequacies at Riccione, but at a competitive level, it was a highly successful event for our nine Club representatives.
There wonít have been many father/son (or mother/daughter) pairs at the World Masters. We had one! Colin Brand enjoyed a tough competition in the M70 javelin, eventually finishing 7th, while son Daryl, on a rare visit over from New Zealand (but competing in GB colours) hurled a leading throw of 60.77m in the first round, and eventually clung on to third place overall, and a bronze medal.
Beatrice Simpson was everywhere! She threw in the W50 discus, hammer, javelin and weight throw, before taking on the throws pentathlon on the final day of the championships. Her best placing was 8th in the hammer, but her 28.24 for 9th in the javelin was a Club record. Sadly, the shortcomings of some of the facilities were all too evident in the throws pentathlonís hammer event. Beatrice wound out a powerful turn, which clattered against a poorly positioned and wrongly adjusted cage, before crashing back on her foot, and seriously breaking her big toe.
After a stunning season on the track, youíd not have thought Bridget Davey would choose the World Masters for her first serious marathon! Begun at 9am on a hot morning, and on a course along the sea-front for much of the way, there were perhaps easier races to chose for a debut. Bridgetís 3-21-37 for 14th overall placed her third British W40 finisher, and the GB women thus won the team race! Well done Bridget.
As befits a Club with one of the best Masters teams around, we were well-represented on the track. Bob Minting, with gritted teeth at times due to Achilles trouble, ran M55 400, 800 and 1,500 metres. He placed 6th in a scintillating 400 race which contained five Brits, and 8th in the 1,500 later that same evening, but a few evenings earlier had battled to a bronze medal over 800 metres in 2:11.48. Ken Daniel ran M55 1,500 too and ran one of his best ever races in the 1,500 to finish 6th, just beating Bob. Ken was well pleased with his 4:31.55 too! Later the same evening, Dave Taylor ran a gutsy 4:02.54, leading for most of the M40 race before finishing 4th.
Helen Godsellís low-key home season culminated in some superb sprinting in Riccione. A superb silver medal in the W50 100m and 4th place over 200 were capped by gold as part of the W50 sprint relay team. Also sprinting well after a season of injury niggles was Club Masters Captain Tom Phillips. Annoyed at missing the M50 100m semis by 0.01 of a second, Tom blasted from lane 7 in his 200m heat to a win in a new M50 Club record of 25.07. He managed 6th in his semi-final, just a fraction slower. That consistency was rewarded with lead-off place in the M50 sprint relay squad. The strong GB quartet held off the Germans and Americans to win gold in one of the fastest M50 times run by a GB team.
The World Masters Indoors are next. Clermont Ferrand, here we come!
Photos from Tom Philips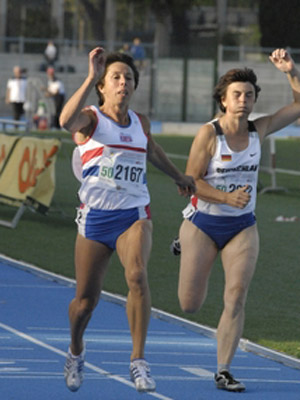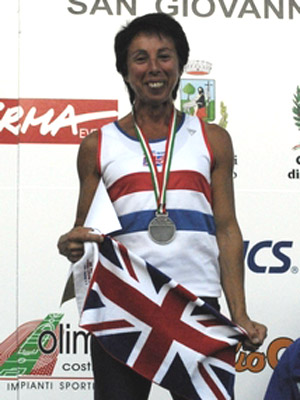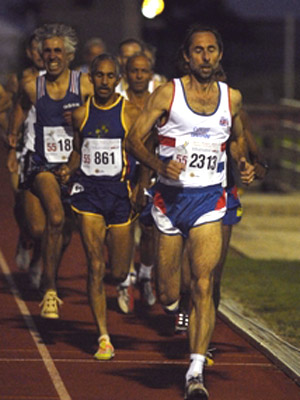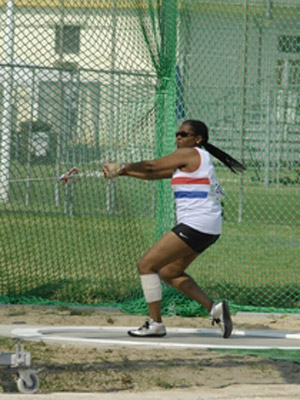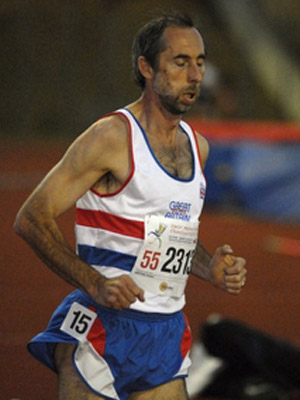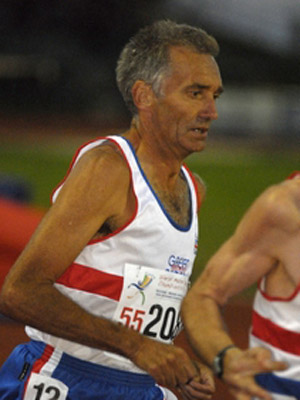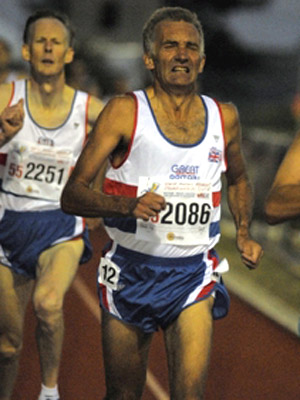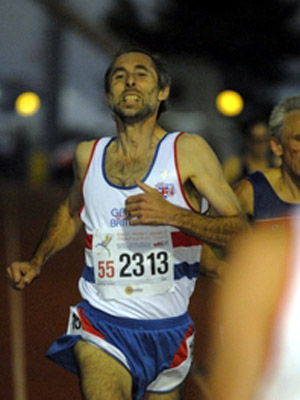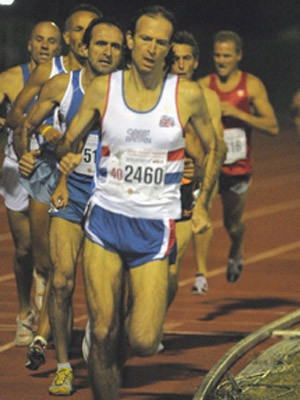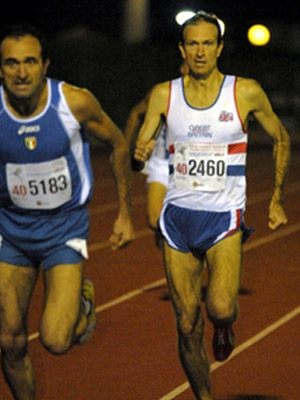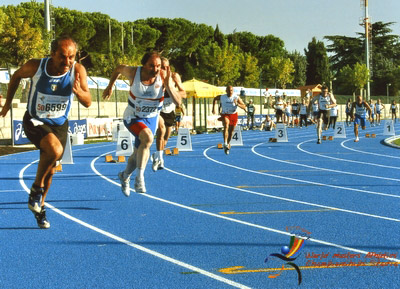 ---
17-09-07
Hi guys. Just a very short note to update you on the main news from Riccione.
We have a neat set of medals Ė some of each.
Bronze for Daryl Brand in M40 Javelin
Bronze for Bob Minting in M55 800m
Silver for Helen Godsell in W50 100m & 4x100 relay
Gold for me as lead off for the M50 4x100m relay
The championships were spread over three venues, each in a different town, and it was impossible to keep track of who did what, or even who came out! I may have missed someone who got a medal, therefore, but I donít think so. Bridget Davey ran 3-21-47 for her first marathon, in 80 degree heat yesterday morning. GB won the W40 Team competition, but Iím unclear whether that was a medal event. If so, two golds for Blackheath & Bromley!
Full details by browsing at http://www.dbwma2007.org/results/atwma/2007/riccione0409200701/at/indexframe.htm
Ken beat Bob in the M55 1500, Dave Taylor was 4th in the M40 1500 after leading a good bit of the race. Fuller Club details when I get a chance. Iím very busy with work this week, so Iím sending this just after getting home.
Beatrice Simpson suffered a bad injury in the W50 hammer competition in the throws pentathlon. The hammer bounced back off an inadequate cage and smashed one of her big toes into 12 fragments. She opted to travel home today rather than have an operation in Italy, and was going directly to hospital from Stansted this afternoon.
Tom Philips

---
Monday 27 August - Yeovilton - flattish - light breeze - warmish
1 A Hussey Midland Masters M40 16:21
11 Peter Hamilton 4th M55 18:30
21 Chris Woodcock 3rd M60 21:36

---
19 August 2007 - SCVAC Area Final at Ashford
2 GLORIOUS VICTORIES FOR THE VETS
Both the women and mens team won their respective finals on a very long day at what was often a very wet Ashford. Havant pushed the girls all the way and daylight only started to emerge between them mid to late afternoon. Oxford similarly pushed the men all the way and even went into the lead during the afternoon. However victory was assured before the final relay.
This was the Club at its very best with team spirit in abundance. Great support form masseur Nick Nuttall who gave 28 individual massage sessions. Also great support form the President and other non-competing members, spouses and friends. Gratitude also to the single eventers who came, competed and then stayed to support. With such a brilliant team effort it is difficult to single out individuals for a special mention but Bridget Davey featured in the most exciting finish of the day in winning the 1500m. She also won the 800m and 3000m as well as contributing brilliantly to the 4 x 400 relay team.
Beatrice Simpson was highest points scorer with 33.5 from 5 events, Nan Cross amassed 25 from an exhausting schedule of 6 events, Helen Godsell had 3 wins and 21 points and was also in both winning relay teams, Maureen Miller 19 pts from 3 events and also in both relays and team captain Anne Cilia, leading by example, hurting her hamstring early in the day but getting 18 pts from 5 events and also running a 4 x 100 relay leg. Barbara Terry was equal 2nd highest points producer with 25 pts from the 4 throws.
Clem Leon featured in 6 events for the men with 22.5 individual points and also a 4 x 400 relay leg. New team member, Rob Hall, had a very tough schedule and was highest individual points producer with 23 points from 5 events. Significant contributions also from another new team member, Jon Thorpe, with 19 pts from 3 events and Colin Brand with 18 pts from 3 events. Along with Rob and Jon, we had 2 other new team members, Nigel Keogh and Richard Holt. The 4 of them have really made a big difference. At the other end of the age range we still rely heavily on our 70+ throwers Gordon Hickey and Colin Brand who often compete against men over 20 years younger than them. They were joined this year by 70 year old John Baldwin running the M60 1500m.
We were delighted to welcome back former mens team captain and manager, John Turner, who volunteered his services. That just summed up the brilliant Club we are members of and the team spirit it produces.
Jim, we hope you enjoyed it, we were thinking of you.