There will be 4 league matches per year for both sets of age groups, with promotion and relegation per division after the 4 rounds.
23 June 2019 - U13/15 - Reading
Match three of this seasonís UKYDL was another tight fixture, but despite having a relay team disqualified, BBHAC U13 and U15 boys and girls managed the win and this catapulted them to the top of the Southern Premier league, with one remaining fixture, our home match at Norman Park. The top two in the league qualify for the UK final in Manchester on 7th September and this result goes a long way to reaching that goal.
The weather twelve months earlier, at the same fixture was bitterly cold but this year we had near perfect conditions and the performances to match.
The U13 boys squad consisted of 13 athletes and all put in solid performances across all events.
David Dare broke 13 seconds again for 100m and ran a great new PB of 25.7 in the 200m, ranking him 7th in the country before bringing the relay team home in a equal seasonís best time.
Zuriel Nwogwugwu, sporting a nice new pair of spikes ran well in the 100m, jumped well in the long jump and ran leg number 2 down the back straight in the 4 x 100m relay.
Andrew Nikoro made his UKYDL debut posting three fantastic new personal bests. First up was the hurdles where he won his race, shaving off half a second, followed by the 100m, again taking half a second off and finishing with a 15cm improvement in the high jump.
Marley Byfield continues to be a valuable member of the team posting a good 100m and leading the relay team off in style.
Rayhan Mourtada goes from strength to strength showing that training does pay off, firstly hurdling well to a new quick personal best, follow by another PB in the 200m and running leg tree in the relay.
Jasper Brooks ran well in the 800m just outside his best and then despite heavy legs jumped to a fine new best in the long jump.
Young Hendri Verster made a fine UKYDL debut running a mature, controlled 800m finishing well and being rewarded with a personal best time.
Amir Dudhia ran hard in the 800m and was also pleased to record a new PB.
Continuing the theme, young Jed Starvis ran a sensible but hard 800m and deserved his new PB.
Alex Middleton in his 1st 1500m race this season showed class running a sensible and controlled race eventually breaking away from his opponents in the home straight, slicing an incredible 16 seconds off his best, clocking an impressive 4:49.4.
Josh Healy ran another solid 1500m pacing well and finishing a fraction outside his best.
Finn Kitteridge had another busy day amassing loads of points from his three events starting with a PB in shot put, a PB in the high jump and then a good series of throws in the javelin.
Max Kennedy had a worrying hand injury before this meeting but had recovered sufficiently enough to gain great team points in both throws, just short of his best in both shot and javelin, two events you don't particular want to do with an injured hand. But credit to Max for gritting his teeth and getting stuck in.
The last UK YDL fixture is on Saturday 20th July at Norman Park, Bromley but before that is the next Kent league fixture at Ashford on Sunday 7th July 2019.
Paul Austridge

---
18 May 2019 - U13/15 - Hornchurch
Round two of the 2019 UKYDL was held at the Havering AC track in Hornchurch, in ideal conditions, resulting in a fantastic win for the Blackheath and Bromley lower age group team.
With a second place in the season opener it was vital to post another great team performance, to keep us in contention for the Southern title and in a qualifying position for one of the two places available for the National league final in September.
BBHAC U13 and U15 boys and girls once again showed great team spirit and were well supported on the day by coaches, parents, siblings and the new Club President, former Commonwealth 200m champion Julian Golding, who had made the journey across the Thames to give the team much appreciated support.
The day overall started well on the track, with all eight BB hurdlers clocking new personal bests.
The U13 boys had a brilliant day with every athlete running, jumping or throwing a new personal best.
Marley Byfield started his busy day over the hurdles, before sprinting the 100m, high jumping and running a great opening leg in the 4 x 100m.
Rayhan Mourtada showed great determination in knocking nearly 1.5 seconds off his hurdle best, nearly 0.5sec off his 200m best and running a quick bend in the relay.
David Dare made his club debut and what an impression he made, winning a very fast 200m, clocking 25.96, a time that now ranks him 5th in the country. David backed this run up with another quick sprint in the 100m and then bringing the team home in the relay in a fast time.
Zuriel Nwogwugwu, making his YDL debut made a big impact in the team winning the B string 100m and the long jump and running a great leg down the back straight in the sprint relay.
Jasper Brooks continued his fine season with new best in the 800m and in winning the B string long jump.
In the first fixture we were unable to field any 1500m runners but went one better at this fixture with Josh Healy leading the Blackheath charge, recording a great new best time just outside 5minutes.
Itís no surprise, with Max Kennedyís great attitude towards training and competition that he further improved his javelin throw best, passing the 30m barrier for the first time, recording a fine 32.05m and getting a full sized Stormtrooper for his efforts! A new shot put technique also helped Max to consistently put the shot over 7m.
Finn Kitteridge had another busy day in the field with PBís in the high jump and shot put and another good series of throws in the javelin, earning loads of points for the team.
In the 800m Jed Starvis produced a solid performance, knocking a massive 5 seconds off his best and in the process scoring great team points.
Another athlete making his Blackheath Bromley and debut was Ryan Hang and he should be happy with his 100m sprint performance.
Hendri Verster was due to make his BB debut but sensibly pulled out, despite making the journey to Hornchurch, after advice from the on track physio, suffering very tight achilles. Plenty more opportunities through the long track season ahead.
This fantastic result see BBHAC sitting in second place but with the same number of points as current leaders Reading AC. Reading host the next fixture on 23rd June followed by the the final fixture, hosted by BBHAC at Norman Park on 20th July.
Paul Austridge

---
Photos from Rod Harrington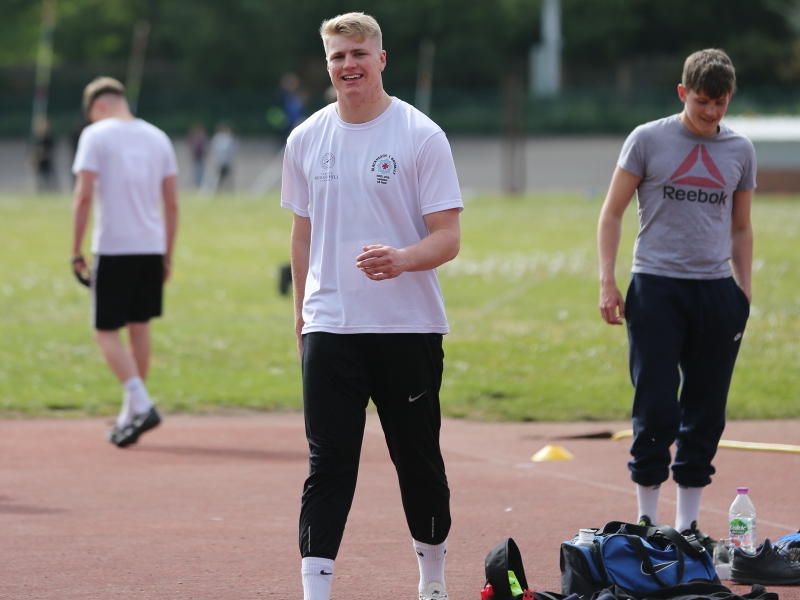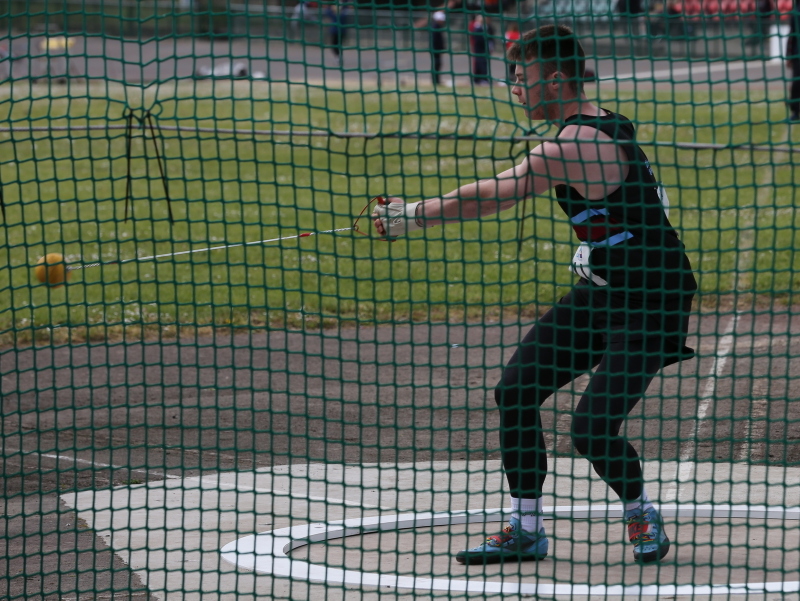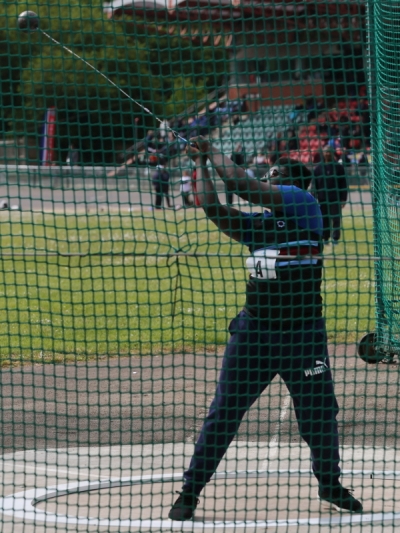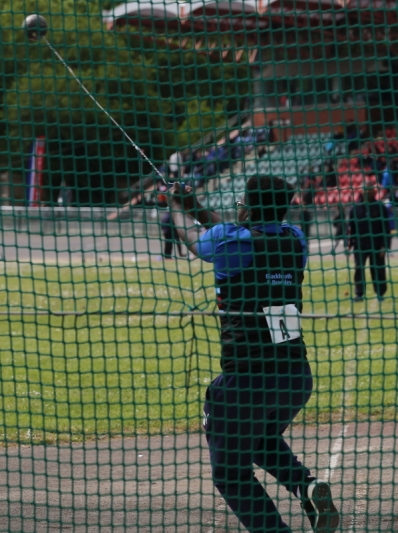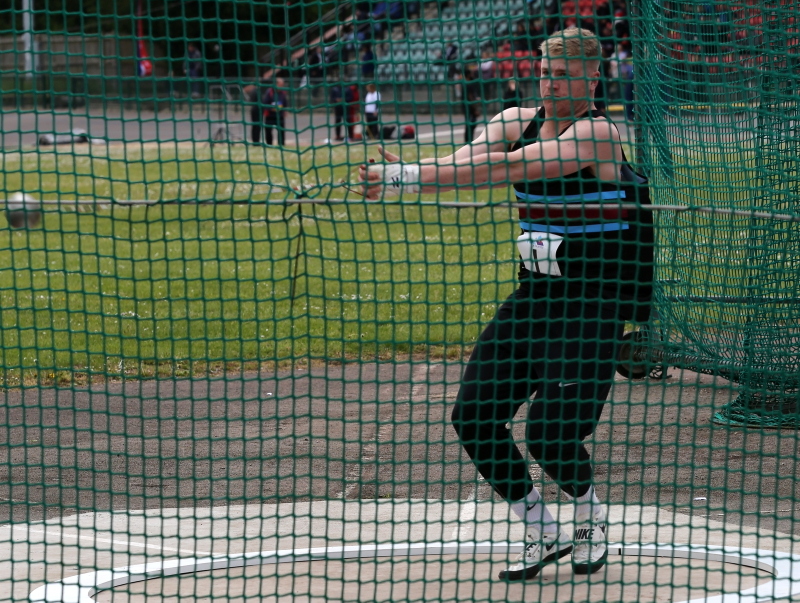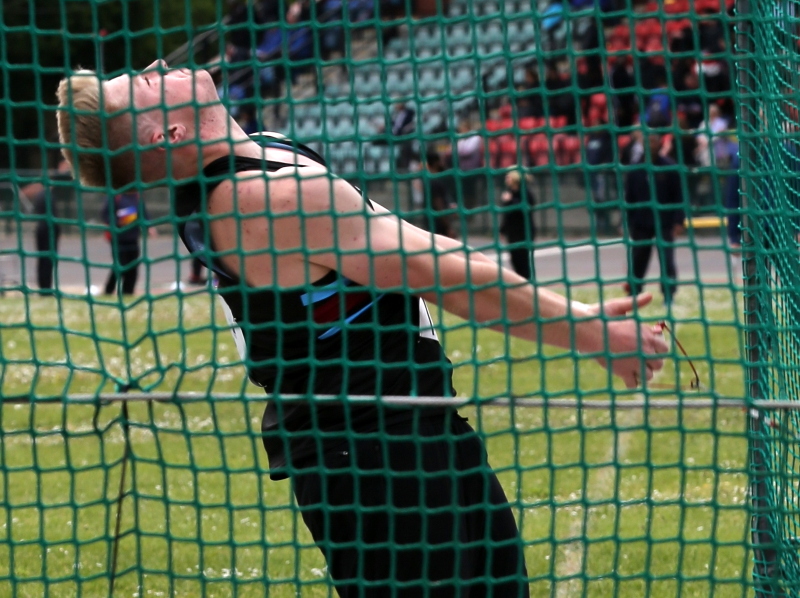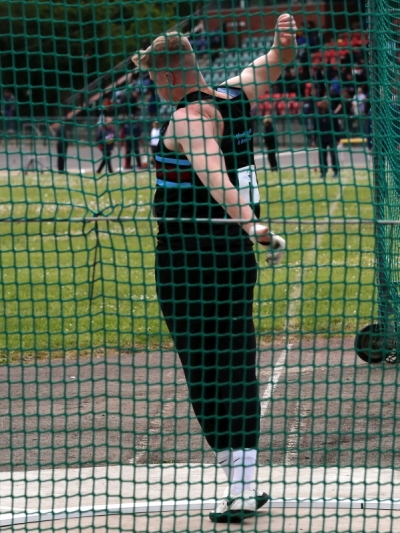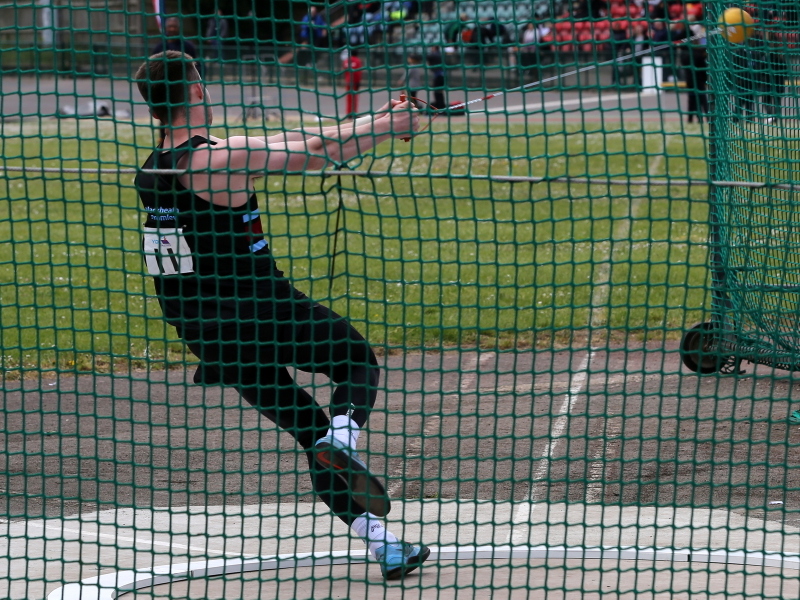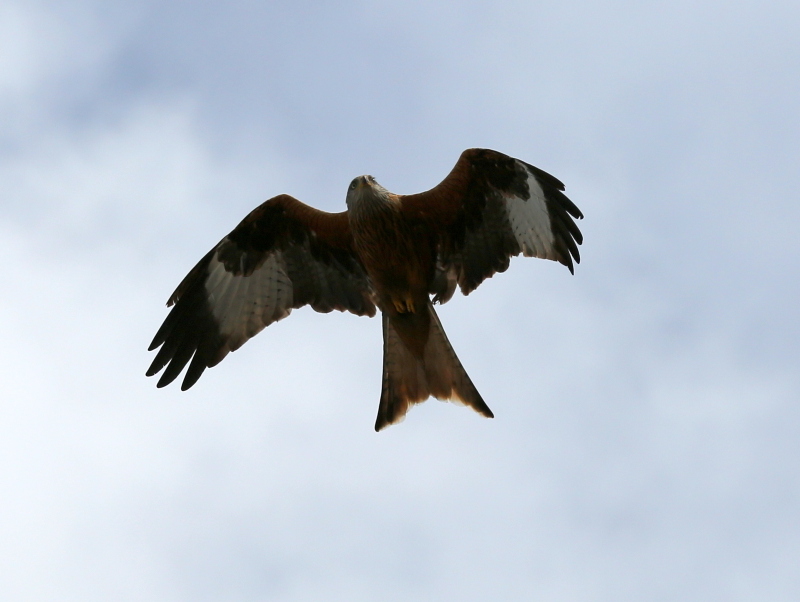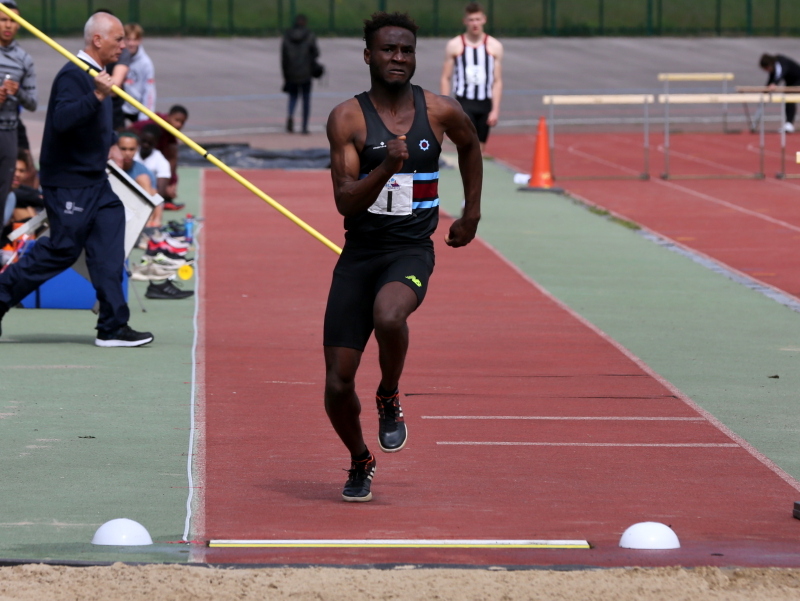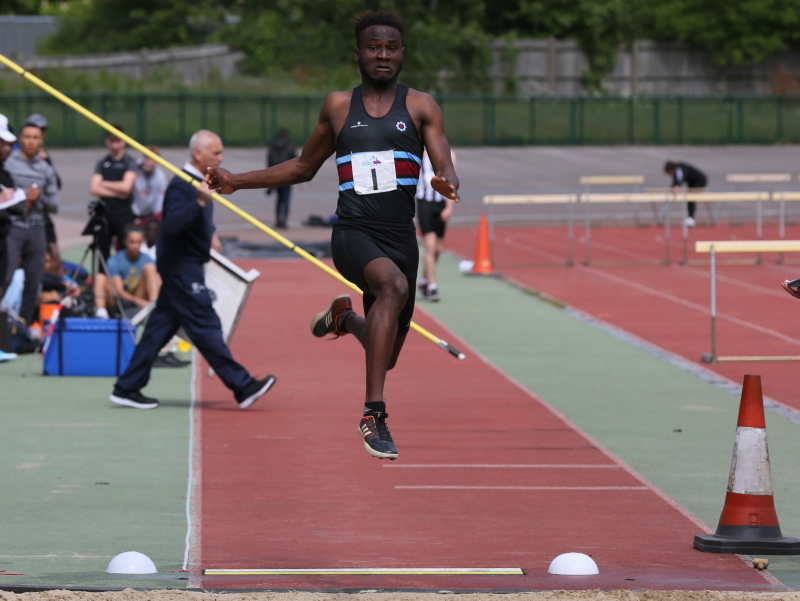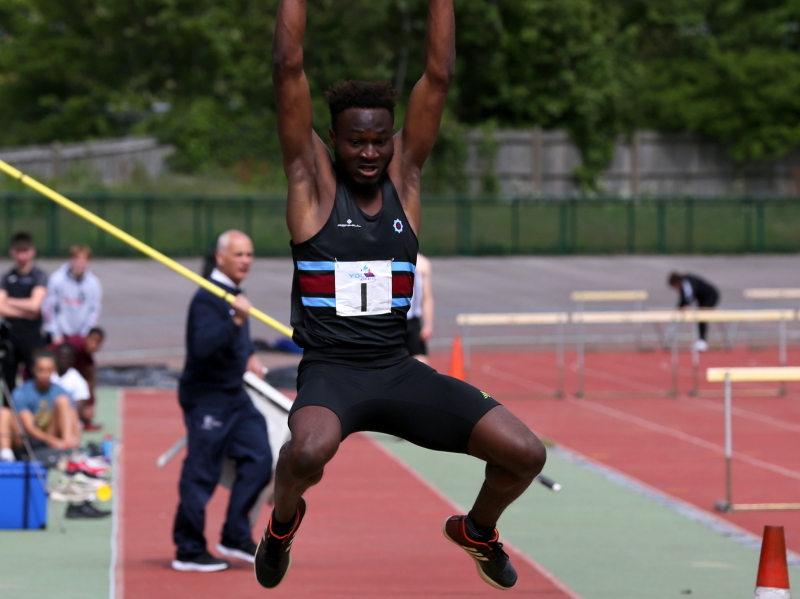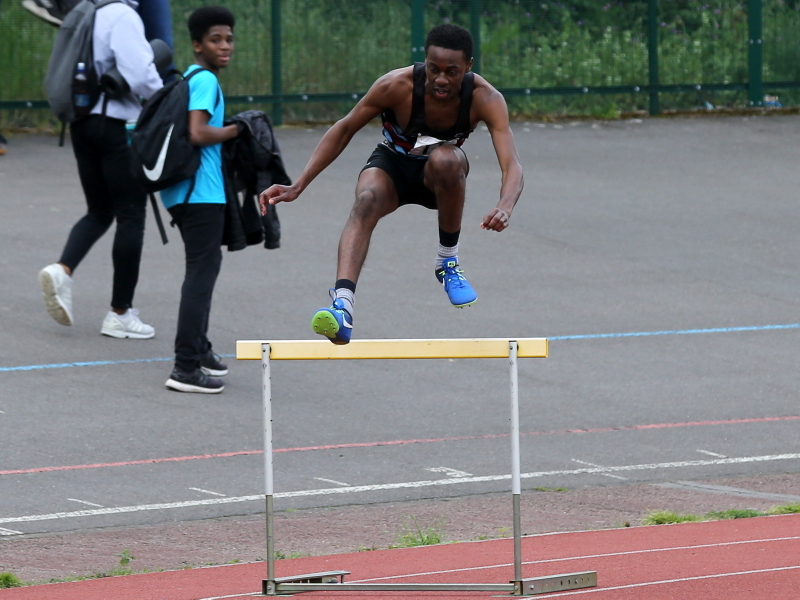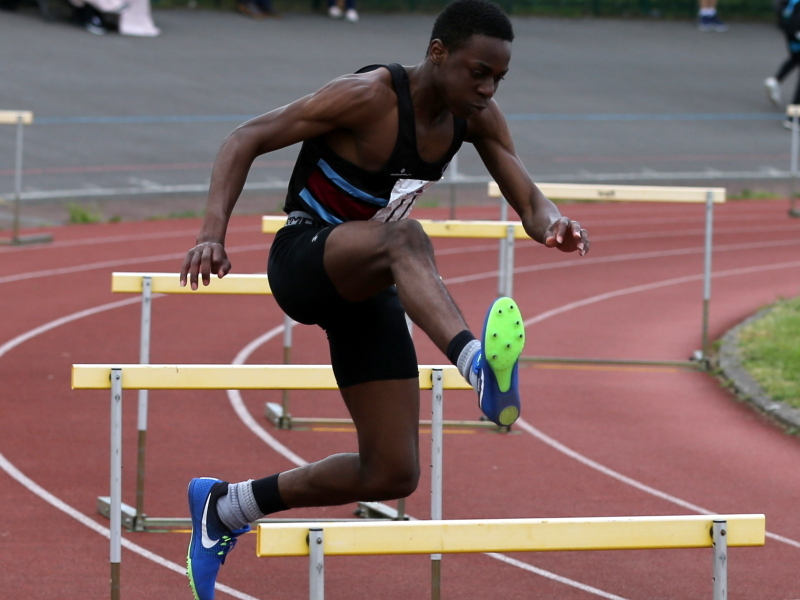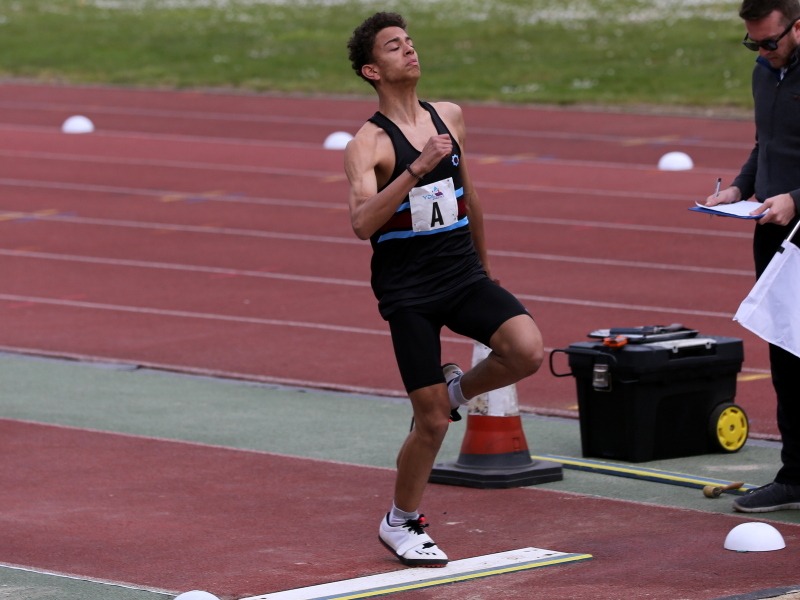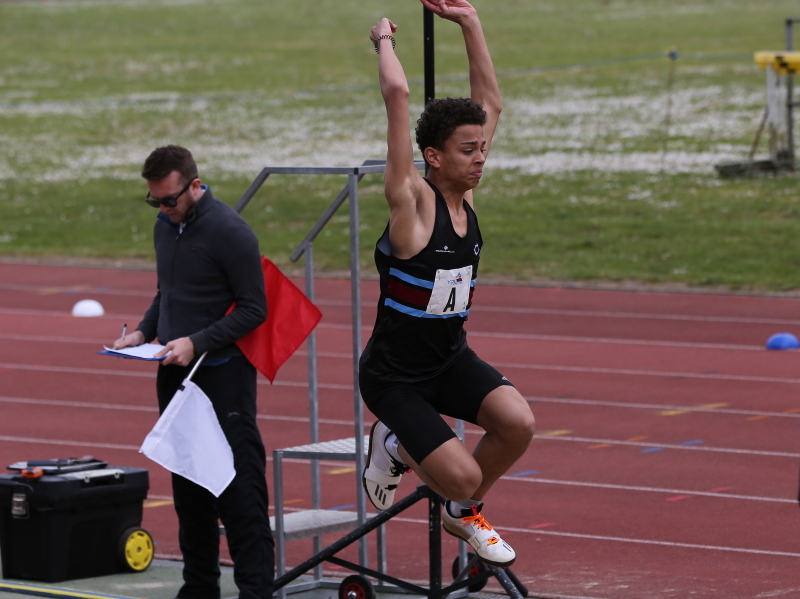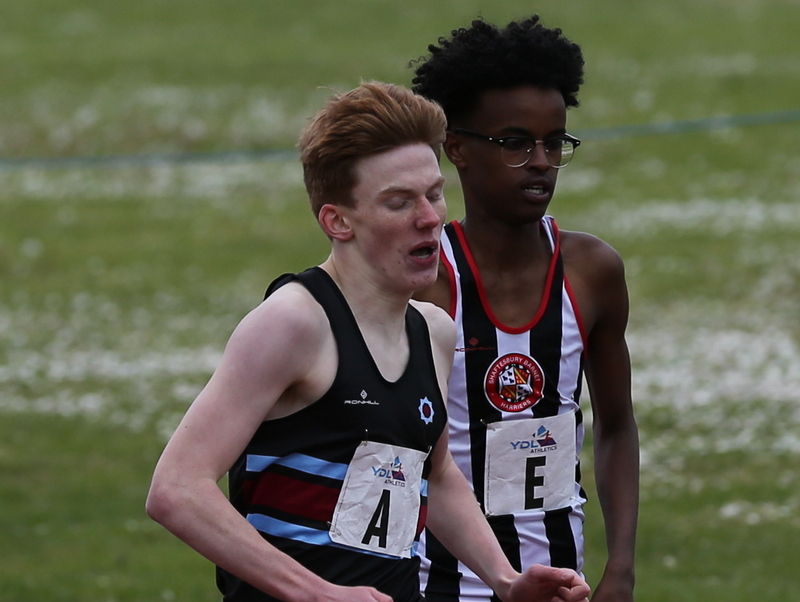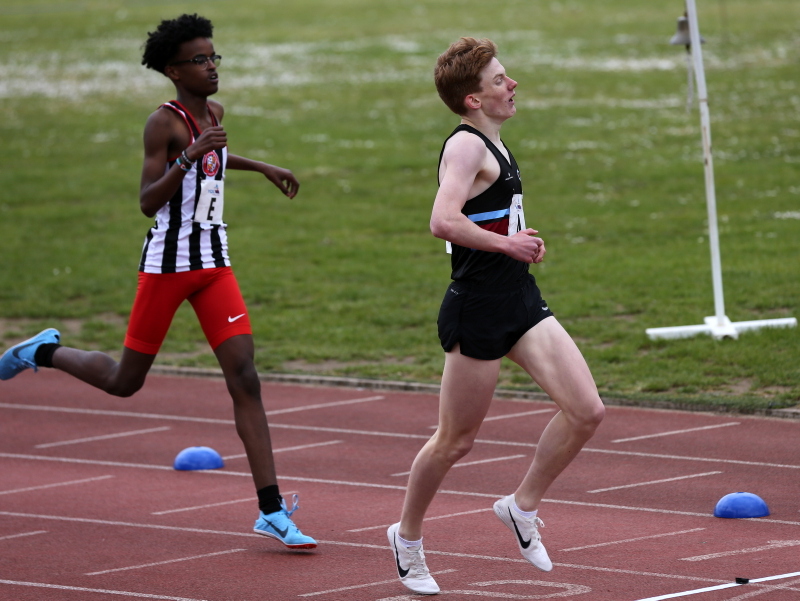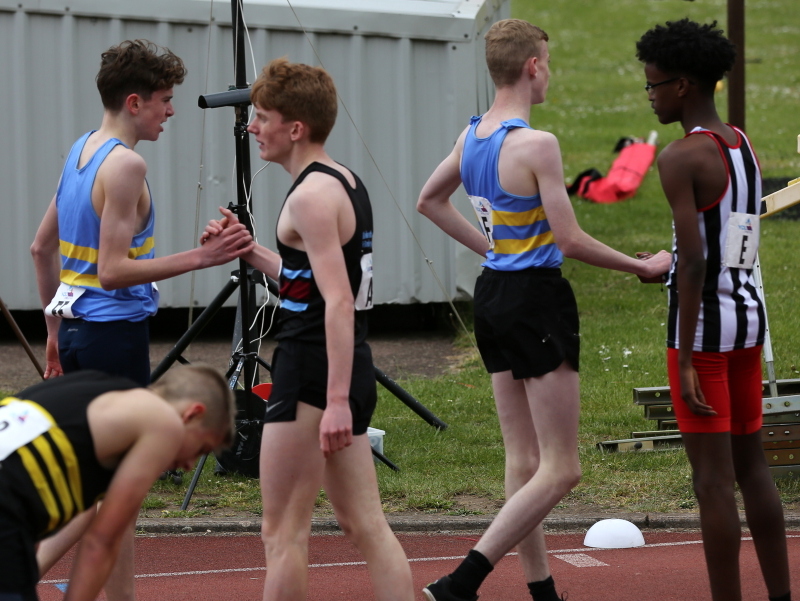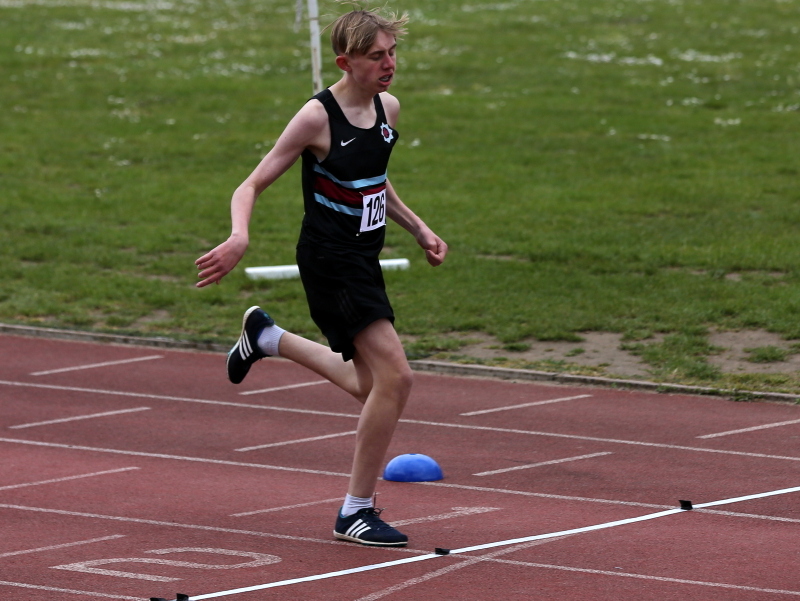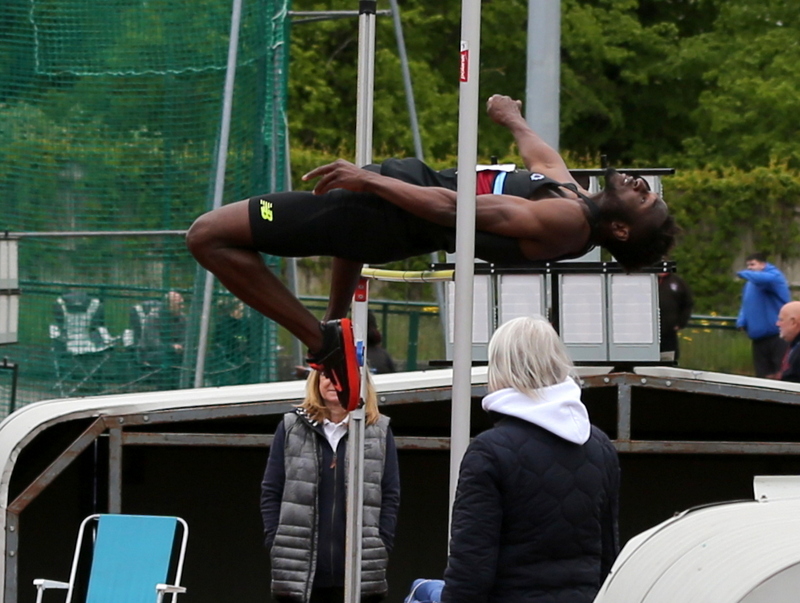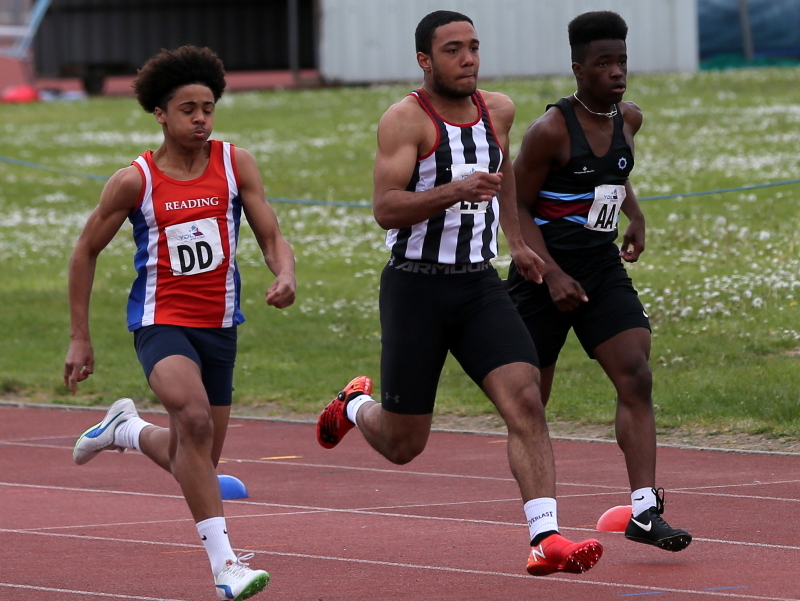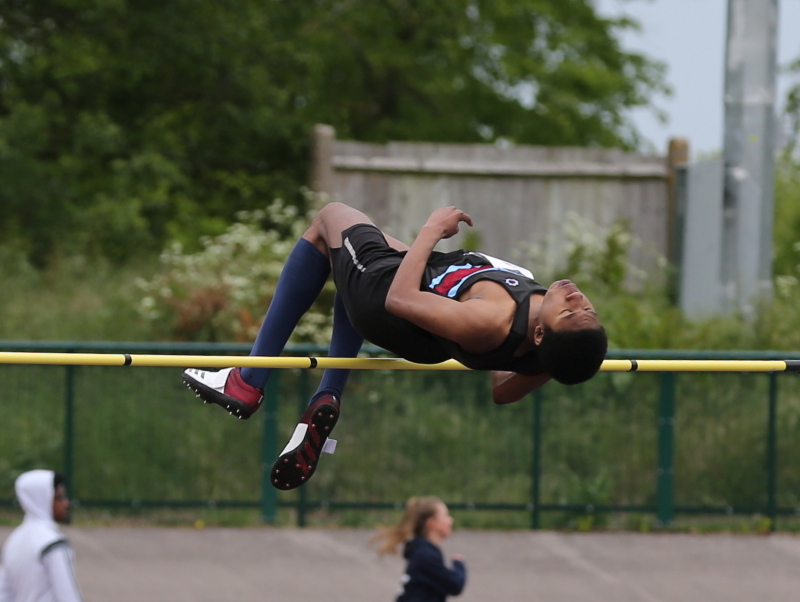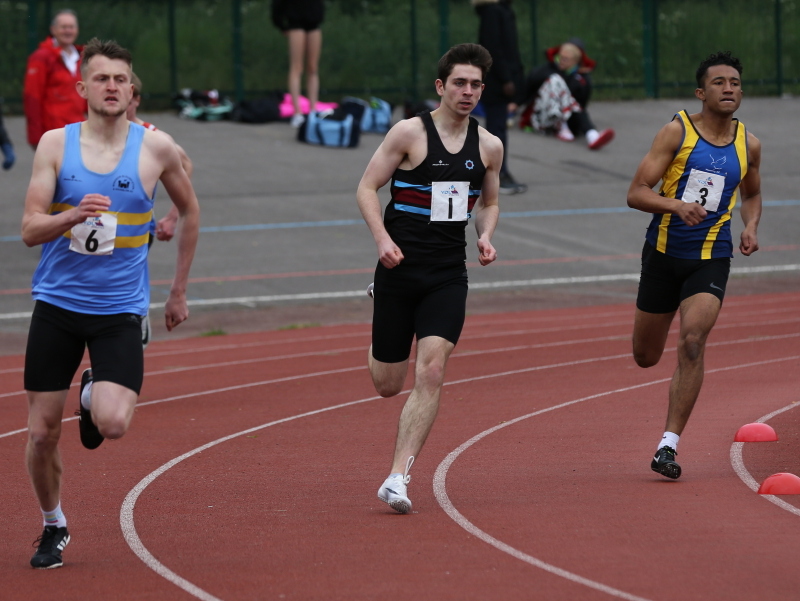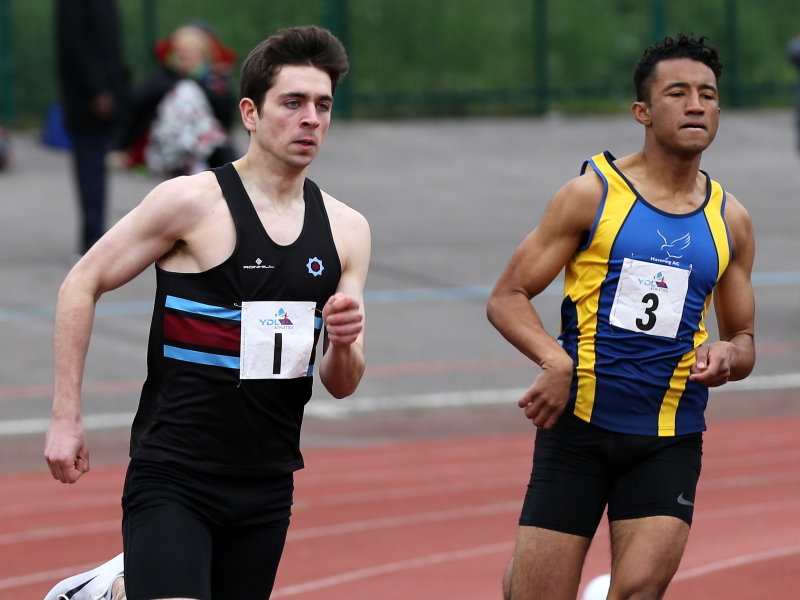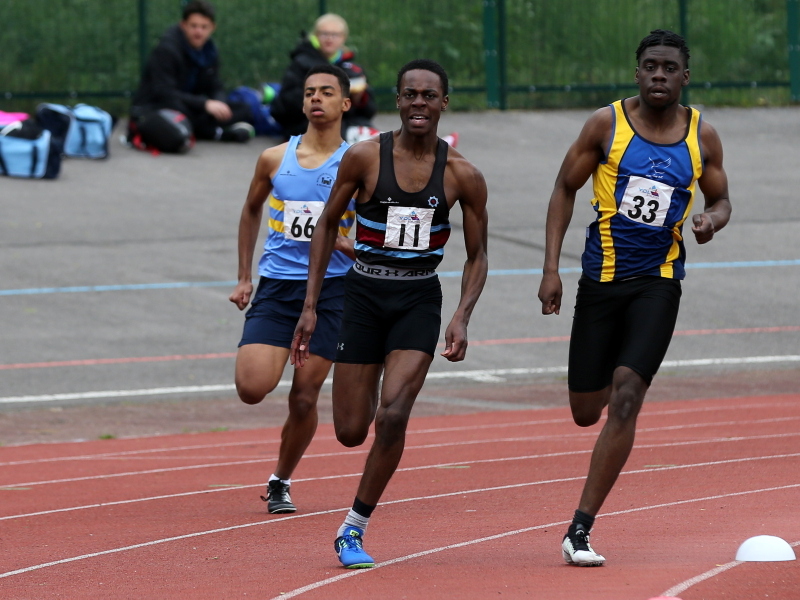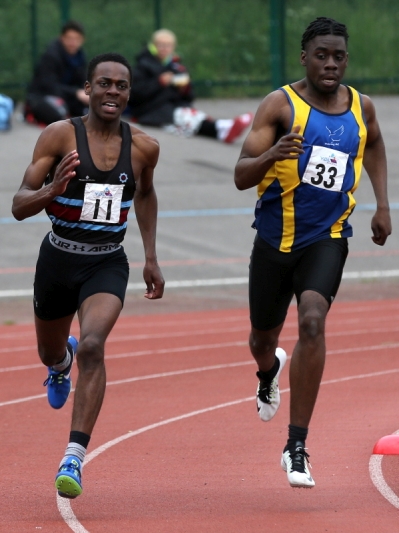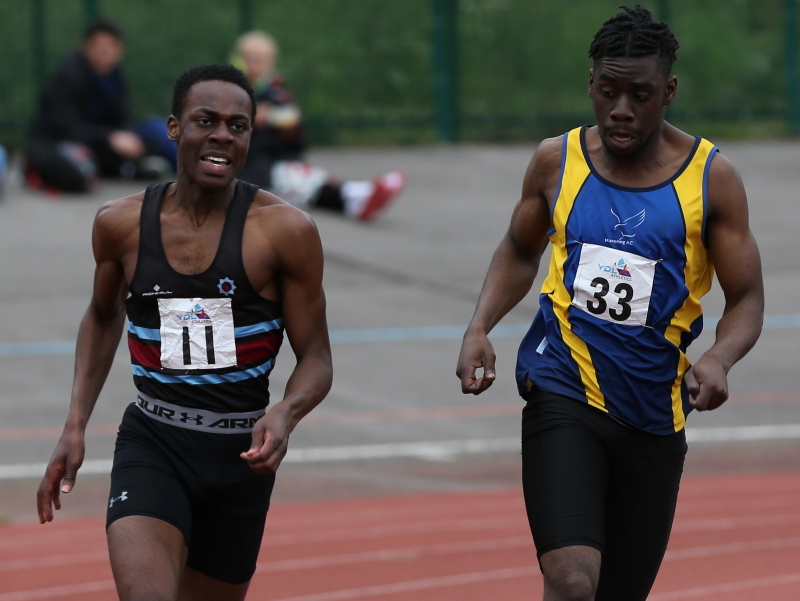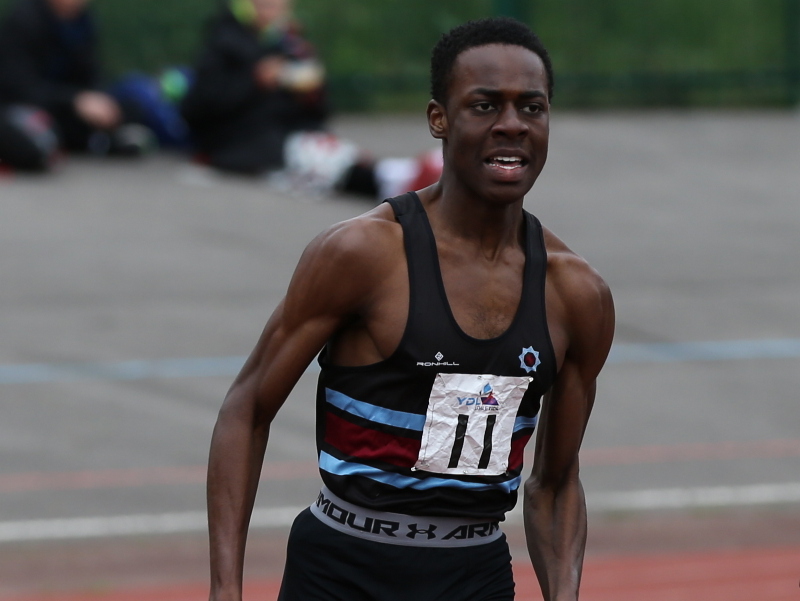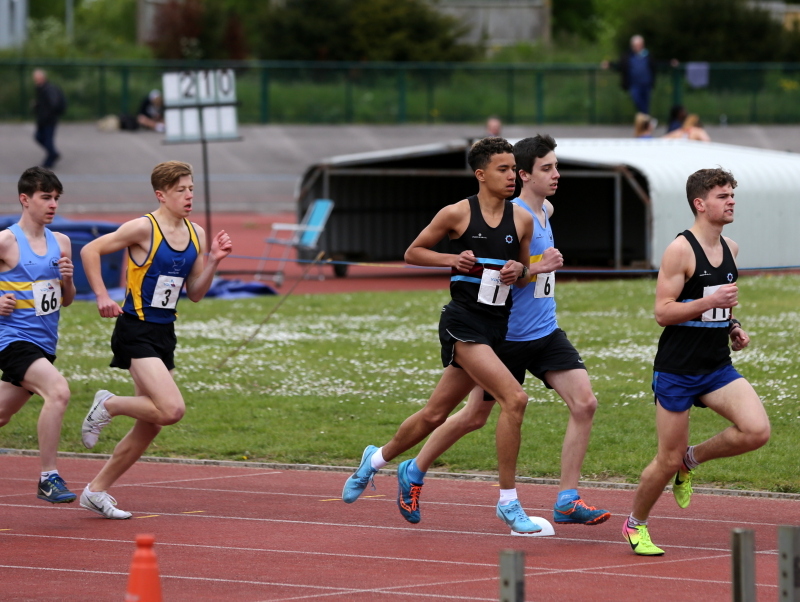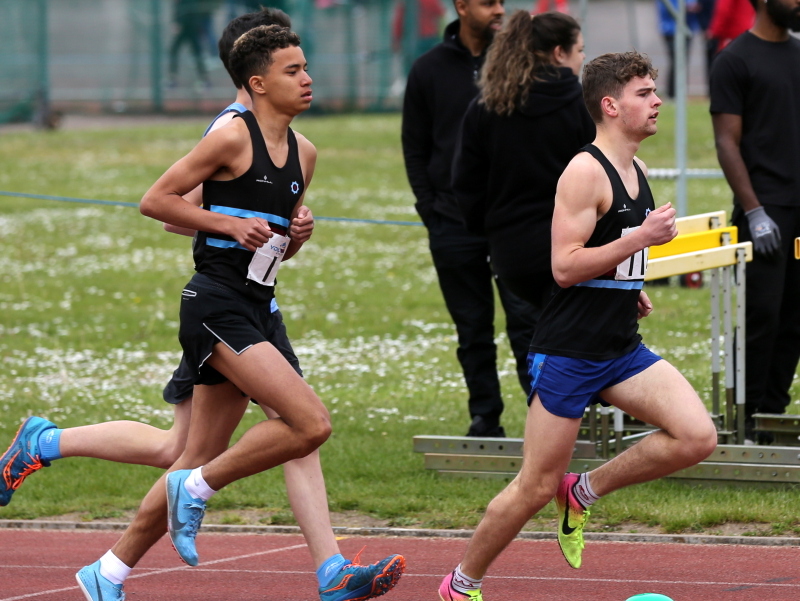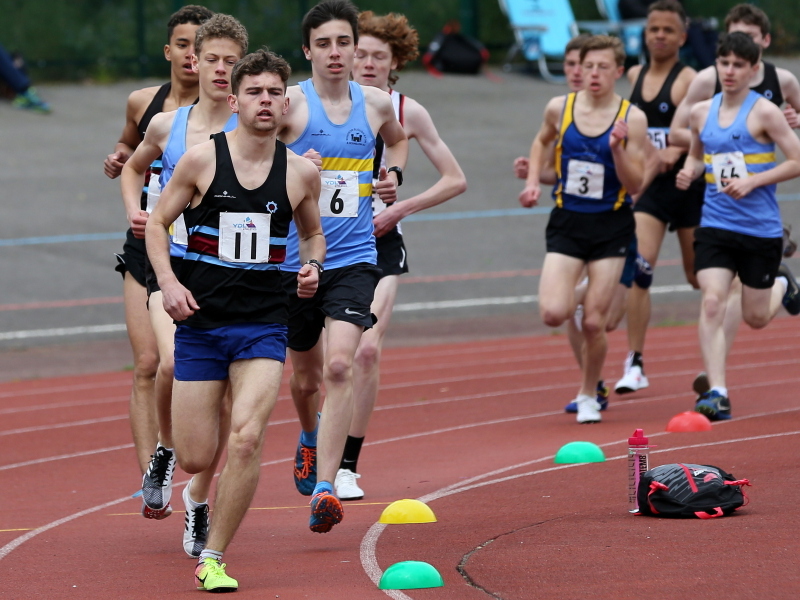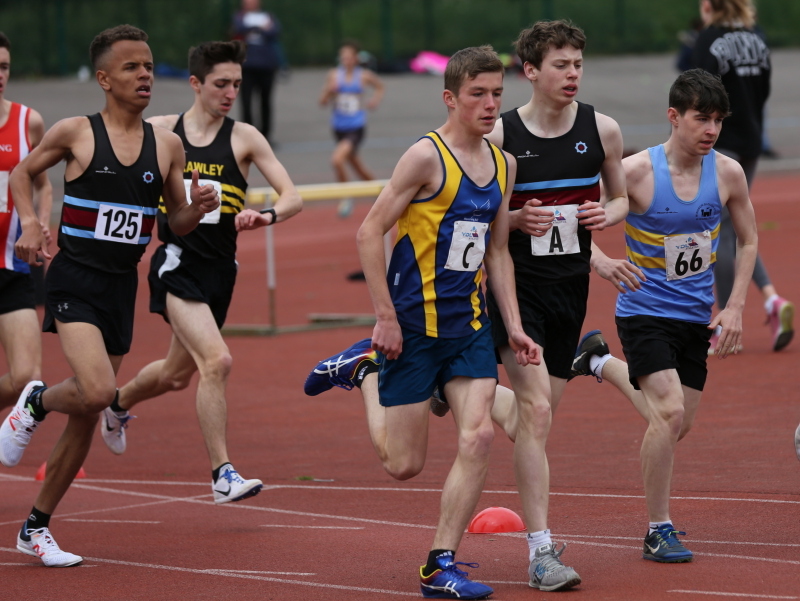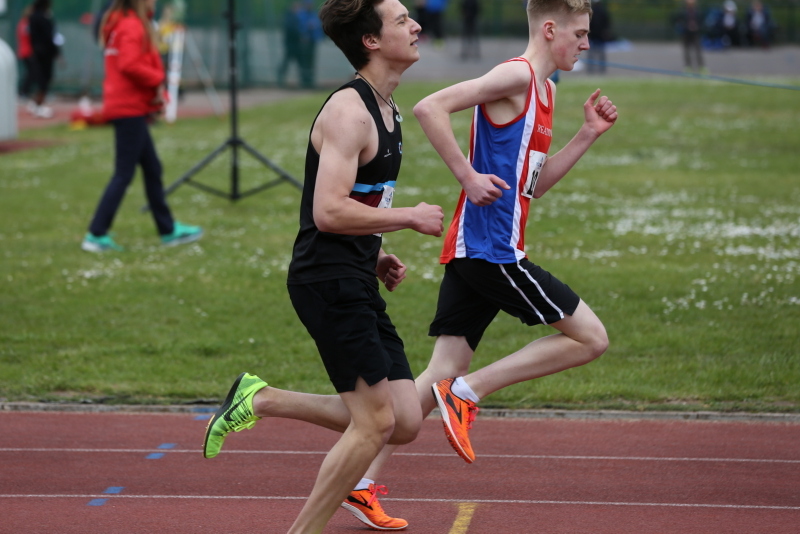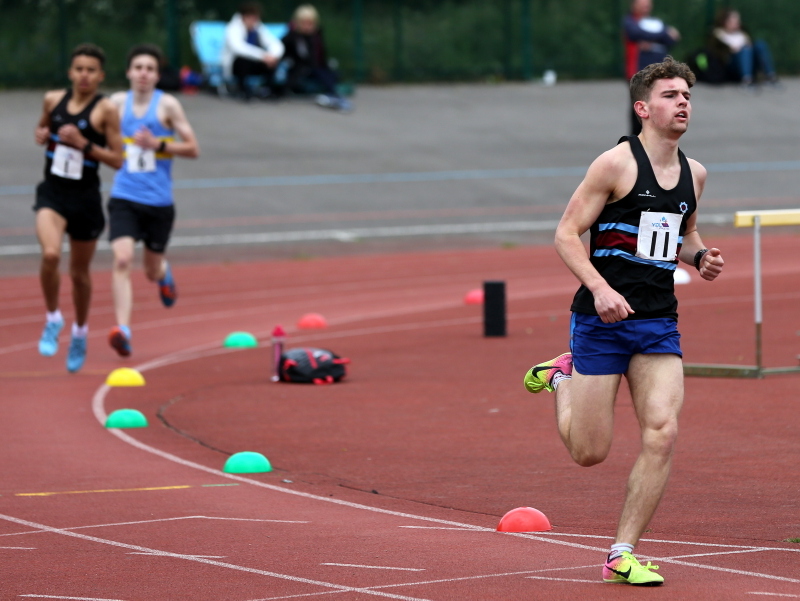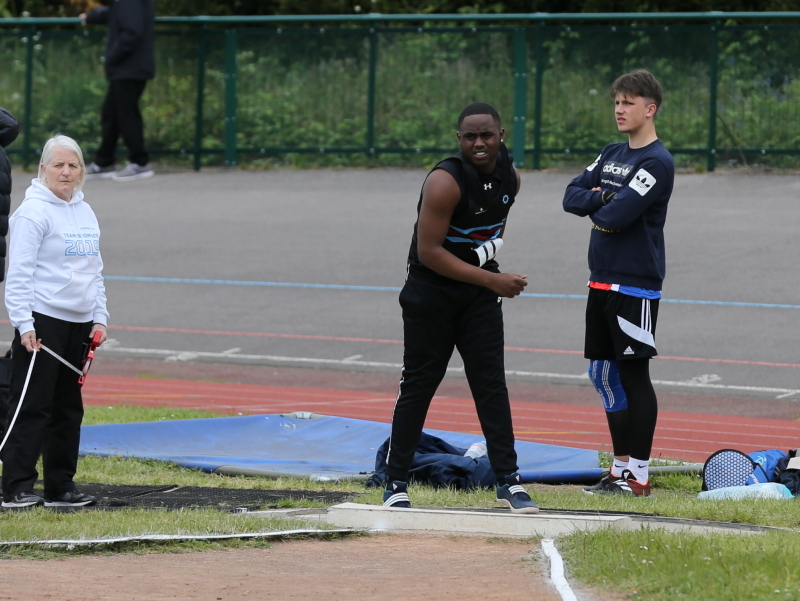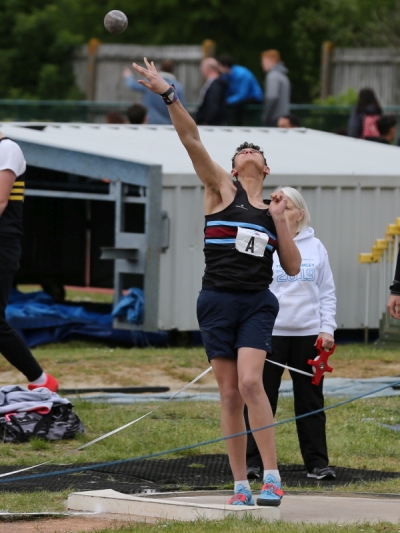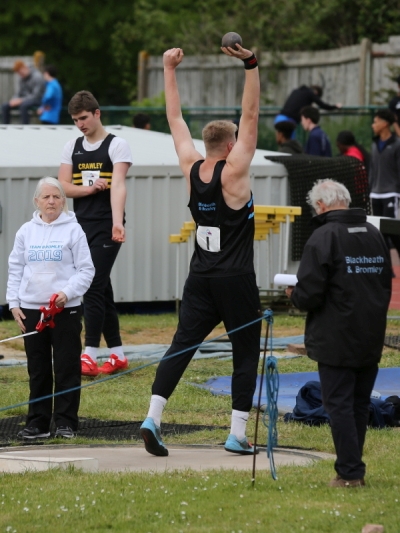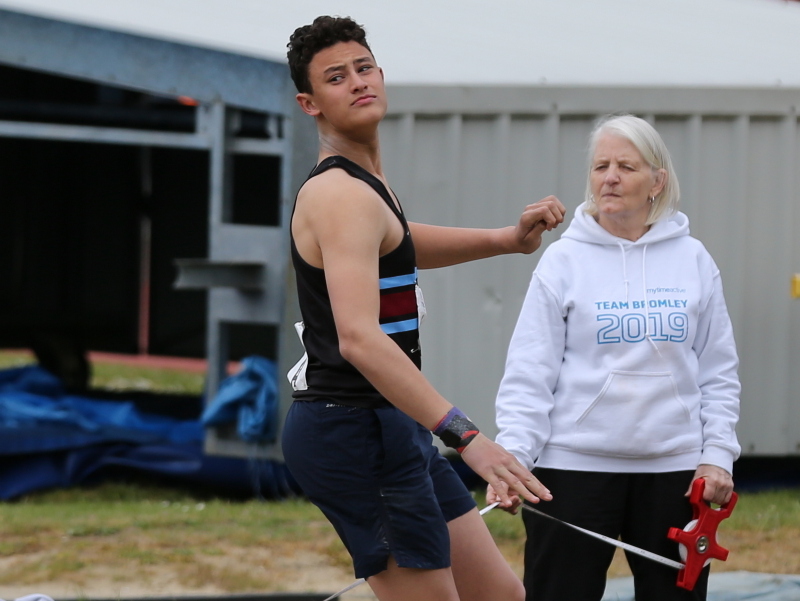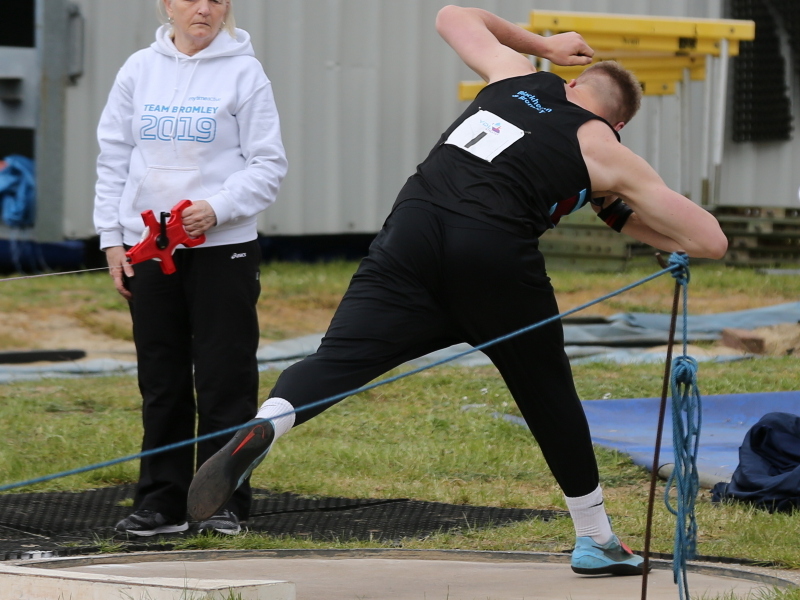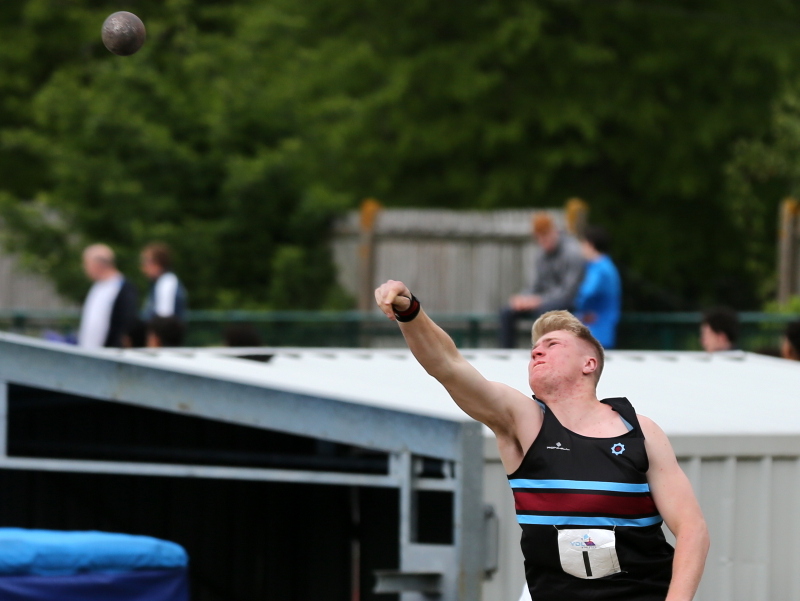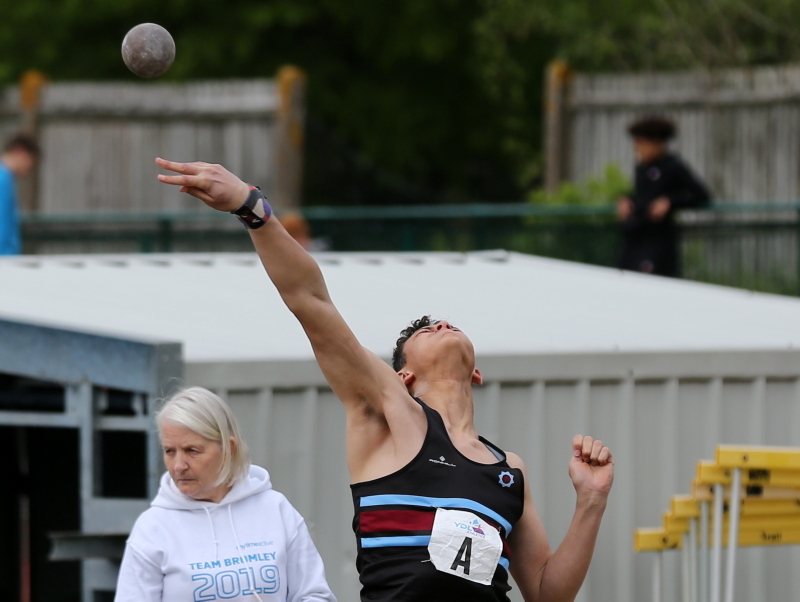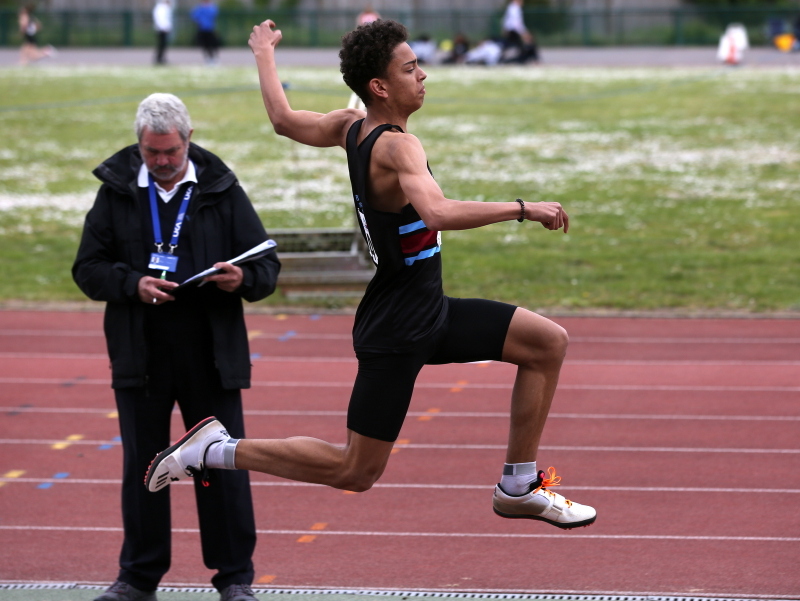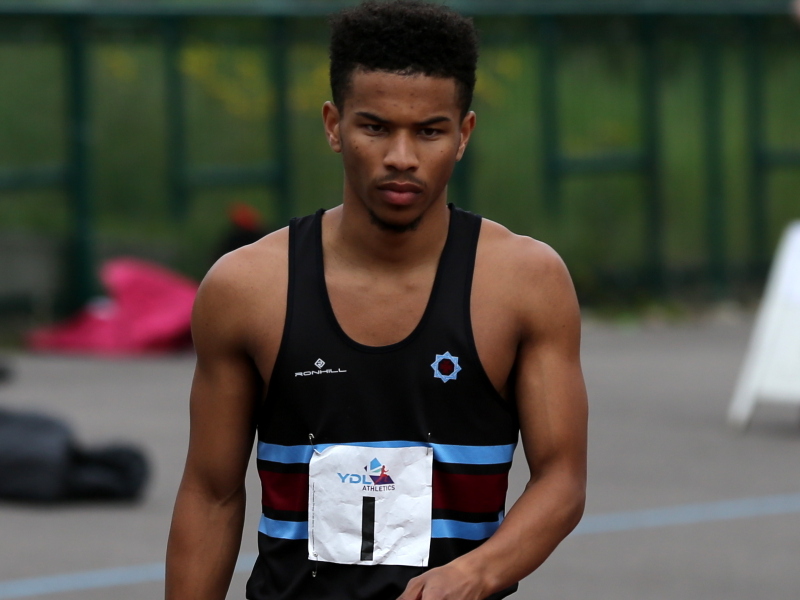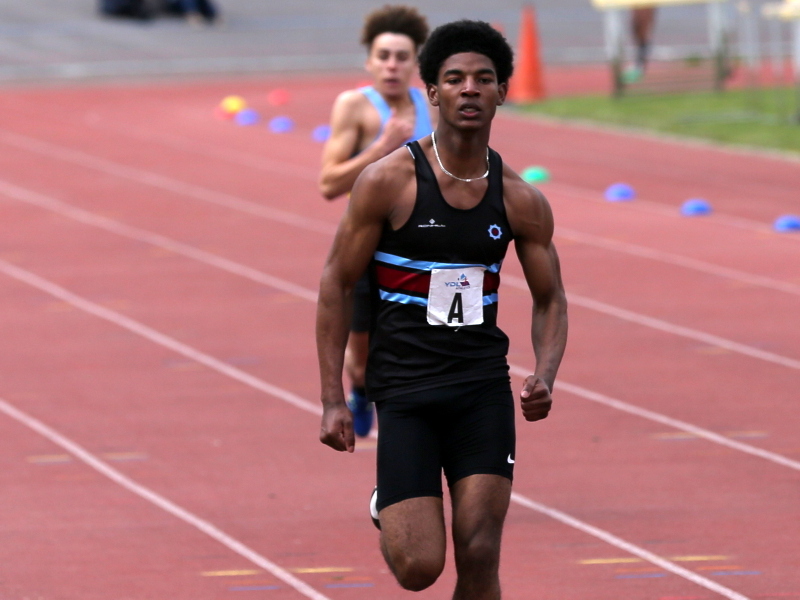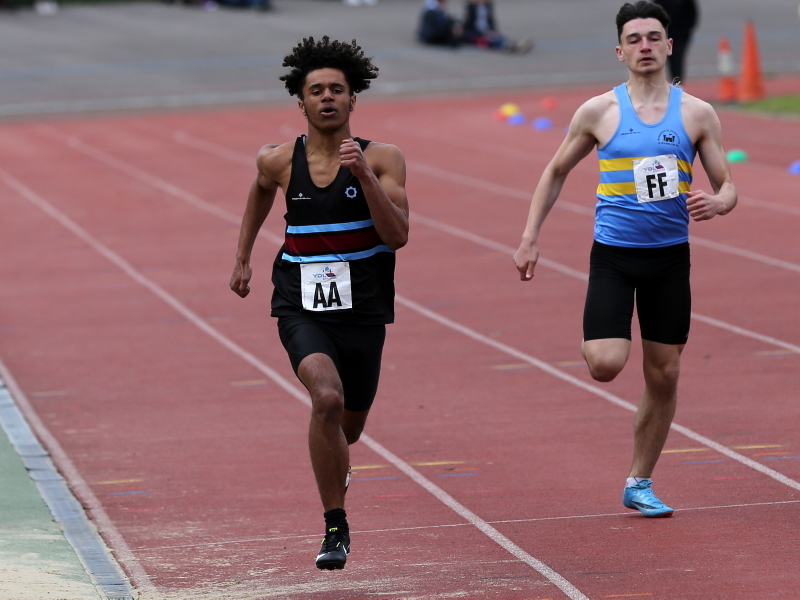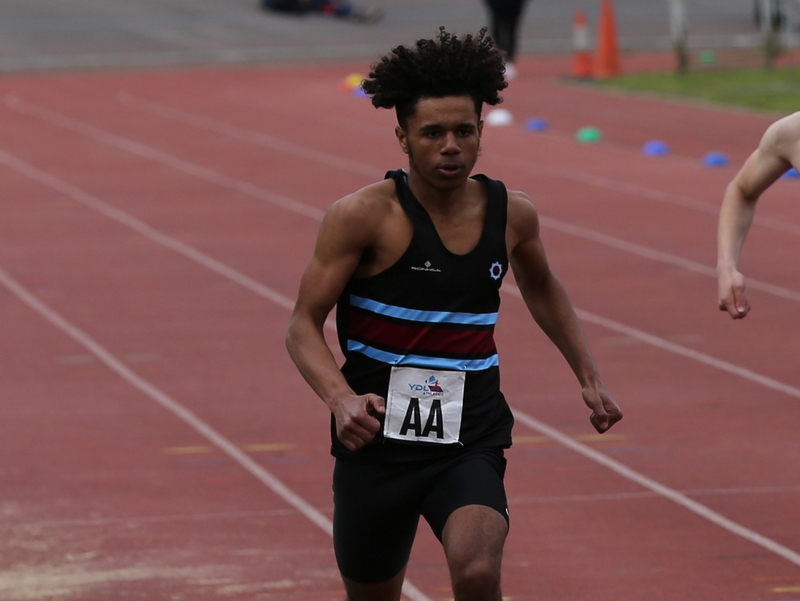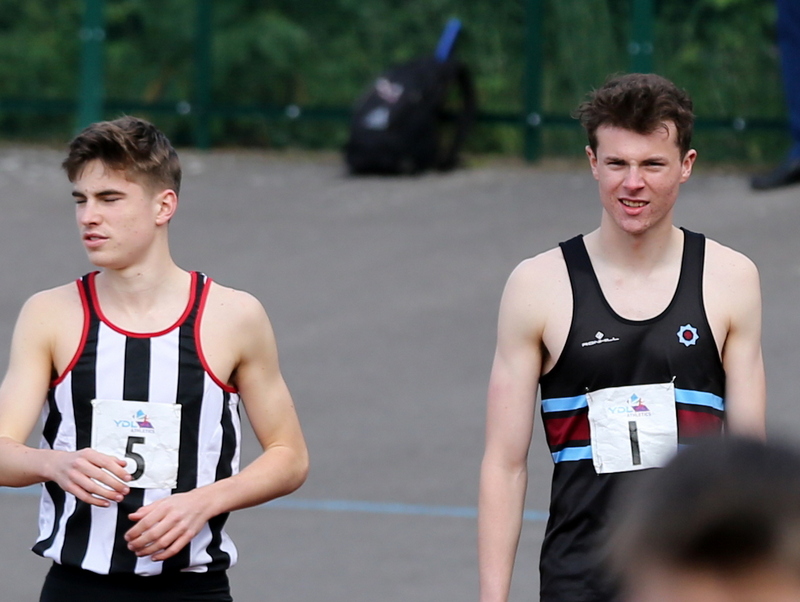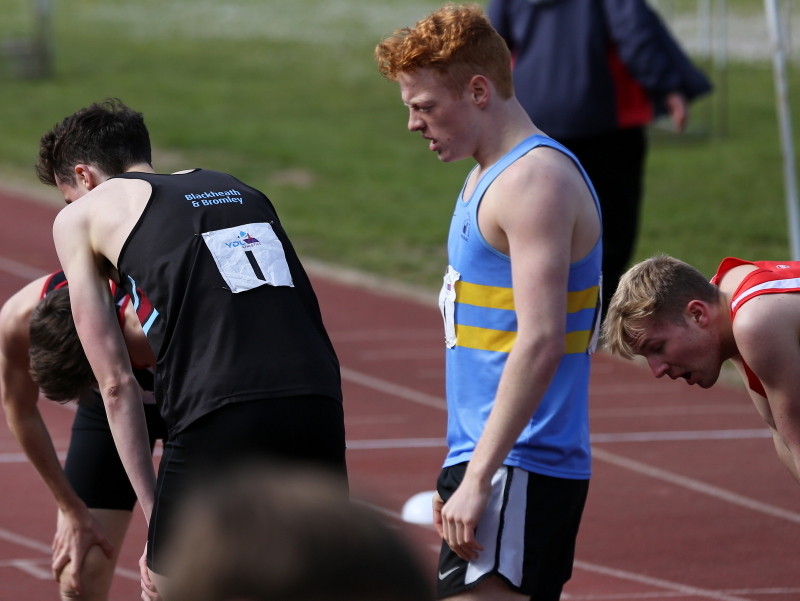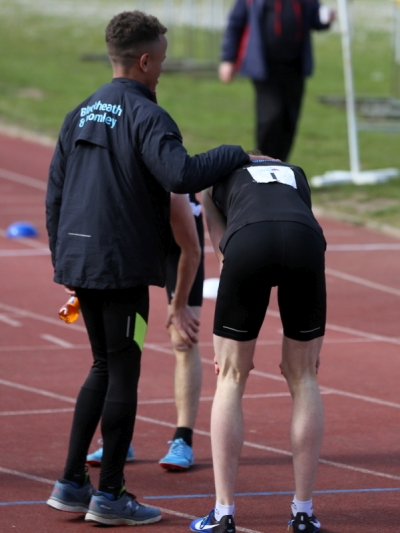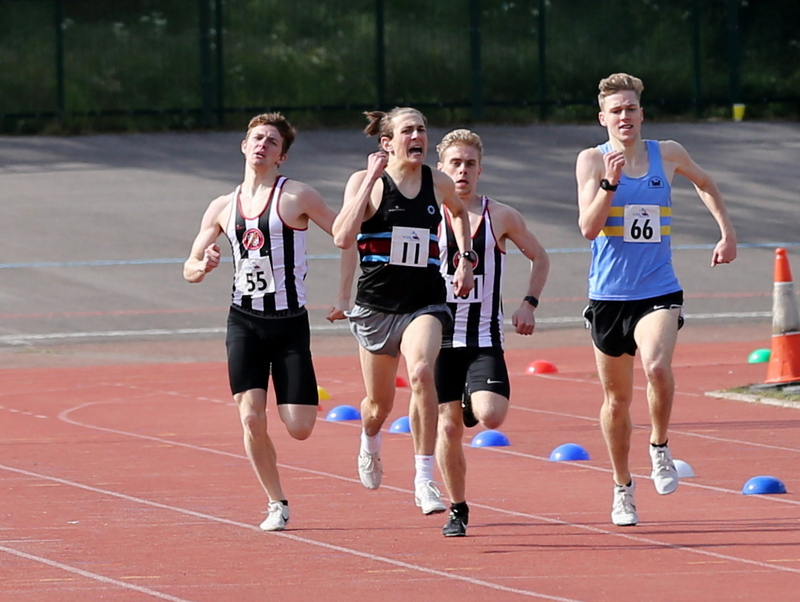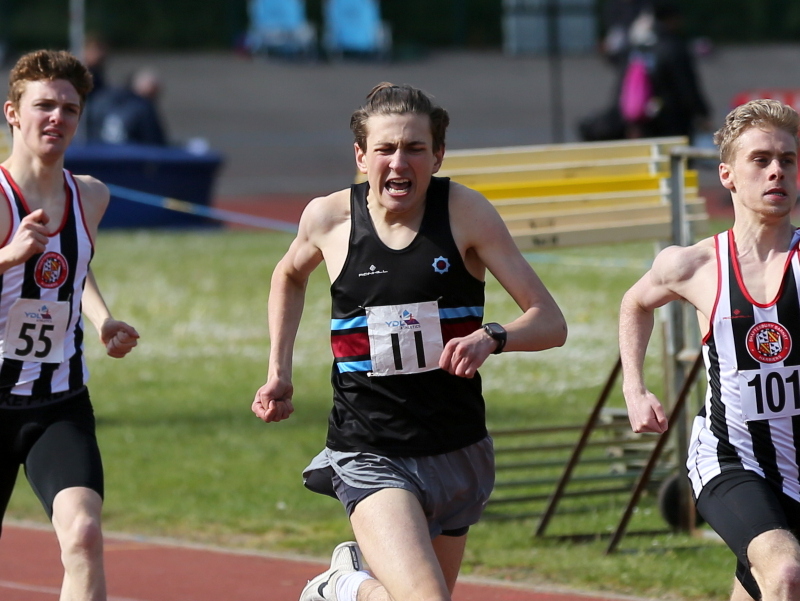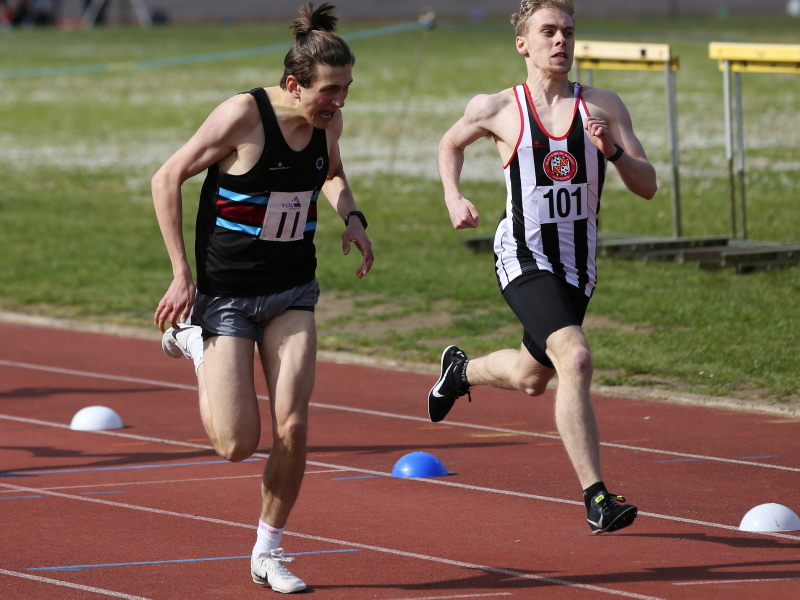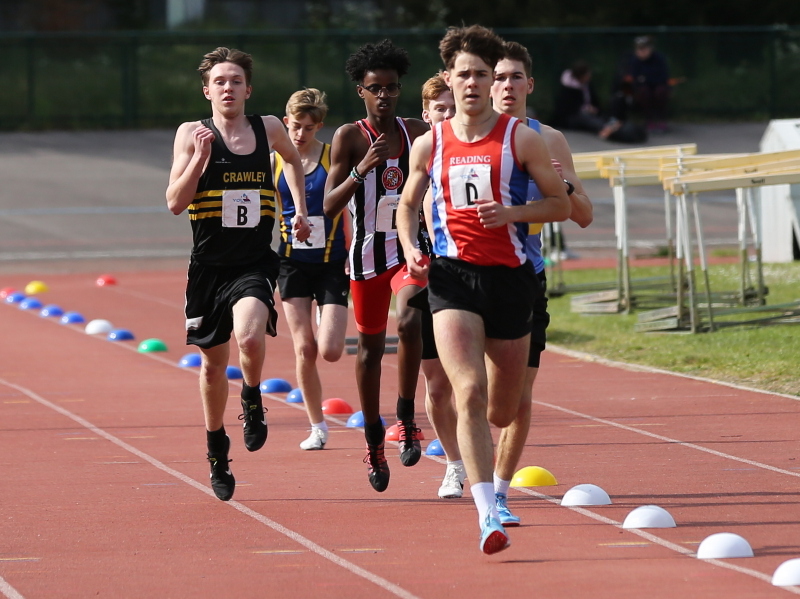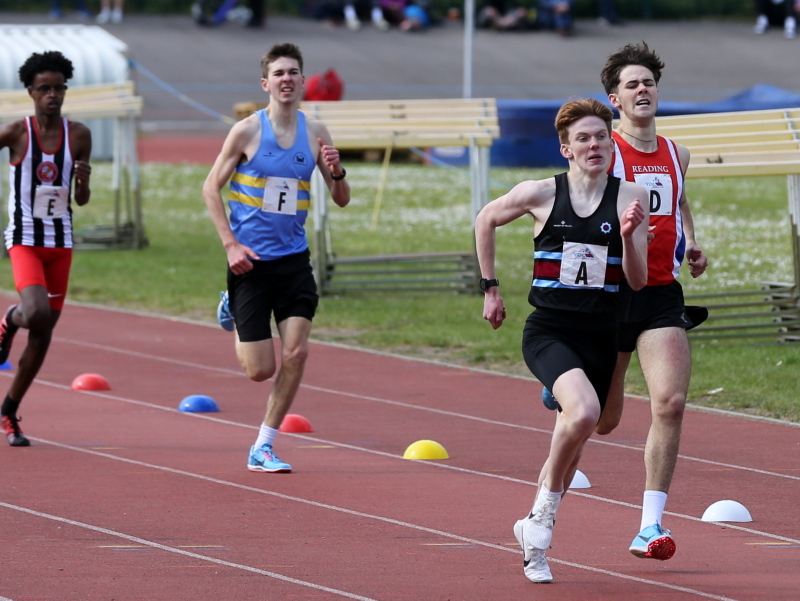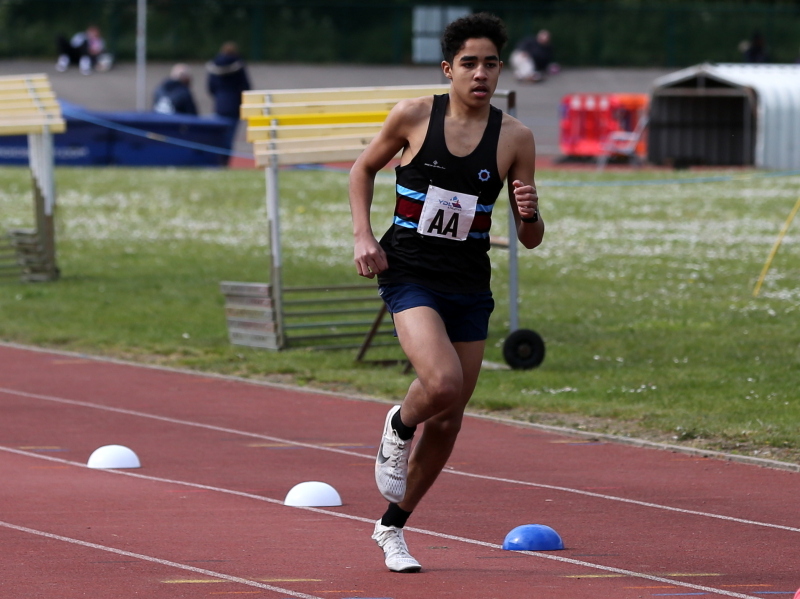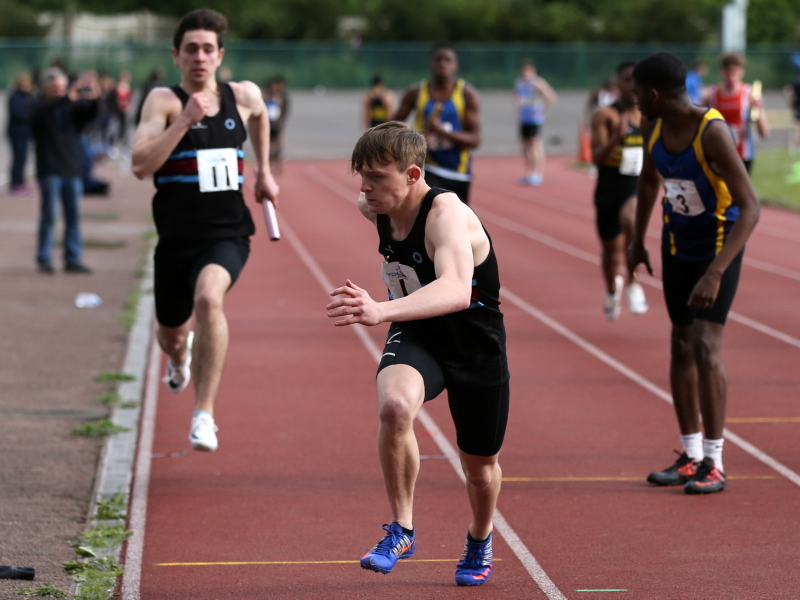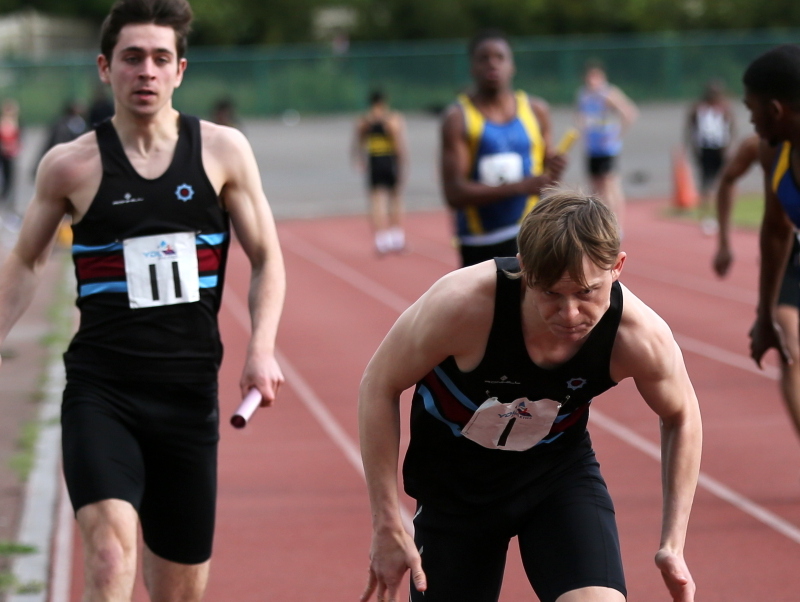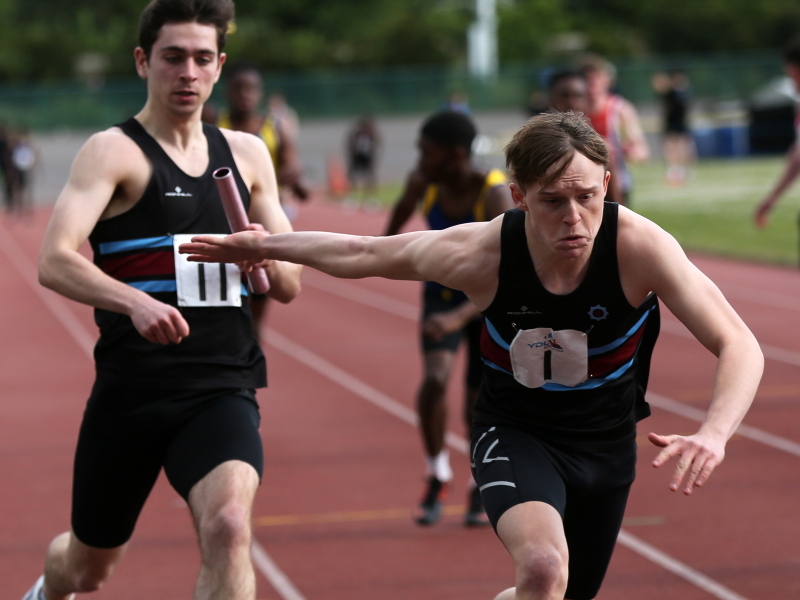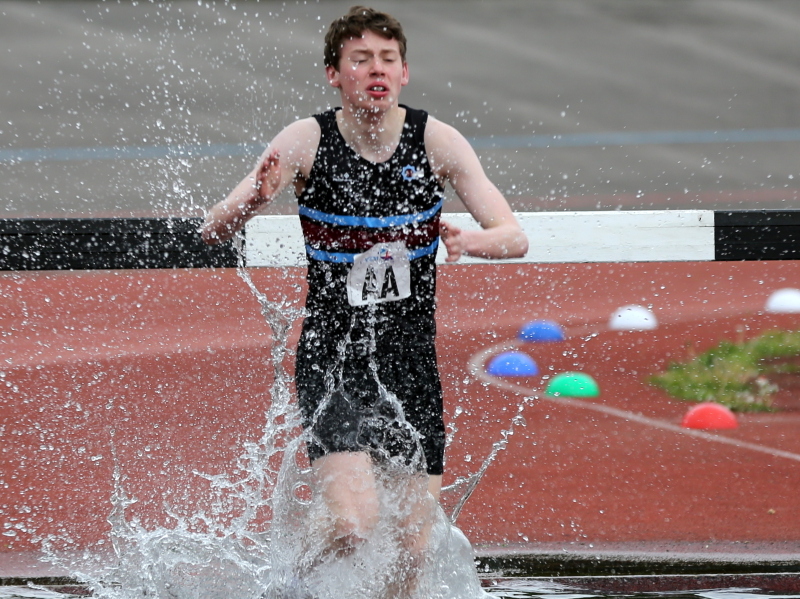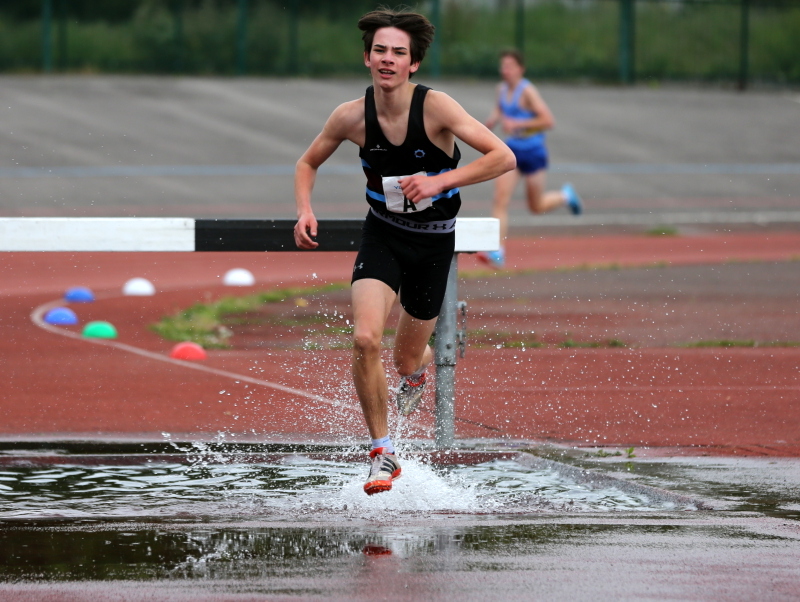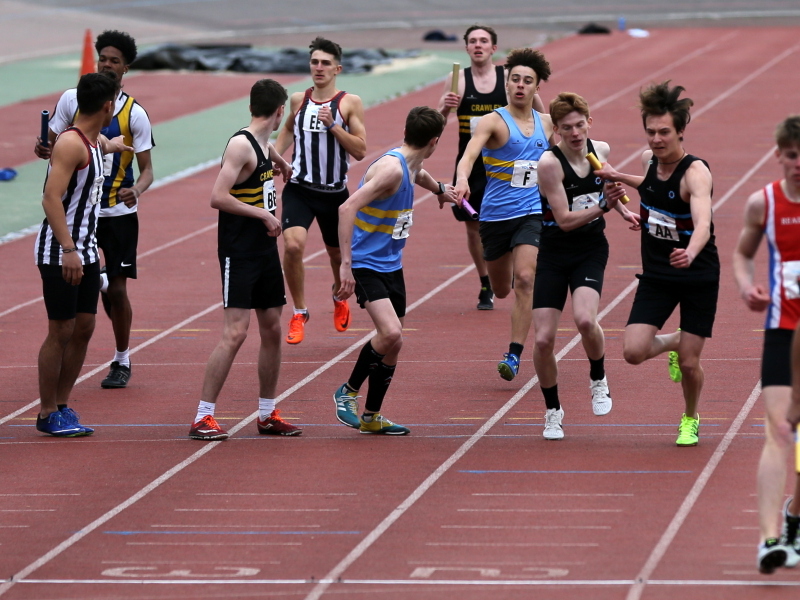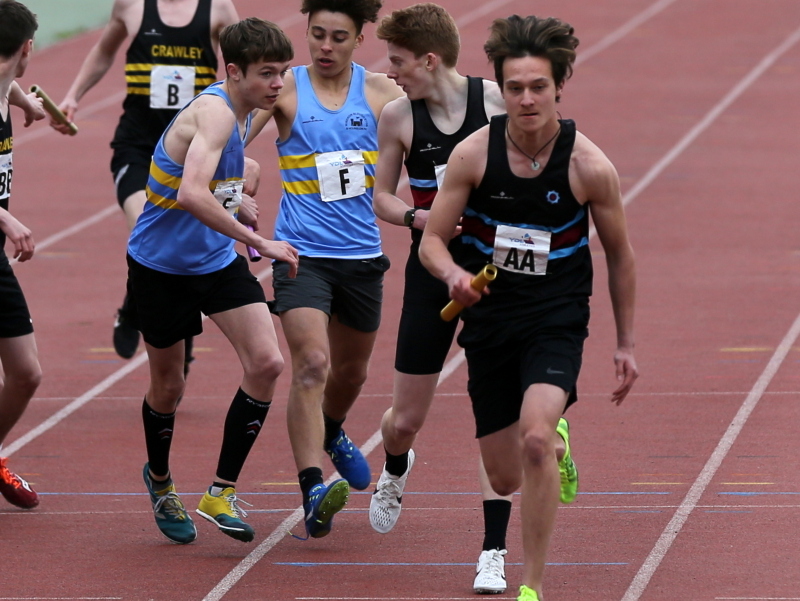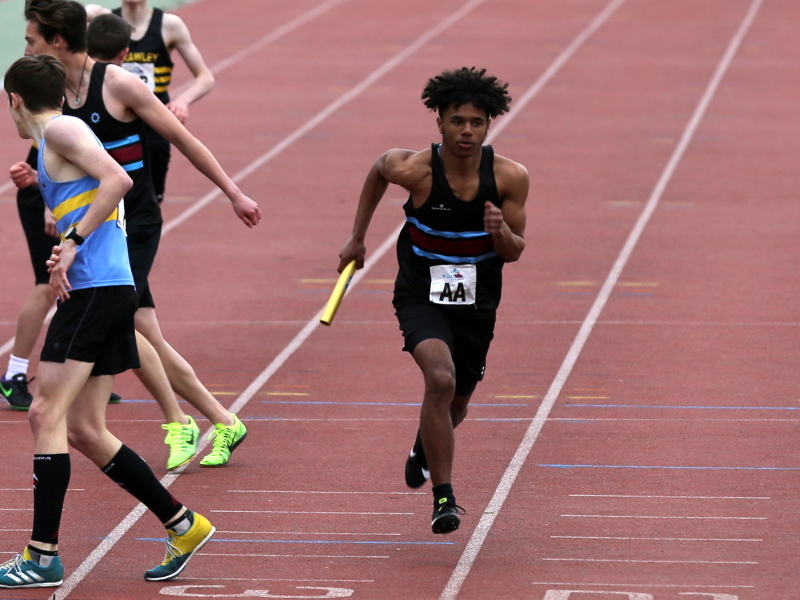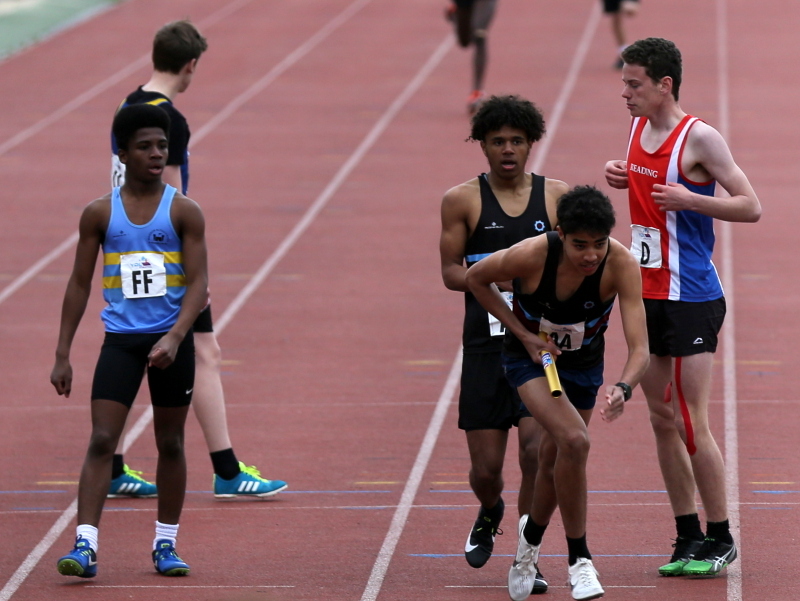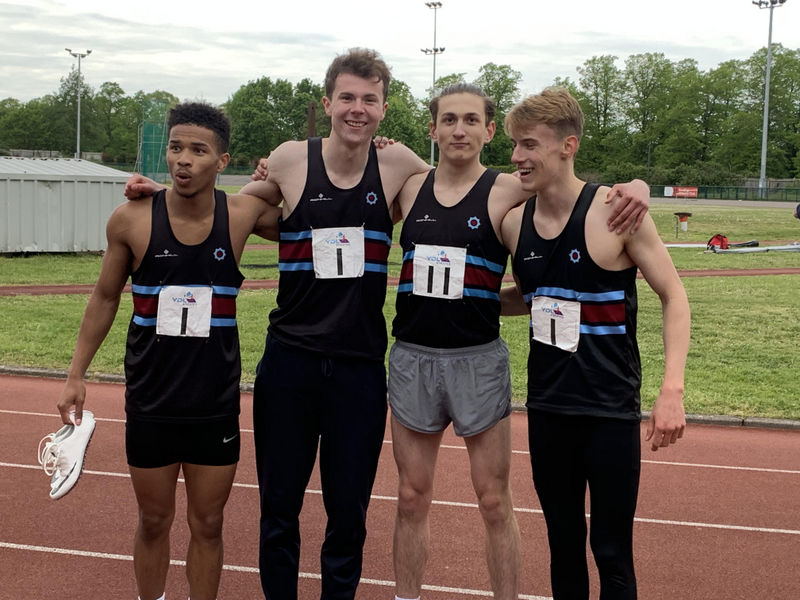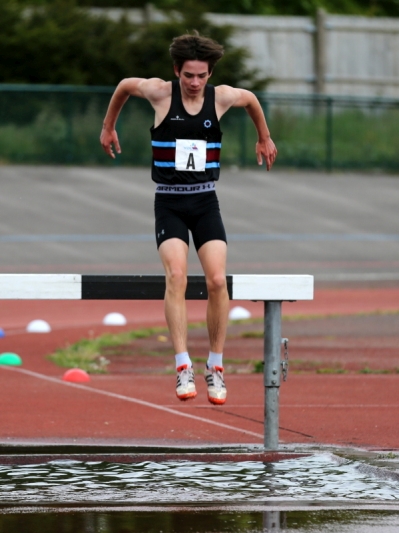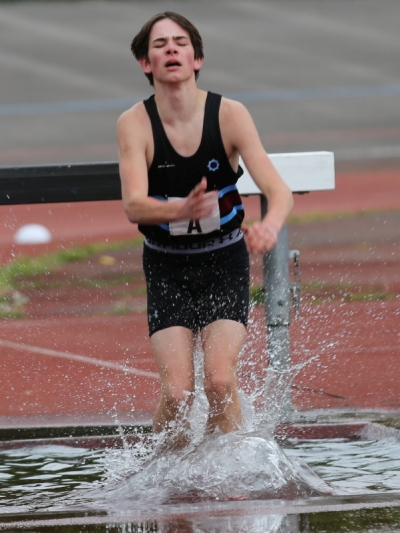 ---
27 April 2019 - U13/15 - Tooting Bec
A good start to the season for BBHAC lower age group squad last weekend, at Tooting Bec. Unusually the official team results are yet to be published but we believe we came a good second, not a bad start to the season.
The U13 boys squad was a mix of experience and new, with five athletes making their BBHAC track debuts.
The squad was slight depleted due to a clash with the London mini marathon but this only affected the middle distance events where we had no U13 boy 1500m runners.
The hurdlers were first up on the track and Rayhan Mourtada did well running a personal best despite wearing trainers! Rayhan also ran the 100m, 200m and leg two of the relay, a long busy day.
Marley Byfield started his busy day with his first ever hurdle race and coped well over the barriers. Marley also ran a quick 100m, just outside his best, the long jump and ran the lead off leg in the 4 x 100m.
In the field the first event was the shot put and Max Kennedy put in a good performance before heading off to the javelin where he threw a new personal best just 2cm shy of 29m.
Finn Kitteridge started his busy day shot putting and then throwing the javelin before stepping in a short notice to secure valuable points in the high jump. Unfortunately we didnít have a second high jumper, so if any of you fancy giving high jump a go please let us know, itís a great way to get involved in the team and equally important earning the team much needed points.
Daniel Jenkins not only made his debut for the club but took on the task of both sprints and the relay and more than held his own, a great debut.
In the 800m we had three more athletes making their track debuts with Jasper Brooks clocking a great season opener, Amir Dudhia running well over the two lap race and Jed Starvis completing the trio racing well to clock his first 800m time. Later in the day Jasper leaped over 4m in a great long jump competition, Jasper's first proper long jump comp.
Ruben Stober made a great debut only a few days after joining the club and sprinted well over 100m in a quick 13.7sec and then ran the final leg in the relay.
Ryen Rennie was hoping to make his track debut but unfortunately picked up a knee injury and despite being there made the wise decision not to race. With the mini marathon claiming three of our distance boys we unfortunately had no BBHAC U13 boys contesting the 1500m.
Looking forward to the next UKYDL on Saturday 18th May at Hornchurch where we hope everyone will be fit and available for selection.
Paul Austridge