The new President of Blackheath & Bromley is Tim Soutar
A Message from the 2008/9 President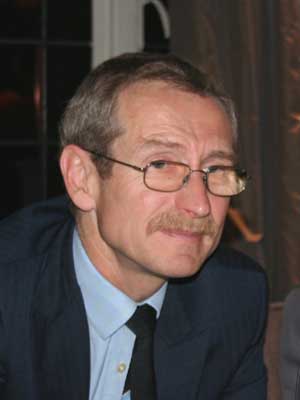 Past Presidents, fellow 'Heathens: in common with many members, I spent no little time, 25 years ago, following Les. So, as 'Yogi' Berra, an iconic figure from the world of Baseball, once observed: it's déjà vu all over again. Much of the intervening period, I've spent travelling the world. I've been away, more than once, but I've never left. That's the great thing about our Club: if you become a part of it, it becomes a part of you. And, another great thing: every time I've turned up again over the years, I've been made welcome. But there's welcome and welcome, and you may be excused for thinking that Les has gone slightly overboard this time in deciding to pass on to me the highest honour there is in athletics. After all, it's not as if he wasn't spoilt for choice. It's therefore now down to me to demonstrate over the coming year that he actually knew what he was doing! I owe him that – just as I owe it to all of you.
So, where do I start? Well, being Scots (and those who knew my father, Bob, will find this revelation less surprising), Burns is normally a fairly safe choice. "O wad some Power the giftie gie us, To see oursels as ithers see us! It wad frae monie a blunder free us, An' foolish notion." Fortunately, among the many 'gifties' available on our website, is an editorial written by Jason Henderson, the Editor of Athletics Weekly, following his attendance at our Club Dinner in 2006. Two extracts suffice: "Blackheath & Bromley: a thriving organisation, it enjoys success across all age groups and surfaces. Veteran distance runners… are encouraged with the same enthusiasm as competitive teenage track and field athletes, who have the potential to reach the Olympics." - "After a few hours spent in its magnificent 80-year-old clubhouse, I was overwhelmed by the club's incredible pride and camaraderie." Observations no more, nor less, than I would expect from a talented journalist at the top of his profession. I couldn't have expressed it better myself! With equal perspicacity, however, he continues: 'With 2012 on the horizon, there is much optimism, but also a great deal of uncertainty. The sport, several members told me, is not quite as vibrant as it once was. The dinner, for instance, featured lots of veterans and teenagers, but not many athletes aged in their 20s and early 30s, our so-called peak years. Linked to this there is a huge dilemma - one that is shared by every club in the UK: to risk radical changes in order to discover a brighter future, or stick with traditional approaches and, in effect, strive for damage limitation.'
Well, my first observation is that, at this Club, we don't do damage limitation and never have! We have a tradition second to none, but that's never stopped us moving with the times. We've never shirked a challenge and that's why we are who we are today and why we'll continue to be such a great club. But, we can't afford to be complacent: the management and administration of our Club continue to rely far too heavily on a relatively small band of dedicated volunteers. Each of them deserves our thanks, but they also deserve our help.
We all get a tremendous amount out of the Club: let's all try to put something back. I'm not going to quote John F Kennedy here: rather, I've chosen another aphorism from 'Yogi' Berra: "If people don't come out to the ballpark, nobody's going to stop them." In an admittedly rather oblique way, I think that pretty well encapsulates the challenge of engaging volunteers. But every challenge enshrines an opportunity – just grasp it! Let's get involved, let's have another great year, let's continue to build a strong foundation for the future and let's not forget: at the end of the day, our Club is what we want to make of it.
Tim Soutar
Biography - Tim In a Nutshell
Tim's running career began in 1967 as a 12 year old at Bradford Grammar School. Rugby was his sport but that season his school's cross country team won the first of six Northern Schools X country titles. Tim became hooked; his rugby playing days were as good as over. The team went on to be unbeaten in inter- school competition throughout his time at school and they signed off with a 5th place team finish in the 1974 Youths' National ( the school could take part as it was designated a club).
It was still as a schoolboy that Tim took up steeple-chasing, having discovered two universal truths that have stood him in good stead to this day: first, when the going gets tough, the fast boys look for the easy options and, second, you've always got a better chance in a smaller field! As if proof were needed, in 1972 he won the Yorkshire Junior S/C title. Now if ever there was an event unlikely to be overly appealing to the county's callow, athletic youth...!
From Bradford, Tim moved on to Oxford to read law at St Catherine's College. Though winning the Freshers' Inter-Varsity X-C, captaining the OUAC Tortoises, competing successfully over the 'chase for the Centipedes and making their BUSF X-C team, his pursuit of a Blue ultimately proved unsuccessful.
While he was at Oxford, Tim's parents moved south to Knockholt and, in 1976, Tim joined the Harriers. For a number of years, he was an active member on the road and over the country and one of the famous 'Trash & Field' team of the early ' Eighties, that went from Southern League to British League Division 1 in successive seasons as champions each time. Then, in 1982, he joined one of PP Botley's travel extravaganzas - to the Brisbane Commonwealth Games – and didn't return (the odd fleeting appearance notwithstanding) until 1996! The official line was that he was hi-jacked en route home to work in his firm's Hong Kong office, but was it merely coincidence that Tim had become proficient at recognising a small athletic pond in which he could play the big fish?
Whatever it was, Tim took the change of country and climate in his stride, so to speak, and soon established himself on the local scene. Joining the HK Distance Runners Club, he helped them to several notable victories and, over the next few years, racked up a number of individual successes, including National titles on the track and road. He was even elected Chairman of the Club for a time, an appointment which then also involved chairing the organising committee of the HK International Marathon.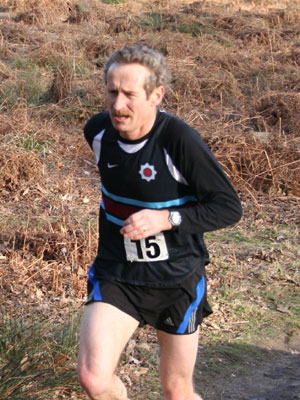 In 1984, the HKAAA decided to send a team to the World X-Country Championships in New York. Not one to miss an opportunity, Tim duly achieved selection, as he did in three of the next four years. In addition, Tim became one of the Territory's top marathon runners, representing Hong Kong in the World Cup Marathon in Seoul in 1987 (run over the course used for the following year's Olympics). But whilst preparing for one last crack at the London in 1989 he got badly injured which meant he failed to make the start but, more significantly, it signalled the beginning of a decline in the amount of running he was doing. Work and family were also by then making more demands on his time and so race days became very selective. For a couple of years, he dabbled with 'ultras', winning the 65k Round the Island race in record time and completing the Stanley to Sha Tau Kok run. (ooh, sounds fun! Ed.)
But Tim's 'Andy Warhol 15 minutes' of fame was yet to come. Having got back into the swing of things in 1992, he beat Bill Rogers to win the inaugural Ho Chi Minh City Marathon in Vietnam. He finished runner-up the following year in Hanoi and again, back in Ho Chi Minh, in 1994 after which he was threatened with knee surgery and decided that someone, somewhere was trying to tell him something! Retirement, however, could not withstand the double whammy of a return to the UK and re-invention as a Vet (sorry, Master). For the next few years, Tim could occasionally be seen on road and country in a black vest once more "keeping his hand in" and apart from a short interruption while he finished off his legal career in Dubai, he continues to keep his legs turning over to this day. (don't be fooled by all this low key talk! Ed.)
Tim is married with a son and daughter and lives in Lamberhurst. His late father, Bob, was made a VP in 1990. (a position Tim can never now make. But I'll tell you what he will make, and that is a damn fine president. Ed. again)
Tim's Running Record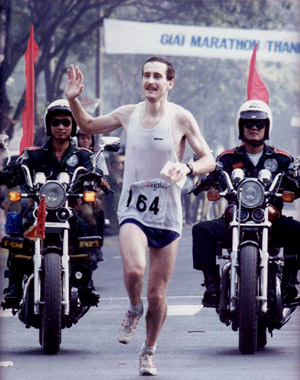 Club Championship Wins: 2000m S/chase: 1978 and 1981; 5000m track: 1982 and 1991; 10 miles X-C: 1980 and 1982
Other Club Trophies: Jack Sims Salver: 1980; Roger Smith Tankard: 1997, 1998 and 1999
Open Road Race wins (include): Ho Chi Minh International Marathon:1992; Adidas King of the Road 10miles: 1990; CSL Fat Choy Race: 1990; Coast of China ½ Marathon: 1988 and1989; Adidas King of the Road 5miles: 1988; Shenzhen, China Open10k: 1987; Chinatel Invitation 10k: 1987; Adidas King of the Road 10k: 1984
Masters Road Race wins: City of London Road Race 1998; Dubai ½ Marathon: 2002 and 2003; Jebel Hafeet 10k, Dubai: 2003
National Championship Wins: Track: HKAAA 3000m S/chase: 1983,1984, 1985 and 1986; HKAAA 5000m: 1983,1984,1985, 1986, 1988 and 1989; HKAAA 10,000m; 1984,1985 and 1992; Road: HKAAA ½ Marathon: 1986 and 1987; HKAAA Marathon: 1984,1987 and 1988
BMAF M50 Road Relay: 2006
Representative Honours: World Marathon Champ's: 1987; World X-C Champ's: 1984, 1985, 1987 and 1988; Bank of China Golden Mile Invitational Race: 1988; Bangkok International Track Meeting: 1983 (All Hong Kong)
Personal Bests: 3000mS/C: 9m24s; 5000m: 15m07s; 10000m: 31m59s; ½ Marathon 70m47s; Marathon 2hr24m52s.
Club Jobs: 1978: Summer Vice-Captain; 1978-1982: Winter Captain; Sometime Gazette Asian Correspondent