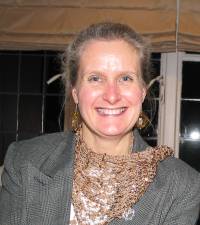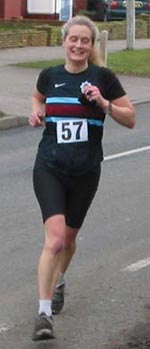 President Anne Cilia is the daughter of Past President Peter Stenning (1987/8) who sadly died in 1990. She joined Blackheath Harriers back in 1993, which was shortly after women had their first opportunity to join the club.

She was made a Vice President of the Club in 1999 and has been managing the veterans, or more correctly, the Ladies Masters team, for several years. She runs, jumps and throws and has been 'The Team' on several occasions. Anne tackles the cross-country races with aplomb and always looks as though she is enjoying herself!

Anne lives in Sevenoaks with her two sons, Paul and Ben, who, being quite independent, still think of their mother as slightly eccentric!! Her partner, Mark, a useful runner himself, gives her his unfailing support.

Anne has worked as a Senior Technician at Oxted School for the last 10 years. She also has joint responsibility for outdoor education, in particular, the running of the Duke of Edinburgh's Award Scheme. This involves taking students on Bronze, Silver and Gold canoe expeditions, as well as instructing year 8 students in canoeing at school camps. This practical experience should enable her to keep control of the Wednesday Nighters! ... an area of the club of which she is well acquainted.