2018
Jack Petchey Award winners for 2018
More about Jack Petchey awards - http://www.jackpetcheyfoundation.org.uk/achievement-awards
Detailed below are the 9 Jack Petchey Award winners for 2018. Please do take your time to read about the inspiring young athletes we have at Blackheath and Bromley.
Many thanks,
Marco Arcuri
Jack Petchey Co-ordinator
November - Barnaby Corry
Barnaby is confident, driven, and gracious. In short he is a role model to the younger members of his training group and the club. His competitive success also deserves to be mentioned as this year he set new club records (broken multiple times through the year) and Kent records, and became Kent and South of England Champion in the U15B pole vaulting event. His athletic and personal growth has been widely noted by his peers in the club and is a deserving recipient of the award.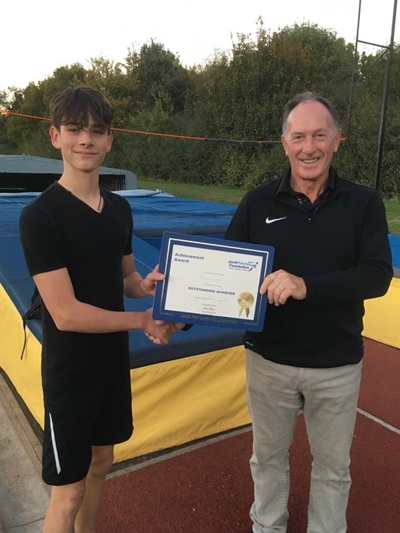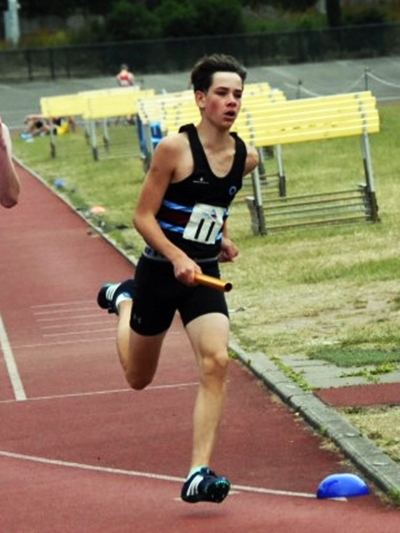 October - Benjamin Platt
Ben shows enormous, budding talent in the many events he competes in. The regular effort he puts into his training has yielded great achievements for this young athlete and a bright future in both the sprints and as part of John Wakeman's PV group. He is humble, caring and polite; qualities that demonstrate why the club values him so much.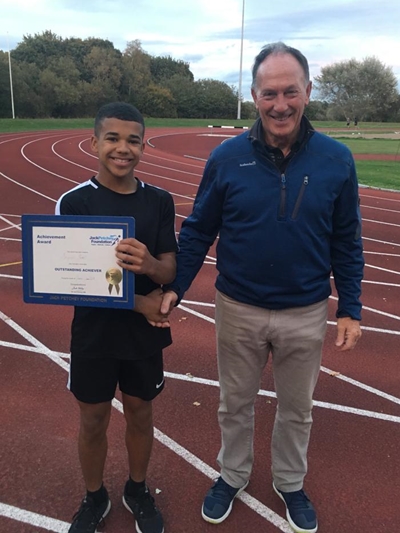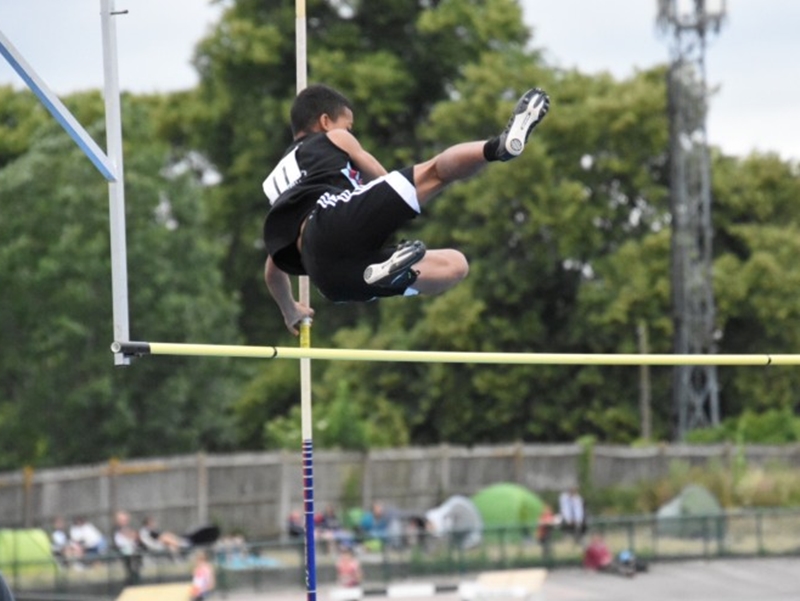 September - Daiz'a Foster
Daiz'a is a confident and motivated athlete that has gone from strength to strength since she started athletics. She is an integral part of the team and on top of this she is always willing to cheer on her fellow club members. Her kindness has been noted by her peers and the whole team is grateful for Daiz'a's hard work; and as such, she should be given the award.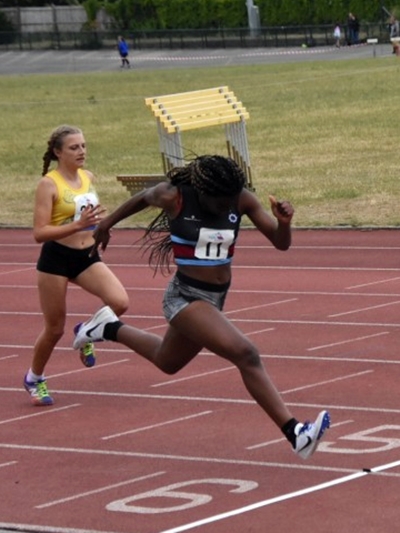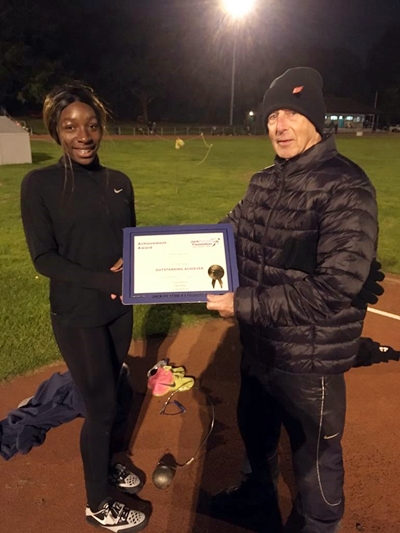 June - Shakanya Osahon
Shakanya is a brilliant young athlete determined to get the most she can out of the being at the club. She pays this back with the encouragement to the other young girls at the club both in training and at fixtures. Shakanya received the award because of the attitude she has brought to her training group and the motivation she uses to lead her peers to achieve their goals.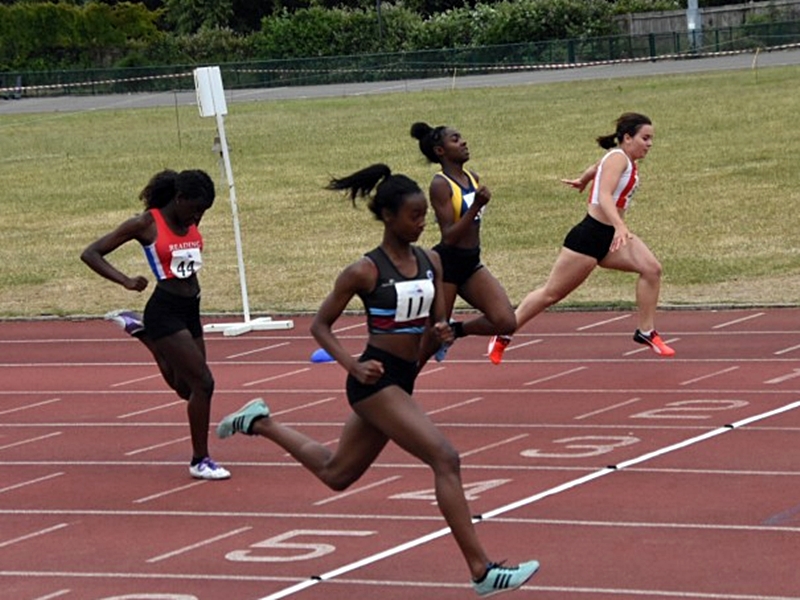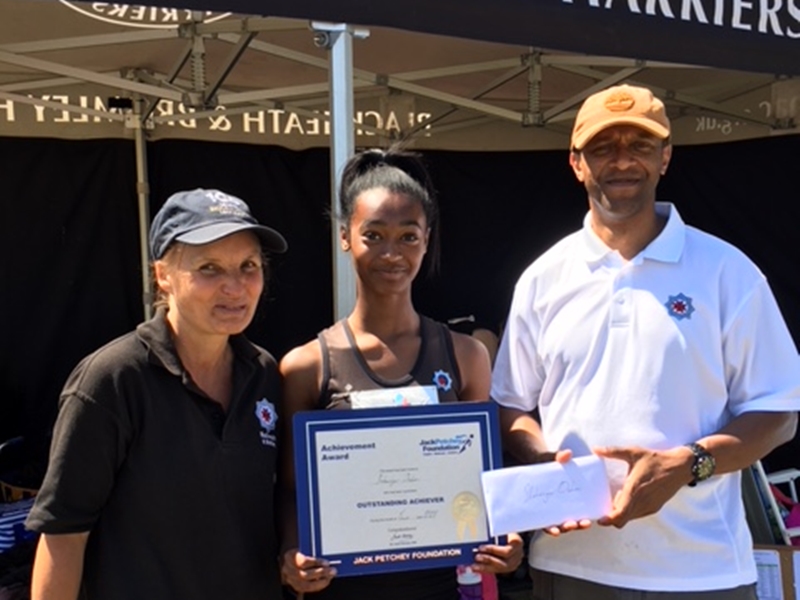 May - Katy-Ann Macdonald
Katy-Ann is a person that can be relied upon when needed and prove herself when the time is right. But she is not just one of the clubs rising stars following in the footsteps of Dina Asher-Smith and Adam Gemili. Her humility and charisma is a model to both the boys and the girls in the club; not only in the way they could perform in competitions, but also the grit and determination needed to get you there, and the enthusiasm to point you in the right direction.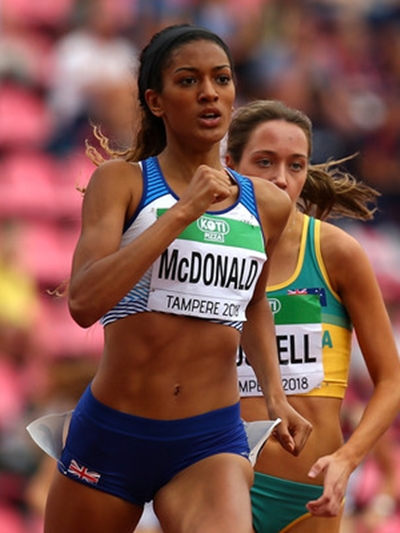 April - Samuel Reardon
Sam is a person who has shown great resilience and hard work. For this on its own, would deserve him the award. However, the greater picture to Sam is this: He is, and hopefully always will be, a role model to the younger athletes. Whether in training or competitions, he is a person who can be relied upon to ease the demands of supporting a large group of young people. For this, Sam should be recognised with a Jack Petchey award.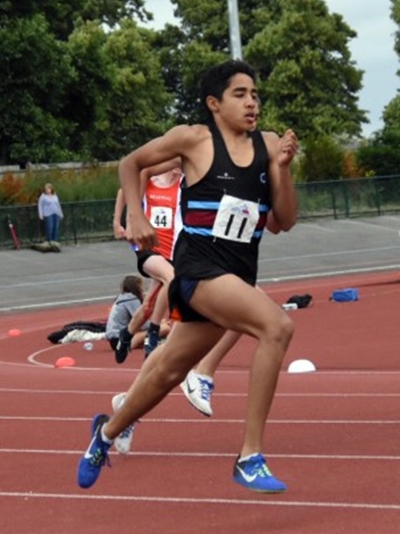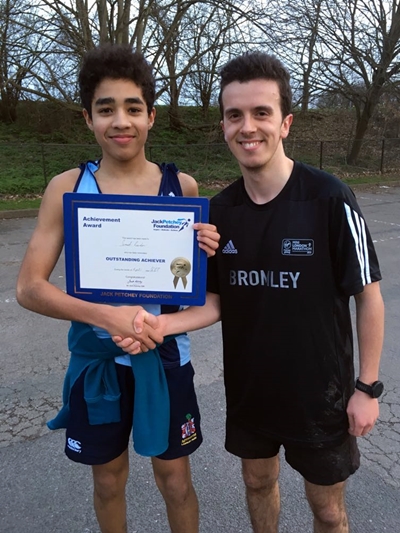 March - Myles Xavier
Myles is not just an incredible athlete. He is passionate about getting towards his goals, and getting there with other people around him. He is a credit to the club and an important asset to both his training group and the wider club.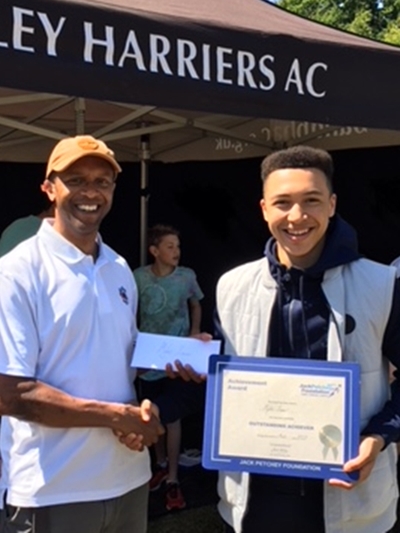 February - Lily Meers
Lily is a person who's outlook remains positive no matter the situation she may find herself in. She takes any challenge she is offered, yet isn't afraid to ask for help when needed. As an athlete, it is always enjoyable to watch her race whilst enjoying the sport.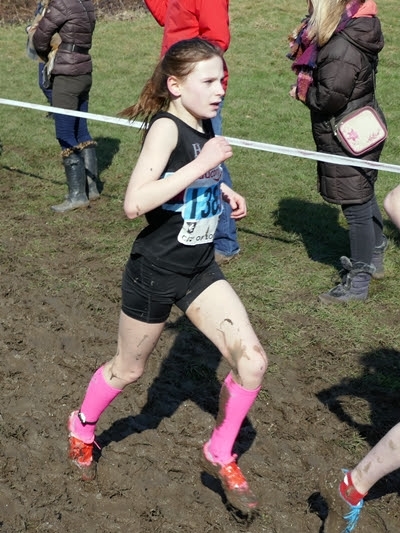 January - George Shaw
George is a bright, young athlete who is full of budding potential. George has grown greatly as a person since he joined the club and this positively impacts his peers around him. He deserves the award wholeheartedly and is a great ambassador for the club.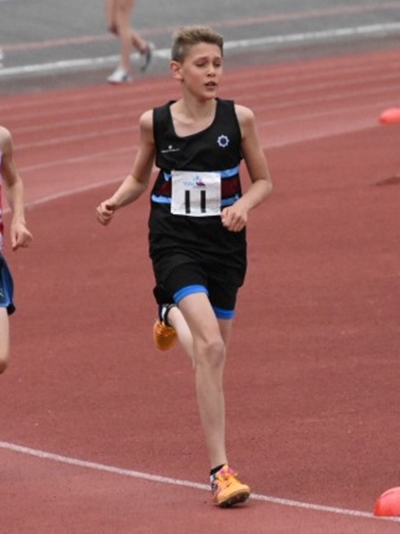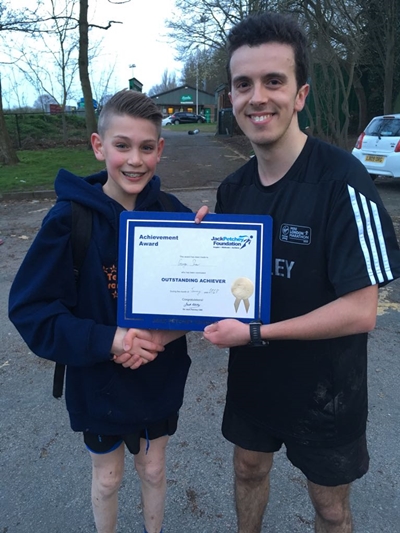 ---
2017
We are once again very pleased to announce the last three winners of this year's Jack Petchey Achievement Award.
First of all, a quick explainer is required. BBHAC receives 9 grants to hand out to our young people per year. 6 during the January to June period. And 3 during the September to November period.
During the course of the Youth Development League Final week, all age groups had the chance to nominate who they thought deserved the award. It was an incredibly successful event, with 95 votes cast in total, on both the Saturday and the Sunday and throughout the week preceding so that those not going to the YDL final had a chance to vote.
We are very thankful to those who took part and for the touching reasons why they deserved to win, which have been partly used below.
Thanks once again,
Marco Arcuri & Charlie Davis.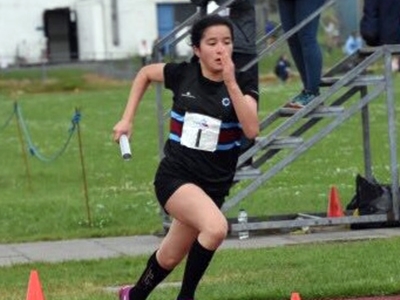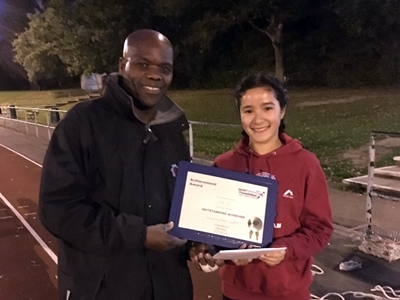 November 2017 - Charlotte Kerr: "No matter how hard it gets, she always smiles and pushes on through". Some of the words from one of Charlotte's teammates. She is a kind and friendly person and well regarded by both her team managers and the team. Despite the fact that she sprained her ankle, she is eager to do training and is competing in an event that is not her own whilst she is recovering. She is always there for the team and she deserves to be recognised for the Jack Petchey Award.
---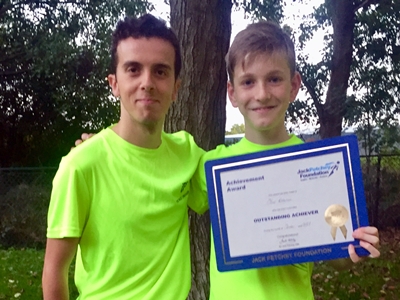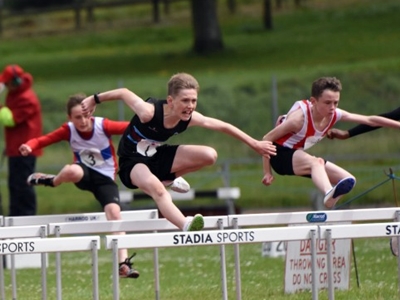 October 2017 - Oliver Robertson: Ollie puts 100% effort into both his training and his races. As a result he has had a brilliant season, breaking the club record and the Kent County record in the 75m hurdles. He is also a supportive and inspirational athlete, one of his teammates voted for him because he was the first friend he made at the club. Ollie was nominated by his peers as he is a very caring person, puts the team first at all the fixtures and always willing to help his team managers with the running of the team.
---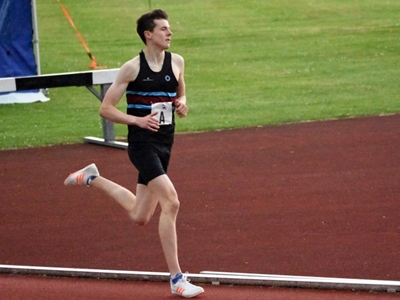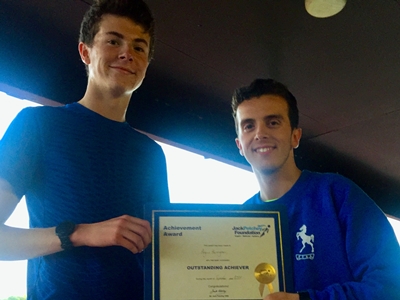 September 2017 - Angus Harrington: Angus has consistently performed for a long time at Blackheath and Bromley due to his dedication in training. He has remained positive, despite battling through injury. With the help of his coach and teammates, Angus has grown into the shoes of a dedicated athlete, a truly great competitor and a role model for the younger athletes. At the end of the day, Angus is a nice guy, who is considerate to everyone. He is probably too polite to talk about his achievements, but his success at English Schools this year is notable, all whilst performing very well academically - something not everyone is able to balance.
---
July 2017 award ceremony photos: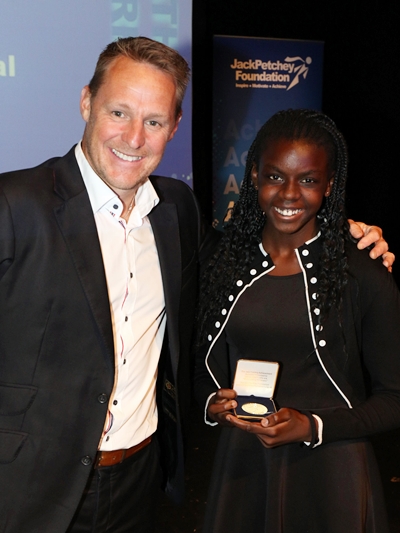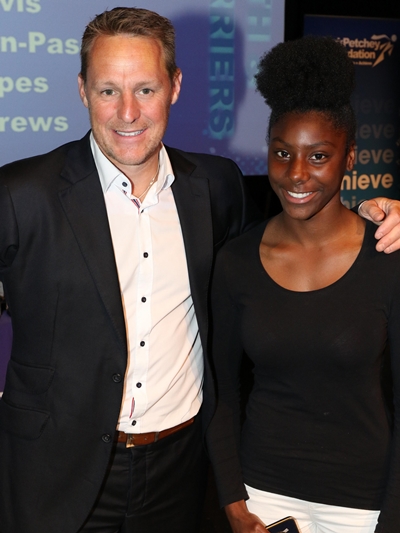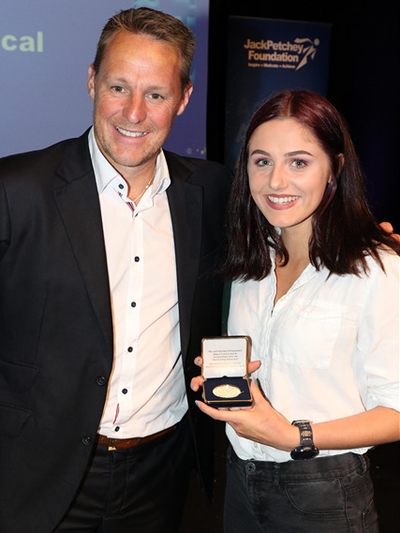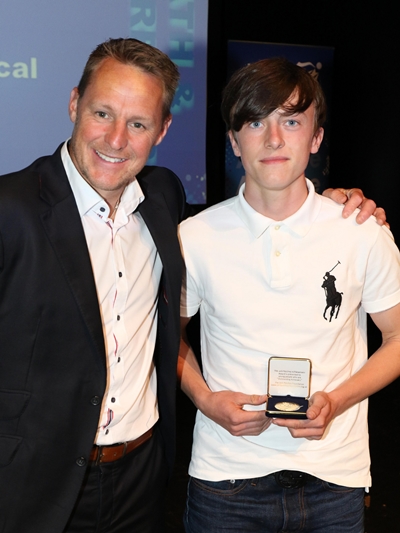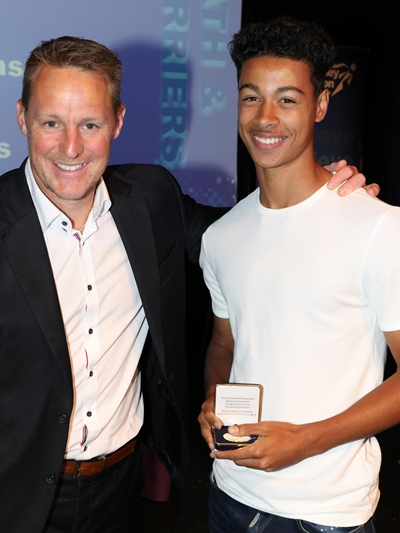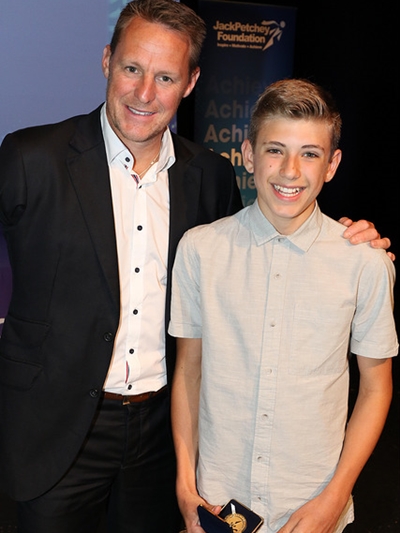 Holly, Abi, Ollie, Ben, Ethan and Akeiyla attended an awards ceremony back in July, where they received their medallion from the Jack Petchey organisation. Congratulations once again for their awards!
---
We are very pleased to announce the 6 winners of this year's Jack Petchey Achievement award. We are very fortunate in our club to hold such depth and breadth of young athletes, and every person is very deserving of the award.
However, these athletes did stand out for their performances at various competitive levels and their capacity to involve themselves in the club. In our opinion, this is what Blackheath and Bromley is all about, and we should congratulate them for their achievements.

Marco Arcuri & Charlie Davis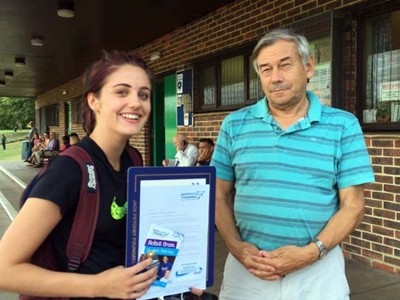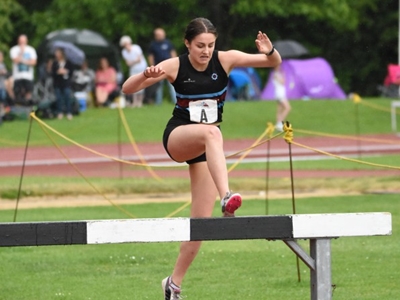 June 2017 - Millie Smith: Since joining the club just over four years ago, Millie has always represented the club at cross-country, road running and track and has been a regular team member. She also represented Kent and Kent Schools every year at cross-country and track. On the odd occasion that she has been injured, she has still turned up and helped the team manager by looking after the younger athletes in the team and walking the course with them and is a good role model to all younger athletes in both her training group and club teams. As such, Millie is a great ambassador for the club and she should be commended for her achievements.
---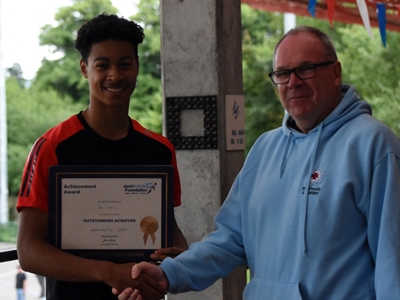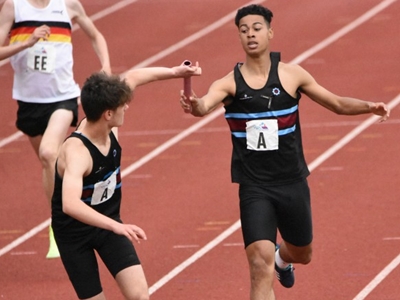 May 2017 - Ben Sutton: Ben is a very popular athlete amongst his training group and has been a great point scorer for the club since joining us in 2015. He is an outstanding athlete who works incredibly hard in training. In February despite having a hamstring injury he was the silver medallist at the England Indoor Championships, only beaten by 3cm on the last jump of the competition, which unfortunately cost him his England international vest. Although understandably disappointed Ben has worked very hard to get back into good shape and was rewarded with a new PB of 6.82m at the recent Kent Schools Championships ensuring his selection at this year's English Schools Championships.
---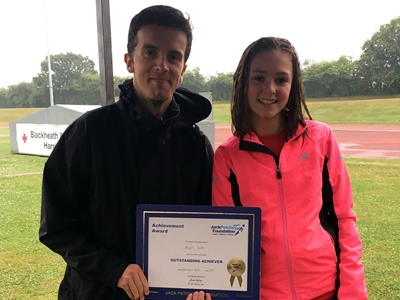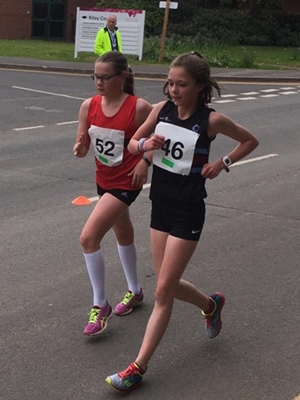 April 2017 - Abigail Smith: Abigail is a great team player and a lovely person; she has recently taken up race walking and has excelled in the sport. Abi holds the club record for the U13 2500mW, won the national 2k walk championships, and will soon be competing for England. What's more impressive is that she has helped out at events even if she is not competing, putting out hurdles and clearing the track, showing true clubmanship.
---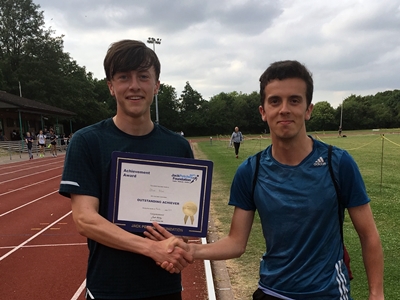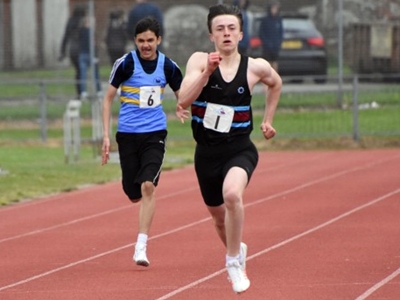 March 2017 - Oliver Briars: Oliver always works extremely hard in training, with his coach often having to hold him back, paying off with some great results. He has broken the club and Kent Championships records for 300m this season, recently winning gold for this event at the Kent Championships and now ranked number 3 in the country. More importantly, he is an asset to the team, being more than happy to fill-in events to gain points for the club and always doing so with a smile.
---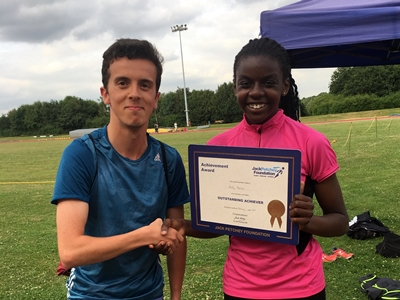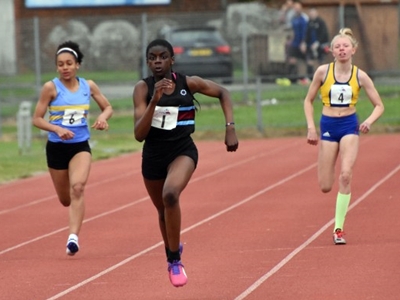 February 2017 - Holly Mpassy: Over the winter period, Holly has worked extremely hard not to miss any sessions and has massively improved the events she competes in. She is regarded as an important part of the Girls U15 team and is well respected by her teammates and Team Manager. Recently at the Kent championships she won gold in 3 events, which is an amazing achievement and is now 4th in the UK for 300m, and 6th for 200m.
---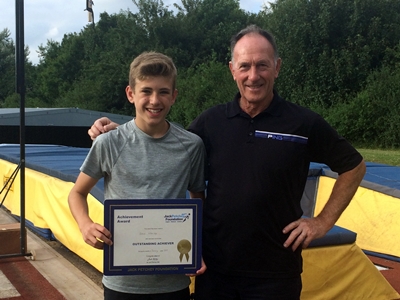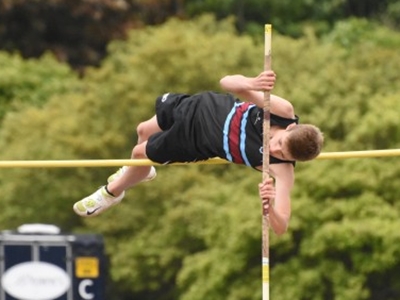 January 2017 - Ethan Kitteridge: Ethan is a hard working young lad and is great to have in the pole-vaulting group. In the Kent Young Athletes League, he recently improved his lifetime best 6 times, and then won at the Counties with another PB. Making him 10th in the UK for Pole Vault. Ethan certainly deserves recognition for this achievement.
---
Blackheath & Bromley Harriers AC's work with youngsters has been recognised by the Jack Petchey Foundation who have added the Club to its Achievement Award Scheme (April 2007). The Club has been awarded Gold Status, the highest level at which the Scheme operates.
Each month the clubs selects one young person, in the 11 to 25 age group to receive an Achievement Award. The month's winner receives a framed certificate and a cheque (payable to the club) for £250 to be spent on a club project of the recipient's choice. In addition more Senior Club Members can be recognised through the parallel Leader Awards Scheme.
This has been a huge boost to the Club who are the current National Champions in the Junior Age group and who have twice won and finished second in the Young Athletes in the last three years. Senior Internationals such as Montell Douglas, Michael Skinner, Dwayne Grant, Julian Golding and Mark Steinle have all progressed through the Club's younger age group teams.
Further detail of the Jack Petchey Foundation can be found at http://www.jackpetcheyfoundation.org.uk/
---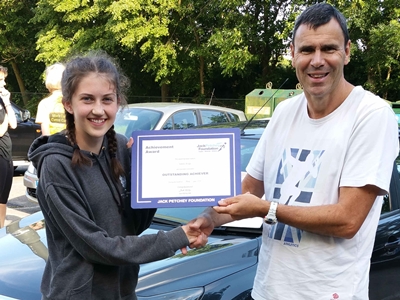 May 2016 -
Isabelle Bridge
Isabelle is the club's number 1 walker. She ran in almost every cross country race for the club this season and last year finished 7th at the English schools walking championships. She often helps out with coaching in her group and is always willing to lend a hand.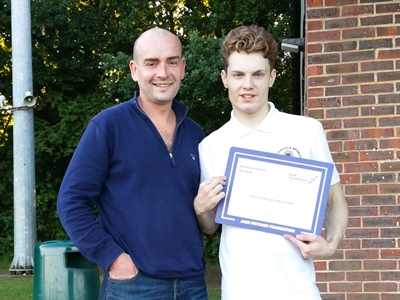 April 2016 - Callum Gardiner
Callum joined Blackheath in May 2012. Callum has been MenCap National Champion for 100m at Under 15 and Under 17. He is a valued member of our Youth Development League Sprint Squad, having run as the anchor leg in our opening match at Eton, in the 4x100m. Callum relishes the opportunity to compete, and supports the club competing in the Sweatshop Southern League both at Hornchurch and at Bromley. He is supported by his mum and dad Carey and Jason. We are fortunate as a club this year to have wide ranging sprint talent, and this makes for good competition, Callum has not stepped back from training and maintained a great attitude, even though he is in competition with a number of other runners. It is great for the team to have Callum in there giving us strength and depth.
March 2016 - Morgan Squibb
Morgan's performances improved through the cross-country season and she made a major breakthrough with an outstanding run at Castle Donington to finish runner-up in the National Cross Country Championships and lead the club it to its first ever team victory. This represented an improvement of over 125 places on her 2015 result. She has backed this performance up by finishing 4th in the Inter-Counties in Birmingham leading Kent to the bronze medals, and finishing 17th in the English Schools Cross-Country in an older age-group (second in her own year). She ran in every fixture throughout the season.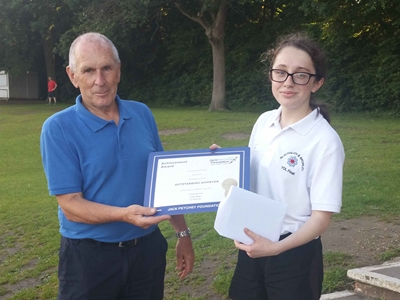 February 2016 - Amy Leach
Amy always turns up for the club and seems to be happy to run in whatever races she is asked to run in. Amy missed the national team medal by 1 place in 2015 but was part of the silver medal winning team at the 2016 national cross country. She persevered all season and was consistently picked as reserve for the Kent cross country team. Amy was selected for Kent in the inter county cross country championships 2016.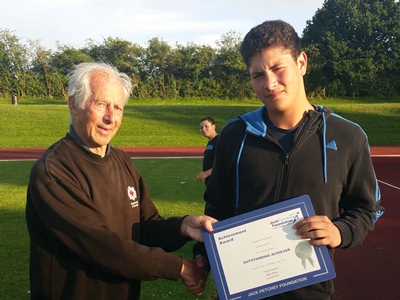 January 2016 - James Lancaster
James has had a highly successful season in his second year in the under-15 age group. He improved his hammer performance by 10m, from 49m last year to 59m in 2015. In doing so, he won every Kent League and Youth Development League hammer event for the club, came second in Surrey, South of England and England Schools Championships and capped it all by becoming England Athletics Under-15 hammer champion. James also contributed very useful league points in shot and discus.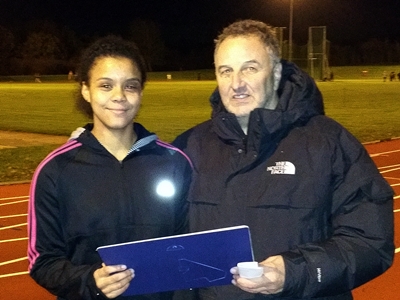 November 2015 – Annie Davies
Annie is just an all-round top girl who has developed into a fine triple jumper and a very proficient sprint hurdler. She has filled critical holes in the YDL team all season and no task is ever too much for her. Finishing 3rd in Istanbul as a U17 was a remarkable achievement.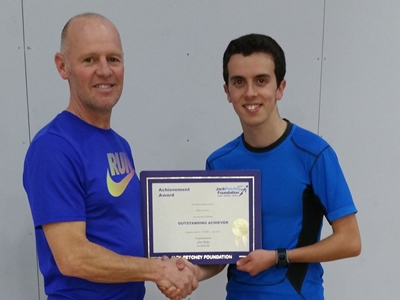 October 2015 – Marco Arcuri
Marco has been winter captain for the boys two years in a row. This role he takes on whole heartedly as he does with all things Blackheath. Marco trains diligently and is the first to encourage his training partners. Marco always turns up early to races enabling him to assist team management in various roles from walking the course with the young athletes to handing in team declarations. Marco puts loads back into the sport by regularly helping the coaching team. On trips away Marco is a great mentor to the younger ones, leading by example, ensuring they get the most out of the experience whilst still having fun. Marco regularly helps out at the youth club.
Marco is also one of the rare breed that both train and compete at the track and also regularly visit the club house on a Wednesday to compete and socialise, he's not a bad athlete either!!
September 2015 – Jess Keene
Jess has been in recent years a key member of the successful girls' teams over country, on road and on the track. She has also had a deal of individual success, including, this year, English Schools and Schools International as well as contributing lots of points in the YDL (often taking on 3 or 4 events each match) and winning in Istanbul.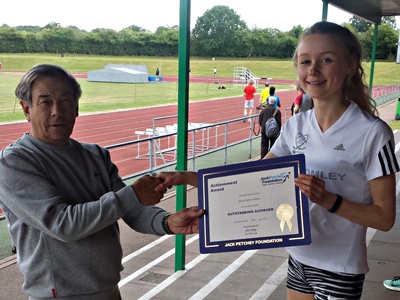 June 2015: Niamh Bridson Hubbard
Niamh has shown great resilience in recovering after a very trying injury and has built on a fine winter championship season over the country with some impressive performances on the track this summer. These Include in the UKWL and YDL, as well as the England Athletics u20 Championships.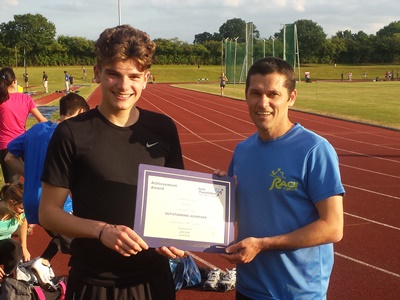 May 2015: Joe Freeman (Nigel)
Joe joined Nigel's training group in October after racing a few times for the club last year in the u17 age group. Joe asked to join having not trained consistently before, but has been ever present this winter usually training 3 times a week. He has shown dedication to training with a great attitude and has a willingness to listen and desire to improve and is an excellent addition to Nigel's small squad. He has a positive attitude and is always smiling and enjoying the training as well as the social side of mixing and meeting new friends. He is well liked by his fellow group members. Joe has also been to training days at Lee Valley and a training day at Blackheath run by Lorna Booth and he has received excellent feedback at all events. Joe truly deserves to be rewarded for the hard work he is putting into his training with personal bests this summer.
April 2015: Shannon Hylton (Tim and John)
Shannon is the British senior Indoor 200m champion despite only being U20. She has also smashed her previous pb taking it to 22.94 when winning the Loughborough International recently. She is currently ranked 3rd in the world!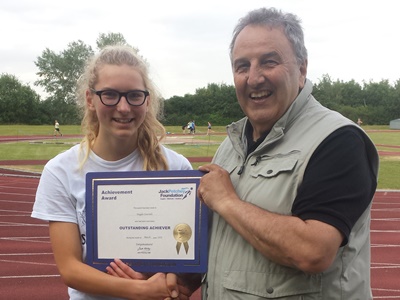 March 2015: Magda Cienciala (Karina)
Magda is 6th in the country for both the 100m and long jump. She also does the high jump and is part of the 4x100m. She is a valuable member of the u15 girls' team. Magda is a very supportive, kind girl and is a great teammate through the good and bad when competing in long jump. Magda has been selected for English Schools in the 100m.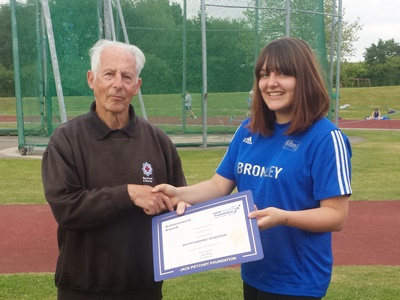 February 2015: Victoria Wiltshire
Last summer, in her first year of athletics, Victoria threw the hammer 50m, had a championship record of 1st in Kent, 2nd in South of England and 3rd in English Schools (plus 4th in UK rankings/3rd in England rankings). She also had many wins for the club in Young Athlete leagues making her a valuable member of our team.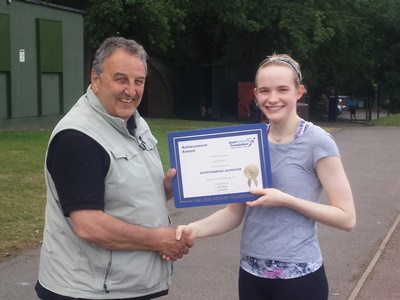 January 2015: Isabella Hilditch
After sustaining a metatarsal break competing in the 300m Hurdles in the Young Athletes final in September and being unable to train properly ever since, Isabella has none-the-less demonstrated a fantastic desire and commitment to do whatever she is able to retain her fitness and enthusiasm for athletics. She has undertaken whatever training she was able but importantly she has kept a smile on her face despite knowing she faces some big challenges ahead when she gets the all-clear to resume full training. She is a great team player.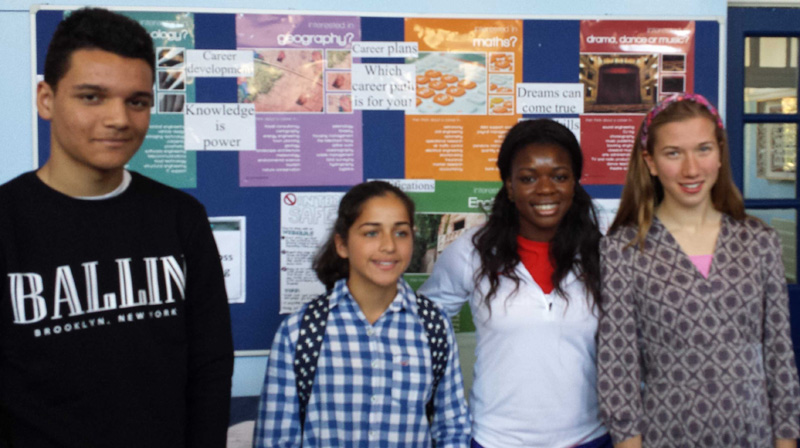 The latest three Jack Petchey winners with Asha Philip, below are a few words about why they have received their award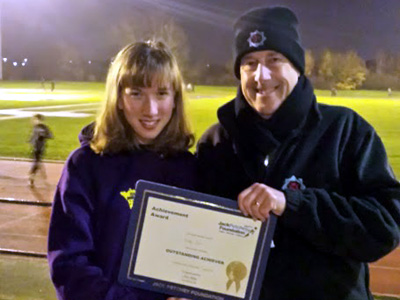 November 2014: Kelsey Fuss

At the start of May, Kelsey had never run a steeplechase race and by the end of August she had won the Kent and South of England 1500m Steeplechase titles and finished runner-up in the National 1500 metres Steeplechase championship at Bedford. She is ranked third in the country in this event, additionally she reached the final of the English Schools 1500m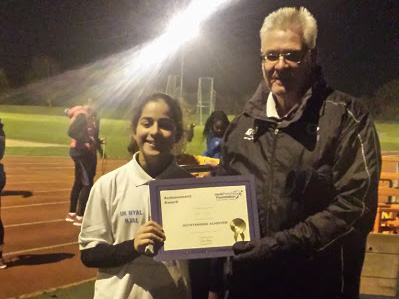 October 2014: Sophia Harper
Sophia has been a best friend to Nia Gornell for many years and has supported her through her battles with injuries and cancer in recent years. You will be aware from your days as a hare at Crystal Palace what a talented athlete Nia was during her Primary School years during which time she was a member of the Bees Academy and B&BHAC. Last weekend Sophia along with her mum took part in the Shine Night Walk for Cancer Research UK walking 26.3 miles through London Streets starting at 9.00pm and finishing just before 7.00am and in the process raising to date nearly £700. In addition to her participation in the walk Sophia along with her head of year at Hayes Secondary School have organised a 3k run to raise even more funds for a children's cancer charity. Her participation in both events have been as a result of wishing to support her friend and help with the fight against cancer.
A wonderful achievement for a 13 year old acknowledged with a Jack Petchey Award and encouraging her peers to support other people if the need arises.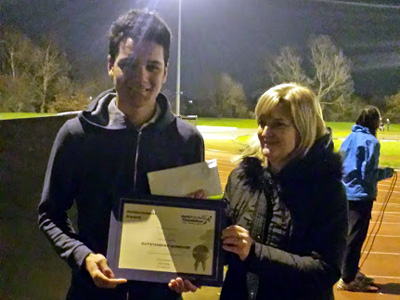 September 2014: Edward Adams
He has done incredibly well this year. He is also a much-needed member of the team. Also ranked highly in the country in the long jump, discus, hurdles and is part of the relay team. Only this weekend he fort off stiff opposition and came 4th in a pentathlon at Lee valley and now ranked 8th in the country, is off to the National final. He came second last weekend in the England Athletics Under 15 Boys Octathlon Championships at Bedford. This was a great effort by him in some very poor weather conditions. Edwards commit to training and competition this year has been outstanding and I see him as a very important club member as he moves up the age groups if he continues to develop at the same rate in future years.
---
Official pictures of club members collecting their Jack Petchey medallions at the ceremony last night (19 July 2014)
Tom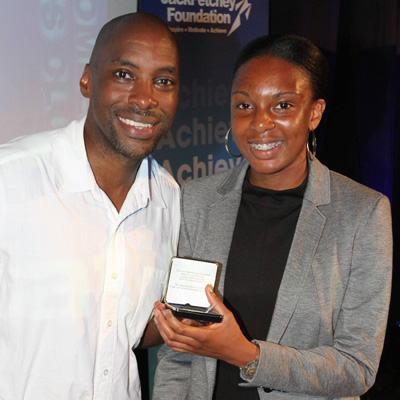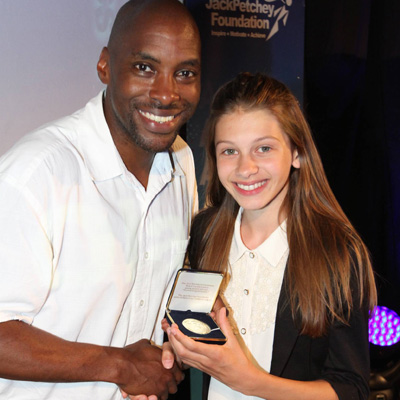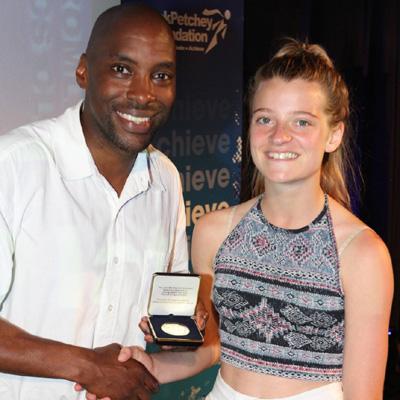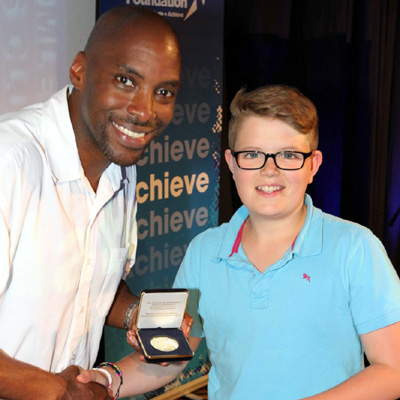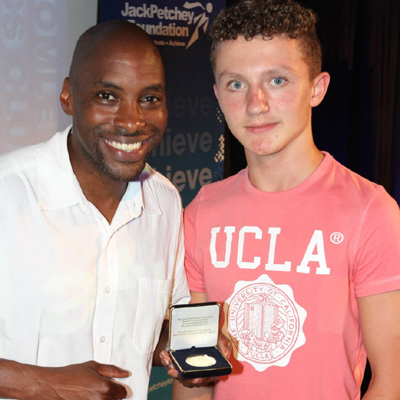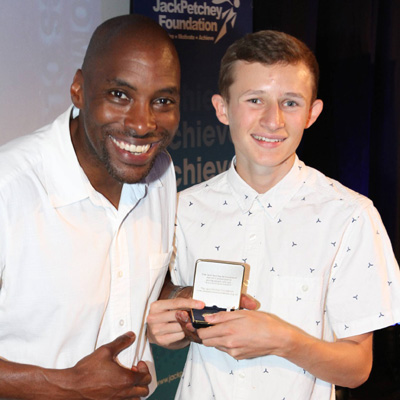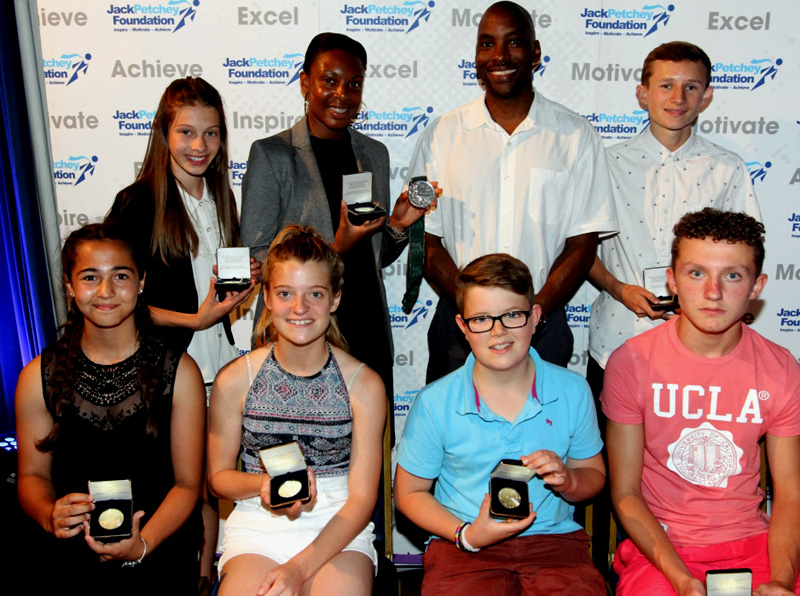 ---
A couple of pictures of how I spent my Jack Petchey money, A meal at Nando's Bromley with David Liston's training group (19 July 2014)
Tom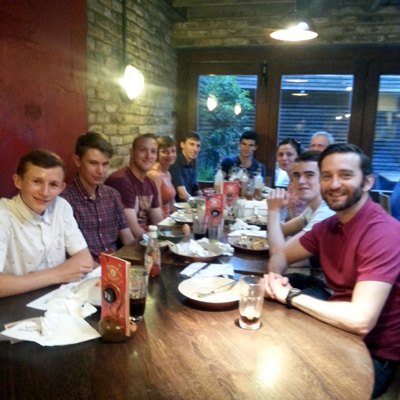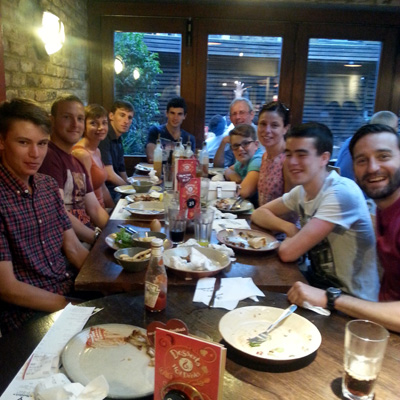 ---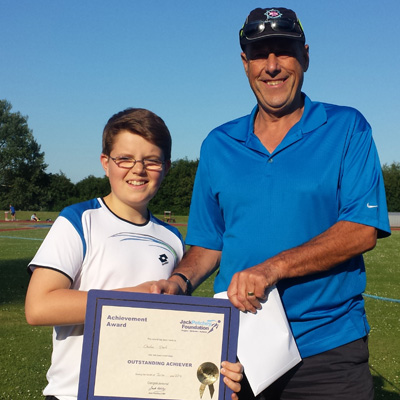 Charlie Short, June 2014
Charlie quietly has worked away on his throwing, training diligently away from the spotlight. He is not the biggest physically, but what he demonstrates is that if you have a desire for something then through dedicated hard work wonders can be achieved.
Charlie has also embraced one of the harder events that the team has to compete in in the Kent Young Athletes League - the 2km walk.
Charlie demonstrated leadership and team spirit that day and the walkers ended up contributing high numbers of points to the team total, which was completely unexpected and very welcome.
---
Henry-James Cowie, May 2014
Henry-James is an extremely dedicated sportsman, who has given his all throughout the track and field season, and also during the winter at cross-country.
He is talented at a wide range of events, and his selection for Kent Schools Pentathlon is consequential and well deserved. Henry-James has made new athletes to the squad welcome in his own natural way, and his deep interest in rankings, targets and what can be achieved results in him being a natural motivator for the athletes around him.
He is a good ambassador for the club, and he has forged friendships and relationships with regular adversaries, which displays great sportsmanship.
---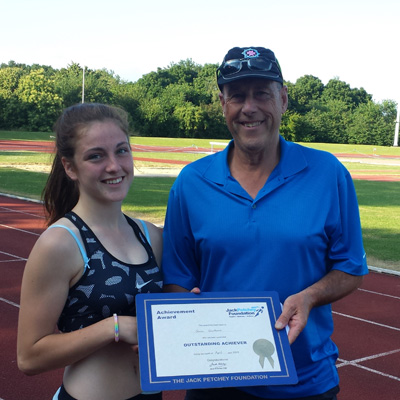 Sonia Woolhouse, April 2014
Sonia Woolhouse sets a great example as a 'team player': always willing to take on an extra event (or three) for the benefit of the team and a highly popular member of the team.
---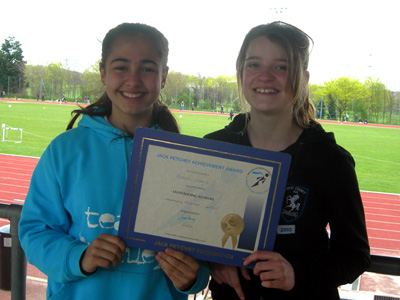 Karina Harris (blonde) and Eloise Locke (dark haired)
Eloise was the recipient of the Jack Petchey award in September 2013 and Karina in November 2013. They both competed regularly as U13 in the nationals and Kent's. They both broke club records last year and won gold medals at the Kent championships and the Kent relays. Both were ranked top 10 in the country for their events.
---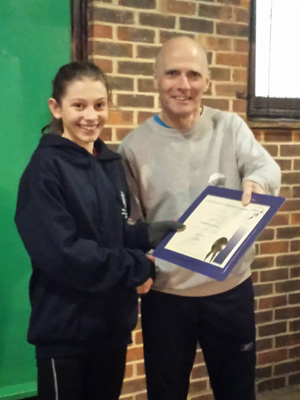 See how Yasmin celebrated her win/award...
Yasmin Austridge, March 2014
Yasmin has been an ever present and consistently high performer throughout the cross country season, from the first cross country relay at Sparrows Den in September until the final fixture the English Schools championships earlier this month, where she finished in 13th place. Having won medals at County, Inter-county and National level this winter.
She always has enough energy after races to rush around the course supporting the other athletes from the under 13s to the adults. She is always not only a cheerful and enthusiastic member of the team but a valuable one as well.
---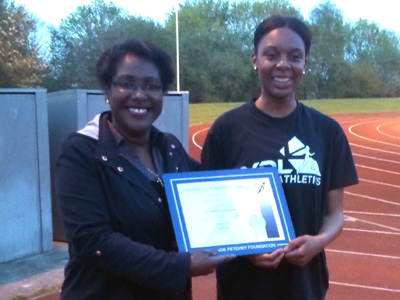 Vivian Olatunji, February 2014
As a result of some very good indoor sprint performances from Vivien, Vivian was selected for the England U20 team competing in Cardiff, and was also called up as part of the GB U20 4x100m relay squad.
Things are going from strength to strength for Vivien and she is predicted to have a very good outdoor season for 2014. She is a dedicated and valuable member of the training group and is really deserving of this award.
---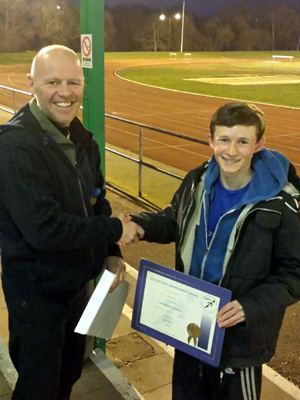 Thomas Desborough, January 2014
Tom has, for a long time, trained hard and put his all into each race. Last week he won his very first Kent schools vest (something that many take for granted) and he couldn't have been happier.
It's a great reward for all his efforts. Tom is a great example to many others at the track and proves that hard work does eventually pay off.
Tom Desborough receiving his Jack Petchey award, March 2014
---
Jonothan Pettet wins the Jack Petchey Achievement Award for September 2010. Jon is a consistently successful athlete, which he has become through dedication and hard work on the training field. He has made huge improvements in his personal bests for all four sprints this season and still has much more to talent to show. He also captained the team to victory at this year's McCain NYAL Auxiliary Final and has begun to pass on his knowledge and experience, coaching as part of the Bees Academy for school years 4 to 7.
---
Shannon Riskey is awarded the Jack Petchey Award for August 2010 for her outstanding achievement this season. She has made great improvement to her time in the 600m, becoming the Bromley Primary Schools Champion as a result. Shannon also finished 5th in the 800m at the Kent Championships. She is an enthusiastic and vital team member, always willing to help out by filling in on any events and gaining essential points.
---
Charlotte Colegate receives the Jack Petchey Award for July 2010 for her volunteer work as a coach. She is putting her experience in athletics to good use, by helping to coach some of the Club's up and coming stars. Charlotte is also an important member of the Club Record holding U17 Women 4x100m relay team.
---
Alex Wheelwright was the Jack Petchey Achievement Award Winner for the month of February 2010. Alex received her award for her performances at the Kent Indoor Championships and the National Sportshall Final.
Alex performance at the Sportshall National Athletics Final at the LG Arena in Birmingham saw her become National Sporthall High Jump Champion. She cleared 1.45 to win on countback.
---
Rachel Dickens is the latest recipient of a Jack Petchey Foundation Achievement Award. She receives the award for January 2010 for her gold, silver and bronze medals in the South Of England Indoor Championships. She is ranked third in the 200 and 5th in the 300 in the under 17 age group this Winter, a great achievement as she is only in the first year of this age group.
---
Katrina Cosby is the Jack Petchey Foundation Achievement Award Winner for November 2009. Like many of the winners Katrina is not only a talented athlete she is also another who is putting her experience in Athletics to good use by helping coach some of the Club's up and coming stars.
---
Jessica Matthews is the winner of the Jack Petchey Achievement Award for October 2009. Jessica is the current South of England Indoor Champion in the under 20's high jump and has been an important member of the Club's various age group teams for a number of years. Unfortunately she has had more than her fair share of injuries but nevertheless she has continued with her Sport and is already putting her something back in by helping with coaching some of the Club's youngest members.
---
Latest receipient of a Jack Petchey Foundation Achievement Award (September 2009) is one of the Club's youngest members Ellie Lawrence. Ellie broke the Club under 13 record for the shot putt this Summer with a distance of 9.78 beating the previous best of International Shaunagh Brown by over 20 centimetres. Ellie is a regular member of the Club's young athletes team.
---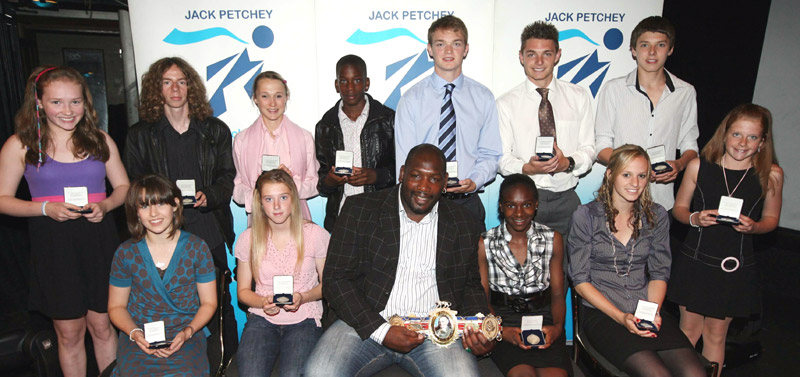 8 July 2009 - Not all of those in the picture are from B&B. Our athletes are:
Bottom row (2nd In) Amber Read, former British Heavyweight champion boxer Julius Francis, Dina Asher-Smith & Katherine Jones.
Top row from left to right (2nd in) Sam Jackson, Jennifer Hamer, Reon Gowan-Wade, Andrew Jordan, Dan Putnam. 14-07-09
---
Mark Longhurst is the Jack Petchey Achievement Award winner for June 2009. Mark broke the Club Record for the pole vault with a clearance of 4.31, adding a centimetre to Scott Huggins previous mark. He is a talented all rounder and has scored many valuable points to the Club's Young Athletes and Junior teams.
---
Ben Parkin is the Jack Petchey Achievement Award winner for May 2009. Ben has been one of the unsung heroes of the Young Athletes team in the past always available for matches and keen to do a variety of events. This year he has blossomed further running one of the quickest times in the country over the 400 hurdles. He is also becoming an important part of the Under 20s team.
---
Daniel Haque has received the Jack Petchey Foundation Achievement Award for April 2009. Daniel has started the season in good form in the sprints but his efforts for the Club don't end there. He is also coaching in the Clubs Bees Academy for school years 4 to 7 supporting the next generation of the Clubs athletes.
---
Holly Fletcher is the Jack Petchey Achievement Award winner for March 2009. Holly has been a regular for the Club over the Winter months at cross country but has also enjoyed great success in the National Sportshall Athletics final where she won the 6 lap race.
---
Loraine Ugen is the Club's Jack Petchey Foundation Achievement Award winner for February 2009. The 17 year old has enjoyed a very successful indoor season which has been recognised with selection for England in the Celtic Cup and for Great Britain in a jumps International in the Netherlands. Loraine has improved her best in the long jump to 5.91 the second furthest in the country this year and was an important member of the Club's Junior team who became National Junior League Champions last Summer.
---
Ben Hopkins is the Jack Petchey Foundation Achievement Award winner for January 2009. Ben won the Under 17 mens' 60 metre hurdles at the South Of England Indoor Championships. He has been an important part of the Club's young athletes squad in recent years scoring numerous points for the team in the hurdles and sprints.
---
Jen Hamer is the Jack Petchey Foundation Achievement Award Winner for the month of December 2008. Jen has enjoyed a fine start to her Athletics career and was recently crowned the Kent Cross Country League Under 17 Champion for 2008. She also won the Holly Run in Reigate by a huge margin last month. She has been a virtual ever present for the Club in 2008 over track, cross country and road.
---
Amber Reed is the winner of the Jack Petchey Foundation Achievement for November 2008. Amber has been making great improvements as a middle distance runner on track, road and cross country and recently became the under 15s champion in the Kent League for 2008. She also won a schools Inter Counties match in Birmingham recently.
---
Winner of the Jack Petchey Foundation Achievement Award for October 2008 is Andrew Jordon. Andrew had an outstanding season in the Under 17s age group and was the number one Hammer thrower in the country in his age group. He won the National, Area and County titles as well as the English Schools and Schools Games. He has been an invaluable member of the Club's Under 17 and Under 20 teams.
---
Katherine Jones has been nominated as the Jack Petchey Foundation Award winner for September 2008. Katherine, who was the Young Athletes girls captain this year, has been one of the Club's biggest points scorers in the League in recent years and won all three of her events in the National Final. Her win in the discus was a new personal best and the following week in the National Junior League Final, against athletes up to three years older she won the B string discus, again with a personal best performance. The only athlete who threw further in the A string was team mate Shaunagh Brown who she trains with under coach John Hillier.
---
Reon Gowan Wade, an under 13,was the August 2008 winner of the Jack Petchey award.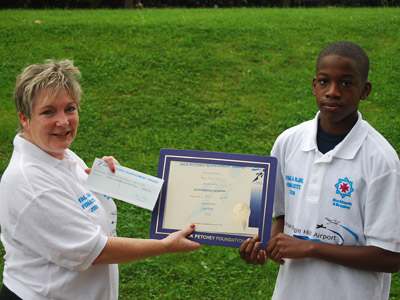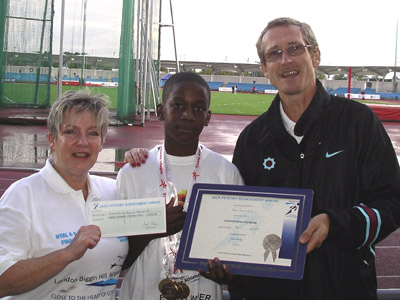 ---
Montell Douglas is the Jack Petchey Foundation Award winner for July 2008. Montell broke the British Womens 100 metre record with a time of 11.05, five hundredths of a second quicker than the previous record of Kathy Cook which had stood since 1981. As a result of her performance Montell was selected to represent Great Britain at the Beijing Olympics where she competes in the 100 and 4x100.
---
Jack Petchey Foundation Award winner for June 2008 is Dina Asher Smith. Dina has been in outstanding form all Summer and broke both the Club 75 metres and 150 metres on the same day at the Kent Young Athletes League match at Canterbury. She is currently ranked third and fifth in the country in these events with bests of 9.9 and 19.6 seconds. Dina has developed her talent in the Bees Academy, a Blackheath & Bromley coaching scheme designed specifically for children in school years 4, 5, 6 and 7, to encourage their participation in sport and to develop their athletic potential to the best of their ability.
---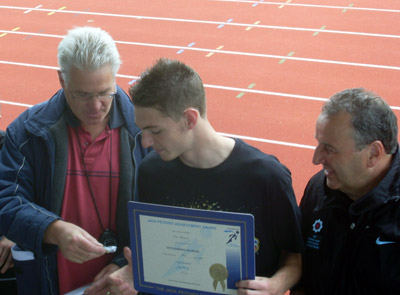 Jack Petchey Foundation Award winner for May 2008 is Dan Putnam. Dan had an exciting month winning three gold medals at Kent County Championships in the Under 17s 100,200 and 400 metres. He also won silver and bronze medals in the 100 and 200 metres at the South Of England Championships. Dan is the Young Athletes team captain and has led the squad to three consecutive wins in the Southern Premier Division this year.
---
The Jack Petchey Foundation award for April 2008 has gone to Scott Overall. Scott's just falls within the Jack Petchey radar and he receives his award in recognition of his performance in the 5000 metres when he broke the Senior Mens Club Record with a time 13.28.33 just outside the Great Britain B standard qualifying time for the Beijing Olympics. Although he is based in the United States Scott is a keen follower of Club affairs and is looking forward to representing the Club in matches when he returns in July.
---
Sam Jackson was the Jack Petchey Foundation Achievement Award Winner for March 2008. Sam was a near ever present for the Club's teams over the Winter months and one of the most improved athletes. He is now looking to put his good endurance base to good use and revise his personal best on the track.

Sam Jackson used his Jack Petchey money to take his training group out to Nandos in Bromley - June 2008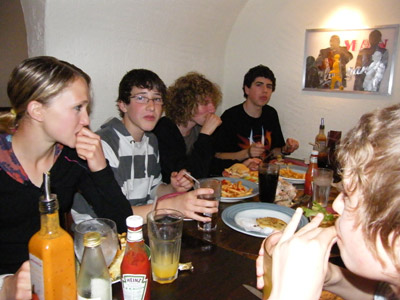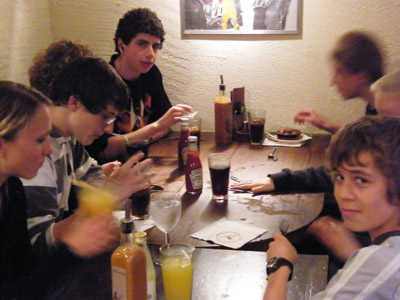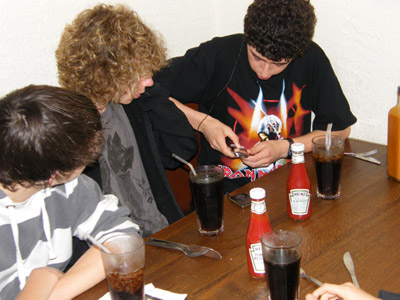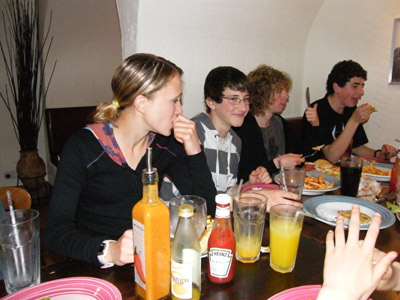 ---
Anike Shand Whittingham was the Club's Jack Petchey Foundation Achievement Award Winner for January and February 2008. Anike set a new Championship Best Performance at South Of England Indoor Championships winning the 60 metres. She then won the 60 metres at the England Athletics Indoor Championships.
---
Rebecca Smith receives the Jack Petchey Foundation Award for December 2007. Rebecca has been an ever present for the club in cross country events and mostly been the only Under 17 competing. She finished 4th overall in the Kent League for the season.
---
Lauren Blackie received the Jack Petchey Foundation Award for November 2007. As well as being a talented, Nationally ranked athlete, Lauren also puts her time back into the Sport as one of the regular coaches with the Bees Academy, the Club's coaching scheme for school years 4 to 7.
---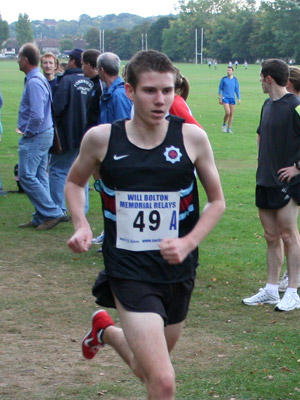 Latest winner of an Award, for October 2007, is Alex Bruce Littlewood. Despite only being a first year junior he has made a big contribution to the Club's Senior teams, running in both the Area and National Road Relay teams.
---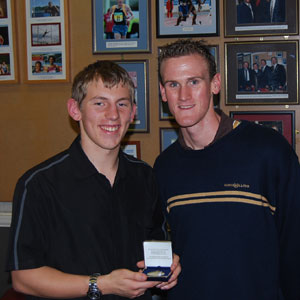 Jack Petchey Foundation medallion was presented to Aston Stockdale for September 2007.
Aston was the Young Athletes captain in 2007 and has also been a great supporter of the Junior team. He produced a motivational video prior to the National Young Athletes Final and has produced a motivational DVD for distribution to local schools.
---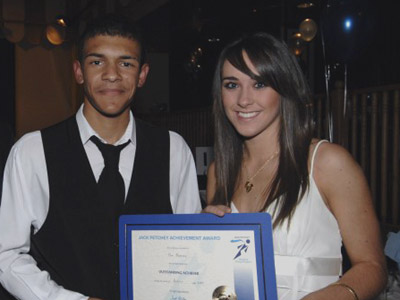 The Jack Petchey Foundation Award for August 2007 went to Tom Bensted.

Tom Bensted is the latest athlete to receive a Jack Petchey Foundation Achievement Award for the month of August. Each month the club selects one young person, in the 11 to 25 age group to receive an Achievement Award. The month's winner receives a framed certificate and a cheque (payable to the club) for £200 to be spent on a club project of the recipient's choice.

Tom has had an outstanding Summer, under his coach John Powell, winning both the English Schools and the English Athletics 400 metre titles. He has been an invaluable addition to the Club's Under 15 boys team competing with distinction as well over the 100 and 200 metres.
---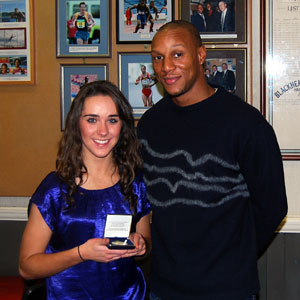 Sarah McLellan
The Jack Petchey Foundation Award for July 2007 has gone to Sarah McLellen for her contributions to the Club's teams and for also for organising a fund raising ticket disco with the proceeds going to help with the European Champion Clubs Cup match in Brno, in the Czech Republic.
---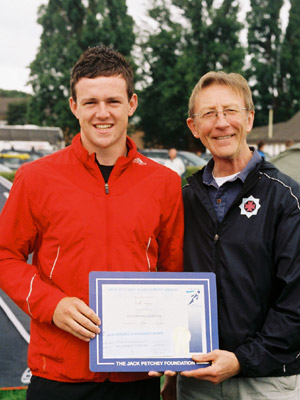 Scott Huggins is the latest athlete to receive a Jack Petchey Foundation Achievement Award for the month of June 2007. Each month the club selects one young person, in the 11 to 25 age group to receive an Achievement Award. The month's winner receives a framed certificate and a cheque (payable to the club) for £200 to be spent on a club project of the recipient's choice.
Scott has not only broken the Scottish Junior pole vault record four times this year but also helps the Club by coaching in the Bees Academy. A virtual ever present in the Club's teams he is also happy to help in other events when the team is short and competed in the shot and javelin in the first British League match of the season.
---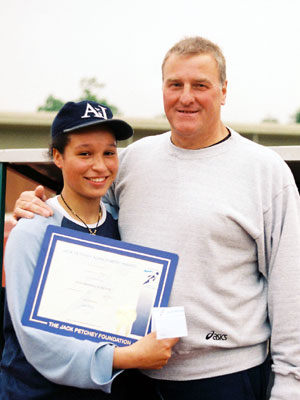 Shaunagh Brown is the Club's first recipient of a Jack Petchey Foundation Achievement Award for the month of May 2007. The award will not necessarily go to outstanding athletes, it could equally go to members who are making a valued contribution to Club Life. Shaungh's award is, therefore, made, not just for her breaking the Club Junior and Senior discus records; achieving a European Junior Qualifying distance; and gaining her first Great Britain Junior International vest; but also for the consistent support which she gives the Club's teams.

Her award was presented by her coach John Hilliar in front of her training group at Sutcliffe Park track. Visit www.myspace.com/discuschampbrown for more on Shaunagh.