15/16 July 2017 - European Biathle Championships, Estoril, Portugal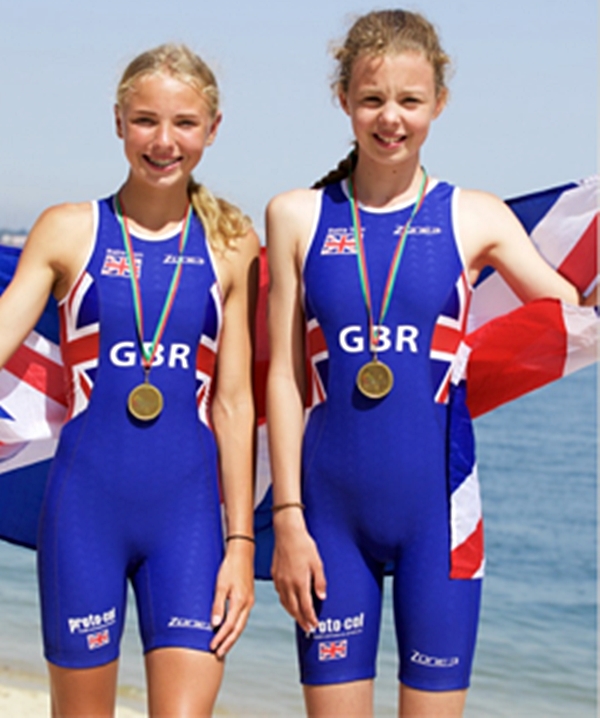 Photo (from Jason Squibb) of the club's two newest European Individual Champions.
Morgan Squibb won the Under 15 Championship and Amelia Middleton won the Under 13 Championship in Estoril, Portugal on Sunday after heats on Saturday.
Morgan's event consisted of an 800m run, 200m open water swim, and another 800m run, whilst Amelia had a 400m run 100m open water swim and another 400m run.
They both now hope to be selected for the World Championships in September in Viverio, Spain
Andy Frankish

---
25/26 March 2017 - English Schools Biathlon Finals, Crystal Palace
We had at least 5 girls competing in the English Schools Biathlon Finals at Crystal Palace at the weekend.

Under 14 Girls
2nd Morgan Squibb with 100m swim in 69.38 and 1600m run in 5.04.93. Morgan finished 33rd in the swim and moved up to 2nd place overall with a winning run. She finished with 2522 points to the winners 2554. 68 Girls competed.

Under 15 Girls
9th Hannah O'Flynn 200m swim in 2.19.99 and 1600m run in 5.58.27

11th Zoe White 200m swim in 2.35.11 and 1600m run in 5.40.82. Moved up from 33rd place after the swim.

45 Girls competed

Under 12 Girls
8th Amelia Middleton 50m Swim in 32.58 and 800m run in 2.40.34. Moved up from 16th after the swim

93rd Zara Aslam 50m swim in 42.86 and 800m run in 2.49.13. Moved up 52 places on the run.
145 Girls finished

Andy Frankish