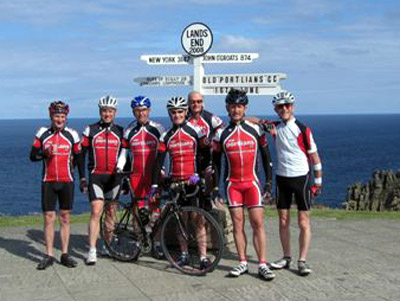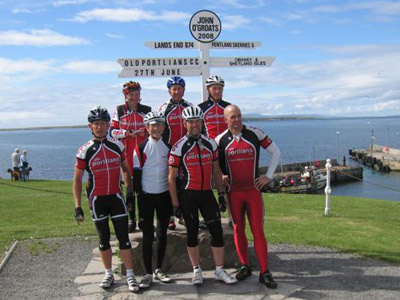 He started and he finished... Past President Les Roberts rode from Lands End to John O'Groats to raise awareness and funds for the Cure Parkinson's Trust. The purpose of the trust is to fund research to hasten a cure for this debilitative neurological condition (from which Les suffers). The charity's primary role is identifying, funding and evaluating research projects, as well as hosting scientific forums to bring relevant scientists within the field together, to discuss key areas of research and technology. You can still help with his fund raising by going to http://www.justgiving.com/lesroberts
Here is Les's report:
We rolled into J O'Groats Friday afternoon (28th), 12 days and 1030 miles after leaving Lands End. We started in bright sunshine, we ended in bright sunshine but in the middle we encountered conditions as severe as anything I have ever experienced on a bike before. Sods Law, naturally, dictated that the foulest weather coincided with the most topographically demanding stages. Up the Trough of Bowland and over the Pennines on days 6 and 7 and then again on day 10 when we had to tackle the Cairngorms, were particularly grim sections containing a good number of sustained gradients greater than 15% to overcome in high, gusting, sometimes gale force winds and torrential rain. The wind chill meant we were all forced to don full winter gear but it was barely enough. At the top of Shap Fell my heavier team mates insisted I let the back-up transport take me down the mountain as they feared for my safety in 70 mph winds having seen me twice blown off my bike on the ascent. At the top of the infamous "Devil's Elbow" (Arsehole, more like!) at Glenshee, I again had to take a ride and be ferried to Braemar at the bottom of the mountain to buy some more effective gloves as my totally numb hands would have been lethal on the 5 mile, alpine-like descent.
It didn't help, of course, to be aware all the time that down in the south it was for the most part warm and sunny! I reckon this side-tracking caused me to miss 30/35 miles (mostly downhill), so I think I can reasonably still claim "mission accomplished"; I was perfectly fit enough to go on on those occasions but there was the wider picture to consider - namely, the effect my circumstances and actions would have on the peace of mind and well-being of the others.
Given the circumstances, I reckon this was the most demanding piece of athletic activity I have ever done. On some of the climbs my exertion to overcome the steeper sections far outstripped what I put into that 60 second last lap that took me to victory in Rome in 1985 or anything I ever endured running marathons and it was far more prolonged. I can't tell you how gratifying it is to discover that boundaries can still be pushed back at this stage of the game.
They say that the most frequently heard utterance in J O'G is, "where to next?" Dead right; it really is almost impossible not to say it when you get there. But this is not because you are immediately inspired by the setting to start planning your next major odyssey or display of intrepidity but simply that this one-eyed little hamlet with the allure of a Canvey Island caravan site, is such an anti-climax. For "where to next?" read "let's get the hell outta this godforsaken place!"
Thanks again to you all for your moral and financial support; it made a difference.
Les