3 August 2019 - British League - Birmingham
And so another season is over. After four tough but enjoyable matches we have finished 7th in the Premier Division of the British Athletics League. Had we placed in that position in the Premiership in football we might be competing in Europe next season.
Saturdays match in Birmingham was not dissimilar to the previous three fixtures with plenty of good performances, and the occasional blip against the best teams in the country.
Highlight of the day was the triple jump competition. Like the Holiday Inn, which we viewed from our Premier Inn the previous evening, Jonathan Ilori was on fire. His leap of 16.27 was easily his best of the season and just one centimetre off his best. Three others in the match also went over 16 metres plus one guest. Another three were over 15.60. It just shows how good a British League competition can be when the athletes turn up.
The four best athletic performances in the match were from the triple and a total of six from the event were in the top ten of the day. Missing the top 10 were a 7.50 long jump; a 73 metre hammer; a 5.10 pole vault, a 2.14 high jump, a 60.47 discus and a 71.95 javelin.
Jonathan's performance earned him third place and, demonstrating the standard of the meeting, our only other top three A string placing was Phil Sesemann. On Thursday he had set a new best of 13.45.73 for the 5000 metres at the Belfast International but, two days later, he was toing the line in the B 800, his first race over the distance this season. He followed this with second place in the 1500 getting the best of most of the lead pack in a tight finish.
He wasn't the only one running heavy legged as B string Declan Neary had run 8.23 for 3000 the night before at the Birmingham Relays; while Lewis Mills only arrived at the hotel just before midnight having flown in from Geneva from a photo shoot. Sitting on the floor of an overcrowded train on the way up wasn't helpful either. He was someway off his club record in the steeplechase but he was there.
Elsewhere in the middle distance there were solid runs from Joe Rogers in the 800, Ross Braden and Charlie Davis in the 5000 and Tom Desborough in the 3000 steeplechase. Tom had earlier set a seasons best in the 400 hurdles, his train having reached Perry Barr at 11.30 giving him enough time to jog to the stadium to make the start line at 12pm.
"A" string hurdler Bailey Stickings had one of those days. Sick earlier in the week, he thought he had recovered, but he hadn't. There must be a bug going round as Matthew Knight had to pull out of the sprints having been ill.
Duayne Bovell was promoted from non scorer in the 100 in the last match to A string this, and responded with another sub 11 clocking. Ethan Brown stepped down to the 200 for this match and met up with a loaded field, four of whom have run sub 21 seconds. In the B strings of both sprints we welcomed Michael Damoah to the team and he made a good debut picking up some useful points.
Joe Rogers volunteered to run a 400 after his 800 but he hadn't fully recovered and there was disaster for Adam Herring in the B string, when, having thought he had heard a recall gun, he found he had given the rest of the field a head start.
We had two seasons bests in the sprint hurdles from Alex Nwenwu and Lewis Ely. Alex was one of four athletes who competed in all four fixtures this season along with Duayne Bovell, Charlie Davis and Kelechi Aguocha.
Kelechi has enjoyed his season in the top flight this season. He wasn't quite as high as he would have wanted but his two metre clearance gave him equal 4th. Lewis Ely equalled his seasons best in the B string and set another seasons best in the triple jump.
Like the triple, the long jump was a strong competition with eleven seven metre plus jumpers in the field. Seven were over seven metres on the day but not our youngsters Ben Sutton and debutant Myles Xavier. They will be soon, and both are destined to be important members of the team in the future. It may have been Myles debut for the team but it didn't stop him organising the running order of the 4x100, much to the amusement of Duayne Bovell. " I was that boy once" said the oldest member of the team.
Another youngster who has made a big impression is Barnaby Corry. Just 15, he equalled his best in the pole vault with a leap of 4.20. He was fortunate to be partnered by Scott Huggins, who, despite not having trained for nearly two months, cleared 4.80. A big thanks to Scott for bringing Barnaby's poles.
It has been a tough season in the throws but three of our up and coming stars made a good fist of it against some on the nations best. Charlie Short drove up on the day to compete in the hammer while in the B string Dele Aladese even set a personal best. Dele was more at home in the discus with new man Philip Bartlett, and both also picked up some useful points in the shot.
In the javelin Duayne Bovell set a new best in the A string as did Joss Barber in the B string, having just arrived back from New Zealand. It is probably fair to say his distance thrown was in inverse proportion to the air miles travelled, but we were very grateful he was there to help the team.
Thanks too to all the relay runners at the end of the afternoon. The teams were a little patched up after a difficult few days. Duayne, Ben, Myles and Michael got the baton round safely; and Ben and Myles joined Adam and Ethan to finish the 4x400 in 3.21.49. Adam has always delivered in the relays and did so again while Ethan confided that the 47.1 split was his fastest ever. He has made a remarkable contribution to both the Senior and Junior teams this year given his International and Championship commitments. Thanks Ethan and everyone wishes you the very best at European Team Championships this weekend.
Thanks too to all the officials, supporters and helpers who made it such an enjoyable day for both our mens and womens teams.
In the Botley Trophy for the top points scorer of the season Dan Putnam and Jonathan Ilori both finished with 58 followed by Kelechi Aguocha on 49. Full table to follow.
So 7th on the day and 7th for the season. This is actually our highest position in the League since 1995 so that is something to celebrate. The target was 6th and although we didn't achieve that, there has been plenty to suggest we are improving. Saturday's team contained 7 under 23s, 7 under 20s and an under17. With our under 20 men and women the best in the country and representing the UK in this years European Champions Club Cup for juniors, and athletes already interested in joining us for next season, the future is bright.
Quite where our League position leaves us for next year is not clear. In a normal season it would be mean we would be relegated back to Division One. However, there are proposals for a joint scoring mens and womens league in which we would almost certainly be in the top division, the number of clubs in which is still to be determined. More details on this to follow.
Regardless of what happens, it is time for a change in management, time to pass on the baton (without dropping it!). Twenty five seasons and a hundred matches really is enough. There's no chance of getting bored next Summer though. There's the Malawi to Ireland car rally. It's Lilongwe to Tipperary…. I'll get my coat.
Pat Calnan
Photos from Bill Foster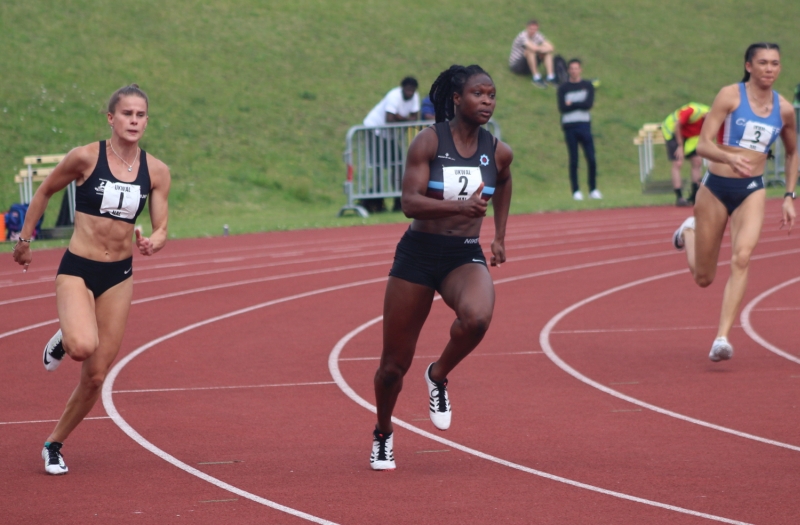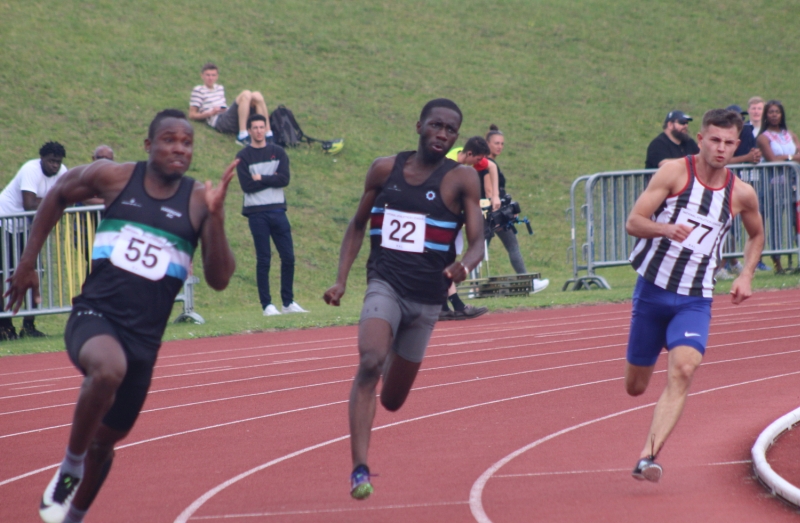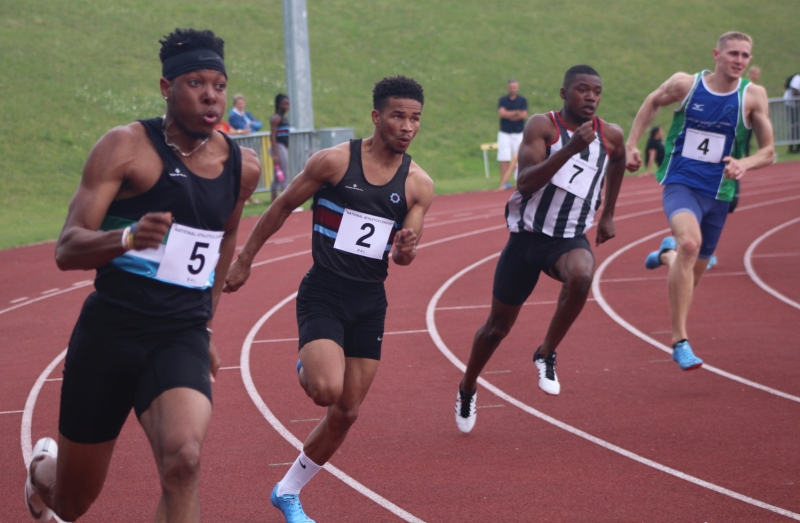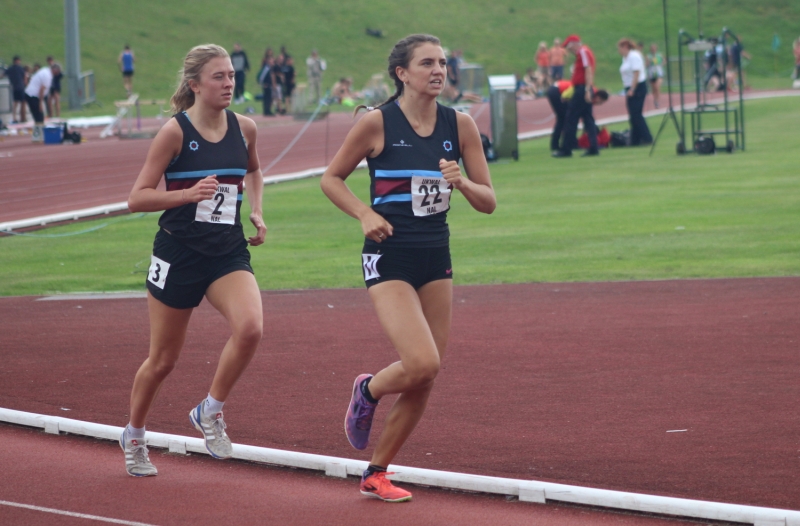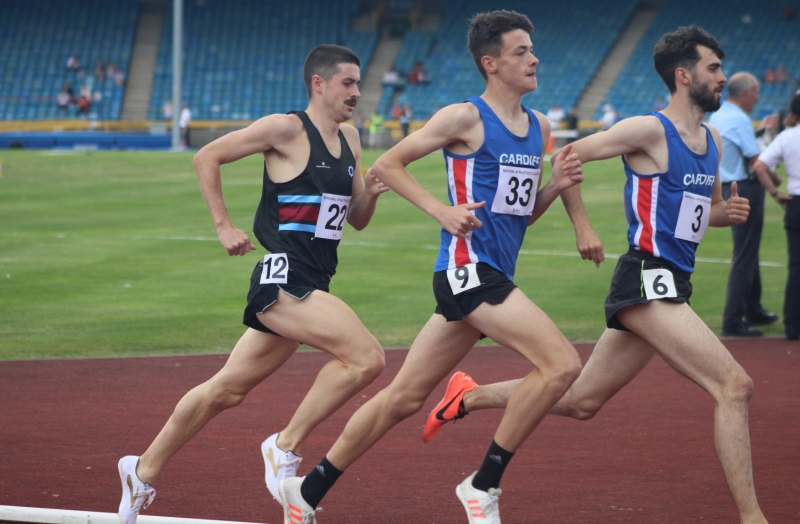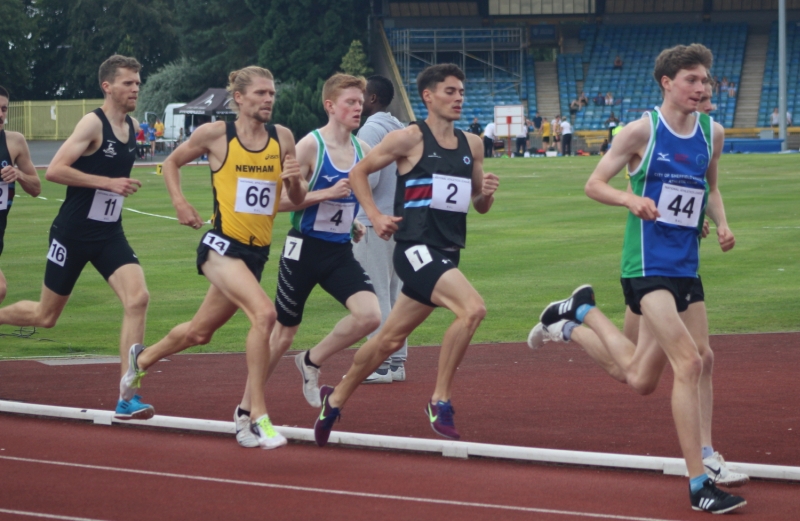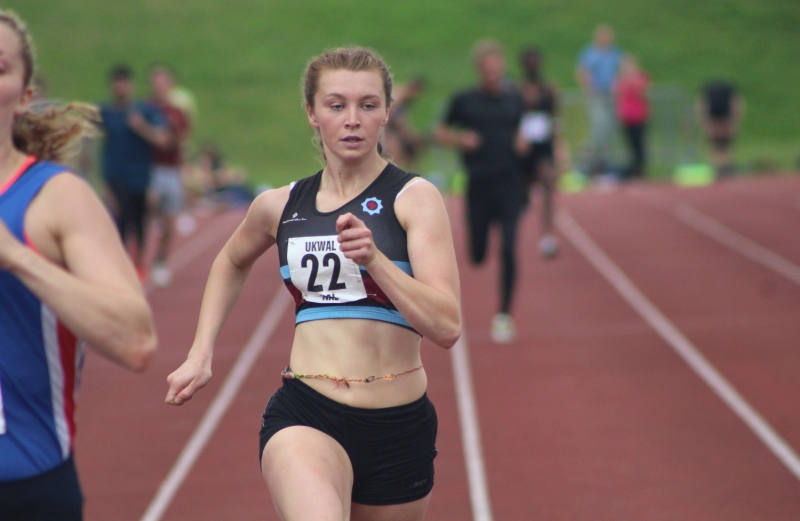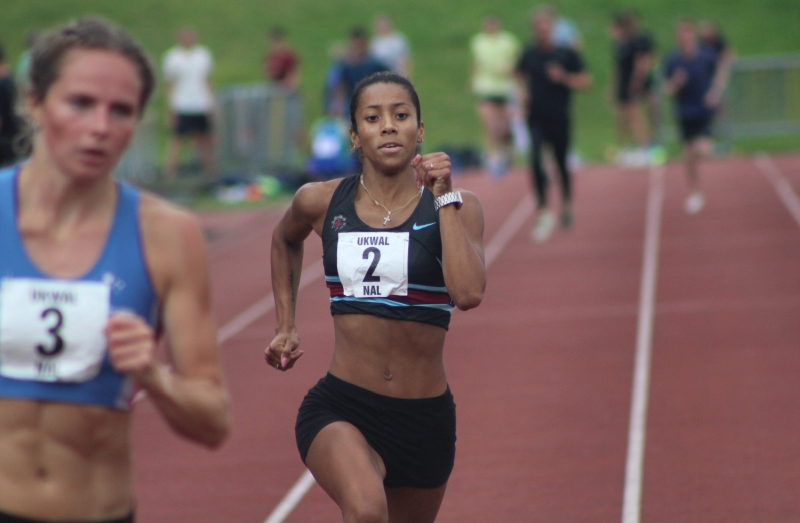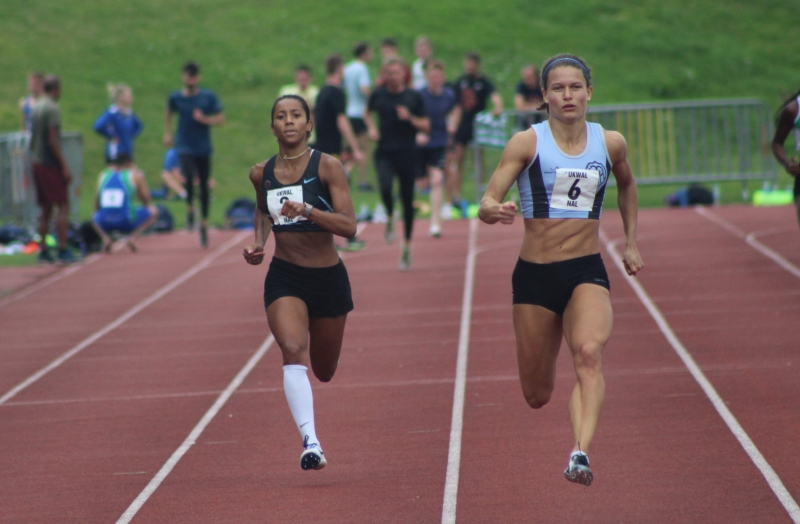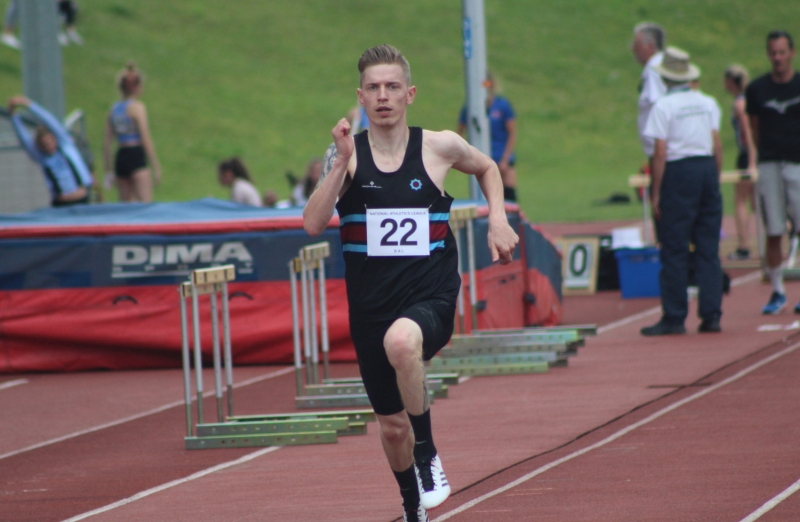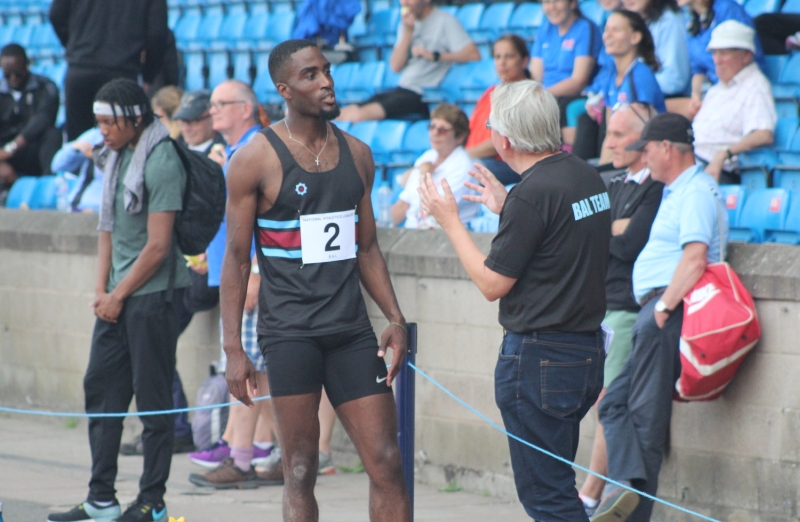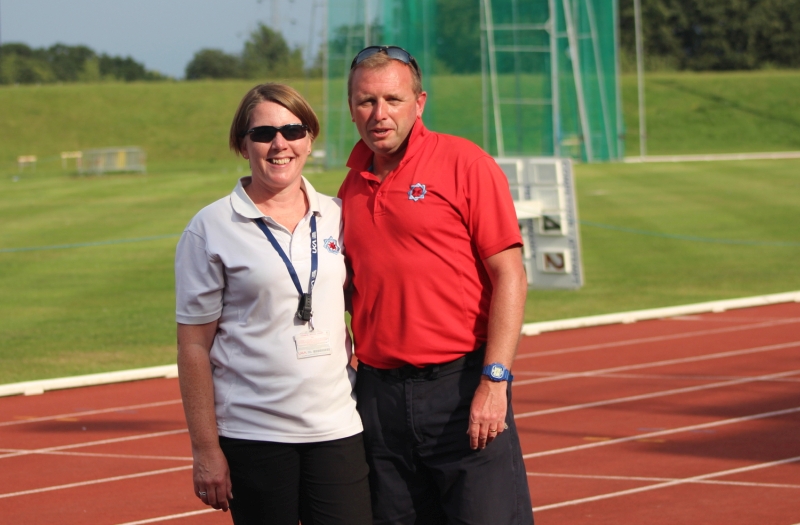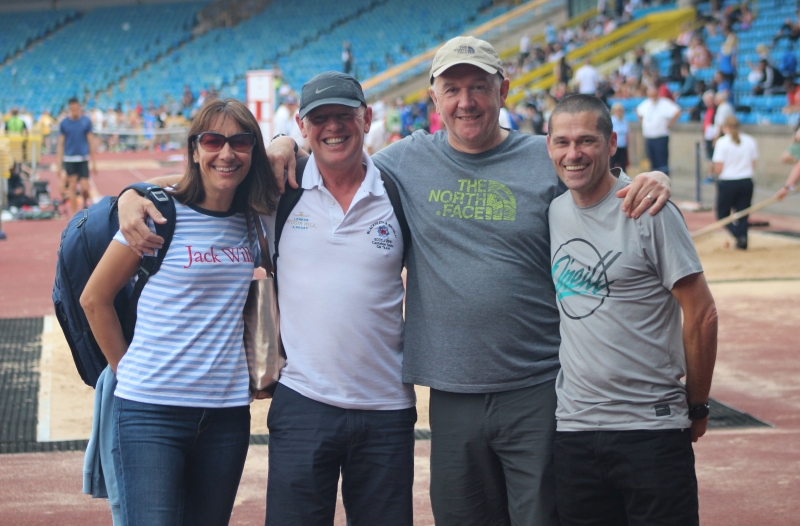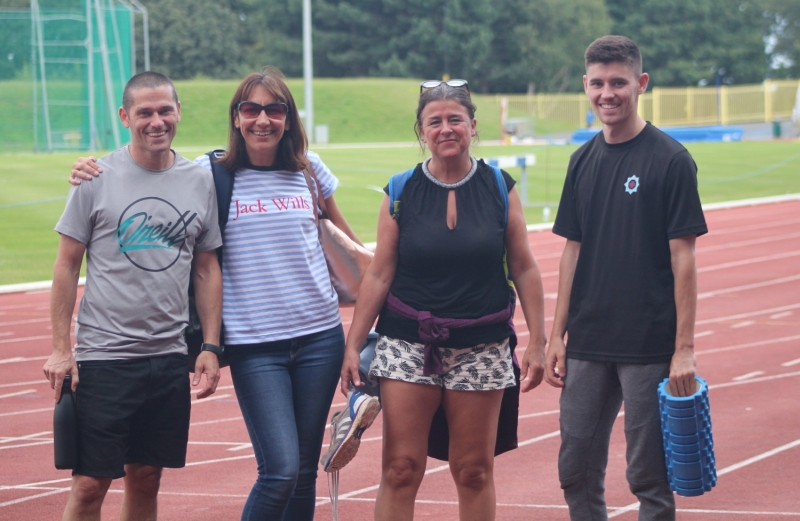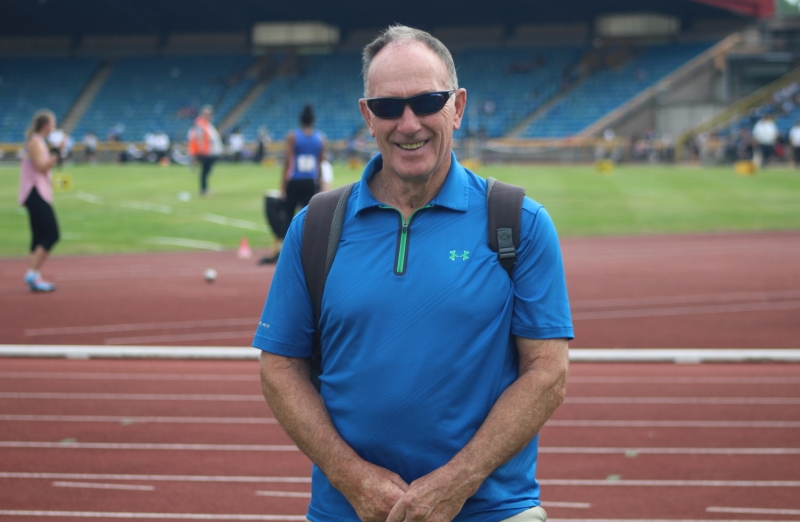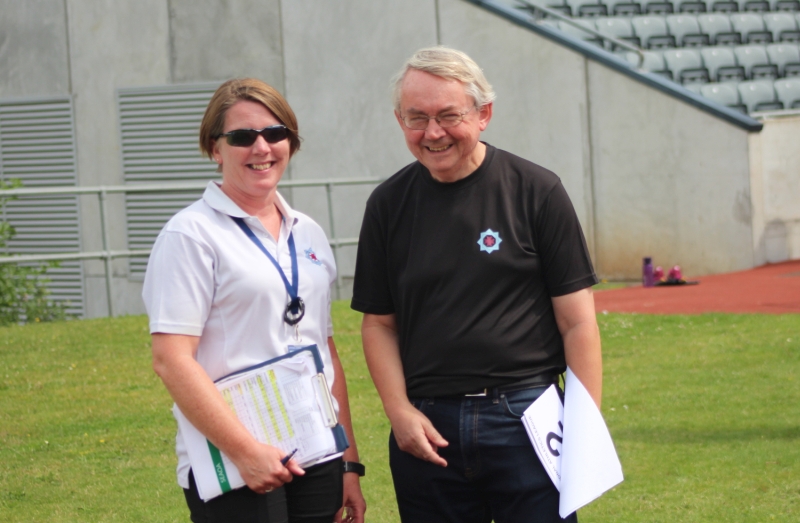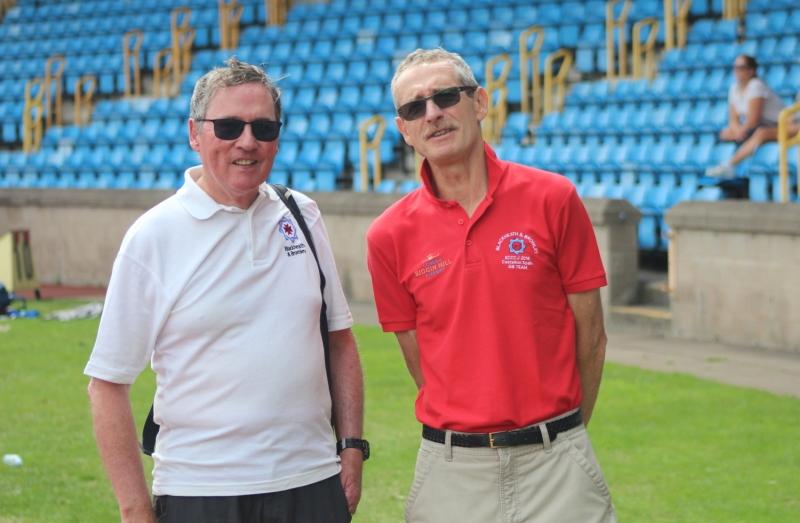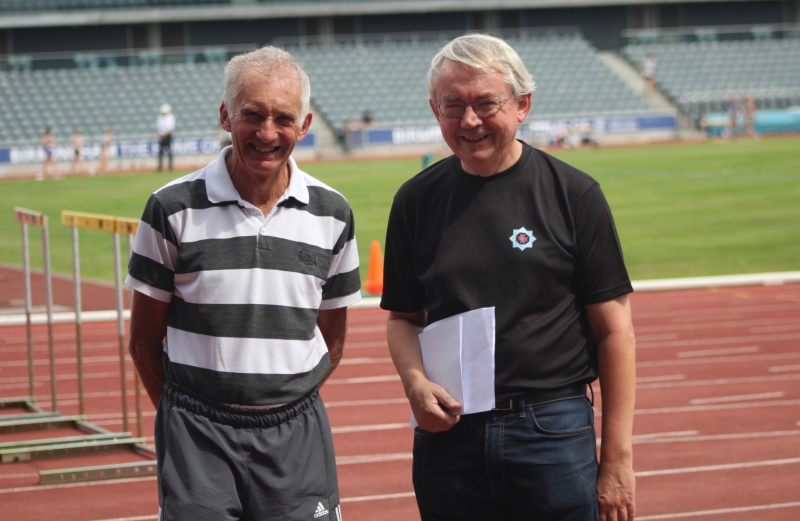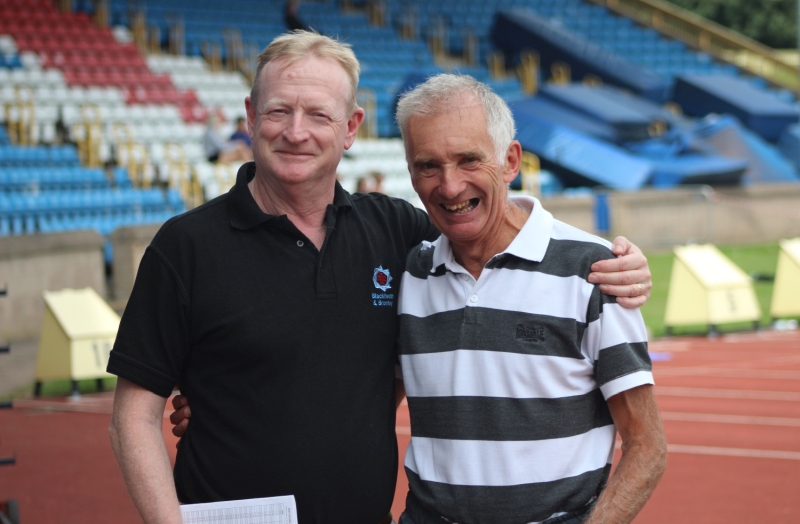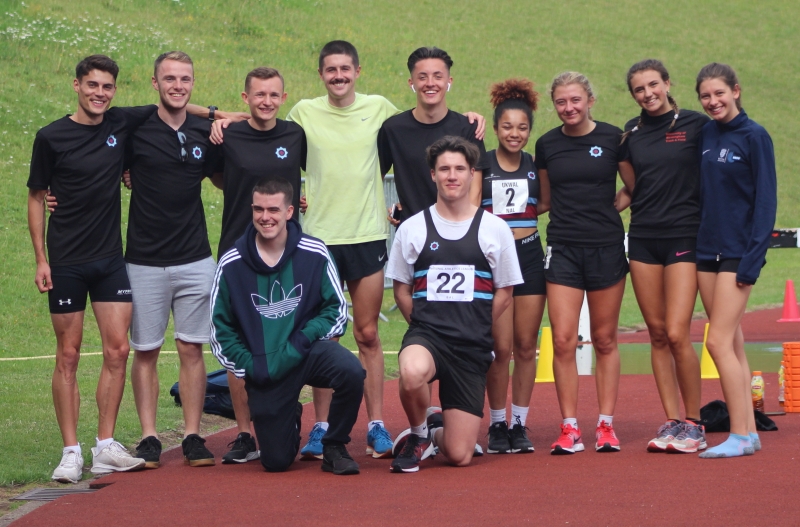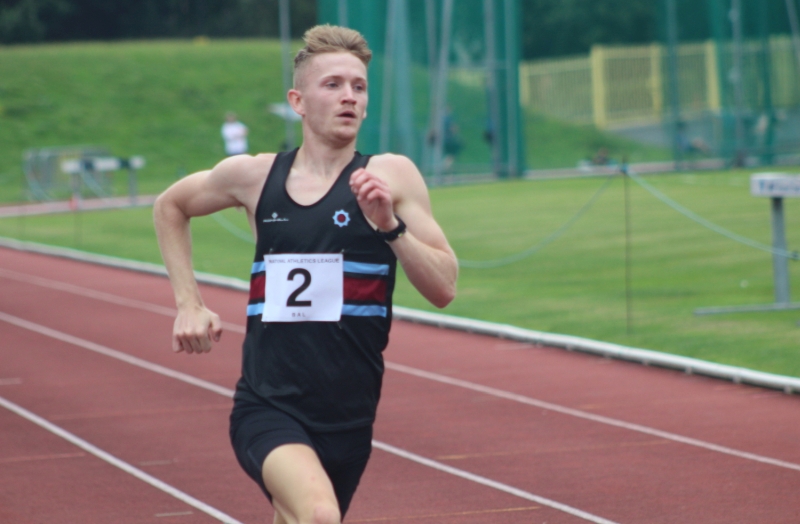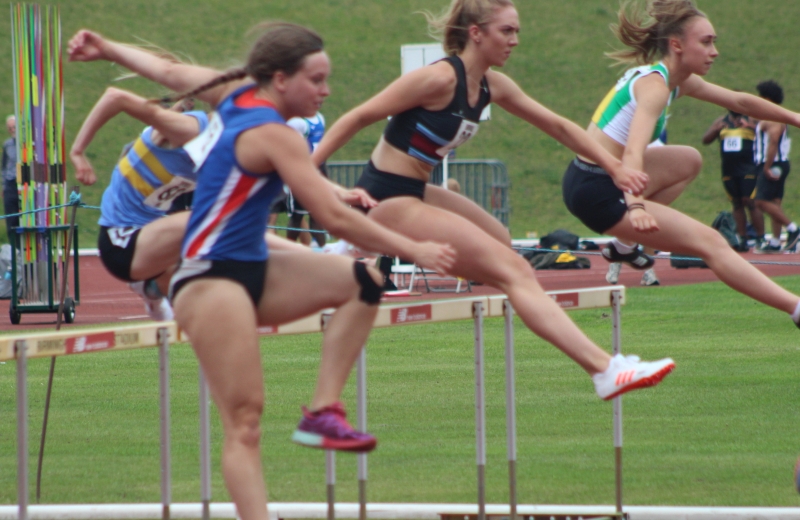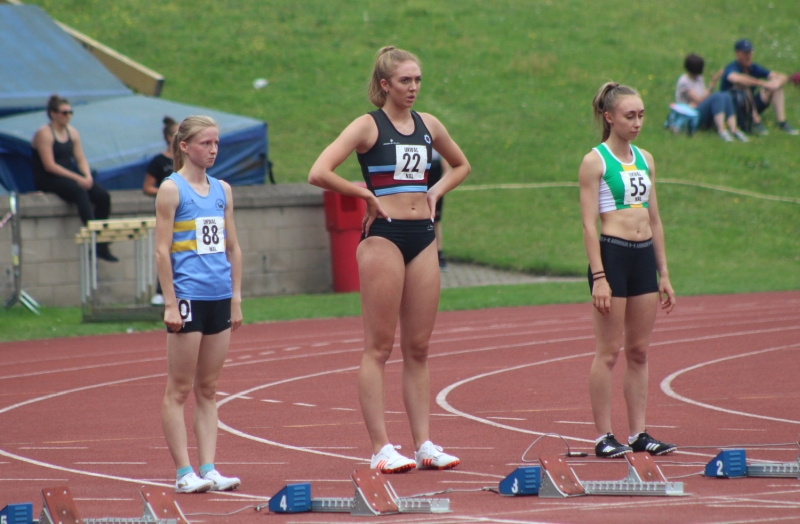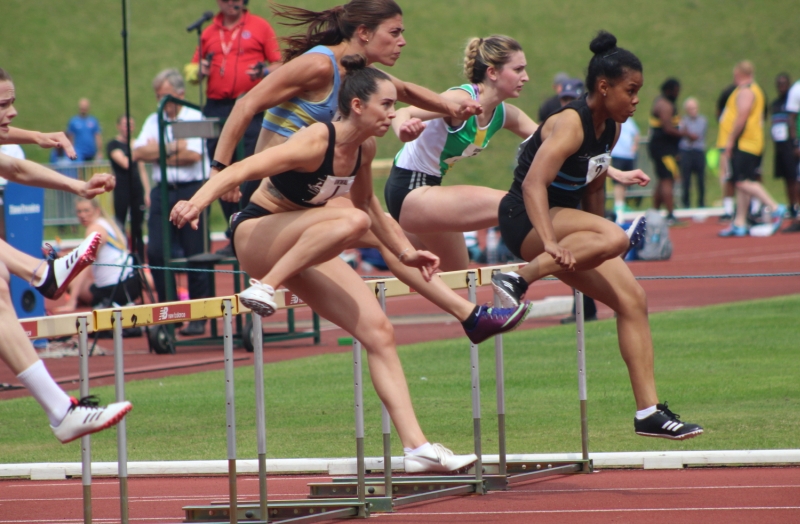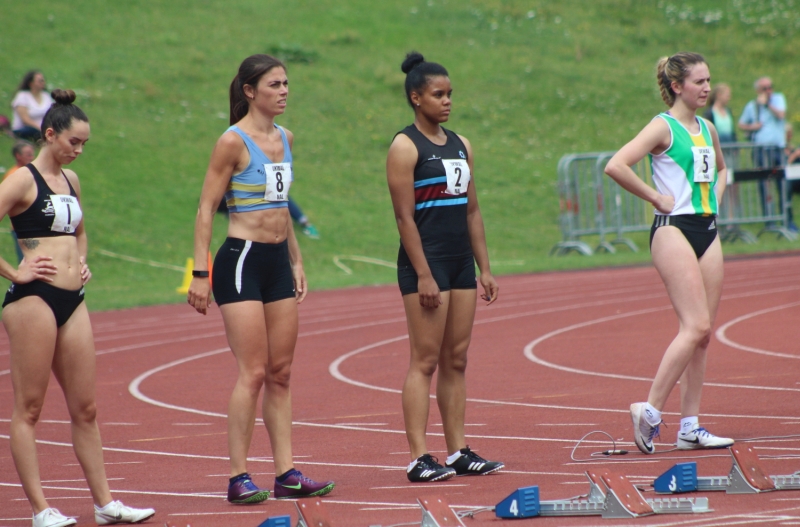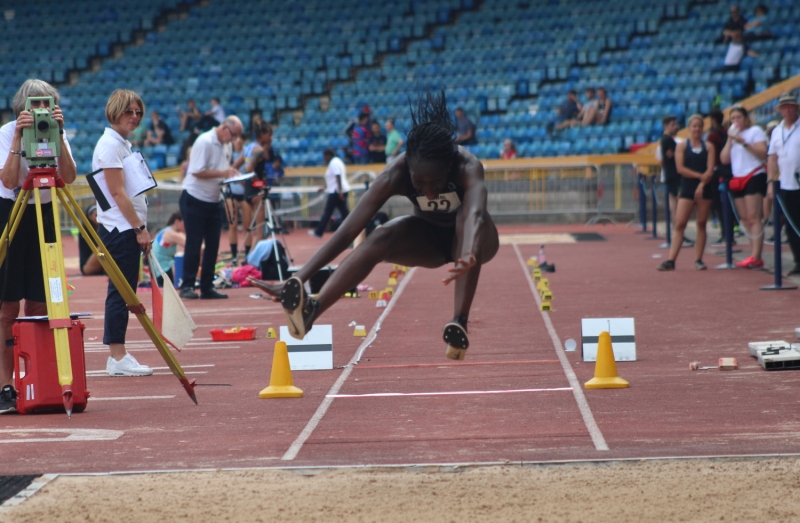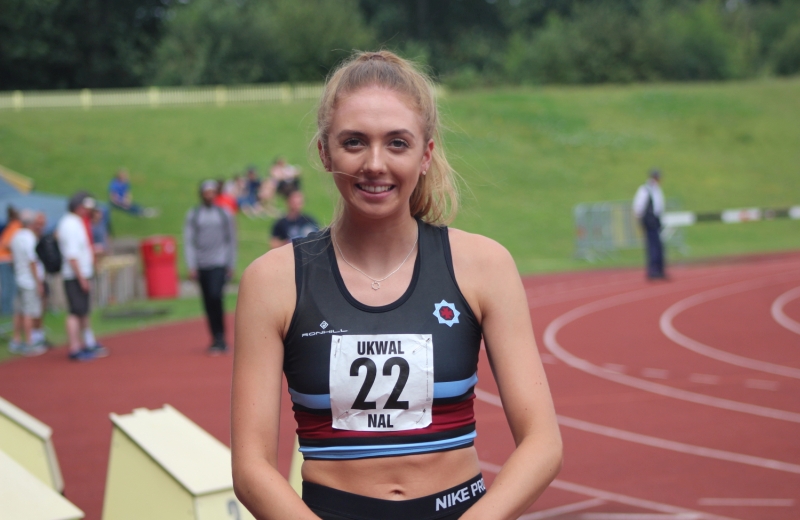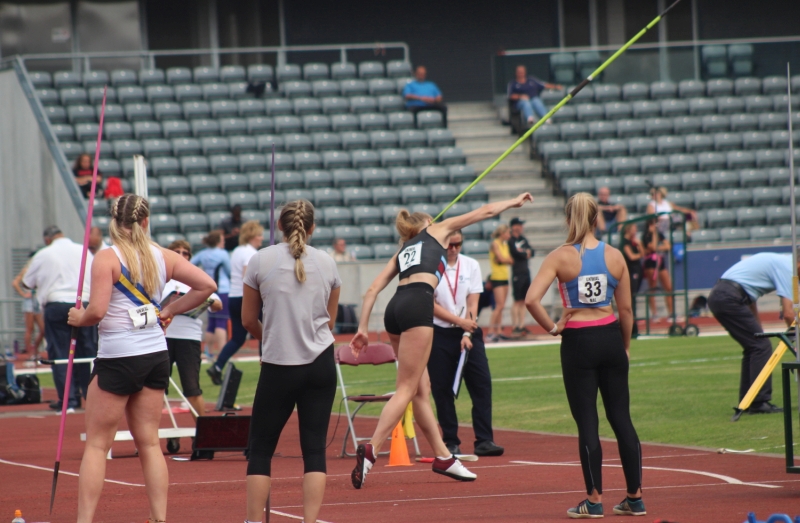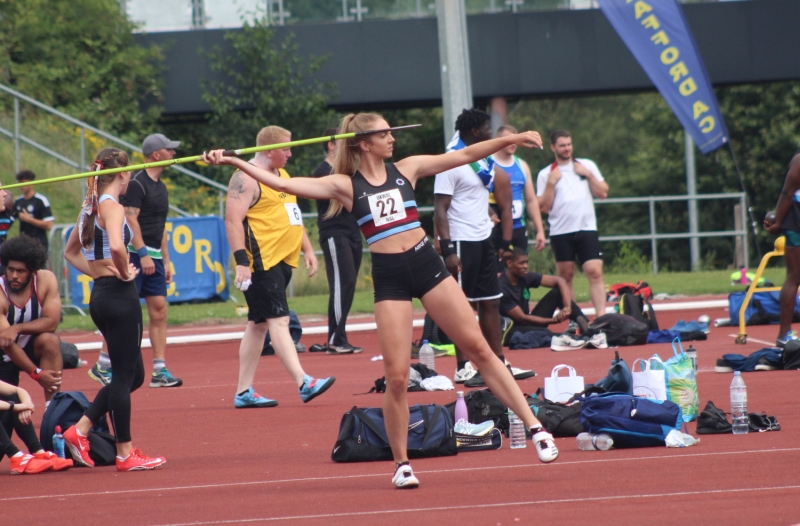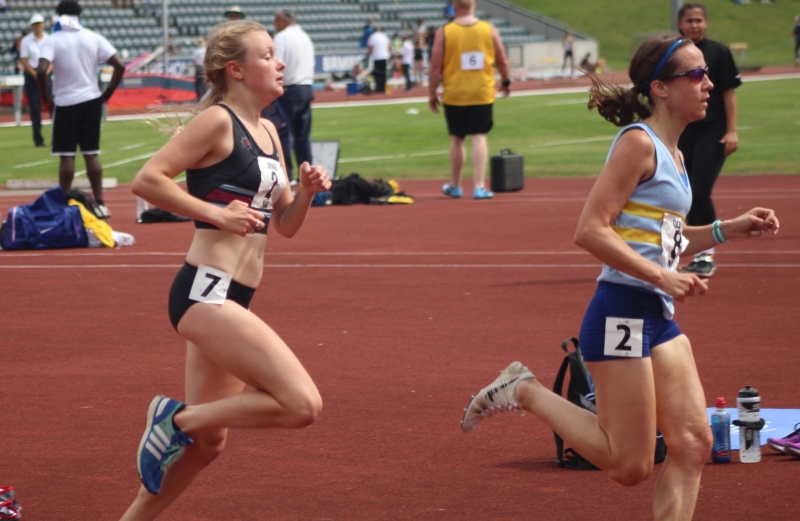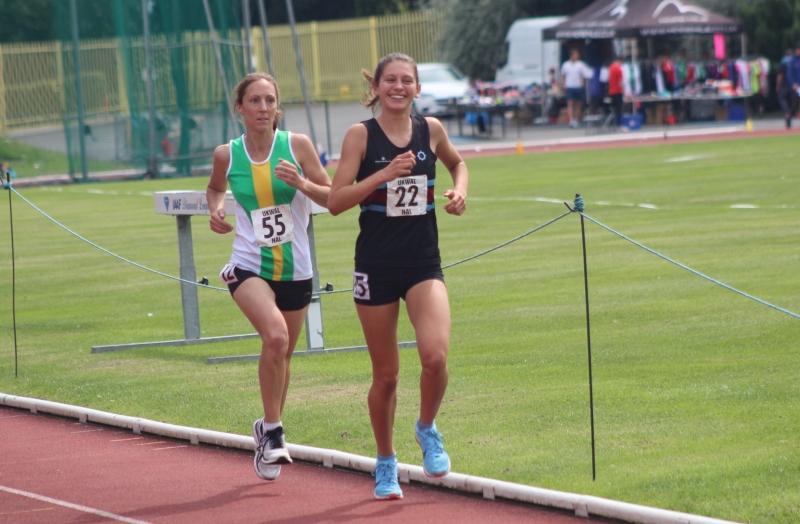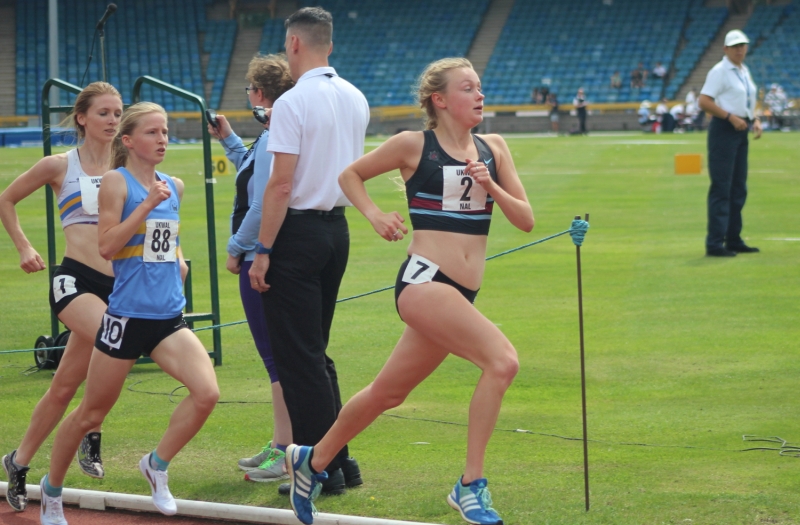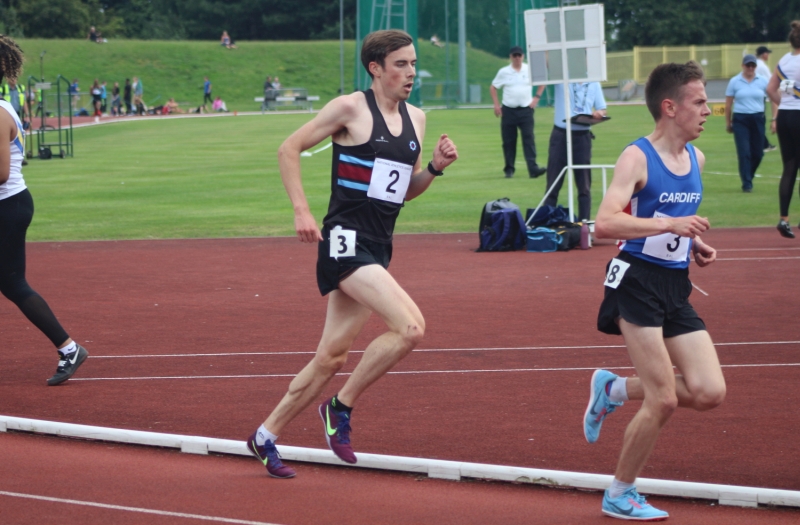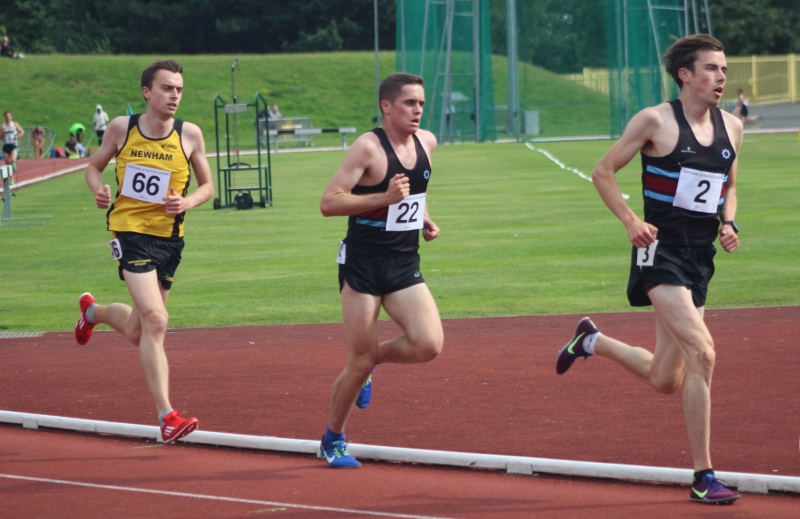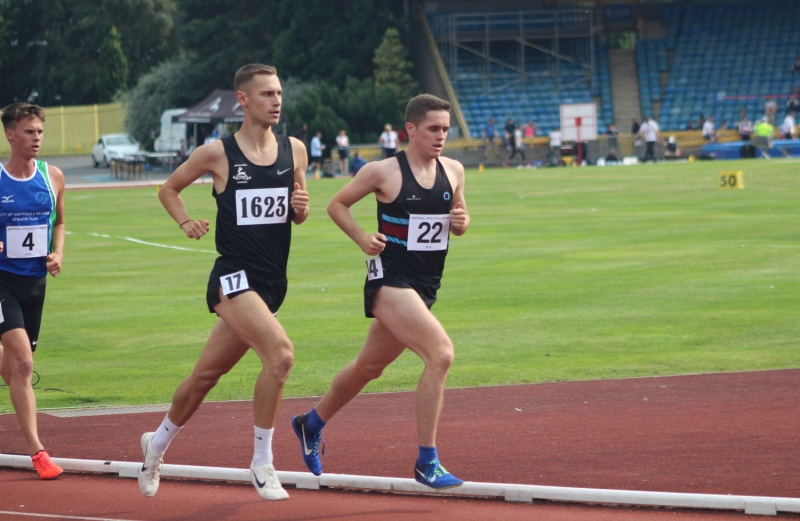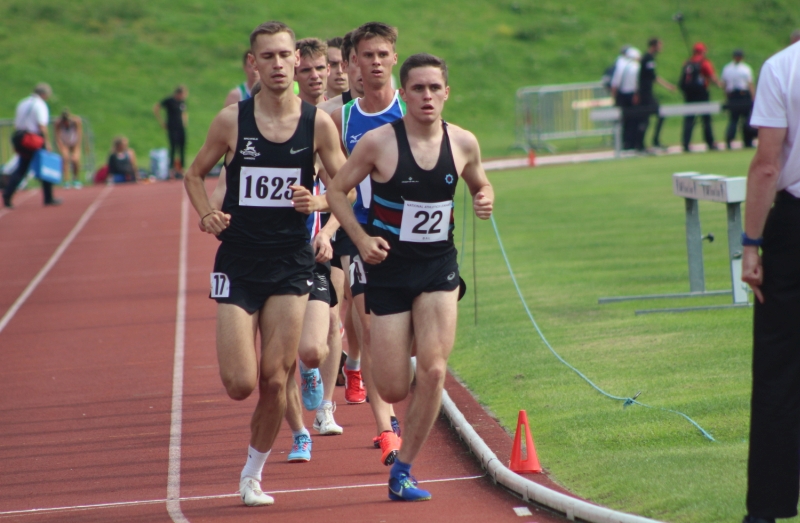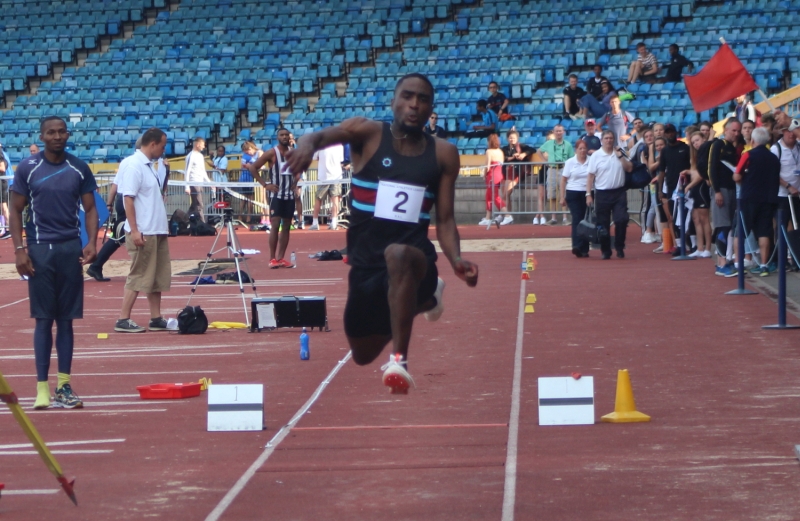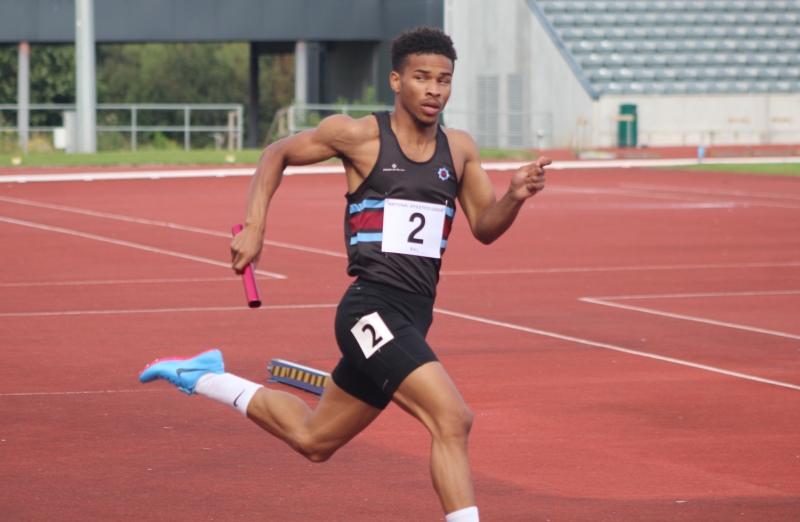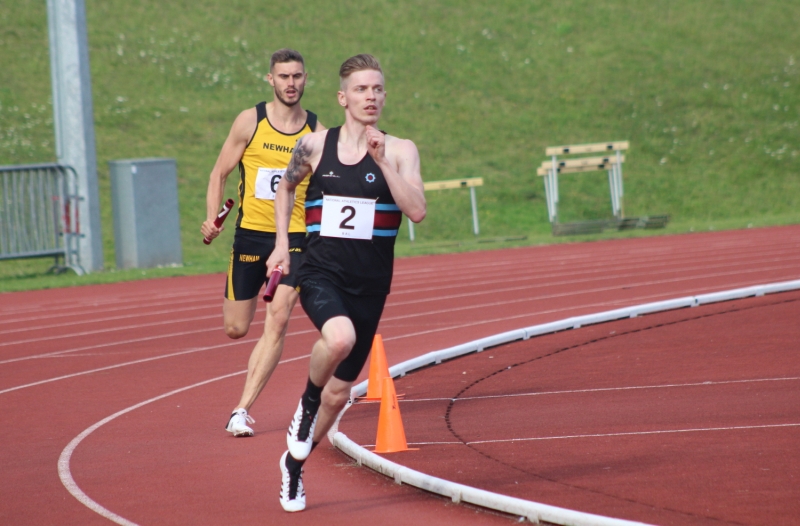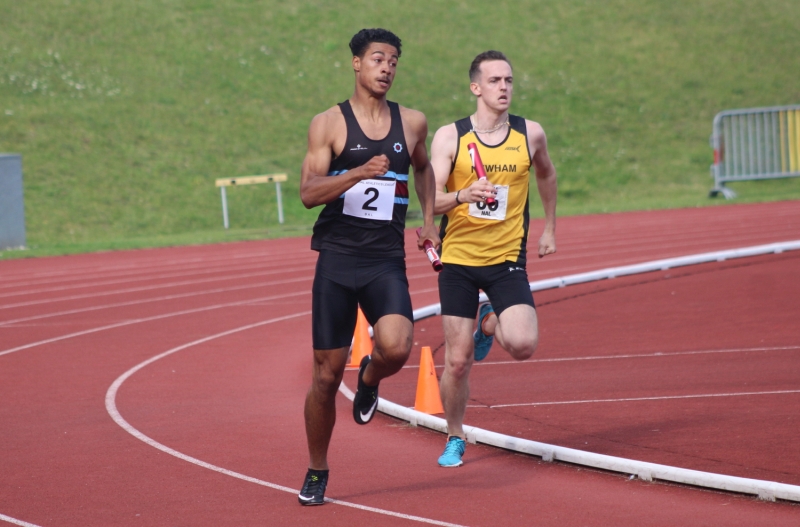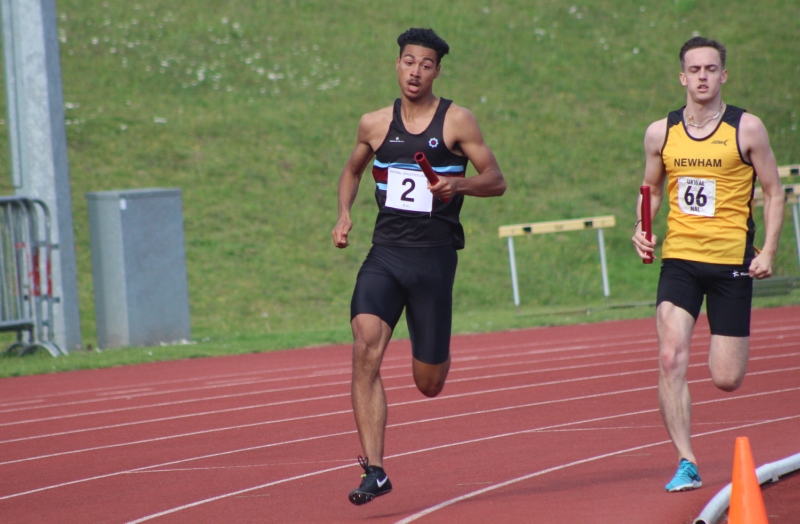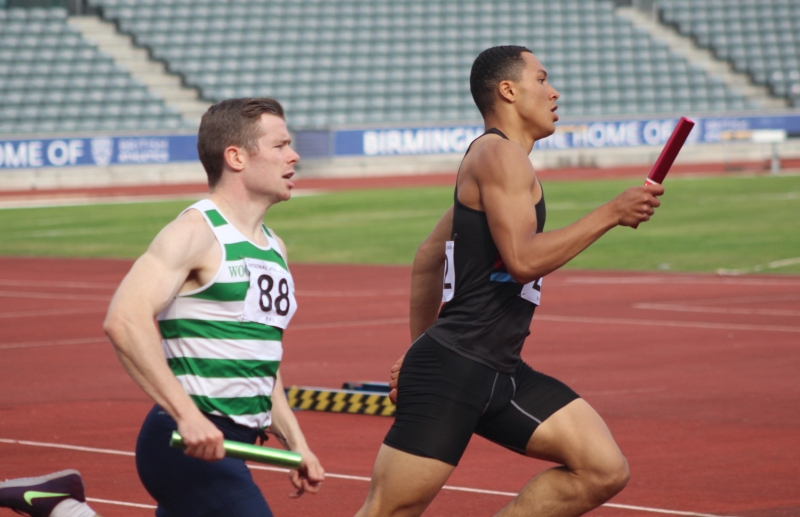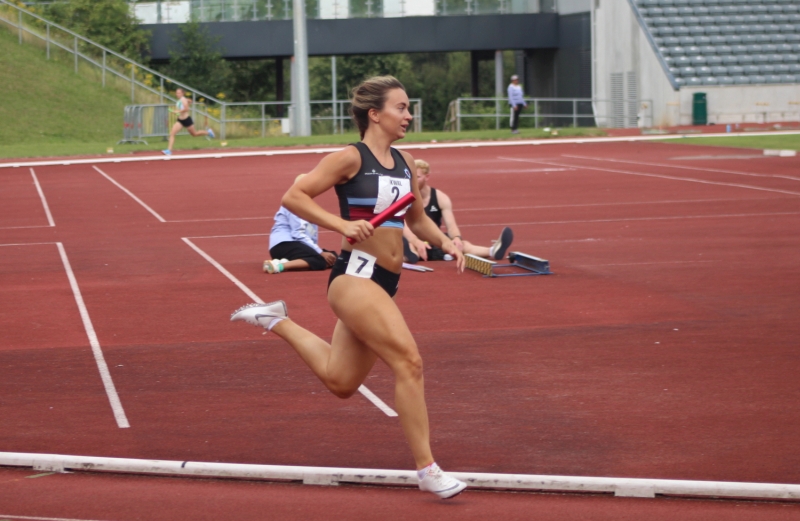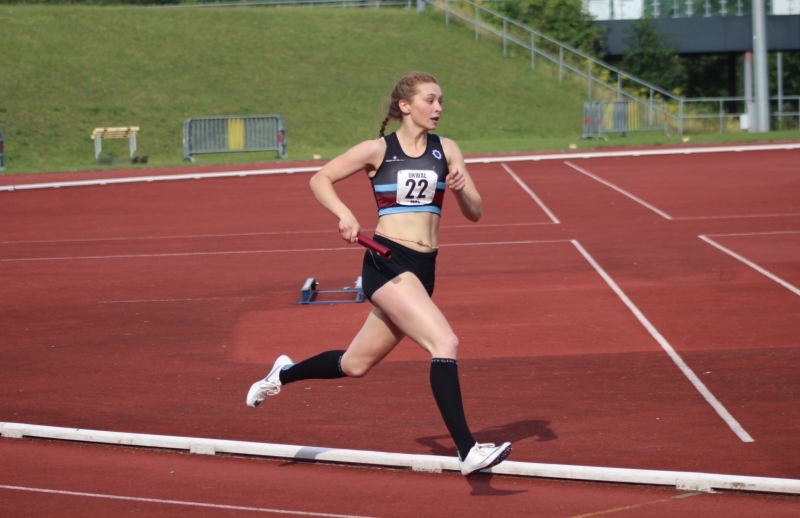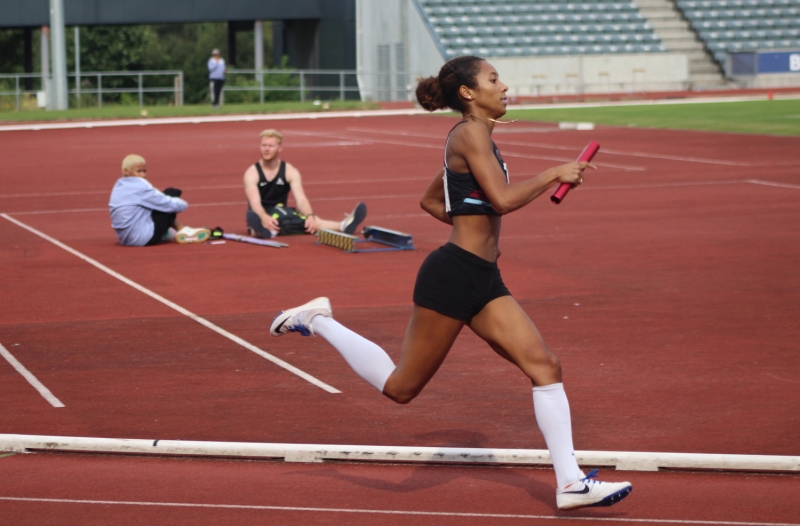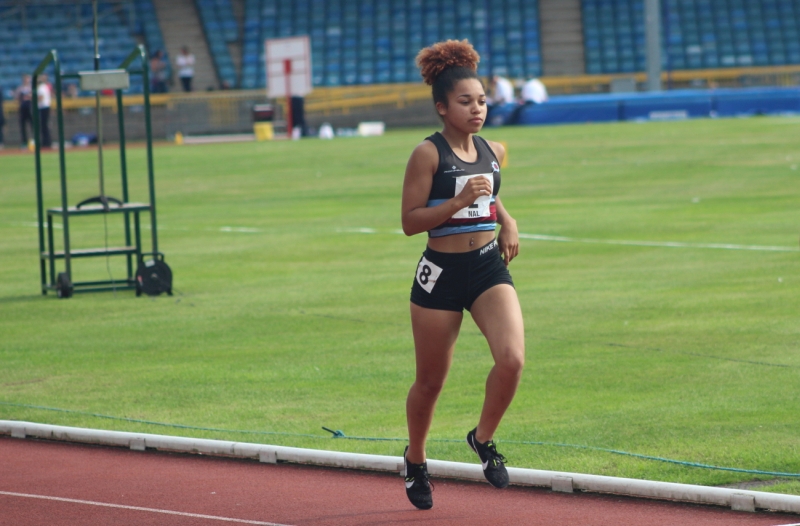 ---
6 July 2019 - British League - Sheffield
Three matches down and we prop up the Premier Division in the British Athletics League. Saturdays match followed a similar pattern to the previous two fixtures with lots of good performances and a few mishaps. We finished 7th on the day but are still a point behind Cardiff in the table. We had been hoping to beat the City Of Sheffield as well, but they took full advantage of being hosts by taking third place.
Perhaps the performance of the day was that of Angus Harrington in the 800. Still to break 1.50 for the event, he lined up against five who have, and showed them a clean pair of heels to win in 1.50.81.
The middle distance success didn't stop there as Will Fuller put the final touches to his preparations for the European Under 23 championships, where he is selected for the 5000, by kicking away from the field and clocking 3.53.24. Amazingly Will, at 22, was our oldest middle distance runner at Sheffield. Fellow under 23s James Habergham (800), Declan Neary (1500), and Charlie Davis and Josh Schofield in the 5000 all had useful runs. Charlie's 15.00.86 means he has now run a pb in each of the three matches this year. Our new Club Junior steeplechase record holder (9.20.01) Lewis Mills met up with some strong opposition, crossing swords with two sub 9 minute chasers. It was a cagey affair with neither of the favourites willing to take on the pace. He was 4th in 9.34.31 but it could have been a lot quicker. Sadly we could not field a B string despite contact being made with an esoteric group of individuals.
Ethan Brown, who has also broken a Club Junior record this recently, found himself lining up against Newhams Rabah Yousif, currently the fastest in the country, plus Birchfield's Sadam Koumi who has a best of 45.41, over a minute quicker than Ethan. It was a cracking race with Koumi winning in 46.47, from Yousif with Ethan third in 47.01. Given how close he finished to the top two there is every chance the Junior record will be revised again and the Senior record broken too.
Dan Putnam won the B string by over half a second in 47.26 to continue a great season. Surely a sub 47 second run will follow soon. Dan and the Club did not have such a good day in the short sprints, however, as he suffered a DQ in the 100 and the relay team dropped the baton. Despite decent runs from Korede Awe, Matthew Knight and Duayne Bovell we didn't pick up a lot of points.
It was swings and roundabouts as well in the 400 hurdles. Joe Fuggle claimed a very useful fourth place against some good opposition but in the B string Bailey Stickings tweaked a hamstring and bravely made it to finish nearly ten seconds down on his best. Thanks Bailey for getting round. There was disappointment too for Bailey's dad Nigel, who had been looking forward to the weekend until he found he was sharing a room with Ken Daniel.
Alex Nwenwu was promoted to the A string sprint hurdles and took a good 5th place, keeping control despite an athlete crashing out next to him. It was 5th also for Lewis Ely in the B string, another example of doing an event for a point and ending up with much more.
The day finished on the track with another strong performance in the 4x400 from Jordan Layne, Joe Rogers, Dan Putnam and Joe Fuggle. The time of 3.15.82 is the second quickest time since the Club record of 3.11.59 was set in 2010 so it was a bit disappointing to find we weren't going to receive any splits because there weren't sufficient timekeepers.
There were some more impressive performances in the field and again some disappointments. Jonathan Ilori was just outside 16 metres in the triple jump gaining second place with 15.94. It was a competition riddled with no jumps and sadly three of them were recorded by one of our most reliable team members Rob Sutherland. So nil points in the B string. Jonathan also took second in the B long jump with Ben Sutton 5th in the A string with 6.79. Most of the athletes seemed to be around 30 centimetres down on their bests so Ben will be over 7 metres any time.
Kelechi Aguocha is the best high jumper to come through the Club's younger ranks since the days of Trevor Llewelyn and Tim Foulger in the late 1970s. His best at the start of last season was 1.80 and at Sheffield he lined up against seven athletes who have jumped higher than 2.10. Yet he finished equal second with 2.05. With another year in the under 20 age group, Trevor's 41 year old Club record is under threat. Ever dependable Lewis Ely took fourth in the B string with 1.85 and was close to 1.90.
Youngest member of the team was 14 year old Barnaby Corry in the pole vault. He went over 3.80 which was down on his recent best of 4.20 but it was the same with the other athletes. Five have gone over five metres this year, but the competition was won in 4.80. So thanks to Barnaby and his mum and driver Emma for being there and making an important contribution to the team. It was just a shame we couldn't field a B string on this occasion.
There are a maximum of 112 points available in the four throws and if all strings are filled a minimum of 20 can be scored. At Swansea we scored 22 points, at Allianz, it was down to 21, but in Sheffield we achieved a seasons best of 24! We have been having a tough time of it but we will improve and one of those who will help us do that is discus thrower Dele Aladese. Only a first year senior he has the potential to throw a lot further, having already added over three and a half metres to his best this season. He is also a good team man and helped out in the shot and hammer as did Angus Harrington in the javelin. A big big thanks to Duayne Bovell for his efforts over the weekend. The oldest man in the team competed in six scoring events including all four throws.
It seems only yesterday that he made his debut as an under 17 in 2002 and was running in the relay with our President Julian Golding. Julian was in attendance supporting the team and catching up with lots of old friends and acquaintances.
Finally thanks to officials Keith Field, Dave Cordell and Steve Hollingdale; to Nigel Stickings and Ken Daniel for their help with the management; to Chris Ely for coaching help with Kelechi; and to the supporters. We were, however, one man light as Chris Haines had been planning to join us from Leicester but was taken ill. Get well soon Chris!
So, one match to go on the 3rd of August in Birmingham where our women will also be in action in the UK Womens League. It is going to be difficult to make our target of a top six place finish but not impossible. Remember in 2016 when Basingstoke were bottom of our division but rallied in the final match to save themselves from relegation.
The strange thing about this season is that there may not be any promotion or relegation anyway as, if approved at the AGMs, the British League and UK Womens Leagues will merge to form a joint scoring League in 2020. All the more reason to be available for not just the last match of the season but possibly the last ever Premier Division match of the British Athletics League. See you there!
Pat Calnan

---
9 June 2019 - British League - Allianz
Having been given seventh place on Sunday after the second British Athletics League match, we received notification the following day that there had been an error. We had actually come eighth. Half the British League season has gone now and at the bottom of the table we have 3 points, Sheffield 4 and Cardiff 5. There is everything to play for.
We all knew it was going to be tough in the top division but this is where should be aiming to compete. Eight members of the team set personal bests. Well done Joe Rogers (800), Charlie Davis (3000), Bailey Stickings (400 hurdles), Tom Desborough (3000 steeplechase), Barnaby Corry (pole vault), Charlie Short (hammer), Dele Aladese (shot) and Richard Morris (400 hurdles). In addition, Kelechi Aguocha equalled his best of 2.10 in the high jump and there were thirteen seasons bests plus our fastest 4x400 for a long while, 3.13.61. This is why the League is important.
We had a stronger squad than at Swansea but ended up with less points. In the first match we were the second best track team. Yesterday we were the eighth, despite many good performances. Best event was the 400 hurdles where Bailey Stickings (52.31) and Joe Fuggle (54.06) picked up third places in the A and B strings. Dan Putnam ran another good 400 with 47.46 from lane one and Jordan Layne's 49.37 was a seasons best. Dan (47.0), Joe (48.5) and Jordan (48.2) then teamed up with Joe Rogers (50.0) for the 4x400. They were over two seconds quicker than at Swansea but two places lower.
Again in the middle distance, in addition to the three pbs mentioned above, Declan Neary and Josh Schofield (1500), Alex Bruce Littlewood (3000) and Alex Gibbins (3000 chase) all set seasons bests.
We had a tough time in the sprints but Dan Putnam, Duayne Bovell, and Matthew Knight did fine. It was good to have Reece Young back in the team in the sprint hurdles. Despite running into a -1.3 headwind, his 14.68 was his third quickest time ever. Alex Nwenwu had one of those days in the B string with a DQ and we were a DNF in the 4x100. These things happen. They will bounce back.
We were the seventh best field events team with a big improvement on match one. The triple jumpers had been speaking to each other and they all arrived at Allianz to provide a top class competition. Jonathan Ilori jumped 16.00 and yet this was only good enough for third, just five centimetres off the winning leap. Eight jumpers were over 15.40 so Rob Sutherland didn't make the cut, I think for the first time. Jonathan also set a seasons best in the long jump for fourth with young Ben Sutton picking up a good third in the B string.
Nil points at Swansea in the pole vault, it was a different story here. Scott Huggins set a seasons best of 4.92 for third in the A string. Barnaby Corry is only 14 but looked perfectly at ease on his British League debut as he set a personal best of 4.10 for another third place. Our highest placed A string of the day was Kelechi with his second place in the high jump. He equalled his 2.10 best and it surely won't be long before he goes higher. Lewis Ely returned to competition and, despite going off a short run up, he cleared 1.85. It was good to see his dad Chris there after illness.
We were stronger in every string of the throws but the opposition must have been on a yogurt rich diet because we were mullered. There is a scoring system which is used to compare performances across the events. The top eight performances of the day all came in the throws. But our guys did fine. Charlie Short set a new best of 37.29 in the hammer and was sixth in the A string. If he had thrown a further 17.59 he would have taken fifth spot! It was Alex Pope's first competition after injury and, despite his best efforts to get the contest abandoned by destroying the cage, he had to settle for three no throws. It was great to have him back in the team though as he was there also for the shot, discus and javelin. We may not be as strong in the throws but all these points are important. You only have to look at the League table to see why. It was also good to have Dele Aladese back in action after his exams. He was close to his best in the discus, and he made his debut with the senior shot. Richard Morris set an electric timing pb in the non scoring 400 hurdles and then chipped in with a seasons best in the javelin.
Thanks to all the supporters who came along and to our officials Dave Cordell, Ann Brown, Keith Field, Sam Purser and Mark Purser.
So we can still achieve our target of a top six place this season. To do so we need more of our top guys available and for everyone to carry on performing to their best on the day as those at Allianz did. Let's do it! Well done all. The next match is at Sheffield on the 6th of July.
Pat Calnan
Photos from Andy Hodge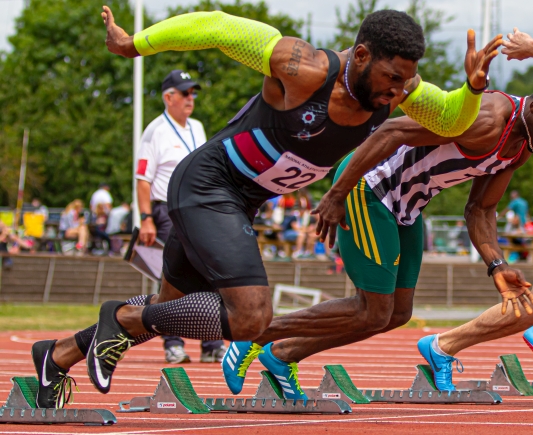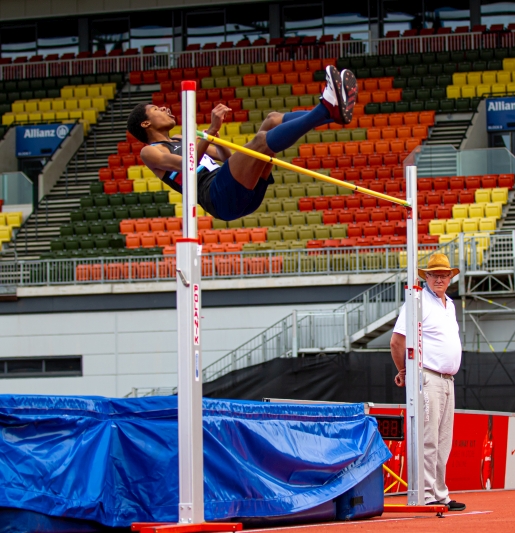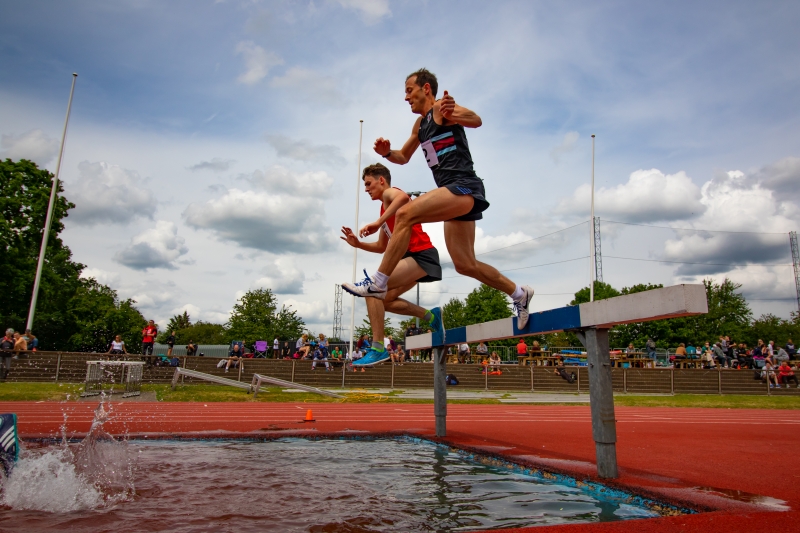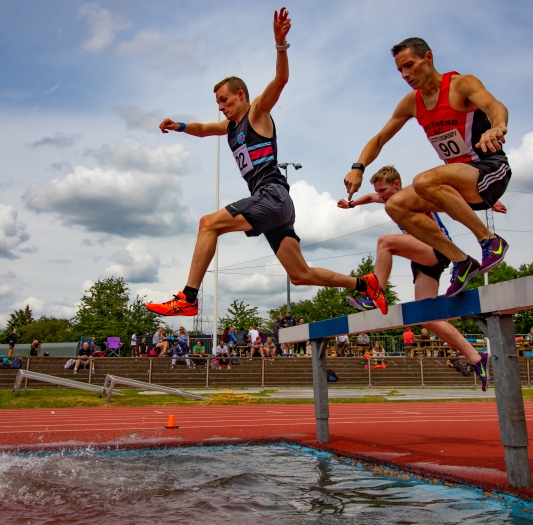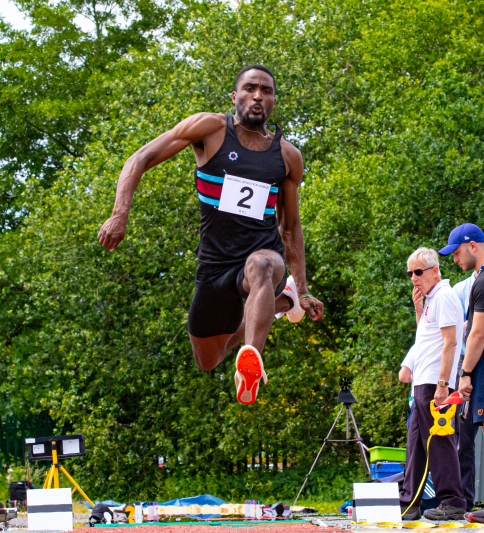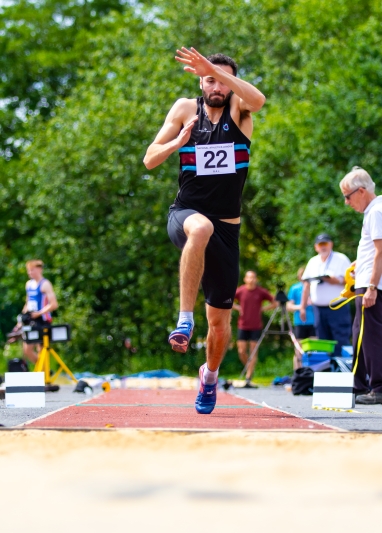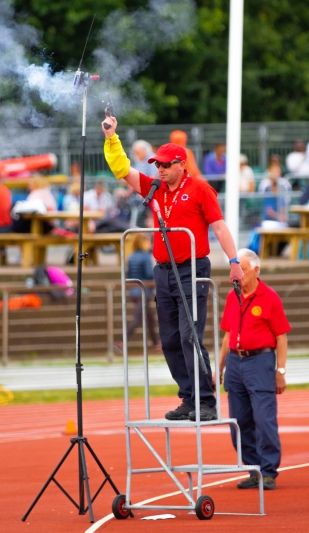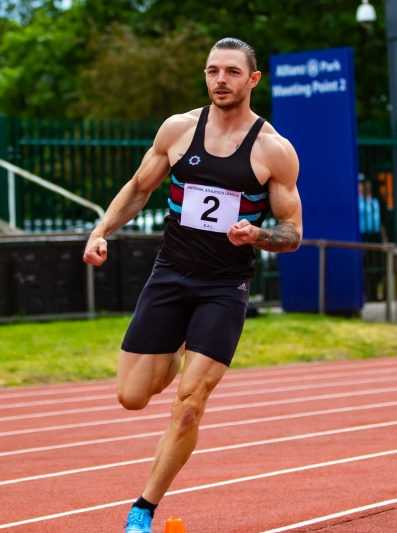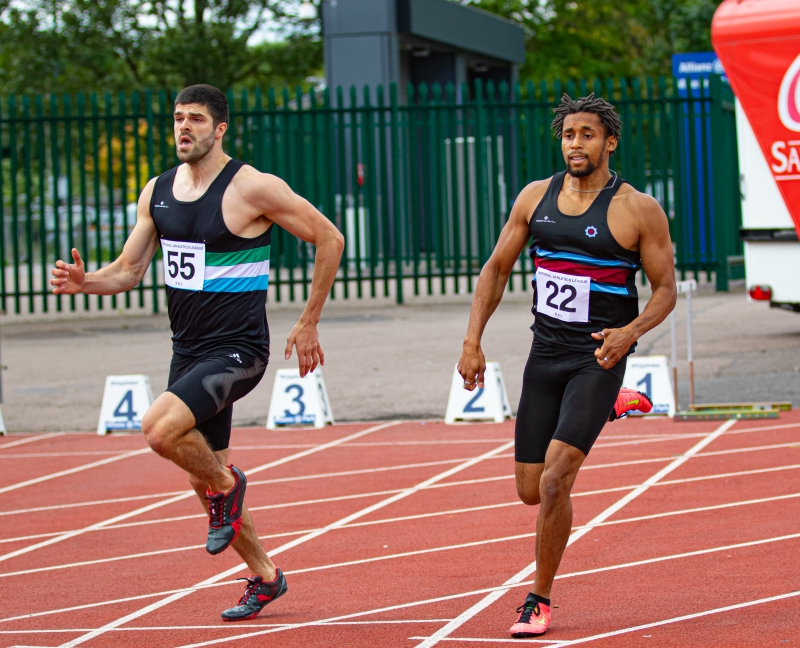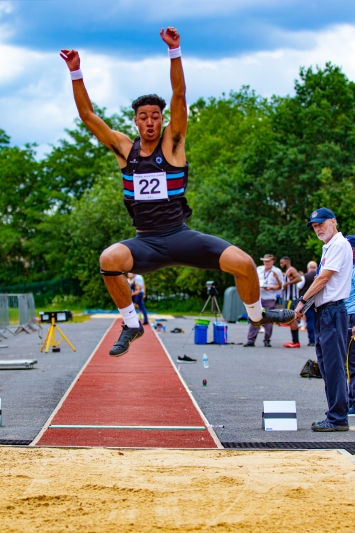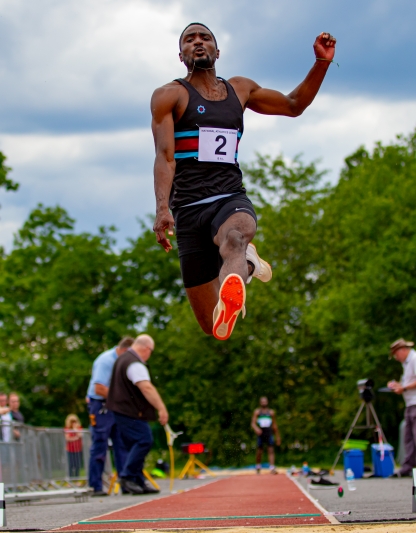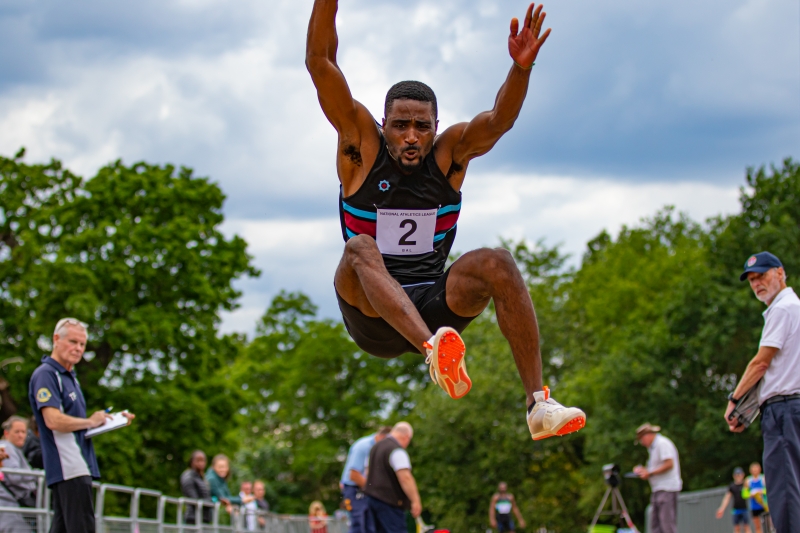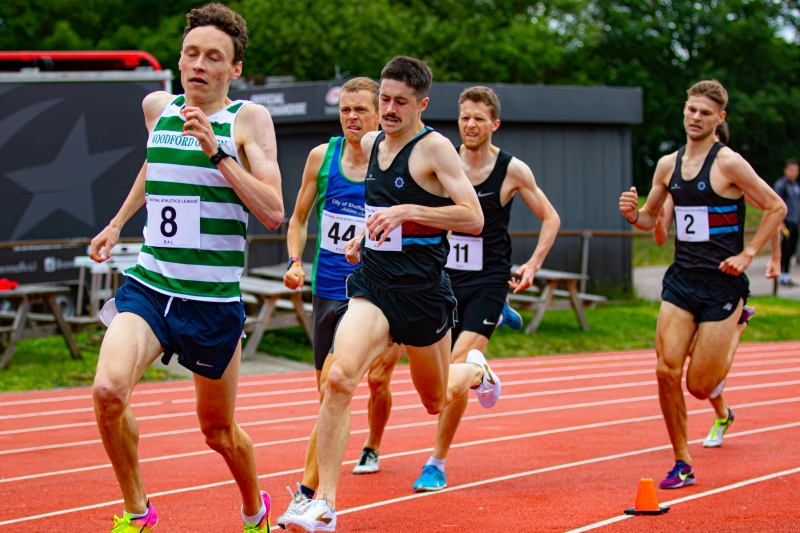 ---
12 May 2019 - British League - Swansea
I suppose all the disappointment occurred before the first British League match of season with a long list of people unavailable for all sorts of reasons. Looking at the teamsheet it seemed we would finish last.
But we didn't. Although we had a small team, it contained a lot of talented athletes who were prepared to do a little bit extra on the day to help out. Most other clubs were below strength too. After 13 events we were in eighth place but only 18 points off fourth place. We ended up 7th and were less than 30 points off 4th, that is not a lot. We were the second best team on the track but it was no surprise we were last in the field where we scored 48.5 out of a possible 224.
So who were our Lucas Mouras?* We won three A strings on the track. First of these was Lewis Mills who had been expecting to be dragged round to a fast time in the steeplechase. Only nine athletes toed the line and he led from start to finish setting a personal best of 9.28.70.
Second win of the day came from another under 20, Ethan Brown who ran a perfectly paced 400 to cross the line in 47.20. Dan Putnam made it maximum points in the B string with an excellent 47.31.
Both joined Duayne Bovell and Matthew Knight to secure victory in the 4x100 in 41.91, before, with Jordan Layne replacing Duayne, they took runner up spot in 4x400 with our fastest time for a while, 3.16.40. This included a 46.8 split from Dan.
Phil Sesemann raced a 5km on the road the night before in Ipswich but still travelled across country to compete. He was rewarded with second place in the 1500 with James Habergham third in the B string. Like Phil, James had raced the day before, setting a new best of 3.55 for 1500 at the Yorkshire championships before travelling down to South Wales where he also did the 800 and shot.
Youngest member of the team was Ben Gardiner who made his League debut in the 800. He ran a blinder in the B race battling down the home straight to secure third place and take over a second off his personal best with 1.54.80.
One of the best races of the day was the 3000 metres where Ross Braden missed out in a last lap burn up finishing 5th in a very useful 8.28.55. Charlie Davis set a best of 8.38.78 in the B string.
Matthew Knight's 21.90 in the 200 was another personal best and Richard Morris 55.78 for the 400H was a best with electric timing.
Richard is one of our HCAs who was happy to help out once his main event was out of the way. He did the hammer, discus, javelin, high jump and 110 hurdles. He was one of a number who went the extra mile for the team.
Tom Desborough only came into the team at short notice having just started running again after a ten week injury lay off. He came third in the steeplechase and fourth in the 400 hurdles as well as throwing the discus.
Alex Nwenwu is not fit yet but still made the trip and threw the javelin after his 110 hurdles. Then there was Ross Braden and Jordan Layne in the long jump, and Duayne Bovell (shot and hammer).
We did have two "proper" field eventers though. Kelechi Aguocha, our find of the season last year, took fourth in the high jump with a clearance of 2 metres before scoring some important points in the triple.
Rob Sutherland, spent much of the weekend doing his University studies, and despite one or two niggling issues gained sixth in a useful triple jump contest.
Each club is now required to supply officials at the British League so it was great to have John and Margaret Baldwin, Dave Cordell, Kieve Brown, Keith Field and Denis Lawrie helping out plus Chris Haines, Ken Daniel and Nick Brooks supporting and helping out.
Conditions could not have been better, bright sunshine, not a cloud in the sky and a gentle breeze. Oh and the refreshments were good, with the mini Cornish pasties a bargain at 30p each.
Time will tell as to the significance of the match result. In terms of team positions at the end of the season it may prove to have been a missed opportunity, but maybe not. We have plenty of firepower to help us improve, but so do the other clubs. We shall see.
For the moment though, those who competed should be congratulated for some fine performances and nine personal bests. You can't ask for more than that. Well done!
Next match, Sunday 9th June, Allianz Stadium, (Barnet Copthall for older people).
* = superheroes!