Points scored during 2018 season - with thanks to Nick Brooks
2018 BAL
Name

1

2

3

4

Total

1

Alex Pope

26

35

26

22

109

2

Phil Sesemann

16

24

32

16

88

3

Jonathon Ilori

0

16

16

26

58

4

Dan Putnam

28

28.5

0

0

56.5

5

Will Fuller

0

16

12

28

56

6

Luc Durant

14

14

12

12

52

7

Kieron Daly

0

32

0

16.5

48.5

8=

Scott Huggins

16

16

0

12

44

8=

Kelechi Aguocha

6

0

16

22

44

10

Jordan Layne

13.5

9

7.5

7.5

37.5

11=

Lewis Ely

0

11

10

11

32

11=

Joss Barber

0

14

10

8

32

13

Joe Rogers

0

9

6.5

15

30.5

14

Angus Harrington

14

0

16

0

30

15

Tom French

16

0

12

0

28

16

Lewis Mills

6

12

-

8

26

17

Duayne Bovell

4

4.5

10.5

6.5

25.5

18

James Habergham

0

14

0

11

25

19

Joe Fuggle

0

0

8.5

14.5

23

20=

Alex Nwenwu

0

10

12.5

0

22.5

20=

Camron Lyttle

0

3.5

8.5

10.5

22.5

22=

Kieran Murphy

8

0

8

6

22

22=

Louis Mascarenhas

0

0

0

22

22

24=

Dan Kennedy

12

0

8

0

20

24=

Rob Sutherland

10

0

10

0

20

26=

Alex Botterill

19.5

0

0

0

19.5

26=

Ethan Brown

19.5

0

0

0

19.5

28

Jacob Brown

0

0

0

16.5

16.5

29

Toby Olubi

15

0

0

0

15

30=

Oliver Newport

0

0

14

0

14

30=

Ben Sutton

6

8

0

0

14

30=

James Lancaster

0

14

0

0

14

30=

Ethan Kitteridge

4

0

10

0

14

30=

Andrew Smith

0

0

14

0

14

30=

Adam Herring

3.5

3

5.5

2

14

30=

Ross Braden

4

0

0

10

14

37

Josh Schofield

0

12

0

0

12

38

Richard Morris

0

0

0

11

11

39

Richard Holt

10

0

0

0

10

40=

Charlie Davis

8

0

0

0

8

40=

Alex O'Callaghan Brown

0

0

8

0

8

40=

Richard Webb

0

0

8

0

8

40=

Reece Young

0

0

8

0

8

40=

Dele Aledese

0

0

8

0

8

45

Shamar Thomas Campbell

0

0

7.5

0

7.5

46

Will Ruiz

6

0

0

0

6

47=

Patrick Apantaku

4

0

0

0

4

47=

Kyle Reynolds-Warmington

4

0

0

0

4

47=

George Pope

0

0

4

0

4

50

Korede Awe

0

3.5

0

0

3.5

Total

293

309

329

314

1245

---
4 August 2018 - British League - Liverpool
Pleased to report that the British League team have been promoted back to the Premier Division. They were second in the final match and finished second in Division One. Congratulations!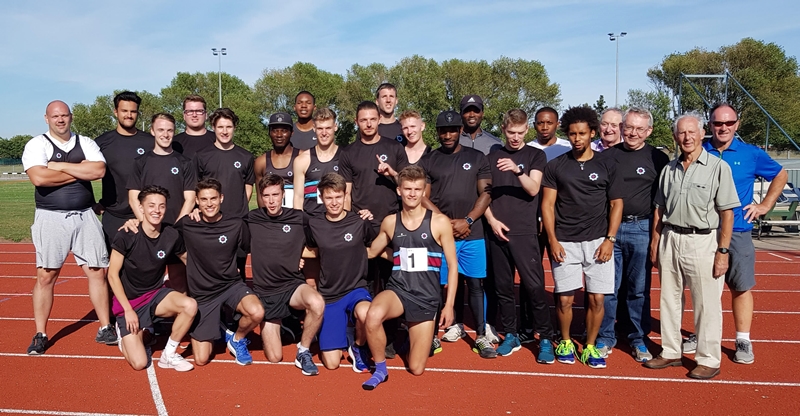 WE DID IT. Our Club, my Club, your Club, have been promoted to the Premier Division of the British Athletics League. This will be the first time we have been in the top division of the mens National League since 2001, an Athletic generation ago. How fitting that we will be there as we celebrate our 150 years of existence as the League celebrates its 50th, more so because we were one of the six clubs who contested the first League title in our Centenary Year in 1969.
Going into the fourth match at Liverpool, we had put ourselves in a strong chance of promotion as we were four League points ahead of third placed Southampton, but we still had to finish the job. A tight match between a number of clubs and a strong Southampton could have caused some problems. It WAS a tight match with just 12 points separating the top four teams but the South coast challenge did not materialise. We nicked second place just two points clear of joint third placers Sale and the City Of Liverpool; and were only nine points behind this years champions Harrow.
It was another great team effort with some top class individuals performing at the sharp end and everyone prepared to muck in and fill the gaps.
We didnít have just one England champion in the team. Jonathan Ilori has again made a big contribution this year and a week after claiming his National crown he was winning the triple jump for us. Not only that, he also did the long jump. Our other champion Jacob Brown took second place in the 800 metres after winning the Emsley Carr Mile the previous weekend.
Our middle distance racked up a stack of points with Phil Sesemann and Will Fuller winning both strings of the 1500 and Will taking to the track just 25 minutes later to win the A string 5000 as Ross Braden picked up the runner up spot in the B string. James Habergham had earlier claimed third in the B 800 and our two under 20 steeplechasers Lewis Mills and Joss Barber scored well, (and better than in the pre race mini golf the night before!)
High jumper Kelechi Aguocha has had an outstanding season. At the last match he shocked everyone by setting a pb of 2 metres and winning the competition. Surely he couldnít do it again? Yes he could! After slipping in warm up, Jacob Brown lent him some loose spikes, Will Fuller his spike spanner, and our rising star was ready for action. He won by 14 centimetres, improved his pb to 2.07 and had a good attempt at 2.10. His clearance is the equal 7th highest across all divisions of the League this year. Not bad for someone who started the season with a best of 1.80. (Oh and he also got 4th in the B triple). In the B string Lewis Ely had one of those days but still came third. He also picked up three more points in the 110 hurdles.
We welcomed back two athletes who won their events at the second match at Portsmouth. Kieran Daly picked up an injury there, and has barely raced since, but he answered the call and sneaked second place in the 100 behind a very swift 10.36 from Windsors winner Deji Tobias. Scott Huggins returned to the vault and in challenging condition claimed third place before hitting the road to attend a wedding reception in Scotland.
Also back in the team was Louis Mascarenhas with his first appearance of the season. He took third in the A discus and was second in the B shot. ďAĒ string Luc Durant, who was third, has not missed a League match since he joined the Club two years ago. Kieran Murphy was disappointed not to pick up a couple more places in the Hammer but he was there and has made a great contribution to the team over the last couple of years.
And then there was the Pope, Alex that is, a legend not only amongst his team mates but to other clubs managers as well. Omnipresent in the field and at the buffet in the restaurant the night before, he did long jump, pole vault, discus, javelin and hammer. He is not only our top points scorer of the season but also our number one of all time. I wonder if anyone from another club has scored more than him.
Back on the track and in the 400 hurdles we scored our best points of the season. A blustery wind meant times werenít quick but Joe Fuggle clocked a useful 53.44 for third in the A string and another debutant Richard Morris was fourth in the B despite clipping a hurdle. He quickly got into the spirit of things by running the 110 hurdles. Good man.
Camron Lyttle, still a junior, has made a massive contribution to the team over the last couple of years and he took third in the B string 100 and then joined Kieran, Duayne Bovell and Joe Rogers to gain fourth in the 4x100. Joe had earlier finished runner up in the B 400 with Jordan Layne 7th in the A and with Joe Fuggle and Jacob Brown they were fourth in the 4x400.
We missed Duayne Bovell last year but it has been just like old times. He was under 11 in the non scoring 100 and then put himself forward to run his first 200 of the season. B string 200 runner Adam Herring came for the 4x400 but, struggling with a cold, he withdrew having picked up two points, and we only secured second place in the match by two points. James Habergham picked up three in the B javelin. Looking to improve the pb he set at Portsmouth, he started with two no throws, and thinking of the team, launched a safety effort of 2.97. At least he would get one point, but no, one club had no B string and another athlete in the same situation as James messed up his safe throw. One point became three.
The match may have been in Liverpool but there were Chris Haines, who competed in the first ever BAL match, Nick Brooks, Ken Daniel, Dave Huggins, and Mike Davies (officiating) to provide support and advice.
So there we have it, no prima donnas here, just a bunch of great athletes who recognise that personal and Club achievement go hand in hand, and some truly passionate Athletics supporters. We have all enjoyed the season and have been lucky to compete against some great clubs and their athletes. We wish them well.
After steady progression in the last few years, we achieved what we have because athletes, coaches, management, supporters and Club raised the bar to show we are one of the top 10 senior male track and field clubs in the country. Having secured promotion the challenge is now to raise that bar further to become one of the top six teams in the country. Can we do it? To refer back to Kelechi, our youngest member of the team at Liverpool, YES WE CAN!
We have some outstanding athletes and people in our Club. Our Under 20 mens team represent the UK in the European Champions Club Cup next month along with our womens team who have been there for 12 of the last 13 years. Next year, for the first time ever, both our men and women will be in the Premier Divisions of the British Athletics League and the UK Womens League.
The seeds of this years success in the British Athletics League were sown on the train back from the final match of the 2017 season in Manchester. As the train left Liverpool Lime Street on Saturday the journey to the 2019 season began. All aboard!
Myself and John Wakeman would like to thank everyone for their support this year.
Pat Calnan

---
7 July 2018 - British League - Bedford
After three matches in the British Athletics League, the Division One table makes good reading
1. Harrow 23 (1057)
2. Blackheath & Bromley 22 (931)
3. Southampton 18 (906)
4. City Of Liverpool 12 (819)
5. Sale Harriers 11 (801)
6. Kingston AC & Polytechnic Harriers 9 (720)
7. Windsor Slough Eton & Hounslow 9 (676)
8. Herne Hill Harriers 4 (548)
We have put ourselves in a very strong position to get promoted. We just need to finish the job in Liverpool on the 4th of August.
The final result of the third match at Bedford was
1. Blackheath & Bromley 329
2. Harrow 322
3. Southampton 318
4. Sale Harriers 308
5. City Of Liverpool 257
6. Kingston and Polytechnic 239
7. Herne Hill Harriers 192
8. Windsor Slough Eton & Hounslow 180
This was a great team result with some outstanding individual performances and some heroic efforts throughout the squad. Jonathan Ilori continues to strive to get the qualifying distance for the European Championships. He won the triple jump with 16.13 which is the furthest jump by anyone in any division of the League this year. It is the furthest a Club member has ever jumped in the League. Rob Sutherland, who has now competed in 10 of the last 11 matches, picked up 2nd in the B string.
Our other field event win was a little unexpected. Kelechi Aguocha started the season with a best of 1.80. He has been making huge progress improving to 1.85, 1.90 and then up to 1.95. He was up against eight athletes who had bests of two metres or more, six of them over 2.05. He only went and beat the lot. He was the only athlete to clear 2 metres first time and all went out at 2.05. Judging by his 2 metre clearance another pb is not far away. To add to the celebrations Lewis Ely set a seasons best of 1.95 to finish second in the B string.
Phil Sesemann completed a double double. He won the 3000 and 1500 at this fixture for the second year running. He has made a massive contribution this year not just in the points he has scored himself but in those he has allowed our B strings to collect. Will Fuller made it maximum points in the B 3000, making a special effort to fit the race around a busy racing schedule, and Josh Barber, taking a break from the steeplechase, was runner up in the B 1500.
Andy Smith took 2nd in the 800 on his debut for the team and there was a sparkling run from Angus Harrington in the B string. I have never seen anyone run away from an 800 metre field in a British League match like he did. He won by over three seconds. That was 80 points out of 84 in those three events.
Our other big points scoring event was the long jump where Oliver Newport returned from University in the States to leap 7.33 for second place and Tom French, in his first competition after injury, jumped 7.24 to win the B string. The jumps success continued in the pole vault where our youngest pairing of the day George Pope and Ethan Kitteridge had to cope with their event starting an hour and a half late. Both did well in the heat and with George in the A string, Ethan took second in the B string to claim a massive 10 points for the team. Well done guys and coach John Wakeman.
The other Pope was also there doing what he does best, picking up point after point for the team. Alex competed in all four throws scoring another 26 points for the team. Not only this, he also acted as a chauffeur for our officials Karen Cosby and Mike Davies, at the age of 81, who gave up their whole day to support the meeting.
Accompanying Alex in the Hammer was Kieran Murphy, a hugely valuable member of the team. Angus Harrington, showed his versatility, by throwing 44.71 in the javelin, not far off his best in what were not ideal conditions. Luc Durant took a fine third place in the shot and hasnít missed a match since he joined us. The final field eventer was Dele Aladese in the discus. He is coming back from injury and this was the first time he has thrown the senior implement this season. In the last match we scored one point in the B string. This time Dele got eight and we won the match by seven points.
We were significantly stronger in the hurdles. In the first two matches we scored 5 points out of 56 in the 400 hurdles. Joe Fuggle returned to the team to compete in a tasty A string with times affected by the wind. Alex OíCallaghan Brown made his debut in the B string and gained a fine third place, a great performance as he was recovering from a chest infection and had been on antibiotics all week. We had our top pairing in the 110 hurdles with Reece Young gaining 5th in a strong field and Alex Nwenwu setting a seasons best of 15.28 in coming second in the B string.
We have scored a lot of points in the steeplechase this year but the standard on Saturday was the best of the season with two athletes under 9 minutes. Richard Webb, who took a tumble at a water jump, and Dan Kennedy, nevertheless, picked up some good points.
I referred to our strength in depth in sprints recently and we needed it on Saturday. With a few injuries we were a little stretched so it was reassuring to have the services of Camron Lyttle, Duayne Bovell and Shamar Thomas Campbell. All three plus Alex Nwenwu helped us to fourth in the 4x100, having picked up valuable points in their individual events.
Camron timed a useful 10.74 in the 100. Duayne was not supposed to run because of an abductor injury but risked making it worse by turning out. He pulled off a great third place in the B string and was under 11 seconds. Shamar ran a personal best in the 200 despite a troublesome groin niggle, and Adam Herring was there to run the B string before helping the 4x400 squad of himself Jordan Layne, Joe Rogers and Joe Fuggle to 4th place in the 4x400. Jordan has been troubled with injury recently and Joe Rogers had to visit the medical team after his individual race. The 400s were tough with everyone down on their bests.
Thanks to Jane Bradshaw for her healing hands and her transport service and thanks to all the supporters who came along - many parents, coaches, current athletes Will Ruiz and Tom Desborough, and Past President Chris Haines, who competed in the first ever British League match in 1969. Thanks also to those who sent good luck messages and those who chased for the latest scores and results. That support only helps everyone involved.
Next year the League will be celebrating 50 years of existence as our Club celebrates 150. It would be fitting if we could celebrate both by competing in the Premier Division. A good result in the last match, which wonít be easy, and we will be back in that top division for the first time since 2001. Letís do it!
Pat Calnan
Team Manager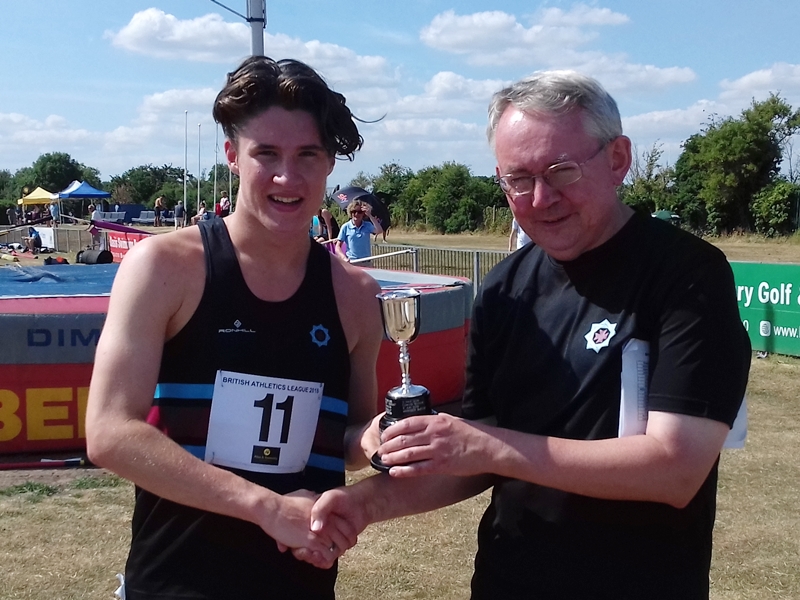 Joss Barber receiving the steeplechase challenge goblet from PP Pat Calnan at the BAL match at Bedford on 7 July 2018
Photo from Chris Haines
---
Photos from Rod Harrington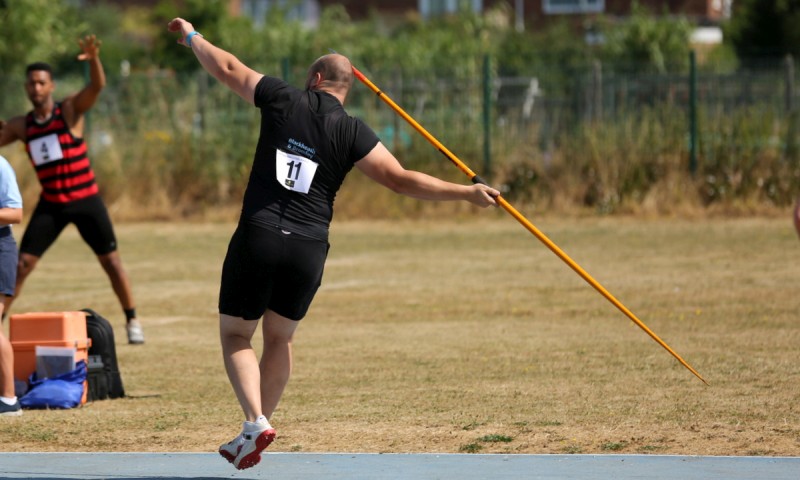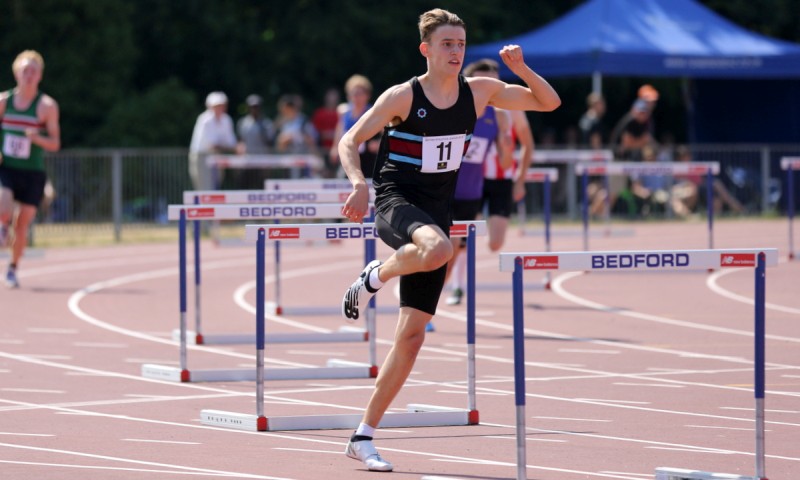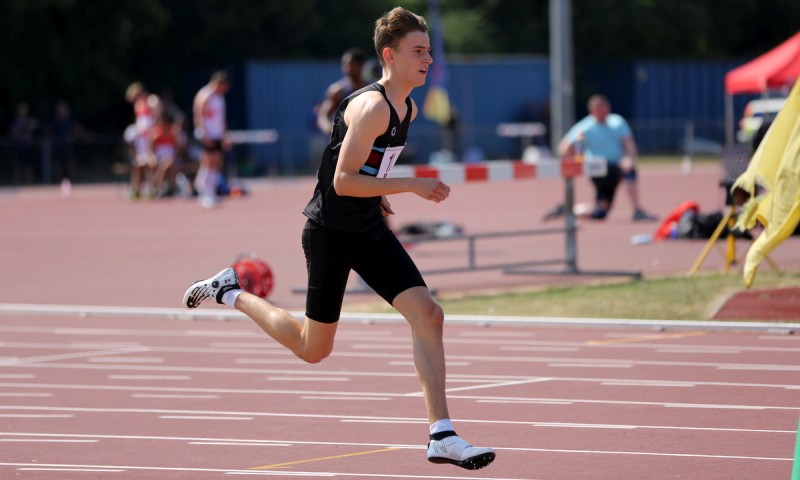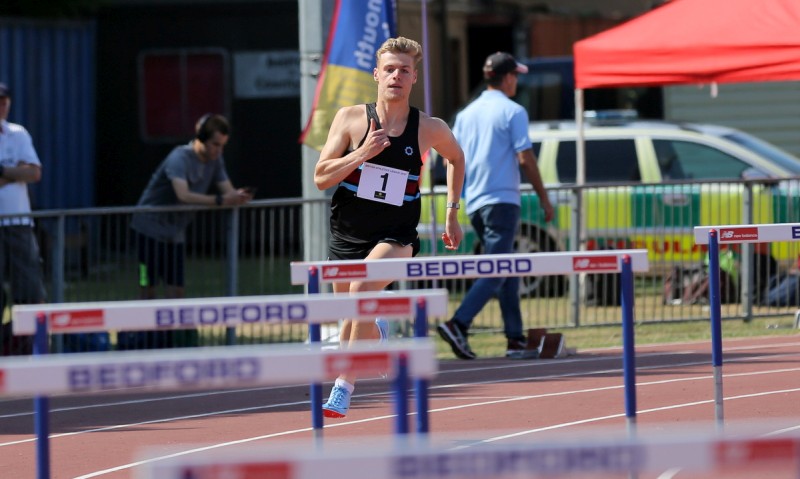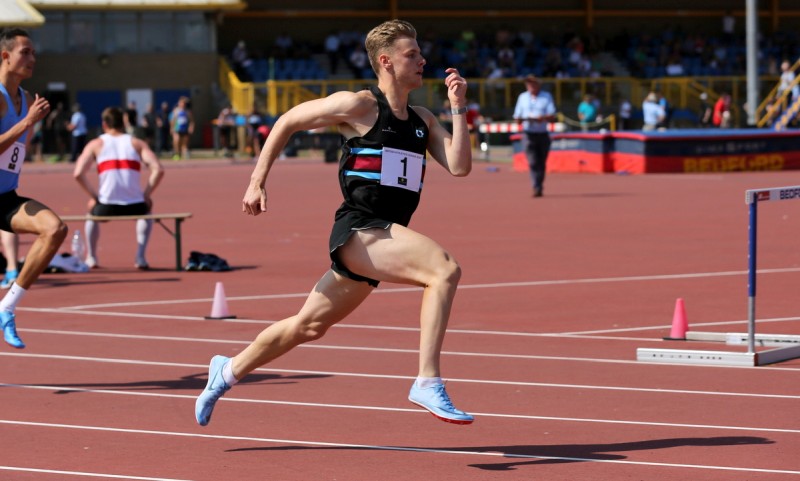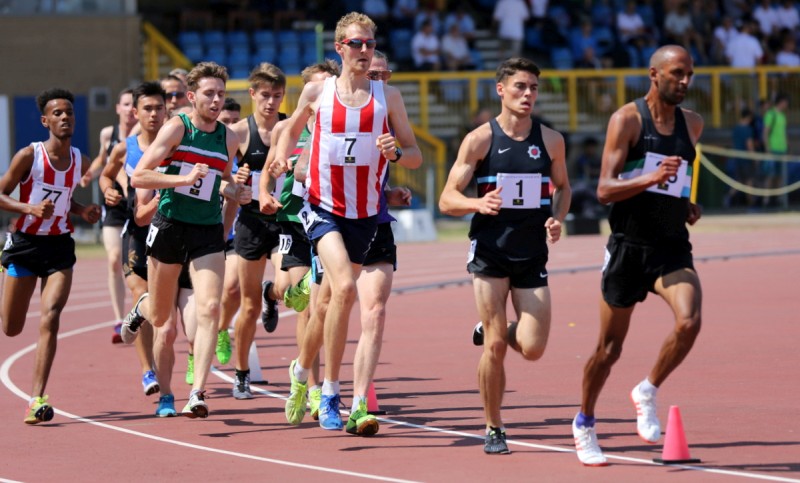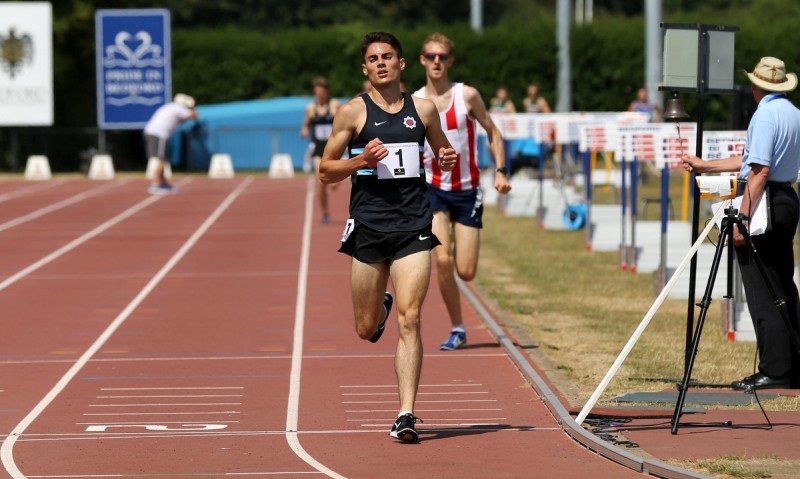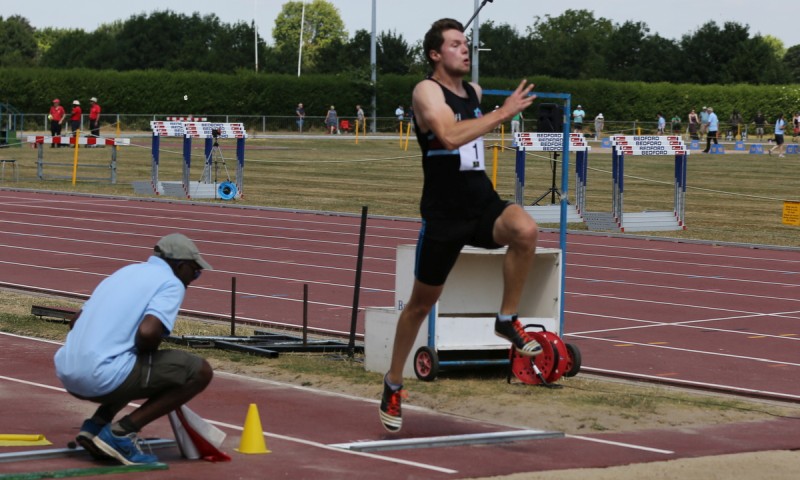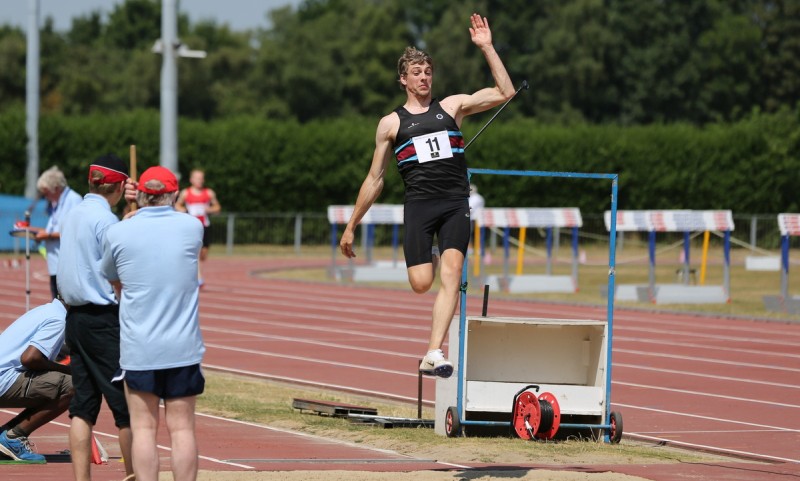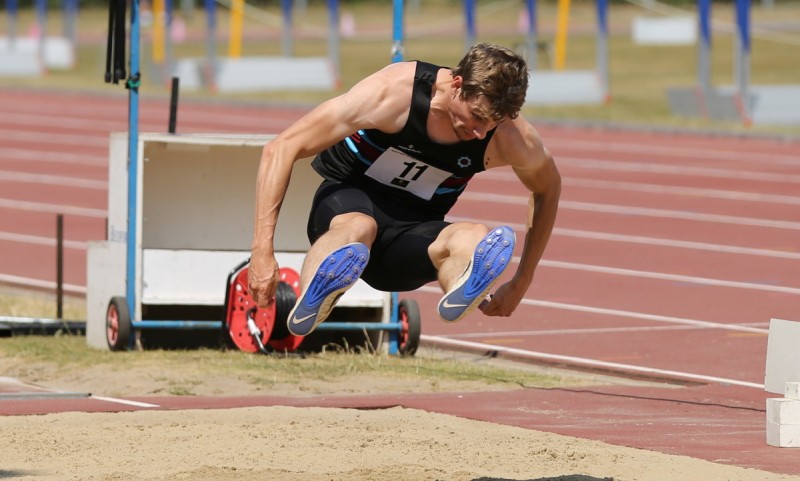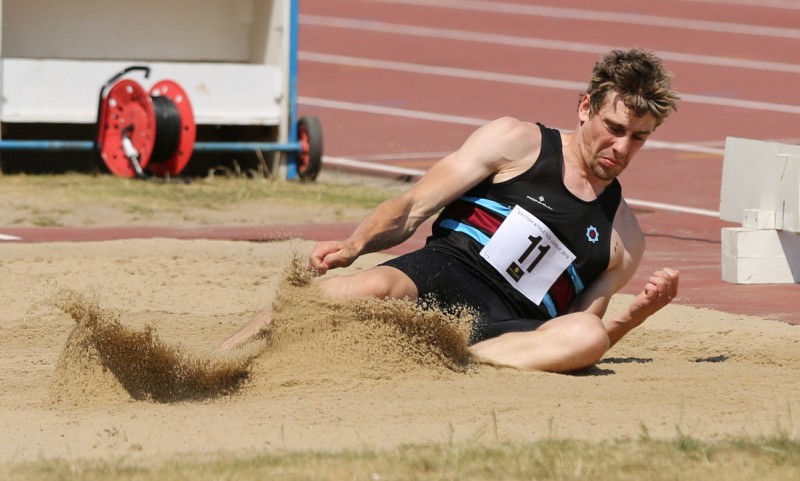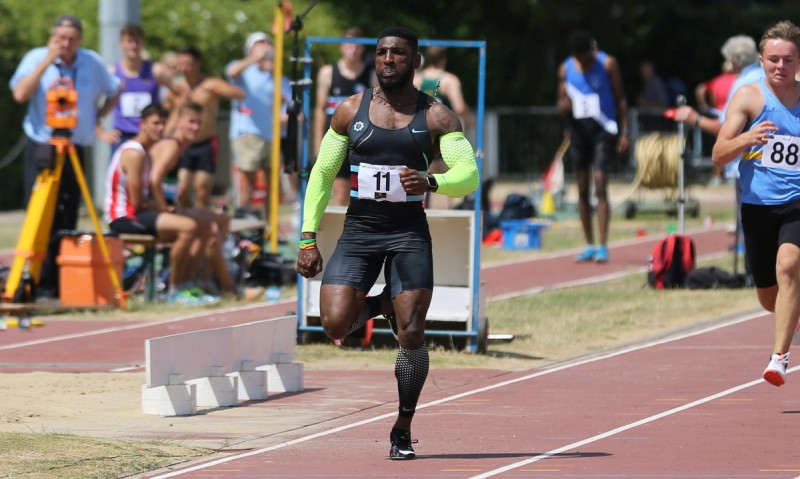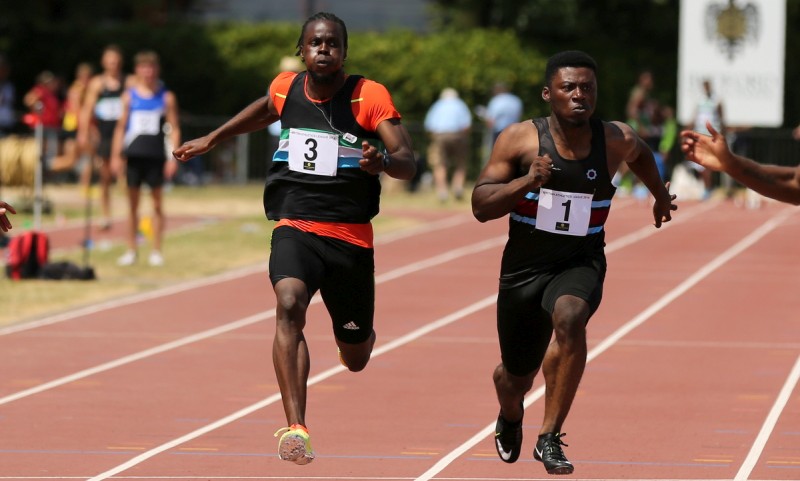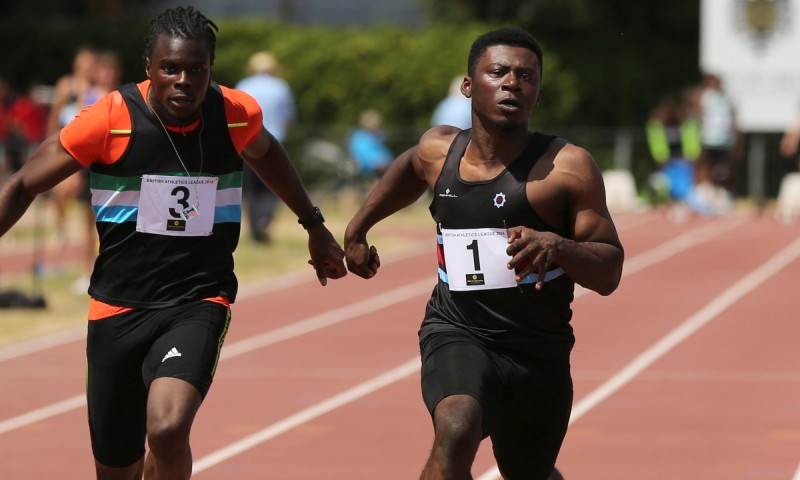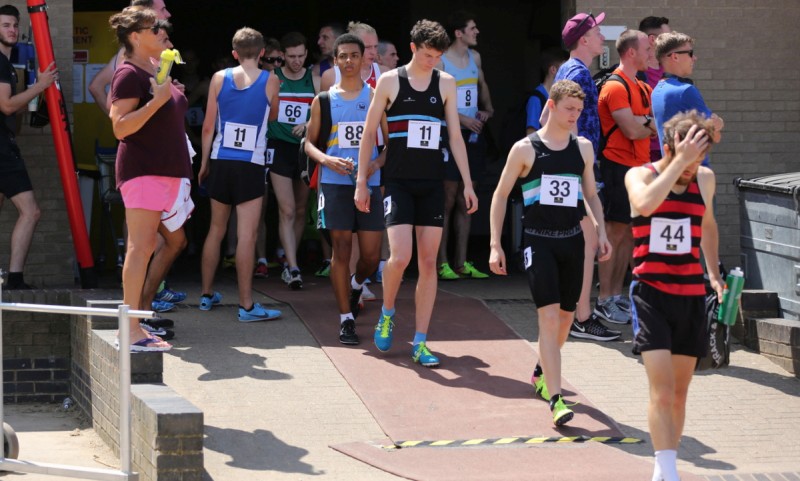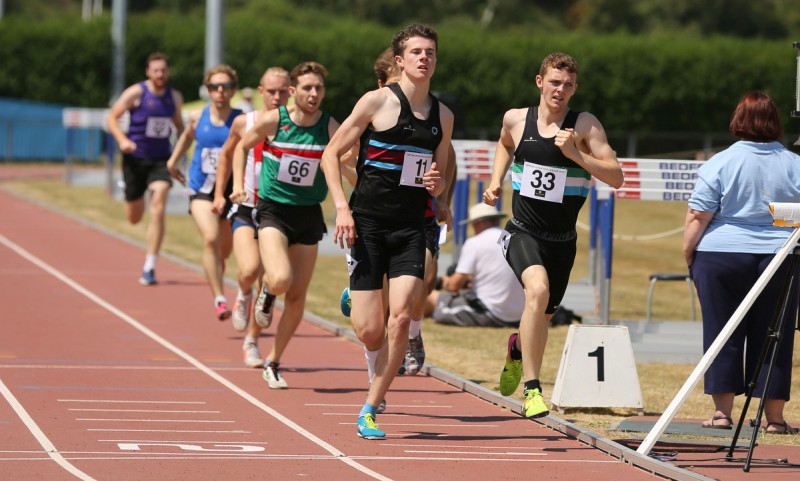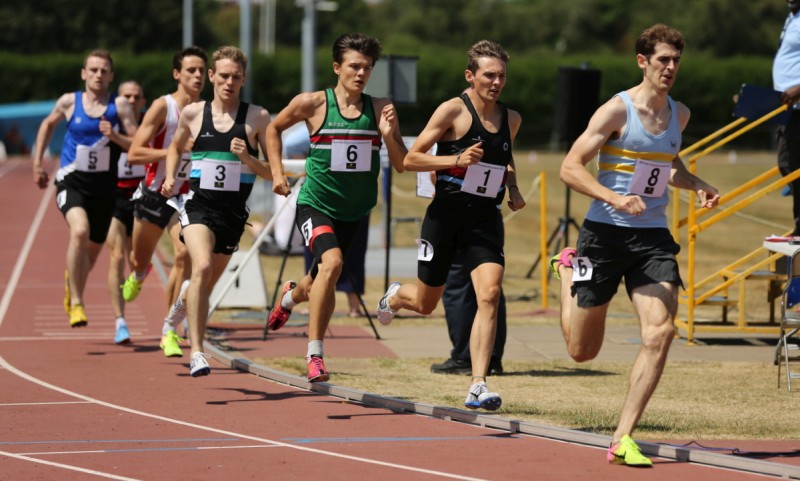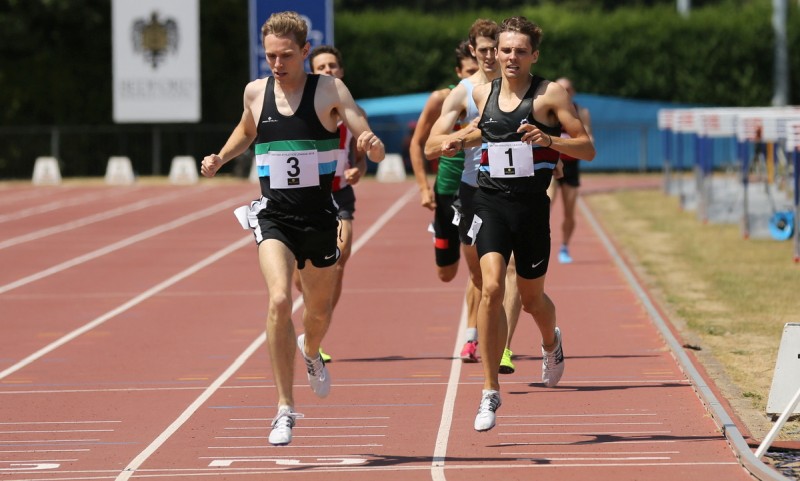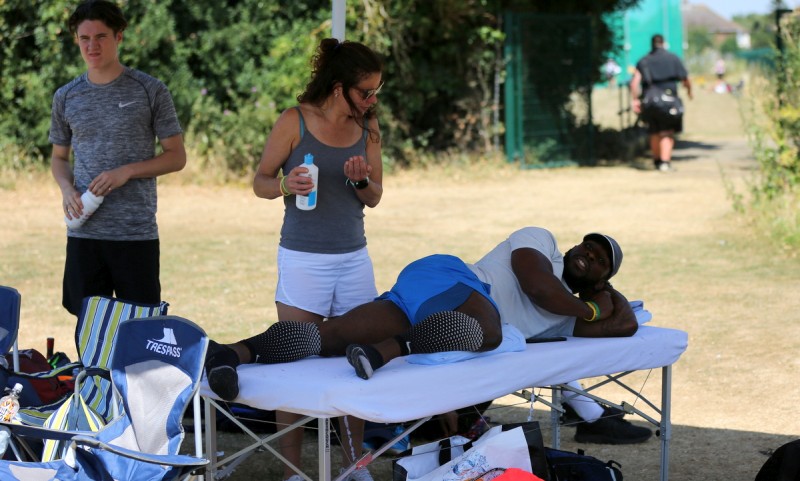 ---
5 May 2018 - British League - Eton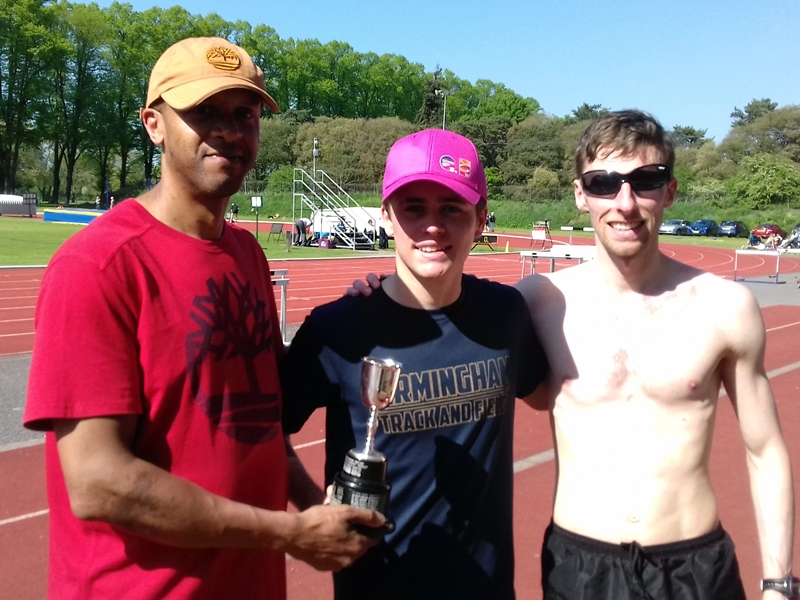 President Paul Byfield presenting the steeplechase goblet to Charlie Davies with Dan Kennedy, who won the B race - photo from Chris Haines
---
Photos from Rod Harrington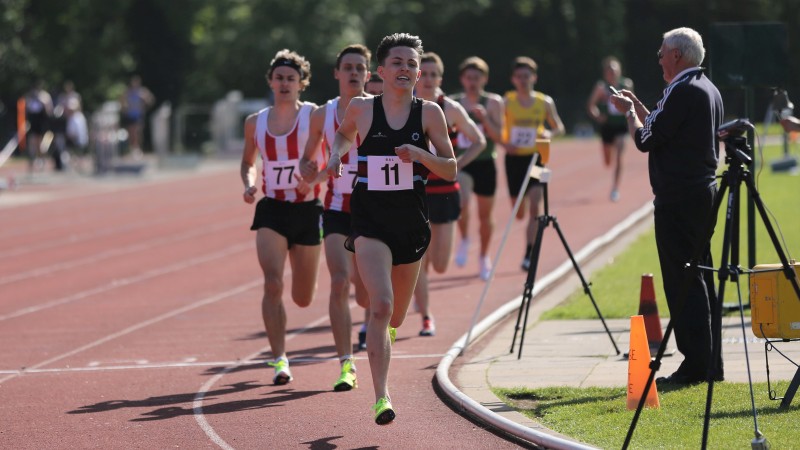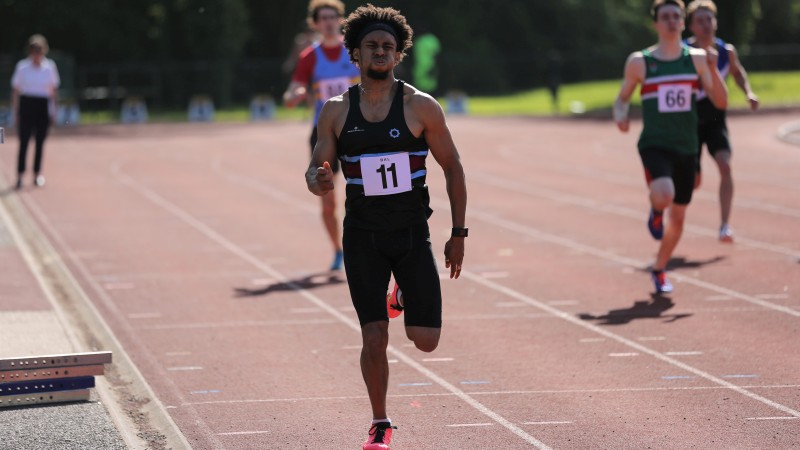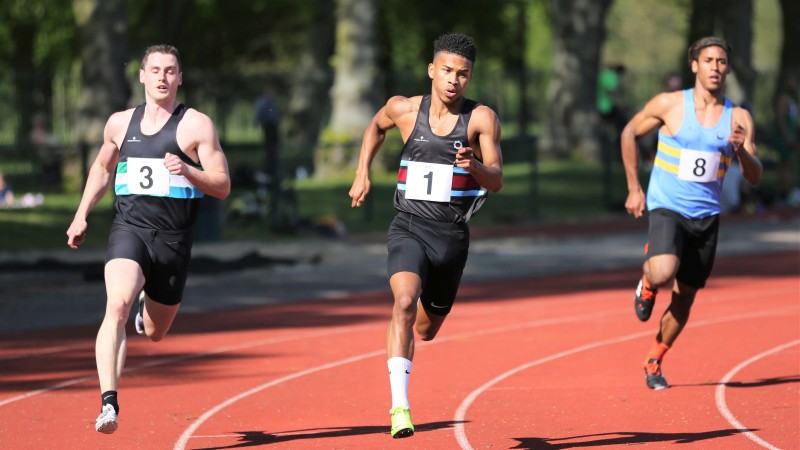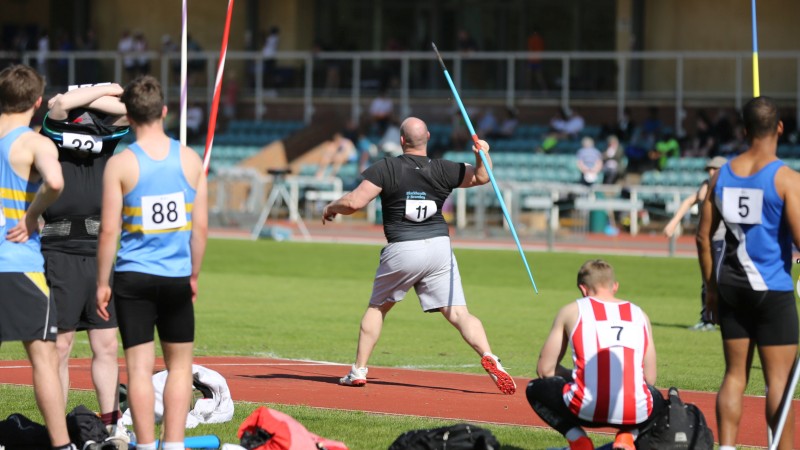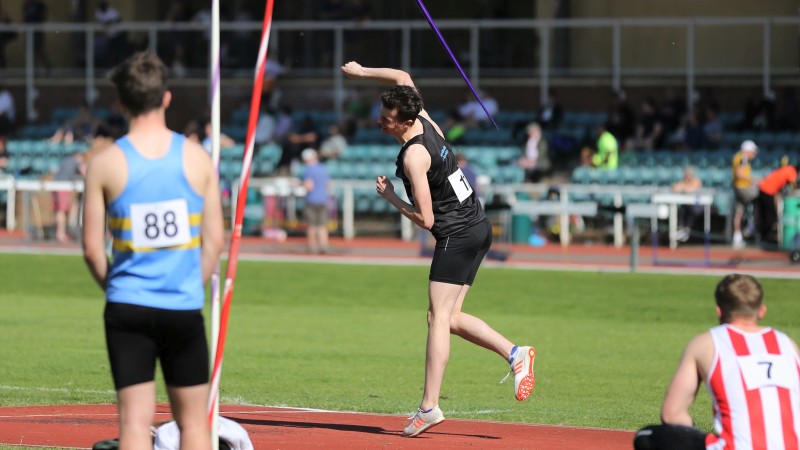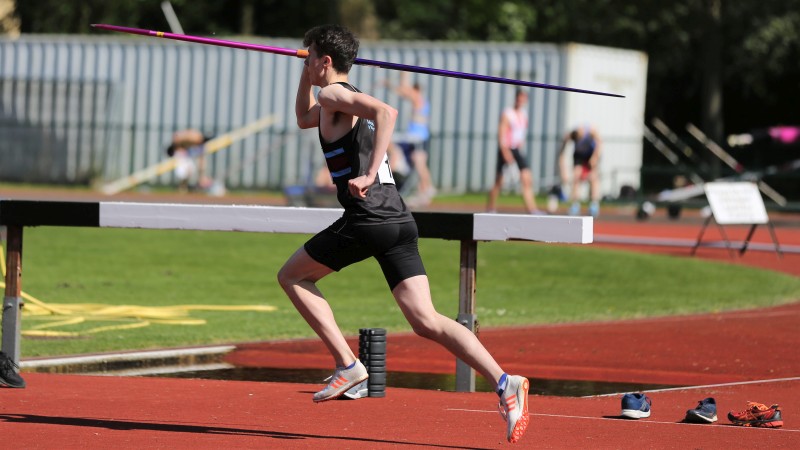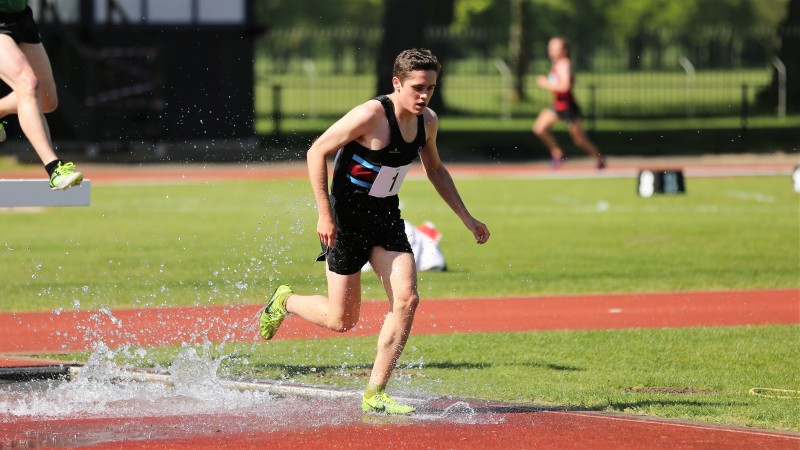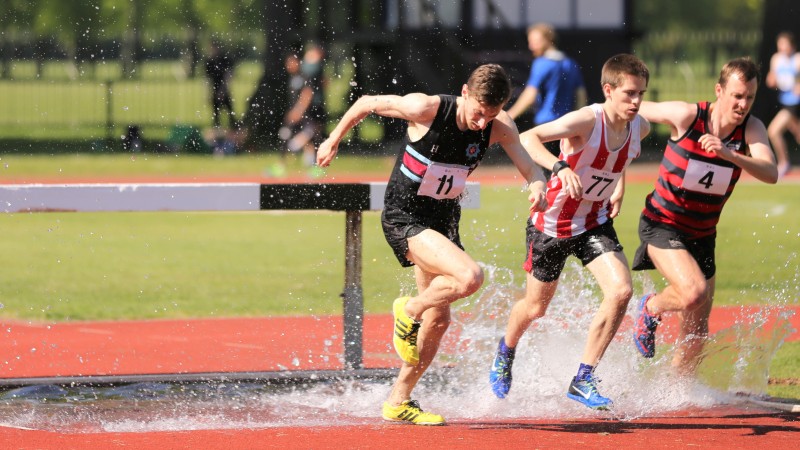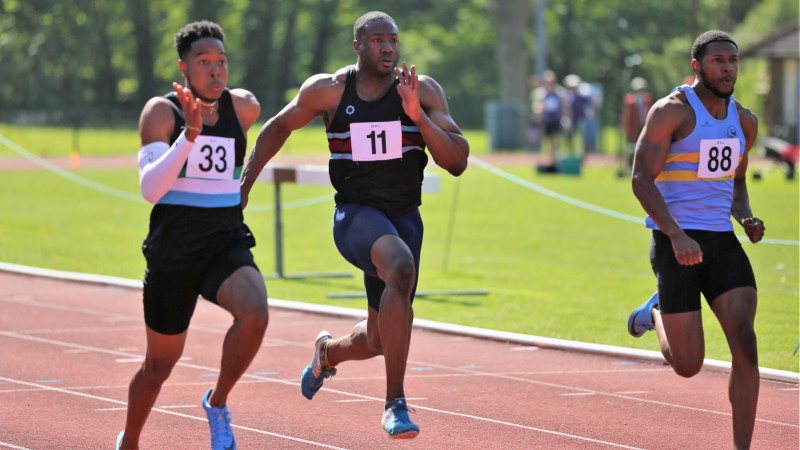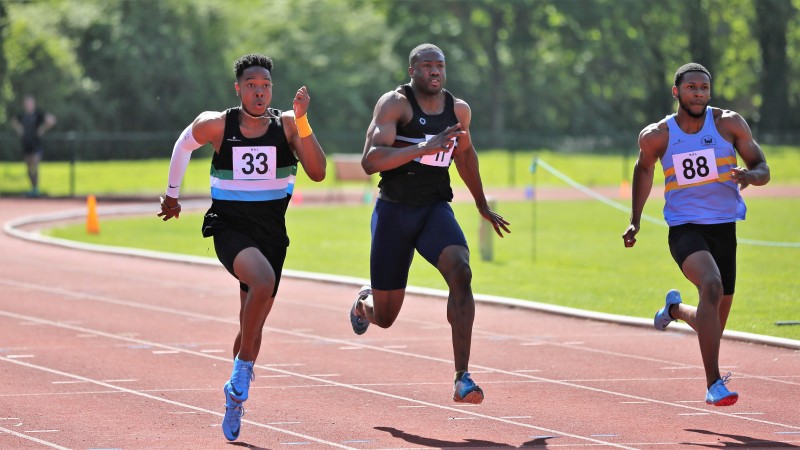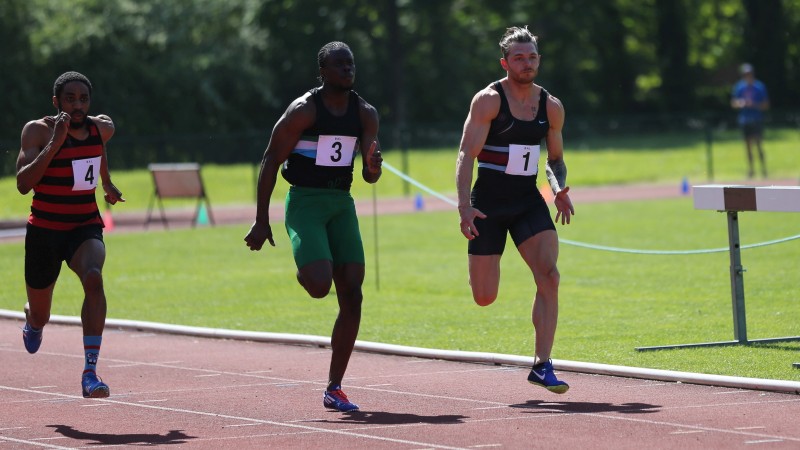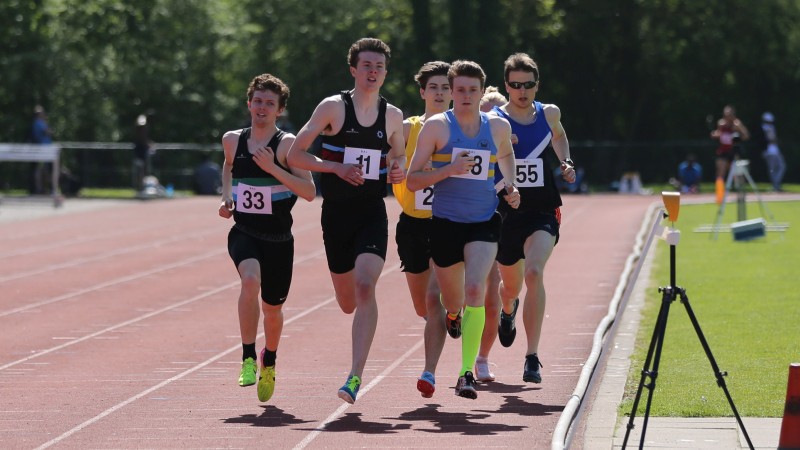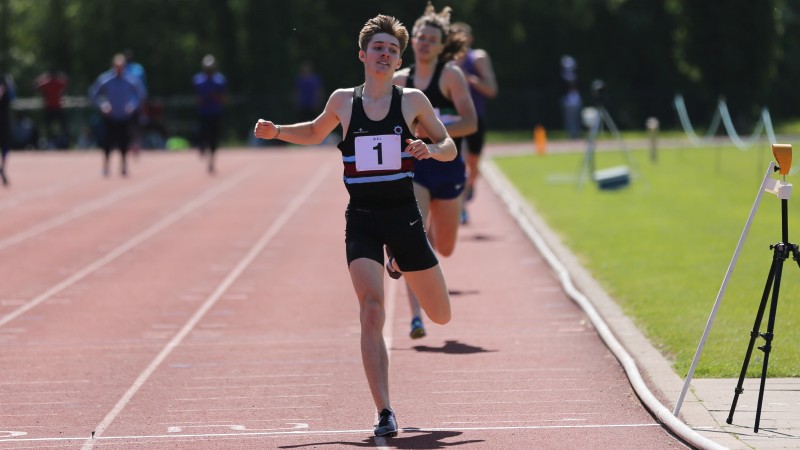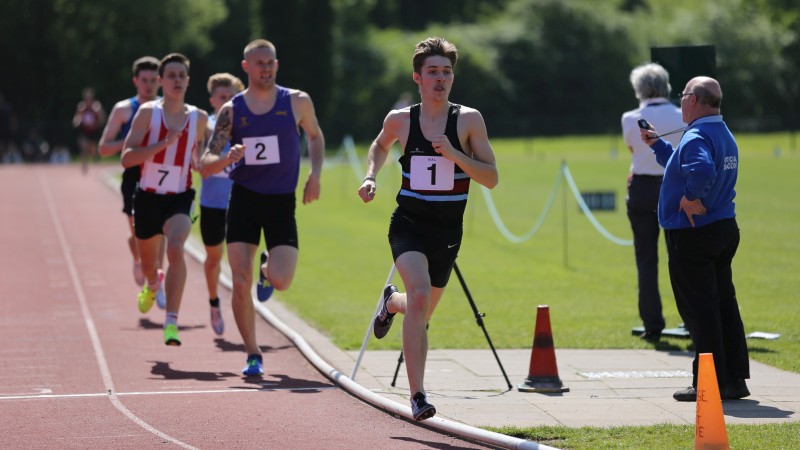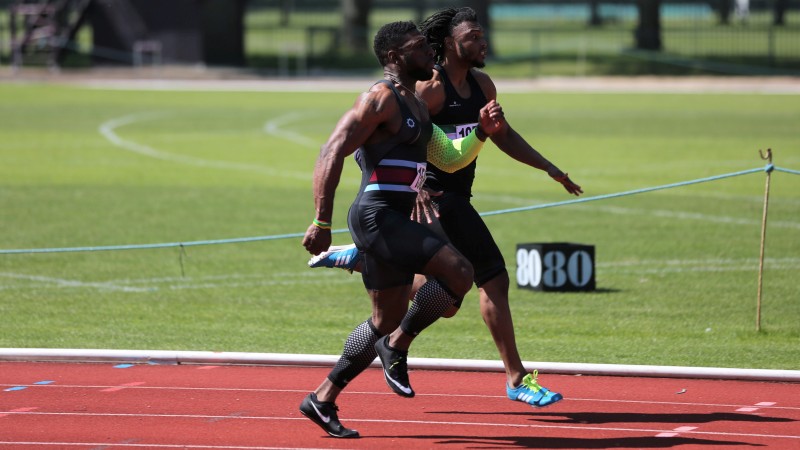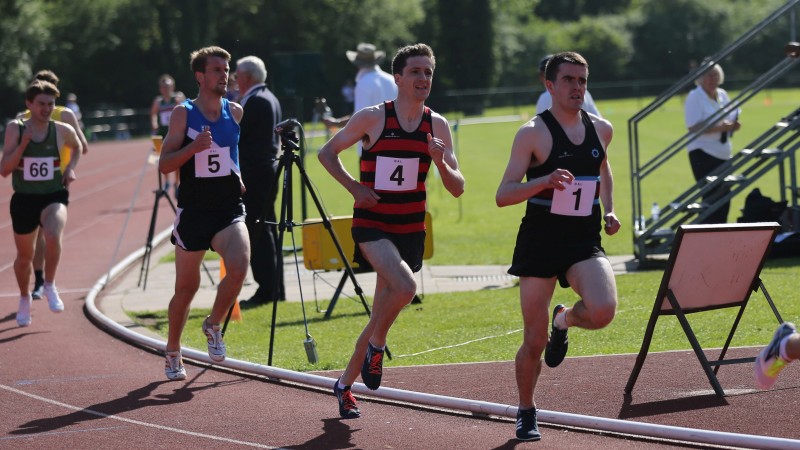 ---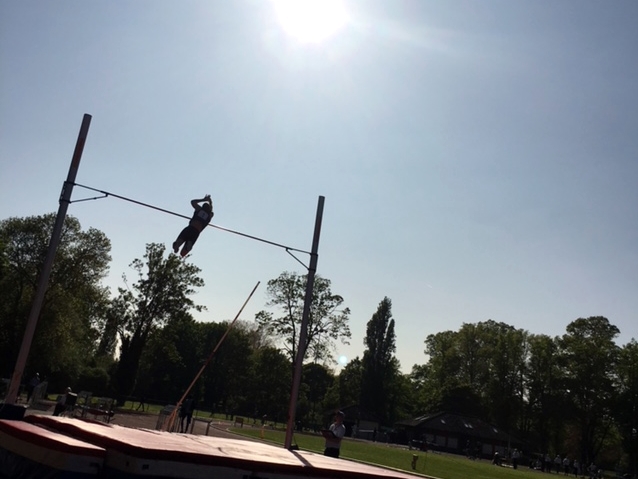 Scott Huggins clearing 5m at British Athletics league match at Eton, 5th May. Team finished 2nd, full results to follow.